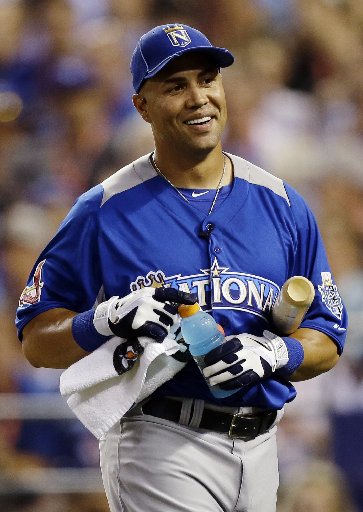 When it comes to baseball on television, it's tough to beat St. Louis from a viewership perspective.
Ratings for Cardinals telecasts have ranked either first or second among all U.S.-based teams for the last four seasons, and now for the sixth year in a row St. Louis is tops nationally in ratings for the All-Star Game.
The Nielsen Co. says that Fox's telecast of Tuesday night's contest from Kansas City was seen in 20.5 percent of homes with a TV in the St. Louis market. That's up from the 17.8 rating last year and tied with the figure from 2010. The local All-Star rating soared in 2009, when the game was played at Busch Stadium and drew a 37 figure.
All those games were on KTVI (Channel 2). Coming in second this year was KC (18.7), followed by Detroit (16.1).
In a sign of the times, Fox said fans' use of its Facebook and Twitter platforms was up 262 percent in unique users (439,000 vs. 121,000) over last year.
For the Home Run Derby on Monday, St. Louis finished fourth nationally in the ratings. Kansas City led the way with a 15.1 figure, followed by Pittsburgh (9.9), where interest is high in baseball with the Pirates being in first place at the break for the first time since 1997 and the team having a participant (Andrew McCutchen) in the Derby for the first time since 2005.
In third place was Detroit (8.9), where Derby champ Prince Fielder plays. St. Louis was next, at 8.4. The contest was carried on ESPN.
The rating in KC was the second-highest ever for a Derby host city in
the 15 seasons ESPN has televised the contest. The leader? You guessed it, St. Louis — which generated an 18.9 figure when the event was at Busch Stadium in 2009.
The top-rated markets for Fox's telecast Tuesday night of the All-Star Game:
15. Sacramento, Calif. 8.5
The top rated-markets for ESPN's telecast Monday night of the Home run Derby: