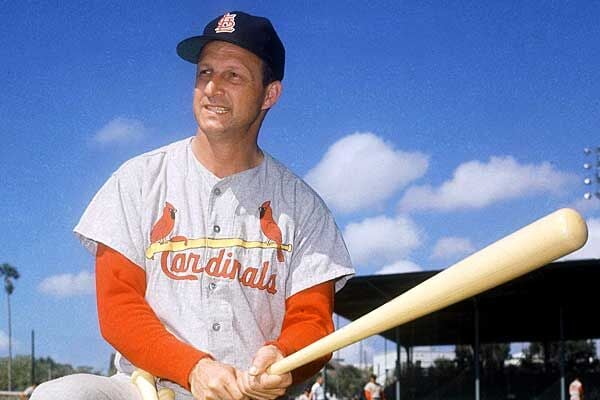 The Ebbets Field faithful in Brooklyn were the first to call Stan Musial "The Man" after Musial had ravaged their beloved Dodgers time and again in the late 1940s. On one occasion, Post-Dispatch baseball writer Bob Broeg incorporated "The Man" into his game account. And that was how Musial forever after was referred to in St. Louis: "Stan the Man."
Hall of Famer Musial died quietly at age 92 at his St. Louis County home Saturday (Jan. 19, 2013) evening at 5:45 p.m., surrounded by family and friends and under hospice care.
Musial had been in declining health for the last several years, notably the last several months, including being afflicted with Alzheimer's disease. Lillian Musial, his wife of more than 70 years, had died last May 4.
Musial is considered the greatest player in Cardinal history and probably the most popular, too. A former pitcher who turned to outfield and first base after hurting his arm, Musial played his entire 22-season career with the Cardinals, from 1941-63.
He is the franchise's leader in virtually every offensive category and Musial held the National League record for hits at 3,630 before Pete Rose broke it in 1981.
A .331 lifetime batter, Musial hit .300 or better 16 straight seasons, beginning in 1942. He played on three world championship teams, in 1942, 1944 and 1946, and played in 24 All-Star Games, tying a record. He won three National League Most Valuable Player awards.
Perhaps the crowning achievement of his playing career happened on May 13, 1958, when he pinch-hit a double in Chicago for the 3,000th hit of his career. Musial then was honored in impromptu fashion at several whistle stops along the way as the Cardinals' train made its way home from Chicago after the game.
Musial was the first Cardinals player to have his number, No. 6, retired. And his top baseball honor came in 1969, when he was a first-ballot selection to Baseball's Hall of Fame in Cooperstown, N.Y.
In 1999, Musial was named a member of the All-Century Team for the 20th century. And then, in 2011, much longer after his career was over, Musial, at age 90, was honored in Washington, D.C, with the Presidential Medal of Freedom presented by Presidant Barack Obama. The Medal of Freedom is the highest civilian honor.
After his playing days, Musial was a senior vice president for the organization and, in his lone season as the club's general manager, the Cardinals swept to the World Series title in 1967 when they beat the Boston Red Sox in seven games.
But, as much anything else, Musial was the perfect ambassador for the game. From his ever-present smile, to his phantom swing of a bat, to the harmonica he would play at a moment's notice, Musial was loved and beloved by all.
A large bronze statute erected outside Busch Stadium II and then moved to the newest Busch Stadium carries the words uttered by then commissioner Ford C. Frick the day Musial retired, on Sept. 29, 1963. Frick said: "Here stands baseball's perfect warrior. Here stands baseball's perfect knight."
Fellow Hall of Famer Red Schoendienst was a teammate of Musial with the Cardinals in the 1940s, 1950s and 1960s. The two roomed together for more than 10 years.
"A lot of times we would go visit kids in hospitals whenever we were on the road," Schoendienst once said. "He didn't want publicity for it, and he didn't do it to seek recognition or humanitarian awards. He just did it because he thought it was the right thing to do. He enjoyed making other people happy and maybe give them a small ray of sunshine to brighten up their lives."
Musial and Schoendienst did nearly everything together as roommates, whether it was dinner or a stage show or hobnobbing with such famous entertainers as Al Hirt, Harry James or Jack Benny.
Their interests were similar. Both were from small towns and, besides, Musial said, Schoendienst did have one other redeeming quality. "The good thing about him was that he didn't snore," Musial said.
Born in Donora, Pa., on Nov. 21, 1920, Musial signed with the Cardinals for $65 a month in 1938 but only after a struggle with his Polish immigrant father, Lukasz, who wanted Stan to go to the University of Pittsburgh on a basketball scholarship.
Musial's mother, Mary, asked her husband, "Lukasz, why did you come to America?"
"Because it's a free country, that's why."
"That's right. And in America, a boy is free not to go to college, too."
In Musial's first two seasons in the farm system, he most often was a pitcher. In 1940 at Daytona Beach, the lefthanded-throwing Musial was 18-5 and batted .311 as a part-time outfielder. But, late in the season, he fell heavily on his left shoulder as he tried to make a diving catch.
Reporting to the Columbus Class AAA team the next spring, Musial barely could throw. He allowed long home runs to veteran Cardinals Terry Moore and Johnny Mize in one game and seven runs in another. Musial sort of fell off everyone's radar in the Cardinals' organization except for that of Ollie Vanek, the manager of the Class C Springfield, Mo., team, well down in the system. Vanek saw an outfielder in that sore-armed pitcher. He put him in right field in Springfield because the fence was short. Soon Musial would begin his meteoric rise.
The lefthanded-batting Musial hit .379 with 26 home runs in 87 games at Springfield and was jumped to Class AAA Rochester, where he batted .326. Then, with the Cardinals involved in a torrid pennant race with Brooklyn late in 1941, Musial was promoted to the big leagues. He hit .426 in 47 at-bats that September, impressing friend and foe alike.
In his first at-bat, against Boston Braves' knuckleballer Jim Tobin, Musial popped up. The next time he saw Tobin, he doubled off the right-field wall.
Against the Chicago Cubs in a doubleheader later that September, Musial made two diving catches in left field, threw out a runner at the plate and had four hits in the first game. In the second game, he had two hits, made a diving catch and then a double-somersault grab of another liner.
Chicago manager Jimmy Wilson, beside himself, said: "Nobody can be that good. Nobody."
But he was that good. "That kid was born to play baseball," said Cardinals manager Billy Southworth.
The Cardinals would finish 2 1/2 games behind the Dodgers in the National League race that year but would win four of the next five pennants. The first came in 1942, when the Cardinals won 106 games, with Musial hitting .315, and then the Cardinals wiped out the powerful New York Yankees in five games to win the World Series.
According to Broeg, who later became Post-Dispatch sports editor and gained entry into the writers' wing at the Hall of Fame, Musial cried in New York's Penn Station as the club prepared to return home. His modest $4,250 rookie's salary had been more than doubled by what would be a $6,000 World Series check.
But Musial wasn't about money. After the 1946 season, promoters from a new Mexican League tried to entice big-name players to jump ship. Musial was making $13,500 with the Cardinals and was being offered $125,000 for five years. He turned down the Mexican League.
"Back in my day, we didn't think about money as much," said Musial. "We enjoyed playing the game. We loved baseball. I didn't think about anybody else but the Cardinals."
From 1943-54, Musial batted less than .330 just once, and that was in 1947, when, afflicted by appendicitis, he slipped to "only" .312.
Players and fans marveled and wondered how Musial could hit so well with such an unorthodox style. His stance was tightly closed, and he appeared to be looking at the pitcher from around a corner. Then, he would uncoil quickly from this corkscrew position to send line drives to all fields.
Longtime Brooklyn lefthander Preacher Roe said he had the best way to defense Musial: "Throw him four wide ones (walk him) and then pick him off first base."
Musial, who had exactly 1,815 hits at home and 1,815 on the road, had many of those away-from-home hits in cozy Ebbets Field.
"It seemed like I always did some great hitting in Brooklyn," he said. "The field there was close to the stands. Every time I started walking to the plate, I could hear the fans say, 'Here comes that man again. Here comes that man.'''
Musial's best season was in 1948, when he hit a career-high .376 to win the batting title, smacked 39 home runs, drove in 131 runs and scored 135.
Before the 1958 season, Musial became the first $100,000 baseball player in the league. That came on the heels of his winning the final of his seven batting titles in 1957 at .351 and the last time he drove in more than 100 runs at 102. He won the batting crown that year despite having suffered a hairline shoulder fracture in August, forcing him to punch at the ball in the last month of the season.
One of the few disappointments Musial had as a player was that the Cardinals didn't win a pennant in his playing days after 1946, the year they capped their run of four pennants in five years. Their only miss in that time was in 1945, when Musial was in the Navy.
Musial hit .337 in 1958 but then dipped to .255, .275 and .288 the next three years, and it seemed as if the end of his playing career was near. But, at age 41, Musial rallied for a .330 season in 1962 before closing out his 22 seasons by batting .255 in 1963.
On the last day of that 1963 season, Musial sent a single to the right and another to the left of the Cincinnati Reds' second baseman. Ironically, that second baseman was Rose, who would break Musial's National League hit record some 18 years later.
After the second hit, manager Johnny Keane sent Gary Kolb out to run for Musial, drawing a brief chorus of boos. But then, as "The Man" left the field for the last time, fans returned to cheering, giving him a long, thunderous standing ovation.
After his retirement as a player, Musial's many interests included investments in restaurants and hotels and serving as President Lyndon B. Johnson's director of the National Council on Physical Fitness.
Musial's successful restaurant, Stan Musial and Biggie's, on Oakland Avenue, was a longtime gathering spot for athletes and fans alike.
Stan also had the midas touch as an executive. He was general manager for just one year, but his basically hands-off approach worked as the Cardinals won the World Series with Schoendienst as manager in 1967. Later, Musial was a senior vice president with the team, although that was mostly a ceremonial title.
Former Cardinals manager Tony La Russa used to get excited the few times he got to see Musial every year. "It's a combination of as great a player you have and then, once you get to know him, he's just as great off the field," said La Russa. "That combination not only is to be admired and respected, it is to be loved."
Musial's 3,000th career hit in 1958 came on the last day of a trip as manager Fred Hutchinson refused to wait until the next night for Musial to get his 3,000th hit at home. The Cardinals were losing 3-1 at the time, but scored four runs to go ahead.
Instead, of adoring St. Louis fans saluting Musial after hit No. 3,000, fans throughout central and southern Illinois had a chance to honor him as the Cardinals' train ride home became akin to a political train whistle-stopping through the countryside. Fans in Springfield, Ill., and elsewhere got a chance to see Musial as he came to the platform and at one stop, he said, "I see a lot of children here. Take the day off tomorrow (Friday) and don't go to school.'''
If Hutchinson had been more patient, Musial would have collected No. 3,000 almost immediately at home. "The next night, the first time up, I hit a home run off Johnny Antonelli (of the San Francisco Giants)," recalled Musial a few years ago.
Musial's memory was dead-on. He homered off the Giants' tough lefthander with two out in the first inning for hit No. 3,001.
Often Musial was asked what he would hit if he played in these times. After some consideration, he said, "I guess I'd hit above my average, which was .331. I'd be making a lot of money."
Musial became a Cardinal in 1941 and always was a Cardinal. In many ways, he was the Cardinals.