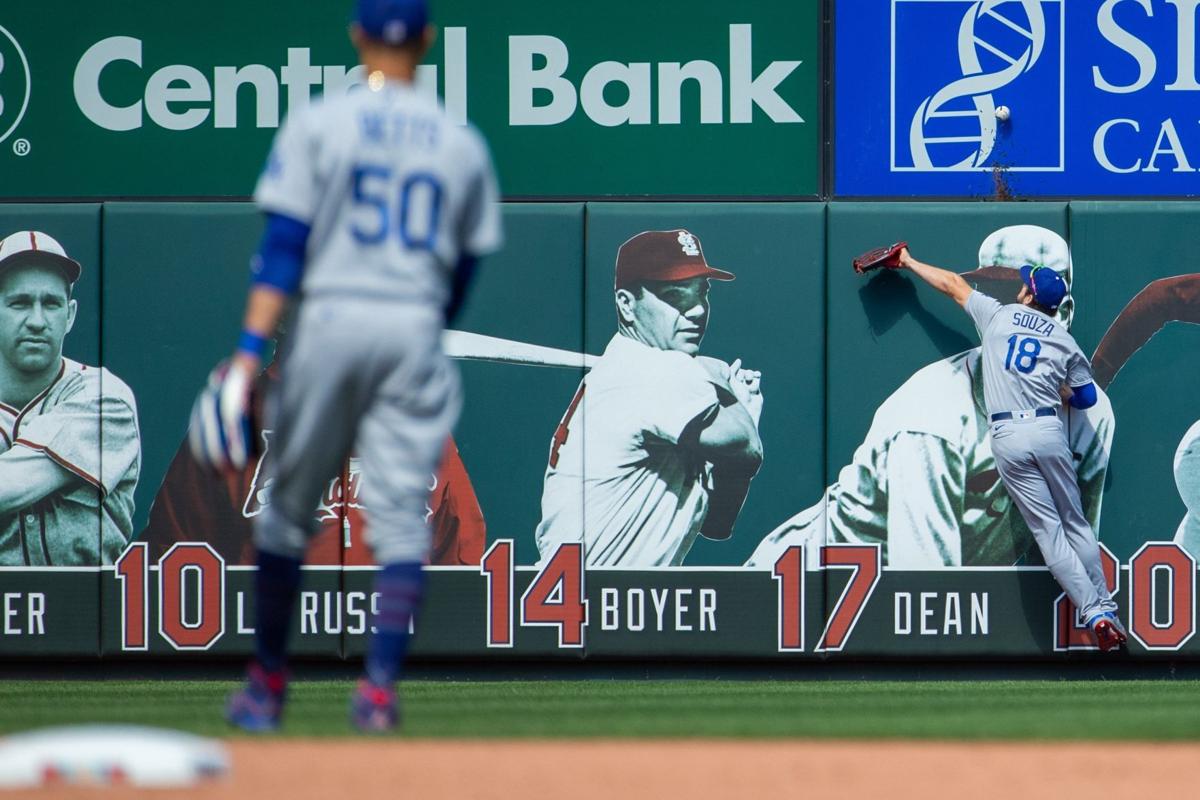 As part of recent conversations with Alex Reyes about the new role he'll have in the bullpen this fall, the Cardinals assured their prized righthander that it will keep him on track for the familiar role he'll have a chance to win in spring.
An All-Star for his work as closer earlier this year, Reyes has encountered recent turbulence in the ninth, prompting a rewrite of the late-inning assignments. The Cardinals intend to recast Reyes as a multi-inning reliever, as he was in a pivotal stretch Thursday, and by doing so get him the innings that prepare him to compete as a starter for 2022.
"You're getting a guy who is going to continue to be OK; he'll be fine," manager Mike Shildt said. "There's some growth taking place and through growth there's a little pain. I'm comfortable and confident that Alex will finish this year in a position to go to spring training to earn the opportunity to start."
Reyes entered in the fifth inning Thursday, pitched two scoreless, and retired six of the seven Dodgers he faced in what was a 1-1 tie to earn the win in a 2-1 Cards' victory. Catcher Andrew Knizner said Reyes' innings "right there set the tone for the back half of the game."
After setting a major-league record for successful save conversions to start a career and recording 29 this season, Reyes had two jarring outings on the past road trip. He blew two saves — one in Pittsburgh when he walked two to invite trouble and another in Milwaukee, where he threw two pitches and allowed a grand slam on the second.
"I would say this is probably the first time I've been in a situation like this where I've not been able to go out there and repeatedly get outs," Reyes said before Thursday's game, sitting in the Cardinals' dugout. "I've been put in some situations where I feel like I'm able to excel and I haven't the last few times. It's been a tough month. But I feel like it's something everybody goes through."
In spring training, Cardinals officials advertised a 100-inning goal for Reyes — one that would be responsive to how little he's pitched due to injury and pandemic in the past three years and build momentum for a leap to the rotation in 2022. Through 55 games, Reyes has thrown 63 innings. The revised goal is to get him closer to 80 innings. It's possible the Cardinals will add innings through other forums, such as winter ball. He mentioned that option.
Since his shift in role, Reyes has worked to tighten up his slider. As he faced the top and middle of LA's lineup Thursday, he used it 10 times and got three swings and misses. He described how having multiple innings meant "not having to back down any bit" from using several types of pitches — like he would as a starter.
"The only way you know who you exactly are is when you're able to go through days when you struggle and when you're able to put them behind you," Reyes said. "I'm here for it."
The Busch ballpark riddle
The Cardinals are on pace to score their fewest runs ever in a full season at Busch Stadium III — a statistical feat that both illustrates the current lineup's lack of consistency, its approach, and the questions the club is trying to answer about the ballpark. Including Thursday's two runs, the Cardinals are on pace to score 302 runs in their 81 home games this year.
The previous low is 315 in 2015, when an elite-defensive team won 100 games.
Games at Busch this season have seen a 7.7% decline in overall scoring, and the average runs scored at Busch this season, 7.69 per game, would be the second lowest since the ballpark opened in 2006. The Cardinals, who rank in the top half in scoring on the road and top five in homers on the road, are about to hit fewer than 40 percent of their home runs as a team at home for the first time at Busch III. That is a concern for the Cardinals when it comes to their own offense and the entertainment product for fans at their ballpark.
The team is exploring the factors behind this shift at Busch. This year, they introduced a humidor to store baseballs, and the club is also wondering if construction of One Cardinal Way and Ballpark Village have contributed to how the ballpark smothers offense. As offense surged around the game in recent years, slugging and scoring for all players at Busch have shrunk.
The league average for slugging this season is .409. All players, including opponents, are slugging a combined .367 at Busch – the lowest in its 16 years and part of a four-year decline, according to research by the Post-Dispatch. Since 2018, opponents are slugging .371. The Cardinals and visitors combined are slugging .380, contributing to Busch's rise into one of top-five worst ballparks for hitting in the majors.
LeBlanc's season ends
The first infusion of veteran, strike-throwing pitching the Cardinals added in their time of need, Wade LeBlanc will not pitch again for them this season as he explores treatment options for persisting soreness in his lefty elbow. LeBlanc has tried twice to begin a throwing program off the mound only to have his elbow ache each time.
Shildt said whatever option LeBlanc, 37, takes to address the injury will allow him to be ready for spring training. LeBlanc will be a free agent in November.
The veteran lefty signed with the Cardinals as a free agent after leaving Texas' Class AAA affiliate and he brought essential consistency to a rotation in crisis. LeBlanc did not win a game, but he covered unmanned innings and in eight starts for the Cardinals had a 3.53 ERA and an average of slightly more than four innings per outing. Other veteran additions followed.
"We tried to plug and play the best we could and then we went external," Shildt said. "It started with Wade LeBlanc, and it was the beginning of a stabilization."
Kim's frustration, etc.
In an interview with Korea's MK News, Kwang Hyun Kim expressed frustration about his return to the bullpen, telling baseball writer Jae-ho Kim that the abruptness of the move put him in an "angry state" when pitching. A free agent at season's end and likely to pursue a chance to start in the majors, Kim told MK News that he had read reports of the Cardinals' discussions his return to the bullpen and that he had "nothing to gain from fighting with the club or the manager." … Cardinals broadcaster Mike Shannon, who is retiring at season's end and has been celebrated all summer at the ballpark during his 50th year on the radio, has nine games remaining behind the mic for KMOX/1120 AM.