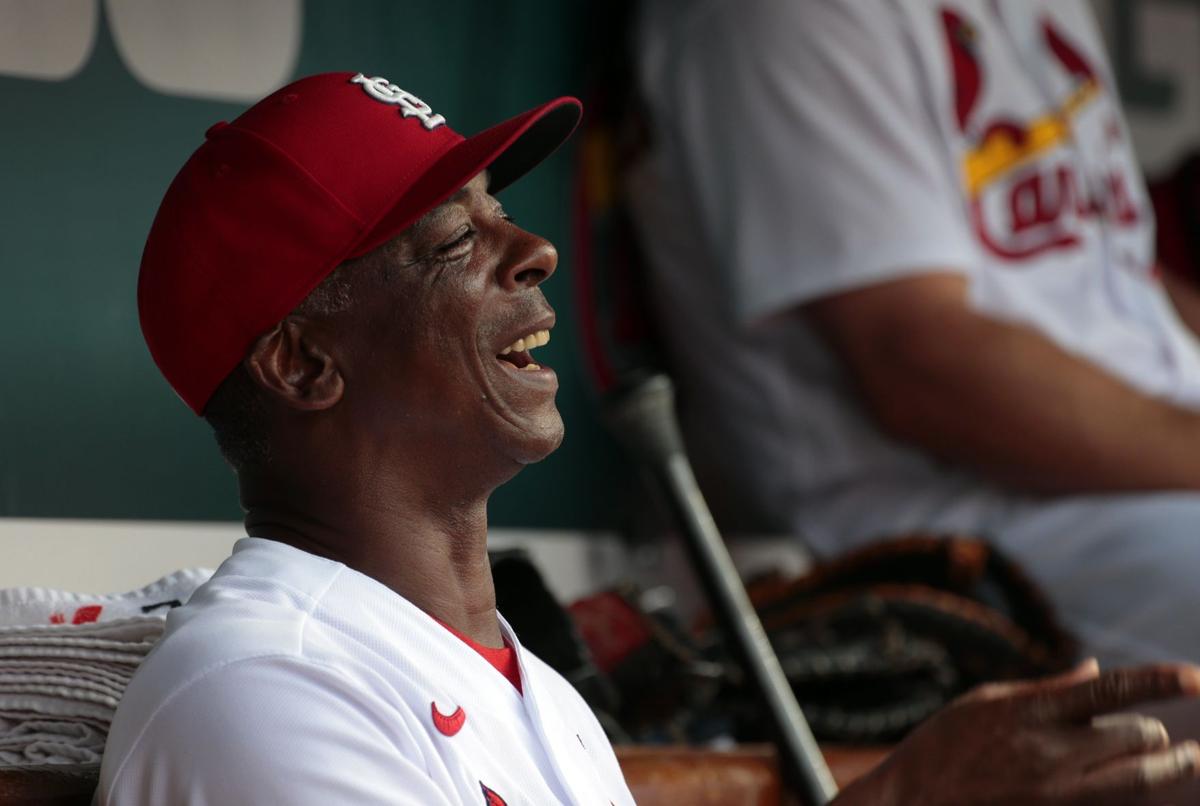 There was much ado made about the Cardinals bringing in fan favorite Skip Schumaker as bench coach. There was high interest in the Cardinals signing longtime big leaguer and batting coach Turner Ward to be the assistant hitting coach.
Seven coaches return from the 2021 team, with one of them, Oli Marmol, having been promoted to manager. But there is only one Cardinals Hall of Fame coach returning. He is one of the franchise's most popular players ever in Willie McGee, who is back on a two-year deal, which will give him 19 years in a Cardinals uniform — 13 as a player and six as a coach.
McGee, a two-time batting champion and one-time Most Valuable Player, turned — hard to believe — 63, earlier this month.
"I don't know if I want to be 22 or 32 or 42 — or just be happy where I am," said McGee by telephone from California. "My oldest brother just had a stroke a week ago and my other older brother had a stroke a month-and-a-half ago. They're doing well but ... I appreciate every day."
McGee is a hybrid coach. A little hitting, a little base running, a lot of outfielding, besides offering help on the emotional and mental side of the game.
"I love the game, man," he said. "I've learned a lot, thanks to 'Pop' and Stubby (coaches Ron 'Pop' Warner and Stubby Clapp) and Shildty (former manager Mike Shildt) and the others. I've learned the game from that side of it — the coaching side of it. I'm able to think quicker out there and do my job better."
McGee's pride and joy is the development of young outfielders Tyler O'Neill, Harrison Bader and Dylan Carlson, with backup Lars Nootbaar coming along later.
Speaking primarily of the Cardinals' starting outfield of O'Neill, Bader and Carlson, McGee said, "They've come a long way. They've had a lot of opportunity to develop. Management believed in them.
"Where I'm most impressed is the defensive part — watching them putting the work in over the last two or three years and seeing the game slow down for them.
"I just think it's experience. Those guys have proven that they can play. They've conquered every level in the minor leagues. Take Tyler, for instance. Defensively, he was good down there in the minors, a really good outfielder. Bader was the same way. When they got to the big leagues they struggled a little offensively, even though they still kind of worked on their defense. They added to their game and this year, base running, defense and offense all came together.
"These guys have always been good athletes and good defensive outfielders. It's just a matter of them being comfortable — and learning. All these guys are capable of being MVP caliber."
McGee got his first real look at Nootbaar this year and he said, "I love that guy. He fits right in. He can win games for us a lot of different ways. He stays ready. I'd take my chances with him.
"He works his tail off. And he has that 'want to beat you' type of attitude. He's not intimidated. He's not cocky. He's laughing and joking with the veteran guys. I look at him and (Andrew) Knizner, who is the same way. I just look at them and laugh."
The young outfielders all have praised McGee for his on-field and off-field help. McGee, of course, deflects credit or absolutely refuses it.
"As far me helping them ... they've always been able to play," he said. "All we coaches can tell them is how to get consistent. I can't take credit for that.
"The experiences that I've had and the other coaches have had can cut the learning curve to a point. You can just tell the players what you did to get consistent and keep them going mentally. Patience, patience, patience. They have to have that."
And failing before succeeding can be a good thing.
"I'm glad I did," said McGee. "The mental side of my whole career changed early on. I'm sure all of these guys have had an 'aha' moment."
McGee's moment came early in his minor league career with the New York Yankees. "I wanted to come home (to the Oakland, California area) because I was struggling," he said. "I was 19 years old and I was in Class A ball (at Fort Lauderdale, Florida)."
He called home to his father, who, in essence, talked Willie Dean McGee off the ledge.
"I made up my mind that day that I was in this now. Sink or swim," McGee said.
Two-time Gold Glover O'Neill made the most startling climb this past season, from hitting .173 with seven homers in a 2020 shortened season to hitting .286 with 34 homers and 15 stolen bases, establishing himself as one of the top overall players in the game. "He even got better defensively because of his throwing," McGee said. "He started working on that and he got more accurate and confident."
As for the 22-year-old Carlson, McGee said, "He's probably the most advanced young player I've ever been around as far as knowing game situations and stuff. He's been around it all his life with his dad as a coach. He's ahead of the game in that aspect. Dylan can get a Gold Glove someday. He's athletic enough, if he keeps working on it. Playing that corner, he doesn't have to be 'Bader fast,' but he's faster than people think. He made some good plays and I don't think he gets enough credit, I really don't."
Carlson had just two steals and McGee said he could see an uptick there in the coming years. But McGee said, "Those days are over now when our (1980s) teams just ran to run. The analytics are part of that now, too, as far as when to run.
"(Analytics) is part of the game and some of it is great. We've used it. When I was playing, I just wanted to know what pitchers liked to get ahead (in the count) and what pitchers didn't. That was all the analytics I needed," he said, laughing.
The three regular outfielders haven't yet played a full season together, mostly because Bader missed time with a fractured rib in 2021. There should be more success to come.
"It's almost like you sit back and let them play," said McGee. "It's almost turn-key. It makes my job easier."
McGee had passed on most of the 2020 season because of the coronavirus — and its early-season outbreak on the club. But he was back full bore this past season, handling his tablet just as if he were a sports writer.
Fewer than three months remain until spring training starts and, like the players, McGee, is pondering how he can get better at what he does.
"I'm constantly asking the guys if there's anything I can do better to help them or make me a better coach … let me know. We have an open dialogue," he said. "I might see something but … it's not always my way. It's the best way to get it done.
"You're constantly learning. You see something in a game and you say, 'Oh, boy. We've got to prepare for that next year.'"
There was such a play in September in Chicago, for which the Cardinals already had prepared in the spring. Even Gold Glove outfielder Bader participated in a rundown play in the infield that stopped a Cubs late-inning rally.
"It's amazing that these guys were ready for all these plays but it doesn't hurt to have a 'Goldy' (Paul Goldschmidt) or an (Nolan) Arenado or (Yadier) Molina on the club either," said McGee. "Of all the players I've been around, 'Goldy' is the most prepared. He does his homework and he has a great approach, probably the best approach I've ever seen, along with being one of the greatest players I've ever been around.
"I have never caught him watching the paint dry."
McGee, asked the best piece of advice he ever got from a veteran player, cited Cardinals veteran outfielder George Hendrick, who dispensed it while the two were in Hendrick's car going to the stadium.
"I had seen him strike out a couple of times the night before and we were going home and he was listening to his jazz and chewing his gum as usual. He was just calm and cool," McGee said. "So, the next day I got up enough nerve to ask him about it and he said, 'Willie, it's like this.' So he put his hands at the top of the steering wheel and he said, 'Sometimes, you're here,' and then he went around the steering wheel — all the way back up to the top. He said, 'The trick is to keep it all up here (at 12 o'clock). Don't go up and down with it. Just stay here.'