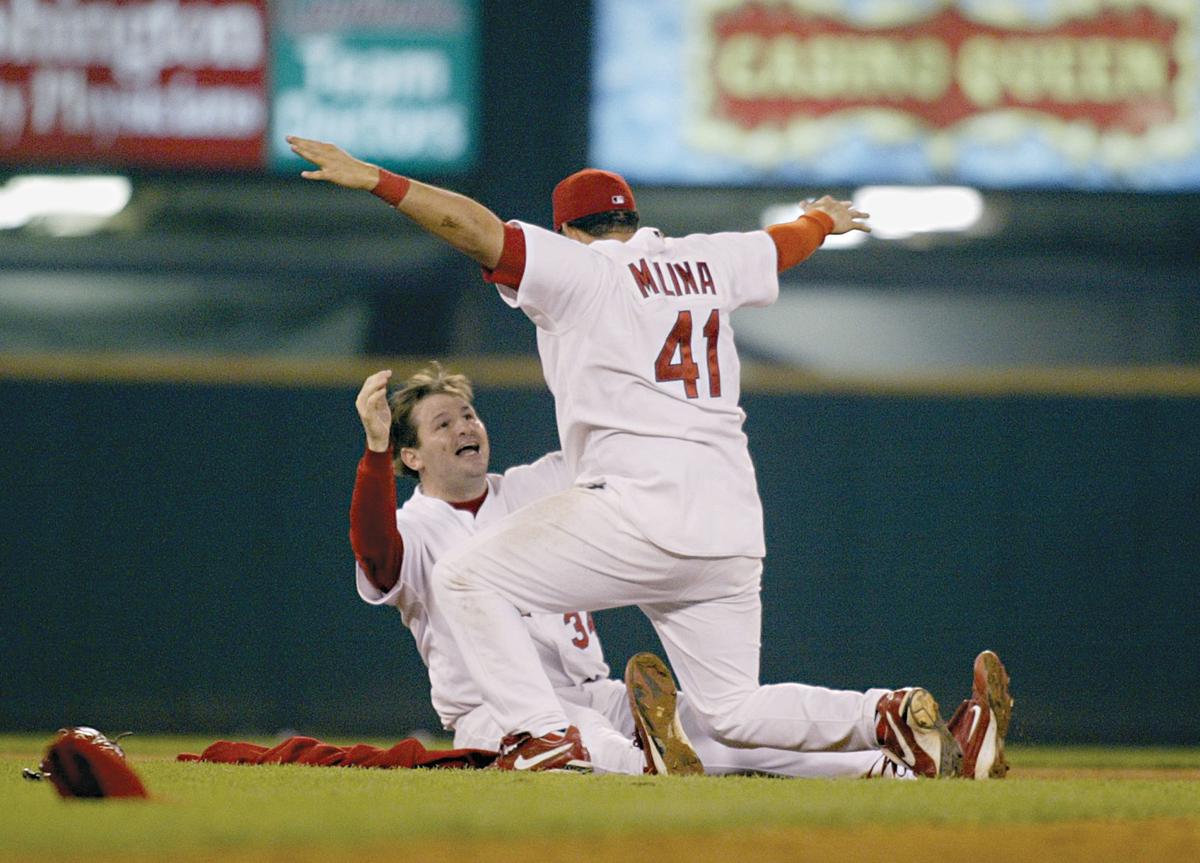 Hall of Fame baseball writer Rick Hummel continues his "Where are they now?" series on former Cardinals.
Former Cardinals reliever Steve Kline, the pitching coach for the Richmond Flying Squirrels of the Eastern League, has been waiting out the start of the baseball season at his farm in Winfield, Pa., near his alma mater of Bucknell University and the Amish country. He called the stoppage in baseball "the longest rain delay I've ever experienced."
An employee now of the San Francisco Giants, Kline has most of his family nearby. His mother and father and brothers all have houses just down the road.
"We all get along," said Kline. "We're kind of like the Beverly Hillbillies — without the money. I struck something, but it didn't smell like oil."
This is the quick-witted Steve Kline Cardinals fans remember. They also remember the lefthander's four strong seasons here from 2001-04 when he had a 2.69 earned run average and 21 saves. They remember the dirty cap. And they remember the middle finger.
On June 26, 2004, Kline was warming up in the Cardinals' bullpen, juices boiling, as he thought he was going to face lefthanded-hitting Todd Walker of the Chicago Cubs in the midst of a six-run inning. Kline wasn't brought in and, captured by a television camera, flashed his middle finger. But not necessarily at manager Tony La Russa.
The Cubs went ahead 9-5 in the inning but Kline, who then did pitch the ninth, wound up being the winning pitcher in a 10-9 Cardinals comeback victory.
"I was so mad because I wanted to pitch," said Kline. "I was amped up, ready to go.
"I look back and say, 'Maybe I should never have done it.' I wasn't mad at him. It was not one of the best moments of my life," said Kline.
"I didn't feel like going after him because I knew he was part of the Italian mob and I didn't want all those people from Tampa coming after me," Kline kidded.
"I told him he was lucky because I would get my Amish posse to come after him but that it would take them three months to get out there because they were coming by horse and buggy."
Kline swears by La Russa. "I loved him to death," said Kline.
"He was probably the best manager I played for. He even protected me after the 'finger thing.' I still see him once in a while — and he gives me the finger.
"He taught me a lot about how the philosophy and the mind of the game work. I'm not as smart as I look."
Kline wore the dirtiest cap imaginable when he played here. "I saw one (ad) where they had me as a housecleaning person out there," said Kline. 'It said, 'Get your house cleaned by dirty Steve Kline?' Was I really that dirty? I showered every day."
He wears a clean cap as a coach. "I don't have to cheat any more and put pine tar on it . . . oops, did I really admit to that?" he said, laughing
"But I only threw 87 (miles per hour). Nobody cared if I cheated or not (Kline insisted that he hadn't)."
Kline also had an excellent postseason record here (0.96 ERA) despite allowing series-clinching hits to Arizona's Tony Womack in 2001 and San Francisco's Kenny Lofton in 2002 as both the Diamondbacks and Giants went on to World Series titles.
While the Giants were celebrating their victory near home plate, infielder Ramon Martinez, inadvertently elbowed Kline in the head and Kline said he thought about diving into the pile to get even. But Cardinals catcher Mike Matheny, an imposing presence, said to Kline, "Don't do it."
"He was the guy who reminded me of my brothers (who are prison guards)," said Kline. "Tough-nosed. He had that look. Every time I did something wrong, he gave me that look and I said I'd better not make him mad any more or he'll put me in pain."
Kline never got to pitch in the World Series, having suffered a finger tendon injury in the 2004 National League championship series won by the Cardinals over Houston before they were swept by Boston in the Series.
"That's something you live for all your life," Kline said. "It stunk that we got blown out all four games. I can't watch it on TV. I hated that Red Sox team.
"That was the 'bloody sock' year for (Boston's Curt) Schilling. If he had had to pitch in St. Louis, he would have had to bat and I would have thrown some fastballs down by his ankles. His socks would have been really bloody with ketchup then," said Kline, not believing that Schilling really had been bleeding during a pivotal game in the American League championship series.
And another thing not to like, said Kline, was that "the Red Sox had beards and all the haircuts kids like today. A haircut means nothing to me," he said.
"I used to want to hit guys that had different haircuts or anybody who tried to show off the haircut to stand out. That was just the way I was raised. My dad always said, 'If anybody likes to look pretty on the field, take him down first,'" said Kline.
Kline, who had just 14 career at-bats, had two hits, including a two-run, ground-rule double against the New York Mets' Dan Wheeler on Aug.1, 2003 in an 8-2 Cardinals win.
"If the measurements were right, I think it was 165 miles an hour off the bat," said Kline.
But, flushed with offensive success, Kline couldn't finish his next inning as a pitcher, allowing a single and hitting the next batter before La Russa showed up to take the ball.
"You know you're so amped you're shaking," said Kline. "I remember La Russa coming out and saying, 'What's wrong with you? We're ahead by eight runs.'"
During the coronavirus pandemic, Kline has been at the farm, "helping" his two daughters, 18 and 13, and his son, 11, with their on-line schoolwork although he admits his contributions are minor.
"It's all in French," said Kline. The children spend most of their time in Montreal with their mother, who is divorced from the 47-year-old Kline.
He also does some hunting. "I hang out with a bunch of rednecks, who shoot at anything that moves," Kline said. "That's why I'm afraid to get out of my tree stand."
And he uses FaceTime with Richmond season ticketholders, "and telling some stories. I get in trouble once in a while.
"I'm very honest. And some people don't like honesty in this game anymore.
"I like the spontaneous reaction from people," he said. "I can read a lot of people when I say something outlandish and see how they react. I found out some people can't handle it and others love it. It opens up a lot of doorways for you."
But, "I'm calm now," said Kline, a former wrestling assistant coach who has been known for putting unsuspecting friend or foe into binding holds for no apparent good reason.
"I just enjoy life and teaching the kids," he said. "In the minor leagues you realize it's not all about winning the games. I just want them to have fun playing baseball. I kind of know how to handle some of these kids with glass gloves and which ones you can kind of put your foot on their butts."
Kline had a brief stint last season with the Giants as a bullpen coach when another coach was ill but prefers life in the minors to that of the majors.
"Everything is cutthroat up there," he said. "Down in the minor leagues, these kids are hungry. They listen and they want to learn. In the big leagues, it's more catering to the personalities. That's not my strong suit."
His years in St. Louis were the best of his career, Kline said.
"Every time that door opened from the bullpen, they cheered and you put the weight of St. Louis on your back. Beautiful organization from the top down . . . the ushers, food service people, security. Sometimes, they're the unsung heroes — keeping the crowd from throwing things at us," Kline said, jokingly.
"Tell the fans I love them. It was an honor playing for them."
Kline said he hoped that fans everywhere, when they are allowed to, will come back to ballparks.
"Wear a mask to protect yourself," he said. "I figure if you can protest, you can go to a damn baseball game."
Steve Kline. Unplugged again.
Keep up with the latest Cardinals coverage from our award-winning team of reporters and columnists.