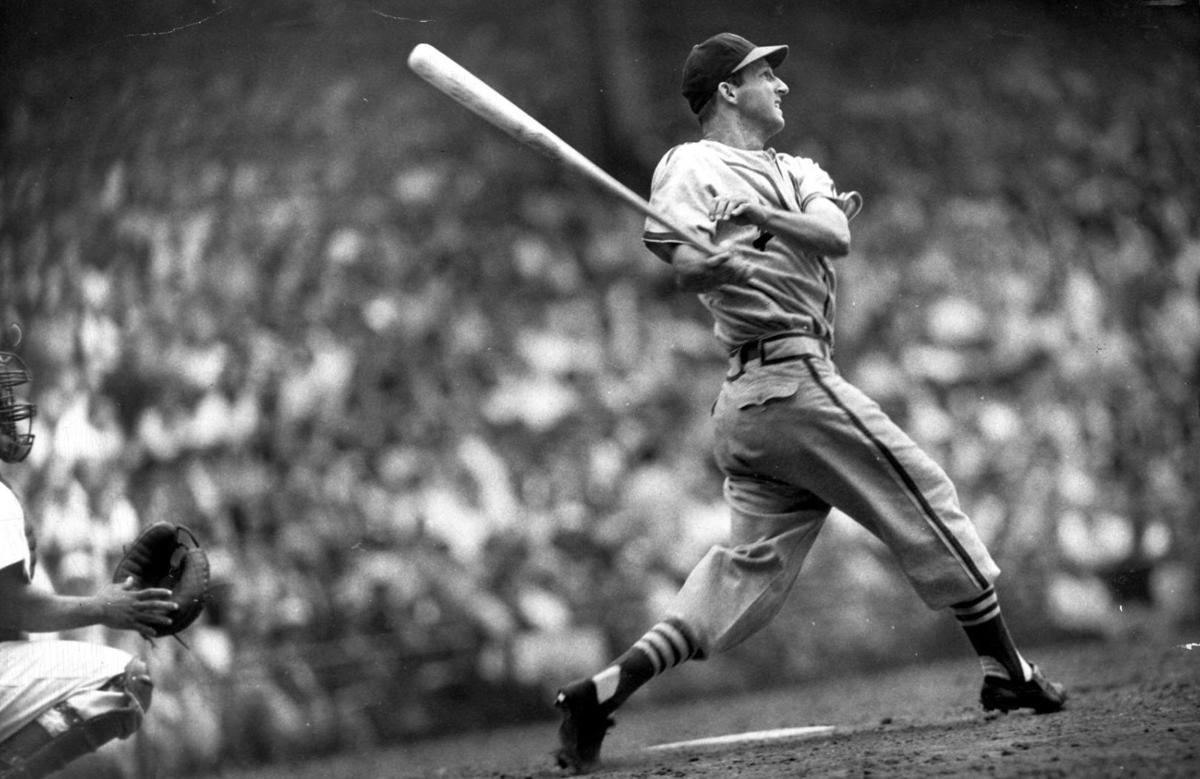 Stanley Frank Musial, who would have been 100 years old Saturday, was nicknamed "the Man," as any St. Louisan worth his salt and toasted ravioli knows.
"He was as appropriately named a gentleman as could be named," said former catcher Tim McCarver, a Cardinals Hall of Famer. "It caught on in Brooklyn — but for all the wrong reasons.
"He was 'the Man,' there because he did so much damage to the Dodgers at Ebbets Field. But, inadvertently, it was the most appropriate of monikers for him."
Musial was "the Man" for his grace, style, wit, relatability and, yes, the fact that he hit .331 in his Hall of Fame career, careful to spread those 3,630 hits out — exactly 1,815 at Sportsman's Park/Busch Stadium I and 1,815 at all other venues, including a whole bunch of extra-base hits at Ebbets Field, where he hit .359 with a whopping 1.108 OPS.
But to a young Mike Shannon, a future Cardinals teammate of Musial's, Stan was the father of one of his football teammates from CBC High, Dick Musial. He was "Mr. Musial" then to Shannon, although former shortstop Dal Maxvill, when talking about Stan this week, called him "Mr. Musial" still.
And Maxvill is 81 years old.
Here is a collection from the archives of Post-Dispatch tributes to the greatest St. Louis Cardinal, Stan "The Man" Musial, who died on Jan. 1…
Shannon, who sported a Stan Musial glove as a kid, recalls "Mr. Musial" being a cool dad, and he remembers him as a shrewd adviser, too. Shannon, a hot-ticket football player who had a scholarship to play at the University of Missouri, also was a top baseball prospect. But in 1957, baseball still had the rule that if a "bonus baby" got $50,000 or more, he had to stay in the big leagues and couldn't play in the minors that year.
Shannon was likely to get that much, but Musial advised him to go to Mizzou because he believed that rule was going to be changed the next year. Musial was correct. Shannon, a star quarterback, left Missouri after one year and signed with the Cardinals in 1958 for in excess of $50,000 but was allowed to start his career in the minors, where he belonged.
At CBC, Dick Musial was the star halfback with Shannon, the elite quarterback. Against archrival St. Louis U. High, Shannon recalled "they were really after him because he was Stan Musial's son.
"Dick ran for a long touchdown. But they called it back because somebody was holding. So I called the same play and Dick ran for another touchdown, and I said (to the defense), 'Hey, you want any more of that Musial kid?'"
When Shannon got to the Cardinals and joined the elder Musial, he graduated to calling Musial "Stan the Man," although Musial once said, memorably, "When your teammates are your kids' playmates, it's time to retire."
Former first baseman Bill White, another Cardinals Hall of Famer and a lefthanded hitter himself, called Musial "the best low-ball hitter I ever saw," and suggested Musial's corkscrew stance helped in that regard.
White said he had no interest in adopting that stance, because, "I had enough other stances that didn't work."
That no other player hit that well from such a stance didn't surprise McCarver. "No one did," McCarver said, "because no one could."
Shannon said, "He had fun playing. Of course, if I hit .350 every year, I guess I'd have fun playing, too. He was a delight to be around, whether he was Dick's father or our teammate. He enjoyed life."
Maxvill, who became Musial's teammate in 1962, remembers having a Stan Musial picture on the wall above his bed as a youth in Granite City, Ill.
"You have to understand that Mr. Musial was my idol," said Maxvill, later a Cardinals general manager. "He was my hero — as he was for many young boys and girls in the St. Louis area.
"I read the sports pages every day, and it was either one, two, three or four hits in his column. I remember the day (in 1954) he hit five home runs in a doubleheader, listening on radio, cheering him on every time he hit one. Three home runs. Wow. And then he got four. And then he got five. I was amazed by almost anything he did.
"When I went to my first spring training in 1962 with the Cardinals, I was in awe of all of those people, but particularly Stan.
"He lived up to his reputation. He was a fine man in every sense of the word. Everything that everybody had said and heard about him through the years ... it was all true. It made me feel good that I was not disappointed in 'The Man.'"
A Post-Dispatch assignment, back in spring training 2007, was for a baseball writer to seek how the legacy of Musial, 86 at the time, still resonated within baseball.
White said Musial was not a gregarious sort away from the park but, regarding their jobs, "you could ask him anything about baseball and he would be happy to talk about it."
"I had a lot of good times talking to him about playing in the big leagues and hitting, or, trying to hit, in my case," said Maxvill, a .217 career batsman.
"Over the years, when I was general manager, he was at the park quite a bit. When we were in the World Series in 1987 in Minnesota, we flew up there on the company plane and I sat with Stan while my wife, Diana, sat with Stan's wife. I did not utter a whole lot of words, except to ask him questions. It was a wonderful hour and a half."
Shannon related a story about one of the early plane trips he took with the Cardinals to the West Coast in his rookie season. He got on the plane early and started selecting a seat but was told by veteran Carl Sawatski that he couldn't sit there. Finally, Shannon spied one at the back of the plane and Sawatski said, "Nope, that's 6's seat," referring to Musial's number.
Musial wasn't necessarily one to invoke privilege, but McCarver recalled with delight that "the plane didn't leave until Stan was on it. One day, we were leaving from New York and he had been in Philadelphia for some reason and was a little late getting to the airport. A mechanical difficulty was invented until he got there."
Musial, having just turned 90, said on opening day of the 2010 season at Busch Stadium, "I want to live to be 100." But when Lil, his beloved wife of more than 70 years, died in 2012 at age 91, Stan followed less than a year later at 92.
Musial was known in the business world for the restaurant he and his partner operated, called "Stan Musial and Biggie's" on Oakland Avenue. But he also helped along a young entrepreneur named Dick Zitzmann, who was setting up autograph shows until Musial suggested the two go into business together in the late 1980s. And thus was born Stan the Man, Inc., which wound up selling all sorts of memorabilia and creating autograph opportunities.
"No question it was a life-changing thing for my career," Zitzmann said. "And it opened up the doors to Bob (Gibson) and Lou (Brock) and (Steve) Carlton and Gaylord (Perry) and Fergie (Jenkins) and Ernie Banks. They were all Hall of Famers, and that was more advantageous to me. Stan certainly made more money off the field than he made on the field."
Musial, even into his 90s, would stop by Zitzmann's office and spend 75 minutes a day signing autographs before the two would head to lunch, featuring a five-restaurant rotation of the MAC West, Busch's Grove, the Charcoal House, Schneithorst's and the Frontenac Hilton.
"We would leave every morning at a quarter to 12, come rain or shine," Zitzmann said. "He loved his routine.
"Hell have no wrath if you were late for anything," Zitzmann once said of those days. "If you were late for something, no matter who you were, it was trouble. He didn't like that — or if I had to stop for a red light when he was in the car."
"Go through it, Dick," Musial would command. "We had to have lunch at noon. He used to make me cut through Schneithorst's parking lot when we were going to the airport," Zitzmann said, laughing.
People often would stroll unannounced into the office and ask Musial for a memento.
"But he was so affable he wouldn't turn anybody down. Stan loved it; he really did. He would take pictures with people. He was almost too good. At times it made me wonder, 'How does this guy do this?'" Zitzmann said.
Musial did have his own method of speeding along the process. When he saw people fishing in their pockets for an item for him to sign, he would pull out signed postcards from his own pocket.
They were almost as present as his harmonica, which Musial would play at the drop of a hat. Kirkwood's Mel Bay, a local musician, once put out a book with Musial's "50 Favorite Songs" on the harmonica, except that nobody ever heard Musial play more than five.
"I have no idea what those other 45 were," said Zitzmann, who jokes that he occasionally searches the vault for the "lost" songs.
Musial was more popular in most places than he was in Brooklyn. One day in September 1962, he was nursing injuries and was on the training table in Chicago's Wrigley Field and did not appear in left field that day against the Cubs. Rookie Shannon did.
There were only 1,603 at this mid-week game, but one stood out.
"This guy sitting in the outfield said he drove 690 miles to see Stan. He yells at me, 'Shannon, where's Musial?' I said, 'He's not going to play today.'"
"He said, 'You mean I drove 690 miles to watch you play left field?'
"He had his kid with him, who was about 12, and I know they were talking about Musial the whole way on their drive. I really felt bad for him."
When he had a break in the action, Shannon went upstairs to the Cardinals' clubhouse at Wrigley, found Musial on the table and explained the situation. Musial signed a ball and gave it to Shannon, who returned to the field.
"I threw the baseball up to the guy," Shannon said," and, from then on, it was, 'Hey, Shannon, way to go, baby.'
"Stan was a great man," Shannon said. "We sorely miss him."
Do you realize how good his '48 season was for the Cardinals? Folks who participated in Saturday's drive-by 100th birthday honor probably do.
The greatest Cardinal ever, Stan "The Man" Musial, was born Nov. 21, 1920 and died on Jan. 19, 2013. On the 100th anniversary of his birthday …