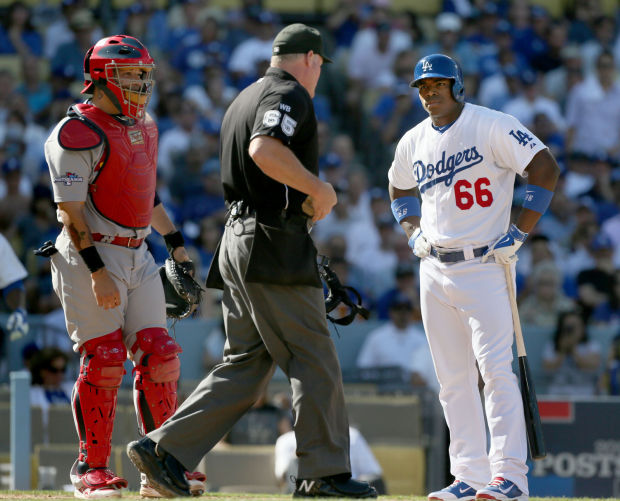 LOS ANGELES • The longer this Dodgers-Cardinals thing lasts, the clearer it becomes that there's more going on here than a best-of-seven race to reach the World Series.
The Cardinals still lead the official competition three games to two despite dropping Wednesday afternoon's Game 5 at Dodger Stadium. The Dodgers got to Cardinals pitching for as many home runs (four) in 32 at-bats as the visitors had allowed in nine previous postseason games. The last five spots in the visitors' lineup were 0-for-15 until contributing two hits in a too-little ninth-inning rally against closer Kenley Jansen.
The Cardinals didn't play well Wednesday.
They missed early chances against vulnerable Dodgers starter Zack Greinke and watched Joe Kelly, the exiled Edward Mujica and John Axford surrender home runs worth four runs.
Until the ninth inning Dodgers first baseman Adrian Gonzalez had as many total bases (nine) as the entire Cardinals lineup.
Yadier Molina hit with six guys on base and made six outs.
The Cardinals botched a chance to put an early wrap on the National League championship series. We get it.
The Dodgers are winning the subtler battle, the one to get under their opponent's skin. Three days of Hollywood and five games of right fielder Yasiel Puig have rubbed the Cardinals raw.
The Dodgers have scored 13 runs in a taut series. The Cardinals have scored 12. The Dodgers hold statistical edges but the Cardinals have won a 13-inning and a 1-0 game. This is a series where every hit, every pitch and every reaction has meaning.
The Dodgers see rookie Michael Wacha flex and shout after a huge out in Game 2.
The Cardinals hear Gonzalez chirp at starting pitcher Adam Wainwright from third base on Monday and see him don imaginary Mickey Mouse ears after the first of his two home runs Wednesday.
Of course, in between Wainwright off-handedly referred to Gonzalez' behavior as "Mickey Mouse."
The Dodgers invited comedian Will Ferrell on field to proclaim Greinke Wednesday's "winning pitcher." One problem: Ferrell's act took place before the game with the Cardinals standing at the dugout rail.
Hey, baseball is the primary religion in Our Town. Out here it's a place to be seen, maybe flash some gang signs on the matrix and bat a beach ball. (The series became official when one went onto the outfield in the seventh inning.) The Dodgers reflect the culture, albeit with a Wednesday timeout for shortstop Hanley Ramirez to punish an offending water cooler.
The Cardinals boast about the "best fans in baseball." The Dodgers prefer to boast of the coolest ones. Something's got to give.
"There are two completely different styles of baseball. That's probably the best way I can put it," said Cardinals second baseman Matt Carpenter. "We're two very different teams. That's really all there is to it."
Gonzalez stoked it Wednesday with a third-inning shot off Kelly that the Dodgers estimated at 428 feet — two feet farther than the bomb Matt Holliday hit to Pasadena Tuesday night.
Gonzalez pimped the blast by flipping his bat. Then, as he approached the dugout, A-Gon held his thumbs to each ear and wiggled his fingers, the unmistakable sign of Mouse Ears.
"I mean, to me, if you can't have fun out there in these situations, then you shouldn't be out there," he said afterward.
Asked if the move might incite the Cardinals, Gonzalez continued, "I don't see it that way. I think you (media) guys are building it up more than anything. I think it just gave us the lead and there is no emotion. It's just having fun."
Gonzalez wrecked the game for the Cardinals. He scored the day's first run, gave the Dodgers their second lead with a third-inning home run and padded it to four runs with another shot in the eighth.
When Gonzalez said he'd discard the move, left fielder Carl Crawford, who also homered, stoked him. "Once you start it, you've got to keep it going," Crawford teased. "I'm pretty sure it rubbed them the wrong way and they're going to use it as some kind of fuel. So you might as well keep doing it, Adrian."
The Dodgers have nothing to lose except one more game. If they sense that their style agitates their opponent, why not go with it?
Catcher A.J. Ellis, a Missouri native, voiced his respect for the Cardinals and their tradition. But that's hardly an apology for the Dodgers' up-front style.
"I don't think about it at all," Ellis said of the contrast. "I have a job to do. If they take offense to some of our energy and the way guys act, that's their right. But we're not going to pay any attention to it. We still have a job to do. Hopefully we'll have our emotions spill out with the way we play."
The Cardinals would rather keep their irritation among themselves and close out the series. But no one missed when Puig, a rookie, stood and glowered over plate umpire Ted Barrett after Barrett rang him up in the fourth inning. On Monday Puig loafed out of the box on what he thought was a home run. When it bounced off the wall, Puig made third base standing despite clapping and pointing on the way.
Puig's Tuesday offense was dramatizing a high, inside fourth-inning pitch from Lance Lynn. Some Cardinals lit into him so loudly after Tuesday's ninth-inning double play that others in uniform called them off the rail.
Puig and The Moment are inextricably linked. Dodger infielder Jerry Hairston Jr. could think only of Rickey Henderson as a comparable. "He loves that limelight. He loves the attention," the veteran Hairston said. "I wish I would be compared to Rickey Henderson."
It found him again in Wednesday's ninth inning when Puig apparently lost Matt Holliday's fly ball in the sun, overran it then acted as if he'd been asked to pick up someone else's garbage. Even several teammates were incensed enough to scold Puig in private.
"That's the learning. He has to learn. It's tough to learn," said ex-Cardinal Skip Schumaker, now a Dodgers reserve outfielder. Schumaker obviously has been exposed to both clubhouse cultures. "But very rarely do you see him make the same mistake twice. You say, 'Go in hard on someone and don't veer off,' the next time he goes in hard on someone. It's not frustrating because he does soak it in."
The Cardinals reminded their players of the relevance of Stan Musial during spring training. Puig may not yet fully appreciate Jackie Robinson, Sandy Koufax or the legend of Kirk Gibson. He does appear infatuated with his own talent, which can be good and bad for his team and extremely irritating to the one across the field.
"He wants to be the guy, and that's great," Schumaker said. "How could you not want him to be the man? It's a great thing. I wouldn't want to take that away from him."
It's the difference between where Skip sat last October and where he sits this October. It's the same game viewed through different prisms.
"We're both fighting to get to the World Series," reminded second baseman Mark Ellis. "The edge has always been there."