JUPITER, Fla. — When he saw Jordan Walker added to the robust group of hitters he'd face in Friday's rounds of live batting practice, Cardinals rising right-hander Michael McGreevy gave an early tip to the top prospect.
"Walk, if I was a betting man and you were the last at-bat, I'd hunt fastball," McGreevy said. "Because it's the last one, and I need to get the velo (velocity) up there a little bit."
Can't say he wasn't warned.
One of the final hitters McGreevy faced in two simulated innings Friday, Walker got a fastball and took it for a called strike 3. The Cardinals' leading prospect was a morning addition to a group that already featured Paul Goldschmidt and Tyler O'Neill — a clear signal that the Cardinals wanted to see McGreevy against big-league batters. Or, as manager Oliver Marmol put it, "a couple of guys who know how to hit." McGreevy impressed in his first live BP — touching 96 mph, sporting a new, snappy slider — and Friday was a test of how his four pitches played on the next stage.
"What we'd like to see against certain types of hitters at another level," Marmol explained. "Yeah, we want to see it here. And in games. … He's shown that (velocity). Now, it's a matter of repeating it over time. That's our hope. His stuff plays even better when that's the case. He reaches a different level of this game when he can sit there."
McGreevy, the 18th overall pick in 2021, reached Class AA in his first full season in the majors and made 20 starts for the Springfield Cardinals. He had a 4.64 ERA but 76 strikeouts to 109 hits in 99 innings. His velocity fluctuated through the season, sometimes humming along at 95 mph in games and sometimes wilting to 89 mph. He entered this offseason intent on altering his workouts and nutrition to build strength and maintain it through the season — the goal being more consistent velocity and, possibly, more velocity.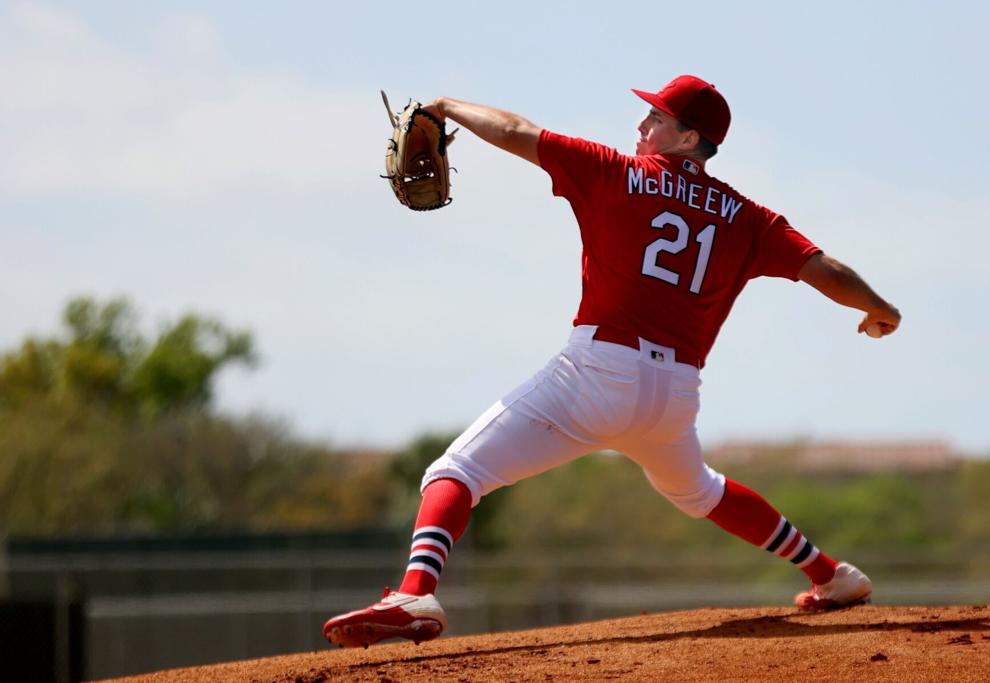 He also dove deep into the world of pitch crafting because, as he said early Friday morning, he had to take his mix of four pitches and "make them better because they'd probably only take me to Double-A." Improved pitches could accelerate him to the majors, soon.
He found one while trying not to hit parked cars in the cul-de-sac outside his house.
McGreevy's father, Steve, has started wearing two batting gloves and a catcher's mitt when playing catch with his son to protect his hand. That's what they were doing one day this past winter when McGreevy, trying to avoid overthrowing or underthrowing and hitting a neighbor's car, shifted his grip on a slider. It veered sharply away from his father's reach.
A new slider was discovered.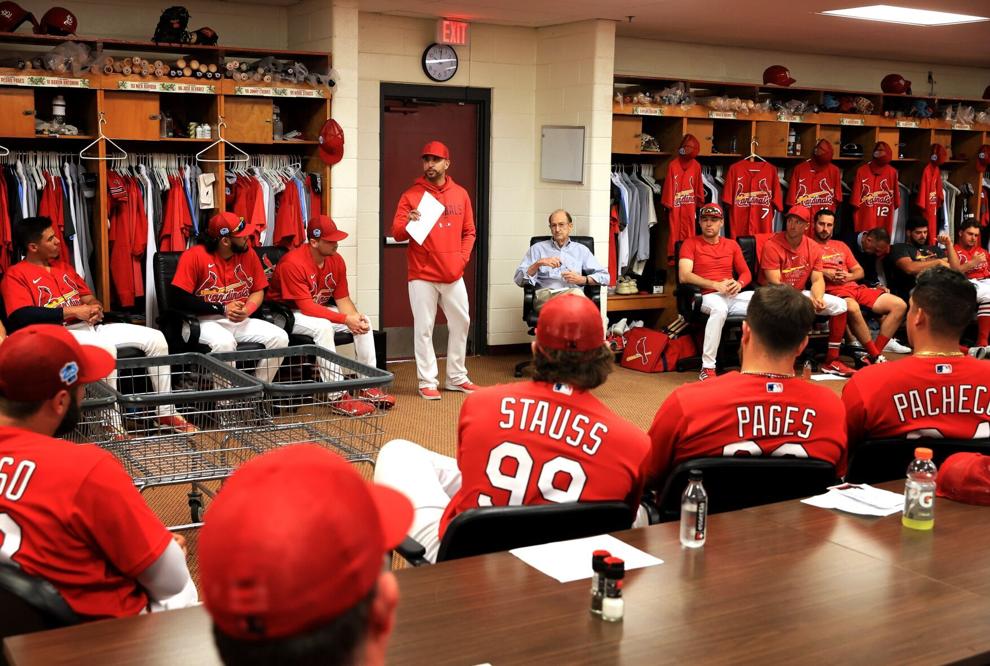 In the opening weeks of spring training, he has been encouraged by the metrics on the slider, and on Friday, he was able to land a few for strikes. McGreevy has sharpened his sinker and his changeup so that they have more depth, and his four-seam fastball remains a pitch he can elevate. All four get good grades based on the data collection from the Cardinals' Trackman radar system, Marmol said. Hitters remain the best judge. One told McGreevy earlier in camp that he gave away his curveball by raising his arm to a different slot from the slider.
"I think you want to make it look like a strike as long as possible and then have it dive out of the zone," McGreevy said about what he was eager to hear from hitters. "'Saw it the entire way, and I crushed it.' That's something you don't want to hear."
O'Neill did that with McGreevy's last sinker. The pitch had the movement McGreevy wanted, it was over the plate, and it may have come in under the zone. O'Neill was doing what McGreevy suggested to Walker — poised for the fastball — and the outfielder drilled a line drive.
McGreevy delivered as promised to Walker, too.
He started his fellow prospect's at-bat off with a fastball that Walker, in hindsight, said he should have jumped. Walker saw the slider and called it "good." And with two strikes on Walker, McGreevy dotted a fastball that Walker thought was high. Big league pitchers lobbied for the called strike, and McGreevy got it from coaches.
"That was a strike," McGreevy said in the clubhouse, with Walker smiling nearby. "I don't think you need Trackman to see it was a strike. Everybody in Jupiter knows it was a strike."