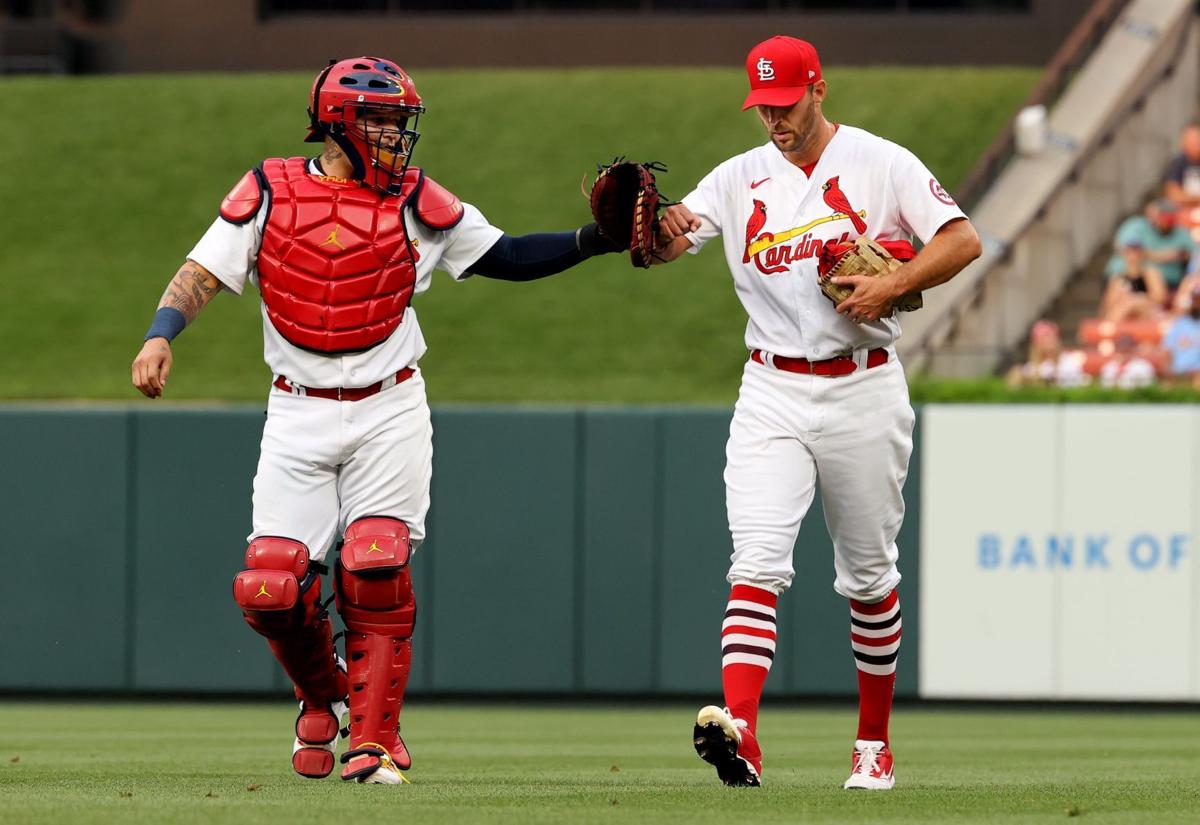 MILWAUKEE — As he drove alone in his rental car toward south Chicago and the resumption of a season once in doubt, Adam Wainwright found a place to pull over and stretch. Back spasms seized on him on the way to a start against the White Sox, the start that would bring the Cardinals back into their 2020 season from isolation, from a coronavirus quarantine they partially spent bunkered in the same Milwaukee hotel they call home this weekend.
The Cardinals had not played in more than two weeks and pitchers had been delivered baseballs by room service to do something, anything to invigorate their arms. Internally, there was deep consternation and deeper concern how to safely use pitchers and who could handle a cold start vs. the Sox. Wainwright raised his right hand.
On the side of the road, he loosened the knot in his back and considered the weight placed on his shoulder.
"I remember thinking, 'I'm about to set a tone for this entire season right now,'" Wainwright recalled. "This is really important."
He finished the drive to the ballpark as a familiar rush returned. Wainwright knew with certainty what no one else could.
This was a start an ace should make — and he would, again.
"That's a hard thing to fake," Wainwright said Wednesday, leaning against the bat rack in the visitors' dugout at Great American Ball Park. "Being a guy who was washed (up), who is completely done and then two years later being a guy where everyone is depending on you — that's a really fun moment for me. I knew last year that I needed to be on every time. I know this year I need to be on every time. And that takes me back to when I was the true No. 1. There was an idea that I'm effecting three, maybe four days for the rotation with what I'm about to do on this mound. It was important. It mattered. And everybody expected that from me and needed that from me. I loved that. I love that.
"Feeling needed like that really helps."
And it hasn't changed in the year since or year to come.
A week, which continued Thursday with the National League Pitcher of the Month honor for August, began with a personal milestone for Wainwright and will close with a professional — one that has become a driving force for his leaning toward a 2022 return.
Wainwright, who turned 40 on Monday, and catcher Yadier Molina will make their 300th career start together, as a battery, Friday night against the Brewers. It's the round number. And, there is a tone to set.
The Cardinals, grasping for a handle in the wild-card race, will play their next seven games against first-place teams and face a division-dominating Brewers team that won three consecutive this week to knock San Francisco out of the NL West lead.
After Molina-Wainwright, the next active tandem is Molina's 121 starts with Carlos Martinez. In the non-Molina division there's Boston's Christian Vazquez with pitcher Eduardo Rodriguez, at 104.
Molina and Wainwright are the fourth pair to reach that number together and the first since Detroit's Mickey Lolich and Bill Freehan did more than 46 years ago. Lolich and Freehan have the all-time lead with 324 starts together. The Cardinals' two birds of a feather can claim that record with health in 2022 — and Wainwright's return. Molina has already agreed to a one-year extension for 2022 and announced his plans to retire at the end of next season. He has started dropping hints to Wainwright, casually mentioning the history they could yet share or giving him non-verbal nudges.
Three or four times a game, Molina will make eye contact with Wainwright from across the dugout and raise his eyebrows just so.
"I know what he's thinking and he knows what I'm thinking," Wainwright said. "He hasn't put the full-court press on me yet."
Within the past two weeks, the Cardinals have approached Wainwright to discuss his plans for 2022. It was a brief talk, an opening volley. More discussions are forthcoming. The club intends to have a one-year offer waiting when their ace emeritus is ready, a club source described.
Wainwright has steadfastly said conversations with family will shape his decision, and the Wainwrights have already begun those at home, he said. Wainwright's oldest daughter, born the same week he became the Cardinals' closer as a rookie in 2006, started high school. Raised with his brother by a single mother, Wainwright described how his youth is shaping his thinking because "I don't want to be the dad who missed everything. I had a dad who missed everything, and I don't want to be the dad that misses everything."
"If it was just a pitching decision, then it's a no-brainer for me," Wainwright continued. "I really love what I'm doing and enjoy competing and everything about pitching. I really enjoy pitching. If I was going to tell you today, I would say I'm probably going to pitch next year. Things change real quick in this world so I don't want to get too far ahead of myself. I don't want to be one of those athletes who retires three times.
"I want to know that I know that I know."
It was only three years ago it felt like the choice was made for him.
Before a start in San Diego in 2018, Wainwright felt two bones in his elbow clap together. His stomach ached. He felt ill. He knew. What he had to "trick them and mix and match and add and subtract and fight my way through" was also now going to hurt. Each pitch was preceded by a deep breath and a wish to throw one more. He made 79, walked six, and left the mound in the third inning for what he realized might be the last time. The pain on the backside of his right elbow was so severe it creeped into everything else he tried to do. He couldn't strum the opening chords of a song on his guitar.
"Not one note," he said. "There was no enjoyment factor at all in throwing a baseball, in throwing anything. There was no enjoyment in picking up a fork."
There was no thought of another start, let alone a 350th of his career or a 300th with Molina. Rest, treatment, reinvention, and the guidance of the Cardinals' trainer staff brought Wainwright back for reassuring appearances late in 2018. He scribbled on a napkin his proposed contract for a return in 2019 — and that was when renewed health, revised stuff, and that familiar confidence began to mesh and meet him on that drive to face the Sox.
In the first game of a doubleheader on Aug. 15, 2020, Wainwright pitched five innings and limited the stocked Sox to one run on two hits. He followed that start with consecutive seven-inning starts and then, on his 39th birthday, gave an overtaxed bullpen a gift with a complete-game shutout. Circumstances did in 2020 what injuries elsewhere in the rotation have in 2021 — thrust him into a leading role. He's responded by not just being the best pitcher on the staff, but one of the best in the league.
Since that pitstop in the rental car, Wainwright has made 35 starts — the equivalent of a full season. He's 17-10 with a 3.06 ERA. Those 17 wins lead the majors in the past year, his 229 1/3 innings are second in the majors. Only two pitchers, Phillies' Zack Wheeler and Milwaukee's Brandon Woodruff, have more than 200 innings and a smaller ERA than Wainwright since Aug. 15, 2020. In the same month he turned 40, the oldest active National Leaguer, he also won the league's award for best pitcher, going 5-1 with a 1.43 ERA. In three of his previous four starts he hasn't allowed a run. It's been six weeks since he allowed more than three in a start. Seven years after he finished third for the award, Cy Young Award votes will await him after a strong September.
With health, he had the drive.
With Molina, he sees the destination.
"It's a special number. If we do get that number (325) I don't think anybody will ever break it," Wainwright said. "That's kind of one of the biggest thoughts that I have about coming back. Not only just winning — but that's like an all-time thing. How many people can say they have an all-time major-league record?"