JUPITER, Fla. • With one month between them and opening day in Milwaukee, the Cardinals are gaining clarity on the readiness of three players who were part of their 2018 opening day lineup, and they aim to see progress or put a new plan in place.
Carlos Martinez traveled Monday to visit with a physician for a second opinion on the shoulder ailment that halted his spring training and threatens his availability for the start of the regular season. The purpose of Martinez's absence from camp was to get "additional medical opinions," executive John Mozeliak said, and results late Monday or early Tuesday will shape Martinez's next step. Mozeliak said the team expected this "second look" to confirm the team's initial view that Martinez must strengthen muscles within his right shoulder to avoid fatigue and the recurring injuries he had this past year.
The Cardinals have set next week as the date to re-evaluate Martinez and possibly return him to a throwing program, or that could be delayed again. The team has begun to prepare for the possibility Martinez, last year's opening day starter, won't be ready as a starter and could shift to a relief role. Starting the season on the injured list is also possible depending how his shoulder responds.
Yadier Molina and Marcell Ozuna remain on track to be in the lineup for the March 28 season opener. Molina, who is recovering from knee surgery, will catch his first Grapefruit League game March 14. That gives him two weeks of games to get ready. He'll appear at designated hitter before then, and in the coming week he'll pick and choose what bullpen sessions he wants to catch. This past weekend, he got in the gear for the first time and caught Adam Wainwright.
Ozuna, who had offseason shoulder surgery, started at designated hitter in Monday's 3-3 tie with Detroit. Ozuna remains on a throwing program to improve his mechanics and strengthen his arm, and the Cardinals are looking for some progress before putting him in left field.
The goal remains mid-March.
"The clock's ticking," Mozeliak said. "The season is a month away. We're seeing steady progress and we just need that to continue moving forward. We need to know when he'll be ready to go with confidence in his arm. We need to see that."
Ozuna said the shoulder is "feeling good, better" and that he has a sense that his mechanics are getting more comfortable and throws stronger. He acknowledged that he's not at full strength, and the Cardinals want to avoid last season's start when he couldn't throw well on opening day. They want him to play "without limitations," Mozeliak said. Ozuna has shown few of those at the plate.
In his first at-bat Monday, Ozuna yanked a line drive to left field that was caught, in stride, by a Tigers outfielder. From what the Cardinals have described they saw last season, it was the kind of pitch and hit that Ozuna would have mashed into the ground as his shoulder rebelled on him.
"Yes. Yes," manager Mike Shildt said. "Feels good. Getting through the ball. Ball has got a little more carry. The ball is in the air a little more consistently. I know he's in a good spot, getting through it. That's the Ozuna that he wants and we want."
Shildt expects Ozuna to play in left field a little after or around the time Molina returns to catch. The manager acknowledged that Ozuna's readiness in left field takes less time than other positions, but that time is not zero games in the Grapefruit League. Molina will have time remaining in the schedule to catch the entire rotation. He has been able to run in workouts, field other positions during infield practice and take batting practice without limitations.
"He's getting close. He's getting really close," Shildt said. "He could (DH) today if we needed him to. It's just a matter of when he wants to get a feel for his at-bats."
REYES EARNS RAVES
Before some cups of coffee had been finished in the clubhouse, Andrew Miller, Alex Reyes and Jordan Hicks threw live batting practice sessions that could be the prelude to their first appearances in Grapefruit League games. Miller faced hitters for the first time, threw about 20 pitches, had no issues, and said he expects to make his game debut this weekend.
Hicks continued to experiment with his four-seam fastball, and he and lefty Brett Cecil are expected to appear in games in the next week.
The righthander, who is returning from shoulder surgery, snapped two curves to start one simulated at-bat and then froze a hitter with a fastball. He followed that sequence with two fastballs taken for a 0-2 count and then got the hitter with a curve for a called strike three. Shildt could be heard "cackling," his word, from his vantage point in the outfield. Miller said he looked like a "schlub" given the velocity that came after him, and Reyes continues to push his way into the conversation for the Cardinals' opening-week rotation.
"I'm dying to pitch in a spring training game," Reyes said. "It's been a few years. I'm dying to get out there. (I'll) show up tomorrow. Ears open."
EXTRA BASES
Andrew Morales had a scan taken of his right shoulder to determine the reason behind inflammation and soreness that forced him from Sunday's game. The righthanded reliever said the results were "inconclusive, but optimistic" as he'll rest and try to avoid a chronic issue that interrupted seasons a couple of years ago. … Dakota Hudson will start Wednesday's game as the Cardinals want to see if he could be an option for the rotation. Hudson won the Pacific Coast League pitcher of the year award last year, as a starter. … Lefty Austin Gomber will follow him in that game against Atlanta. … Miles Mikolas and Jack Flaherty will piggyback in Thursday's game against the New York Mets.
---
Derrick Goold's top 10 baseball movies (with help from the Cardinals)
BASEBALL AT THE MOVIES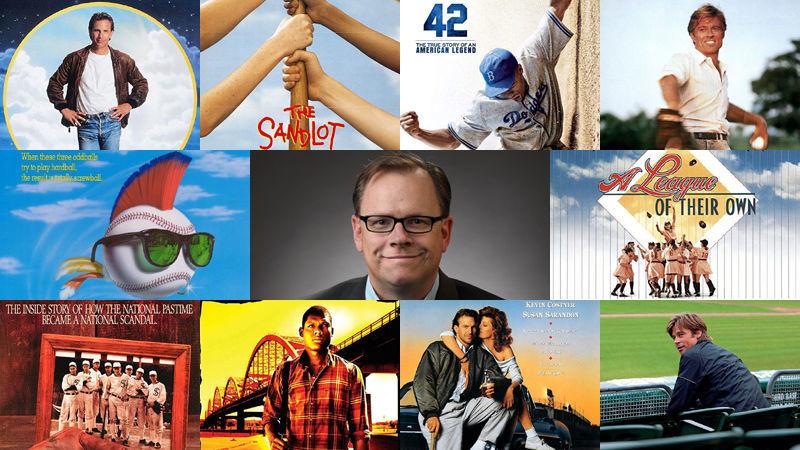 JUPITER, Fla. • This past week as the Cardinals worked on "first-and-third" plays with the infielders on one of the back fields at the Roger Dean Stadium complex it was hard to miss the crackle of familiar chatter. First baseman Paul Goldschmidt and his teammates peppered the drill with commentary and play-by-play and grins and wisecracks and hey, wait, could that be …
"We were just quoting it," Goldschmidt said.
From "juuuuust a bit outside" to more colorful phrases from the 1989 comedy, phrases from that movie have become as common and ingrained in the game as OPS. And "Major League" is hardly alone. "There's no crying in baseball" even when "you're killing me smalls" because later we'll "wake up at night with the smell of the ballpark in my nose, the cool of the grass on my feet" and realize "it's supposed to be hard. If it wasn't hard, everyone would do it."
Movies are the best thing to happen to baseball since Cracker Jacks.
Before the arrival of this weekend's 91st Academy Awards – go "Black Panther" – I canvassed the Cardinals clubhouse for favorite movies and favorite movie moments. How interwoven they are in baseball became clear. John Gant had just watched "The Sandlot" a few days ago. Miles Mikolas was of course nicknamed Nuke LaLoosh in college. Cardinals manager Mike Shildt had some real issues with the lineup in "Bad News Bears" and the late-game decisions made by coach Buttermaker. Alex Reyes and Genesis Cabrera had some serious picks as their favorite movies (comments below). And Tyler Webb had just watched his favorite, "Bull Durham." The lefty mentioned how well that movie captured the minor-league life and the cadence and phrases used there. I asked if it's possible that the movie had been around so long now that the minor-league life was reflecting it, not the other way around.
So it goes with baseball movies. We a think a line or phrase has been in the game all along, but it really came from the silver screen to the green.
"How can you not get romantic about baseball?"
With guidance from some of the players' comments, I've ranked my 10 favorite baseball movies. If a player had the same favorite movie, I included his explanation. Not included is "Fever Pitch," though I admit to watching it more than a few times to see if the time Jimmy Fallon, Drew Barrymore and the film crew shoved me out of the way at the 2004 World Series at Busch Stadium is somewhere in that curious ending.
HONORABLE MENTIONS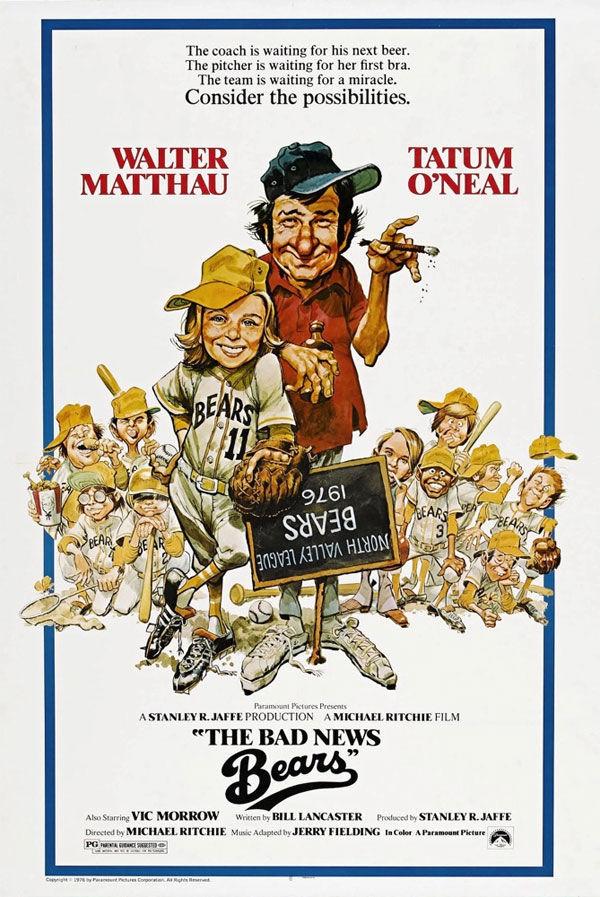 The movies ranked in the top 10 do not include documentaries, so you won't see "Ballplayer: Pelotero" (2012), a tremendous documentary that focuses on top prospects from the Dominican Republic and their rise toward professional baseball. It offers great insight into an ongoing story for baseball and how it acquires talent that helps inform fans far more than a prospect ranking list.
Also not mentioned but worth consideration were, of course, "Bad News Bears" (1976), the complicated "Cobb" (1994), "Bang the Drum Slowly" (1973), and a sleeper good baseball movie based on an underrated great baseball book, "The Bingo Long Traveling All-Stars & Motor Kings" (1976).
10. MONEYBALL (2011)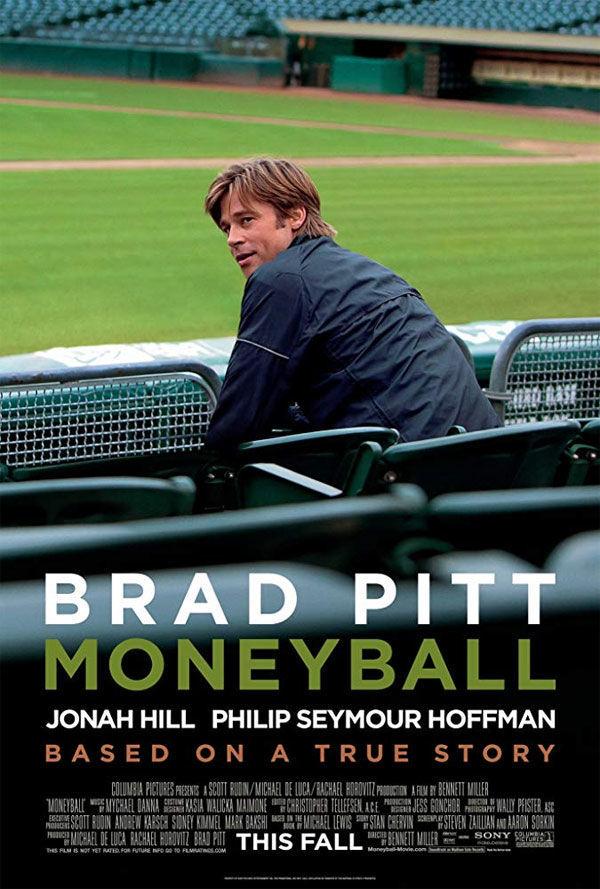 The true tale based on the book that upended baseball and ushered in the analytics age would have slipped out of my top 10 if not for Aaron Sorkin's whip-smart script, which peaks when Brad Pitt's Billy Beane is sitting in the living room next to Brent Jennings' Ron Washington and trying to convince us all that playing first base is easy.
"Playing first base isn't that hard, tell 'em Wash," Beane says.
The problem "Moneyball" has moving up this list is there are movies far richer in characters and story and there's fifty feet of quality and then there's it. If Michael Lewis' book brought baseball's metric revolution to the bookstores, boardrooms and, yes, front offices, then this movie, a decade later, brought it to the masses. Also, Star Lord was in it.
Rotten Tomatoes score: 94 percent
9. THE SANDLOT (1993)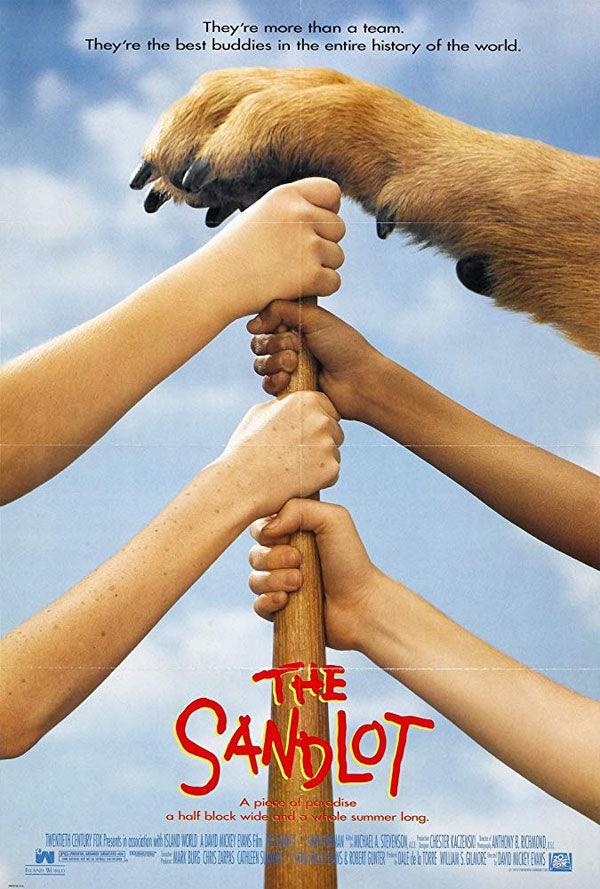 Can't beat The Beast. This movie came out when I was moving on to college but I got to re-experience it through my son's eyes decades later. Within the Cardinals' clubhouse, the fondness for "The Sandlot" runs along generational lines. The players who grew up with this kind of dirt patch for baseball and those kinds of friends to spend afternoons with adore this movie, and gravitate toward it.
Bruised when it came out – check out that Rotten Tomatoes score – this movie has aged better than its cousins, "Rookie of the Year" and "Little Big League," to gain the status as a cult hit it deserves. It is the "Stand By Me" of baseball movies – and has more memorable lines, but not the memorable soundtrack. There isn't a better gateway movie for young fans into baseball, baseball history, and baseball films.
Don't believe me? Ask these Cardinals.
Tommy Edman, INF: "The Sandlot. Just a lot of fun. My dad ran a baseball camp – two times a year, summer and winter. We would watch movies during the lunch break. Saw Sandlot two times a year from age 6 through 14, probably. We also saw The Natural, Rookie of the Year, but Sandlot – you knew that one."
John Gant, RHP: "The Sandlot. Classic. I saw it recently. I like all of it. It was just on TV and it was exactly as good as I remember it. A classic American movie."
Jedd Gyorko, INF: "OK, it's The Sandlot. But Major League is a close second. The Sandlot is what we all knew or could relate to. A field in our backyard, not much green, and being in the neighborhood playing baseball."
Luke Gregerson, RHP: "The Sandlot. I like it better than all the other ones. We good?"
Rotten Tomatoes score: 57 percent.
8. THE NATURAL (1994)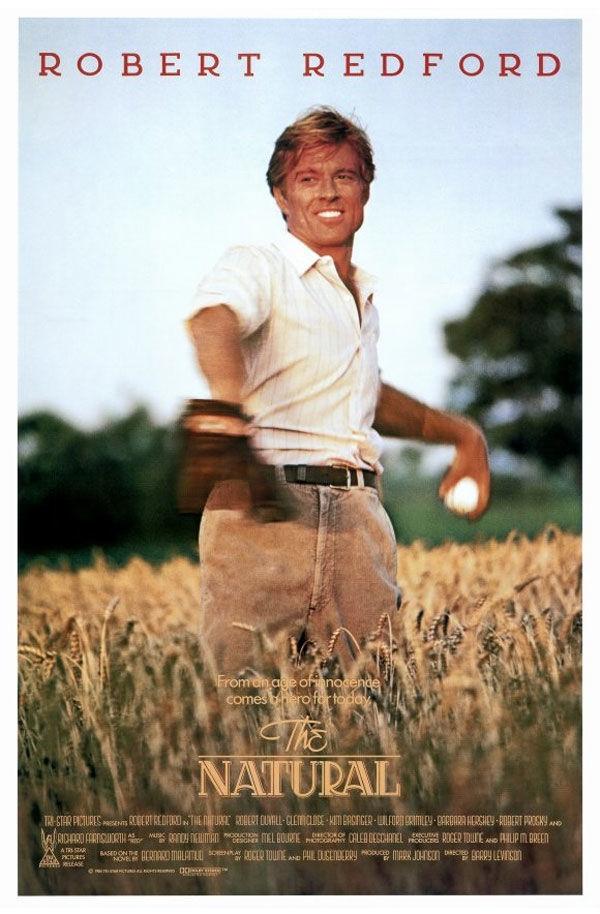 Few scenes in sports movies are better than the triumph of Roy Hobbs and the demolition of the ballpark lights. Try going to a ballgame without humming "The Natural" theme song at some point. In Barry Levinson's film from Bernard Malamud's classic novel, Robert Redford plays the New York Knights resurgent slugger with the mysterious past. Before being shot, he was a hotshot pitcher who struck out "The Whammer," and then had to find the game again.
"The Natural" captures baseball lore and magic as well as any other, from the bat made by a bolt of lightning to the filmmaking tone, lighting, and staging that set the model for so many baseball movies that followed, and that will yet follow on this list.
Rotten Tomatoes score: 82 percent
7. EIGHT MEN OUT (1988)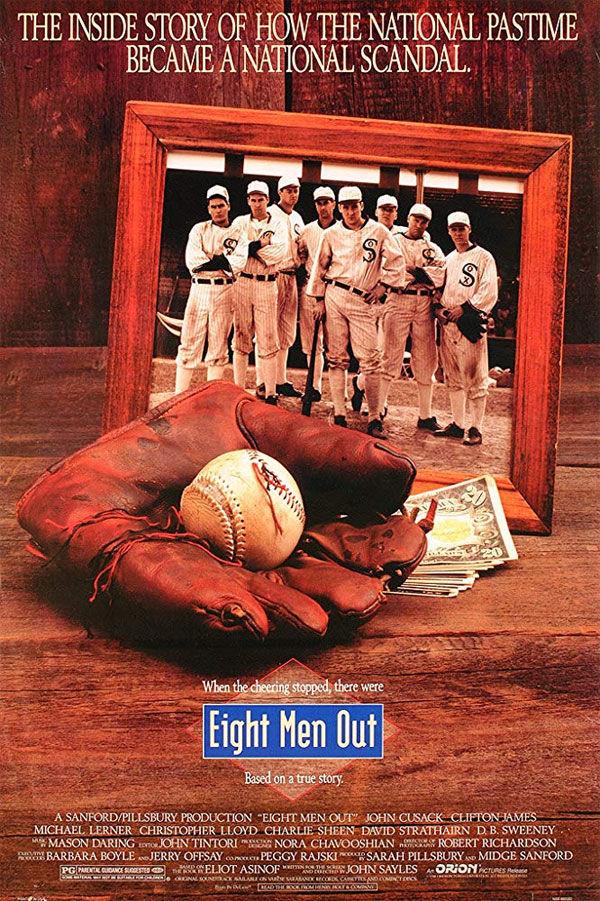 A regular in MLB Network's rotation of movies, "Eight Men Out" is one of those movies that no matter where I find it, I'm likely to sit down and watch it to the ending, like "Die Hard" or "The Untouchables."
Based around Eliot Asinof's book by the same name, "Eight Men Out" tells the story of the 1919 Black Sox, and it gets as complicated as the time. The World Series scenes late in the movie do a good job of blurring the case between who was throwing the games and who wasn't, who was in on the take and who was trying to compete. It is definitely a "print the legend" movie, right down to the courthouse steps moment and "Say it ain't so, Joe." It also features the greatest baseball player to become a baseball writer, Christy Mathewson, and shows how he and Hughie Fullerton unearth the gamblers' plot. Baseball writers as heroes? Naturally. The vintage baseball images are captivating, Mathewson skewering players on the train is delightful, and the scene when the owners, hats in hand, go to Judge Kenesaw Mountain Landis with an offer captures one of the most fascinating moments in baseball history. The irascible (irrational?) judge's demands shape the game for decades to come.
Also, Shoeless Joe should be in the Hall of Fame.
Rotten Tomatoes score: 86 percent
6. FIELD OF DREAMS (1989)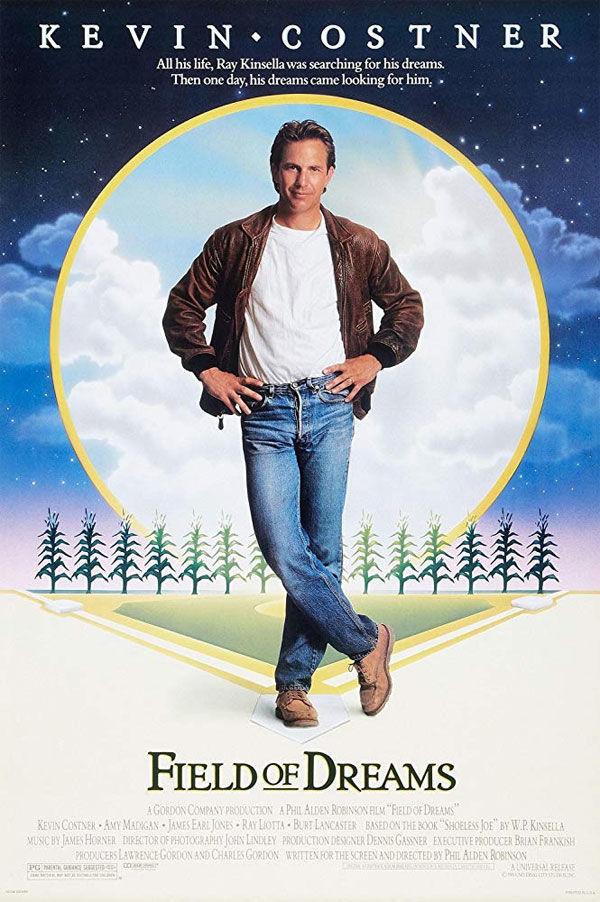 This past August, I was able to sneak away from the beat for a road trip with my 12-year-old son – and our first stop was a cornfield in Iowa. Such is the power of "Field of Dreams," the movie and the notion. They built it. We came.
Kevin Costner's third-best baseball movie walks the tightrope between schmaltzy and moving, but it never leans so far to the former that it falls over. The movie does a good job of capturing baseball's timelessness. The players are long gone but we still have their box scores, their baseball cards, their highlights (in some cases), and their legend. There's a richness to the story that leaps beyond the obvious father-son and family connections to show how sometimes dreams have to be delayed because of responsibilities but they don't have to be denied or abandoned. Candidly, W.P. Kinsella's book, "Shoeless Joe," and the novella "Shoeless Joe Comes to Iowa" allow the story to take flight in ways the movie did not, and still they're not as good as Kinsella's best, "The Iowa Baseball Confederacy."
Also, Shoeless Joe should be in the Hall of Fame.
Mike Shildt, Cardinals manager, says the best baseball movie is "Field of Dreams. But can we talk about Bad News Bears? I have some questions for Buttermaker."
Rotten Tomatoes score: 86 percent.
5. SUGAR (2008)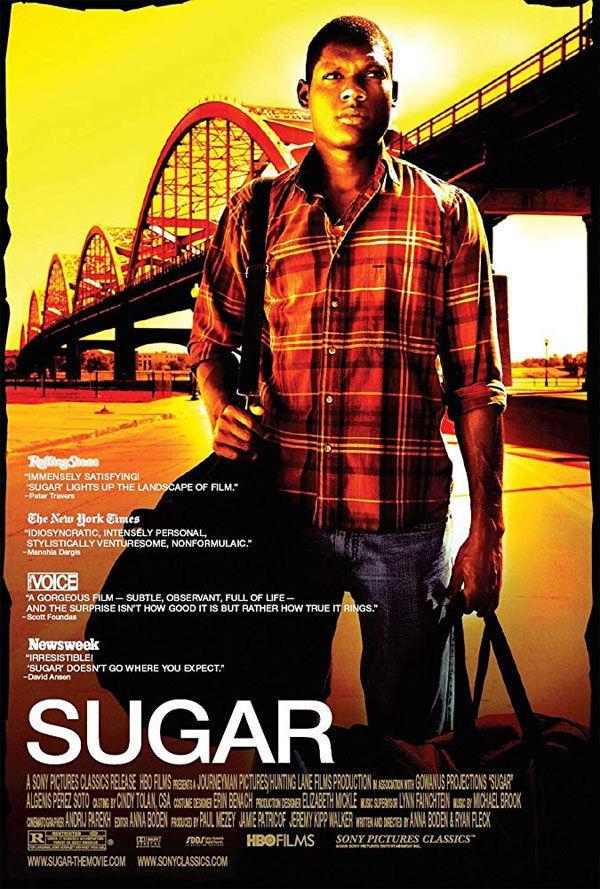 The uniforms and backdrop of this impressive film – as in film, not just baseball film – will be familiar for Cardinals fans. Miguel "Sugar" Santos, played by Perez Soto, takes his snap-happy curveball from his home in the Dominican to a minor-league affiliate in Iowa: the Swing. The logo, the jerseys, and the bridge backdrop even featured on the movie poster are all from the Cardinals' former Low-A Quad Cities affiliate in Davenport, Iowa. That is the same affiliate where Johnny Rodriguez once swung a deal for a car so he could transport Carlos Martinez and other Dominican players around the town to introduce them to ordering a meal, getting a bank account, and how to purchase a TV and then return it before the window to exchange it closed.
No fictional film comes closer to capturing this part of baseball than the film by Anna Boden and Ryan Fleck. Come for the Swing, stay riveted by the story. As it maps one player's quest to be a big-leaguer, the risk of that quest, and the difficulty faced with a new culture, "Sugar" is a compelling drama written on the sweet spot of a baseball.
Rotten Tomatoes score: 92 percent.
4. BULL DURHAM (1988)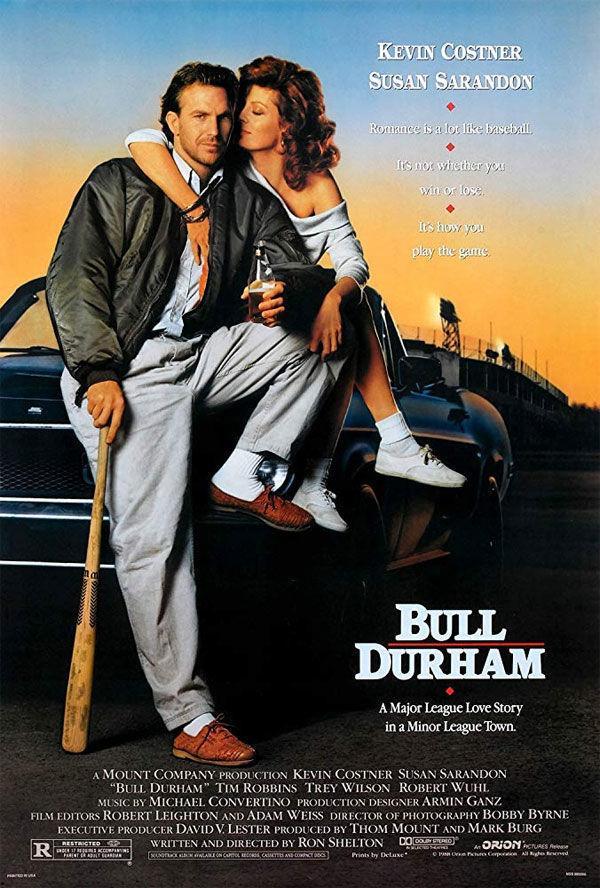 Everybody's All-American baseball movie. Arguably the finest written of them all as Ron Shelton not just captured the cadence and lingo of baseball but forever changed it with his dialogue. Wasn't too long ago that the Cardinals outfitted lefty Jaime Garcia with a script to memorize and use during interviews with reporters. When asked why so many of Garcia's answers were the same, a coach asked me, "Ever seen Bull Durham?" Say no more. "Bull Durham" was by far the most oft-mentioned baseball movie in the Cardinals clubhouse this past week as I asked around. It gets the game, many players said.
To me, Kevin Costner's "Crash" Davis is the most fully realized fictional baseball player in film, greater even than Roy Hobbs. That is largely due to this fact: he failed and persisted and failed still. That's baseball.
John Brebbia, RHP: "Bull Durham. The quotes. It has to be the quotes. You hear them everywhere. And they're right now. And the fact that they hit 'pearls' in batting practice. That rings very true."
Miles Mikolas, RHP: "A lot of good ones out there, really. Bull Durham, probably. We had it on in the college locker room all the time. There was one of those old dusty TVs and then a VHS player. It was always on. You can guess my college nickname. Nuke, yeah."
Tyler Webb, LHP: "It would either be Bull Durham or – no, it's probably Bull Durham. I think it captures the minor leagues pretty well. It's pretty funny. It gives these little, brief glimpses into minor-league baseball that are so true. I watched it two days ago, actually. I went into Asheville, N.C., for a game, and it was like I've been here before – but I hadn't. It felt like I had. It was in Bull Durham."
Rotten Tomatoes score: 97 percent
3. 42 (2013)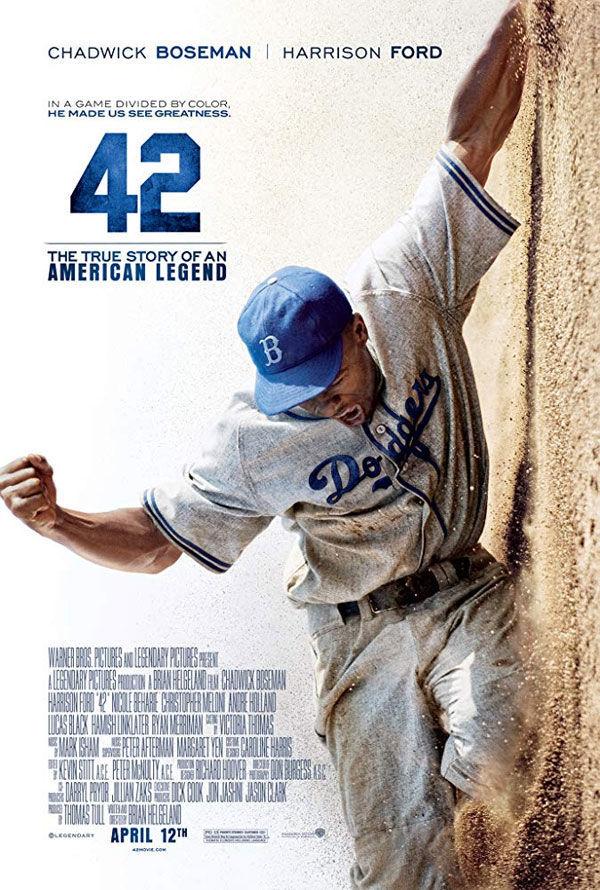 This retelling of Jackie Robinson's story can be uncomfortable and difficult to watch at times. That's the point. That's its power. Chadwick Boseman, who would later play James Brown and T'Challa in Black Panther, and the film's script does well to capture Robinson's burn and how he swallowed it. The story of Jackie Robinson is more complicated than this film can contain, obviously, but "42" doesn't shy from the ugliness he faced – from fans, from teammates, and, in one stretch of the film, the opposing manager. Harrison Ford breaks from type to play Branch Rickey, and Boseman provides some of the best acting you'll see in a baseball movie.
I first saw this film with my son six years ago (wrote about that experience here), and the conversations it started then still haven't stopped, and few of them are about baseball. As A. O. Scott wrote in the New York Times how director Brian Helgeland's movie "honorably sacrificed the chance to make a great movie in the interest of making on that is accessible and inspiring. Though not accurate in every particular, the movie mostly succeeds in respecting … the personality of its hero, and in reminding audiences why he mattered."
Cardinals pitcher Genesis Cabrera says the best baseball movie is "42. Because it's history. It tells the story of segregation and what the game looked like when it was segregated and how we got to where we are right now, right here."
Rotten Tomatoes score: 80 percent.
2. A LEAGUE OF THEIR OWN (1992)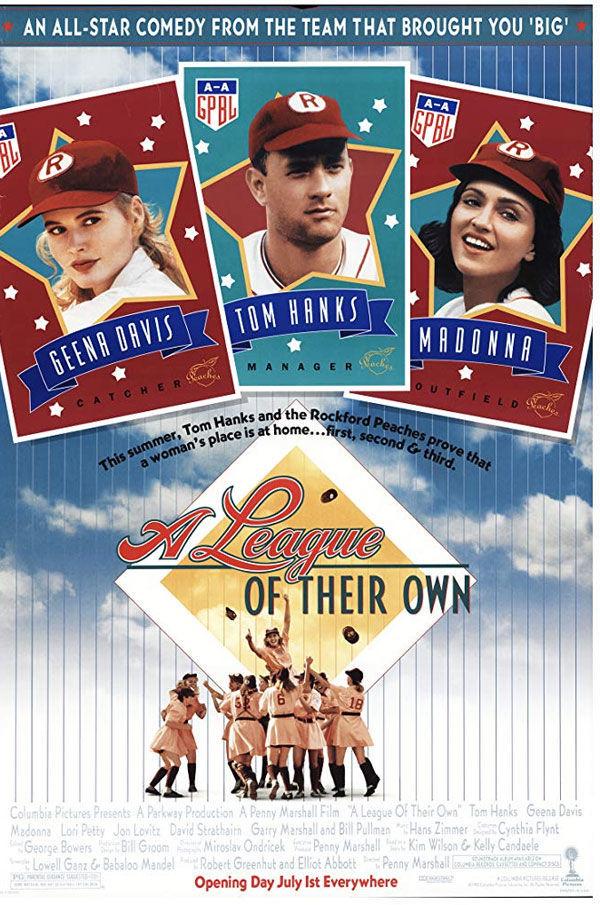 For a movie that gave us one of the most recognizable, versatile, and repeated phrases – "There's no crying in baseball" – "A League of Their Own" seems underappreciated in lists of baseball's best movies. Consider the cast: Tom Hanks on his way to being Oscar-owner Tom Hanks and America's dad; Madonna, pop star; Rosie O'Donnell, Jon Lovitz, Lori Petty, and, of course, Beetlejuice's Geena Davis. The writing veers from witty to snappy. Penny Marshall's rollicking tale about the All-American Girls Professional Baseball League, a real league, stitches together history, humor, highlights, and the dialogue when other great baseball movies usually excel at a few.
This is a five-tool movie that never ranks high with the other prospects and yet ends, fittingly, in Cooperstown.
Rotten Tomatoes score: 78 percent.
1. MAJOR LEAGUE (1989)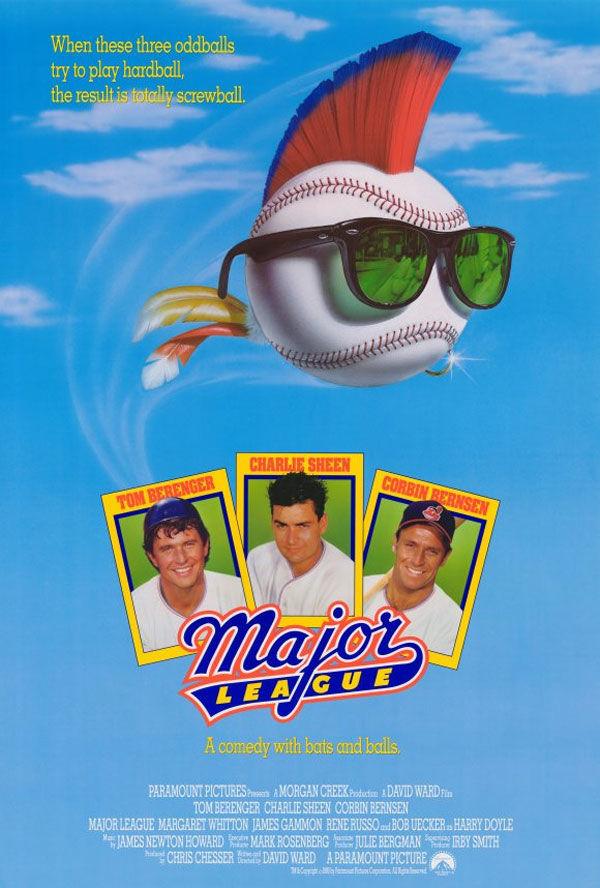 The best. After all, Tony La Russa says so. During one of the first days down here in Jupiter, another reporter asked me what three movies I would pick if those were the only three movies I could watch from here on. It's a deserted island question. I selected "The Right Stuff," my favorite movie; "Avengers: Infinity War," the grand-scope movie that gives time to my favorite characters (Spidey!); and "Major League," because there is something comforting about a comedy that you know every line and still laugh. And it has Bob Uecker. Seriously. It's No. 1 for that alone.
"Major League" touches all the bases for a classic sports movie, taking clichés, flipping them, and wedging them into a late montage of games as the underdogs pull apart and come together to make good. There is the Rosencrantz & Guildenstern of the field crew, and that unmistakable grumble as James Gammon's Lou Brown has to choose between rotating tires and managing Cleveland. Plus, we get the game's best villain, the Darth Vader of baseball movies: former Cardinals pitcher Pete Vukovich as Yankees slugger Clu Haywood. (Spits tobacco.) David S. Ward's "Major League" offers an "Ocean's 11" of baseball – a bunch of misfits, each a clear developed character, that band together to win, on a bunt. Most of all, it's what baseball at its best always is: fun. Oh, and "Major League II" is better than you think.
Cardinals first baseman Paul Goldschmidt says the best baseball movie is "Major League. Comedy is my favorite. And is there a better one? You find yourself quoting it. It's that kind of movie."
Rotten Tomatoes score: 82 percent.
OTHER CARDINALS OPINIONS ON BEST BASEBALL MOVIES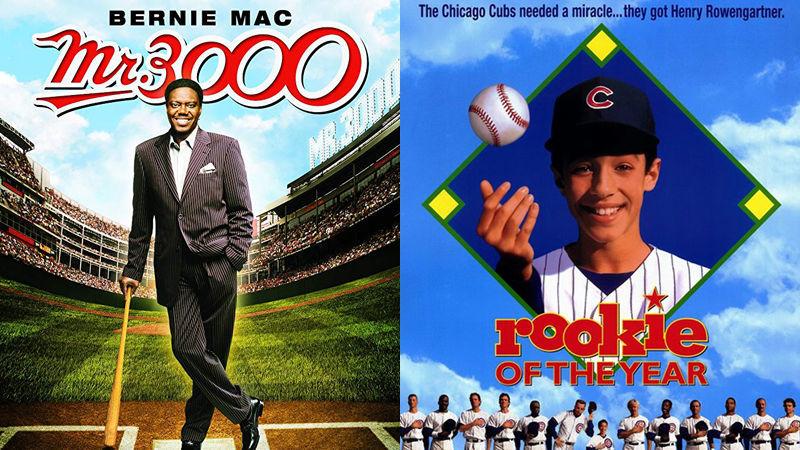 Jose Martinez, OF: "Mr. 3000 ... Because I always think of that when you think about what it means to be a good teammate in this game. You have to watch it and wonder, 'Why?' I think there are better baseball movies. But there are people like that in this game, and it reminds me not to be."
Alex Reyes, RHP: "Hardball ... I like the story, and it's not a story you see often in a baseball. You really get to know the kids, see how far they go, and you know the story behind the kids getting to play the game. That story gets me."
Tyler O'Neill, OF: "The Rookie ... It's the first one I remember watching. Old guy comes back throwing 98 mph and makes it to the league? What's better than that? I watched it at home, with my dad."
Dexter Fowler, RF: "Rookie of the Year ... That's the one. All chatter, 'We want a pitcher …' When I was a kid, man, we were all like, 'I'm going to be Henry Rowengartner. I'm going to The Show."
Rick Hummel, Hall of Fame baseball writer: "Bang the Drum Slowly ... The first of its kind – a drama rather than the usual baseball movie. I watched it two or three times in the theater. That's a lot for me. I don't usually go back."