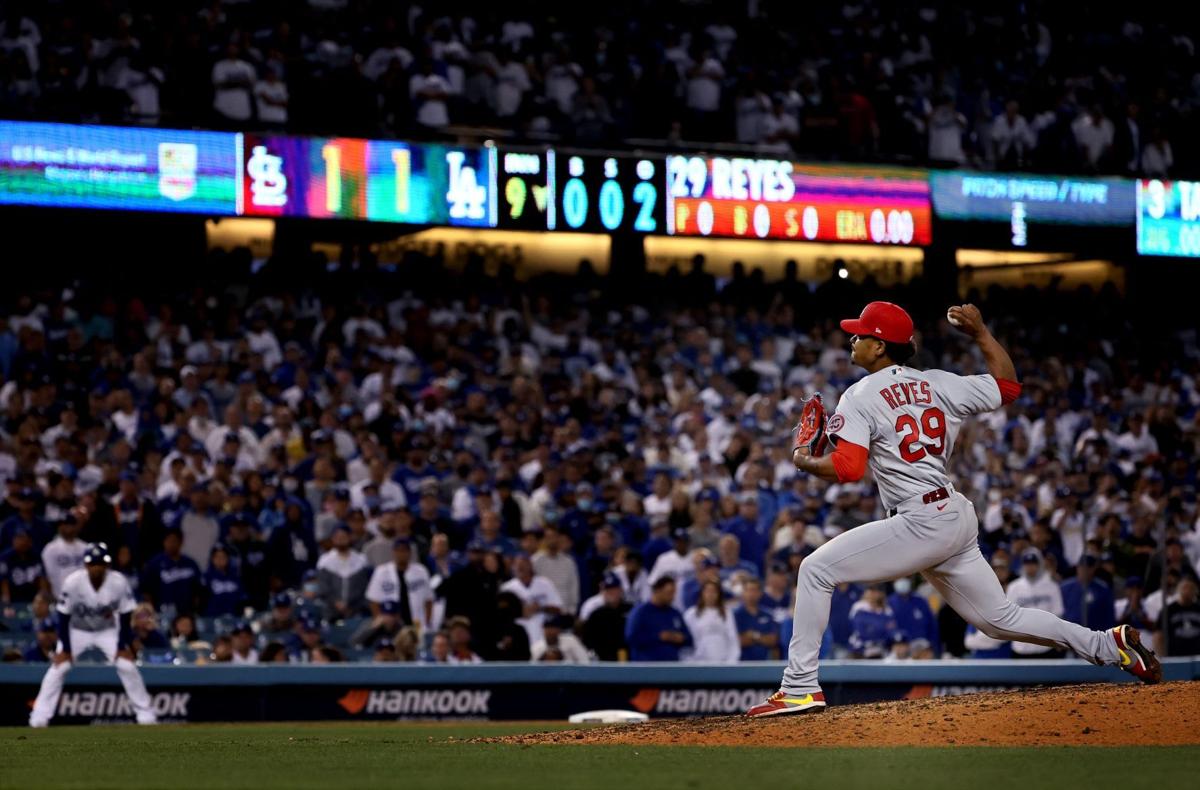 LOS ANGELES — His hand raised, his steps light, Chris Taylor had not yet rounded first base when Alex Reyes headed for home.
The final pitch of the Cardinals' 2021 season — a slider — left Reyes' fingertips, found Taylor's bat, and landed somewhere out there in the Dodger Stadium seats. Few, if any, Cardinals bothered to watch where it landed. They took off for the dugout, knowing what Taylor's home run meant before the scoreboard reported it, 3-1. In one swing, the game, the playoffs, the season was over for the Cardinals. On his way to the offseason after his first full season in the majors, Reyes walked into an embrace.
Maybe one more, to be sure.
"I just gave him a huge hug, told him I loved him and gave him another big hug and just told him how special he was as a player and as a teammate and as a person," veteran starter Adam Wainwright said. "That's all you can say in a moment like that. He doesn't probably want to hear any of it. But it's all true. You hate to see anyone go through that, but he's got an incredible future ahead of him. I can't wait to see what he does next."
The Cardinals' loss on the last pitch to the Dodgers late Wednesday night abruptly ended the season eight days after the Cardinals' peaked — with their record 17th consecutive win.
Their first loss ever in a National League wild-card game scattered the Cardinals to winter. Their charter flight to St. Louis left Thursday morning. The Dodgers' 107th win of the season sent them into the National League Division Series against a rival and fellow cross-continental transplant, the San Francisco Giants, who won 107 to edge LA for the division title.
The Cardinals "gave us all we could handle," Dodgers manager Dave Roberts said. "It's what baseball wants: Giants, Dodgers. One of the great rivalries in sports, and it's happening."
How Reyes found himself at the crossroads of the Cardinals' season, back in the ninth inning as the unlikely choice and clinging to a tie game, was a series of unfortunate, escalating events. A pitcher's fingernail snapped. An offense failed numerous times to capitalize on at least a baserunner in every inning. The middle of the order went zero-for-eight with runners in scoring position, and despite 12 runners reaching base, the Cardinals' only run came on a wild pitch. The reliever ahead of Reyes walked a .165 batter.
With a runner on base, it wasn't the clean inning the Cardinals preferred for other relievers, such as Jack Flaherty. Shildt said he preferred a righthander to face Taylor, not lefty Genesis Cabrera, who had been warming up. Miles Mikolas was in the bullpen for long relief in extra innings, leaving manager Mike Shildt's choices to Dakota Hudson, newly back from elbow surgery; Kodi Whitley, a second-year reliever; or Reyes. Both Hudson and Whitley had recent runs and a biting fastball fit for the spots.
Shildt gravitated, as he had before, toward Reyes' familiarity in the ninth —he was the team's closer a year ago in the playoffs — and his stuff.
Reyes threw only four pitches in a tightrope game, and yet it will be his fingerprint on it that carries beyond the length of Taylor's homer.
How Reyes recovers is an imminent question for the Cardinals.
"Alex is hurting," Shildt said. "When I talked to him about it and gave him a big hug, like I did everybody on the club, was — we're not here without Alex Reyes. We're just not."
An All-Star this season because of his work in the first half, Reyes set a major-league record by converting the first 24 saves of his career. His tenure as closer stalled at 29 saves. Walks caught up with him. And then walk-offs did. Giovanny Gallegos inherited the ninth and was superb through September, through the Cardinals' winning streak. He was set to pitch the ninth Wednesday too, double-switched into the game to cover two innings. During the eighth, a fingernail on his pitching hand snapped, causing him pain and difficulty control his pitch. He went out to start the ninth inning as a decoy, to draw the Dodgers into a pinch-hit move.
The Cardinals had T. J. McFarland ready to relieve Gallegos, and he retired the first two batters he faced, including a 3-0 lineout to center from Albert Pujols. Reyes was warming in the ninth for an undisclosed assignment. That came when McFarland walked Cody Bellinger to put the winning run on-base.
It was not the inning the Cardinals planned for Reyes.
It was the situation they seemingly could not avoid with Reyes.
Since his 29th save, Reyes appeared three times in the ninth inning of a game, twice the Cardinals were leading. All three of those games ended with a home run hit off Reyes. In Pittsburgh, a three-run homer flipped a game Reyes was supposed to close on Aug. 29. In Milwaukee, a walk-off grand slam against Reyes — a uppercut that was supposed to KO the Cardinals, but they had a steel jaw — gave the Brewers a victory that Reyes wasn't supposed to appear in. Taylor's two-run homer completed the triplet, and it was the fifth walk-off to end a playoff winner-take-all game in history.
Reyes recovered from each of the previous lightning-strike losses because he's been through worse. For the righthander, this season was about asserting his durability after three years eroded by arm injuries and surgeries. He got to 72 1/3 innings in 70 regular-season appearances, and he hopes that gives him a platform from which to launch a bid to be a starter. Wainwright, his champion, saw the recovery from injuries as an indicator of how Reyes will rebound from results.
"He's had a career filled with adversity, and he has just been through the wringer," Wainwright said. "Each time he's deal that hand, he's come back stronger."
The homer Wednesday into the California night was the second for the Cardinals in the past 10 years, the second for a young pitcher, and perhaps that gives them a sense of how Reyes will rebound.
In 2014, after not pitching in 20 days, Michael Wacha was a curious choice to throw the most important pitch of the season, and yet there was he was, thrust into game instead of Lance Lynn. The score was tied when Wacha, 23, took over the ninth inning of Game 5 of the NLCS. Things went sideways fast. The rust showed.
San Francisco's Travis Ishikawa drilled a pitch from Wacha for a three-run homer to end the game, end the series, end the Cardinals' season. He faced similar questions as Reyes will coming out of that game and going into the next season. Wacha asserted himself as a starter that spring, as Reyes hopes to do.
He started the season 7-0, one shy of the club record to start a year. He made 30 starts, won 17 games in the season, had a 3.38 ERA, and by many other measures Wacha had the finest season of his Cardinals' career.
Wacha was an All-Star in 2015.
Ishikawa's homer had faded into history for another team, into the past for the pitcher.
"I just told him, 'Hey, man, you walk out of here with your head up,'" Shildt said of talking to Reyes. "The message to the club: You've got a lot to feel good about, and you've got a reason to hurt, too. The hurt is what motivates you to move forward."