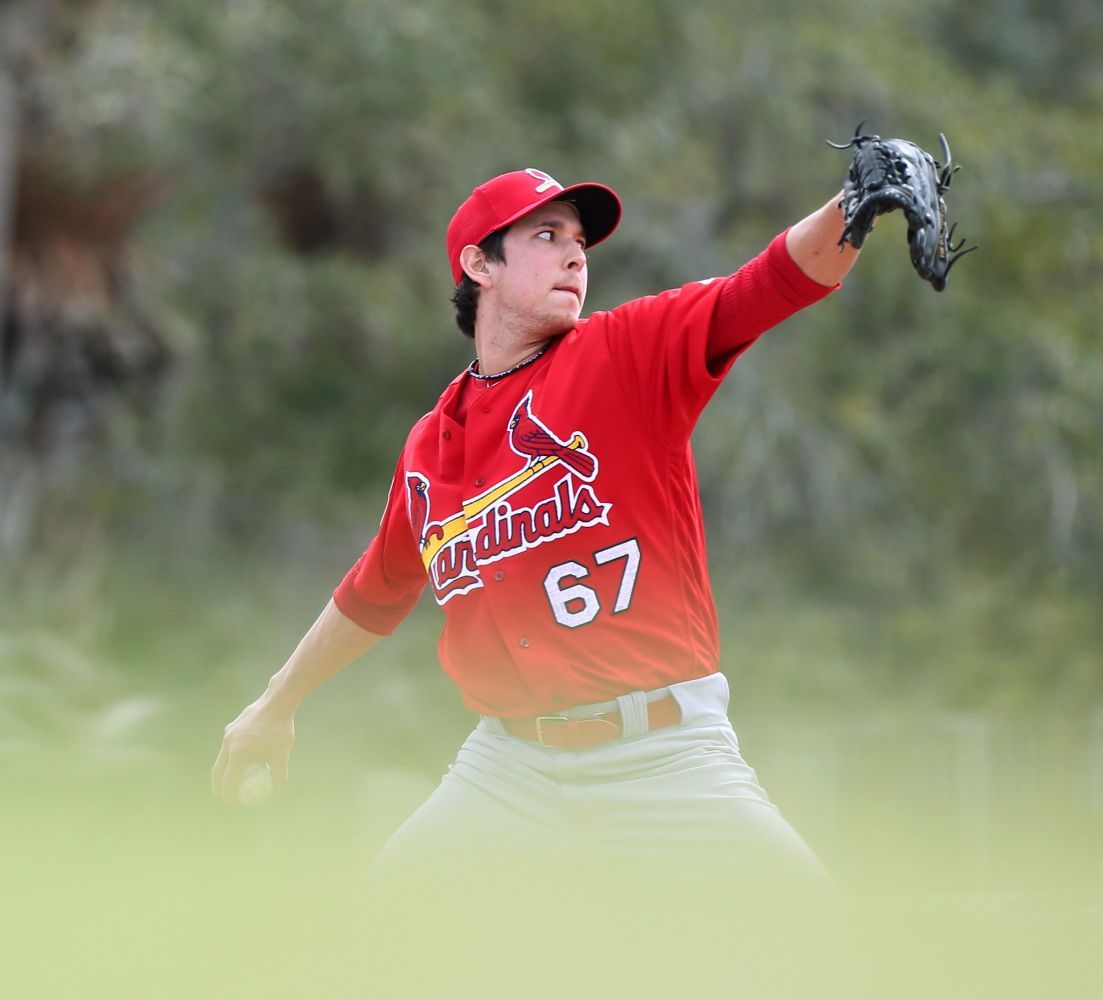 LAKE BUENA VISTA, Fla. • When the Cardinals selected him in the Rule 5 draft this past December, Matt Bowman purposefully avoided perusing the roster, preferring to go in blind to the possible roles he might fill.
The calendar is harder to ignore.
Almost halfway into the Cardinals' exhibition schedule, Bowman made only his third appearance of spring Wednesday. The righthander had his first appearance delayed when he missed five days because a baseball bruised his left eye during a fielding drill. With fewer games and starters pitching more innings, Bowman's opportunity to audition is limited.
"I'm aware these outings are important," Bowman said. "I don't expect they'll cut me before they need to. Anything more it is really important to what I'm going to try and show that I get on the mound. I have to go and try to make it count."
In one inning of work Wednesday, Bowman allowed four runs on five hits and lost a three-run lead for the Cardinals. The Cardinals rallied for an 8-8 tie against the Atlanta Braves at Champion Stadium on the Disney World grounds. Manager Mike Matheny softened Bowman's line by suggesting the righthander got the ground balls he wanted — they were just well-struck and slipped through where the Cardinals did not have fielders. Six of the balls put in play against Bowman were on the ground. Another was a line drive snared by shortstop Aledmys Diaz, and another was a laced double.
In three appearances this spring, Bowman has allowed eight runs and 13 hits in five innings.
"We need to make a priority to get him in when we can," Matheny said before Wednesday's game. "We'll get him his work. We just have to get creative."
As a Rule 5 selection, Bowman must remain on the Cardinals' 25-man active roster for the full season for them to gain control of his rights. If, at any time, they remove him from the active roster and he's not on the disabled list, he must pass through waivers and then, if cleared, return to the New York Mets. The Cardinals took Bowman in the draft believing he could serve as a swing man for the bullpen, a role manned last year by Carlos Villanueva.
This spring the return of Jonathan Broxton, arrival of Seung Hwan Oh and health of Jordan Walden have stacked the bullpen with one-inning setup types. As Matheny and his coaches plotted the pitching assignments for Wednesday's game, they weren't sure an inning would be available for Bowman because Broxton, Trevor Rosenthal and Kevin Siegrist were the priorities.
Same is true in the season.
The Cardinals' decision with Bowman is influenced by another roster catch they have. Lefty Tyler Lyons, who could serve in the same role, has burned all of his option years and must pass through waivers to reach Class AAA Memphis' roster. The final spot in the bullpen could come down to Lyons, who won No. 100 for the Cardinals last season as a spot starter, and Bowman, a player whose versatility they like but haven't been able to evaluate much this month.
"There's an opportunity for him if he came out and won the spot," Matheny said. "We can't pitch him every day (to find out). We'll keep him on a regular schedule and figure out if he has something that can help us."
MATHENY'S STRATEGY
WITH MOLINA
For the first time this spring, Cardinals catcher Yadier Molina made contact with the bat during an actual game, though it did not involve swinging the bat. Molina, who is recovering from two offseason operations on his left hand, dropped a sacrifice bunt in his first plate appearance of Wednesday's game, and in his next plate appearance took a called strikeout.
Although swinging with more authority during batting practice, Molina has not yet been cleared to take a swing in a game. Matheny has played coy with when that will happen — in part because he doesn't want to give away strategy to the opponent.
He'd prefer other teams not know when Molina won't take three strikes.
"There's going to come a time when that's not going to happen anymore, so we just have to keep that doubt out there," Matheny said. "Every day he's getting closer."
STAYING FRESH
The Cardinals had closer Rosenthal throw fewer bullpen sessions before the start of exhibition games so that he would save his work for March and not have piled up unneeded throws before the start of the season. The approach was similar to a save-the-bullets theory used by some starters. Rosenthal had his second consecutive scoreless appearance of spring Wednesday, and he blazed through a scoreless inning with two strikeouts.
"He didn't have to be lights out the minute he walked in here," Matheny said. "He's going to get plenty of work figuring it out. He's just on pace."
The New York Mets released shortstop Ruben Tejada on Wednesday, freeing themselves from a $3 million contract and allowing him to sign with any team. The Cardinals, while in need of a starting shortstop for at least two months, had no interest in trading for Tejada and limited interest based on his current cost. … Jaime Garcia struck out six and sped through three strong innings before a four-run fourth inning bruised his start against Atlanta. … Third-base coach Jose Oquendo returned to St. Louis to have a cleanup procedure done on his right knee, which received offseason surgery. Oquendo said he'll be back Saturday. … Reliever Mitch Harris has scaled back his throwing after renewed soreness in his arm. "There's no rush," he said. "Let's make sure we're 100 percent before we go back in there."
Rick Hummel of the Post-Dispatch contributed to this article with reporting from Jupiter, Fla.
Keep up with the latest Cardinals coverage from our award-winning team of reporters and columnists.