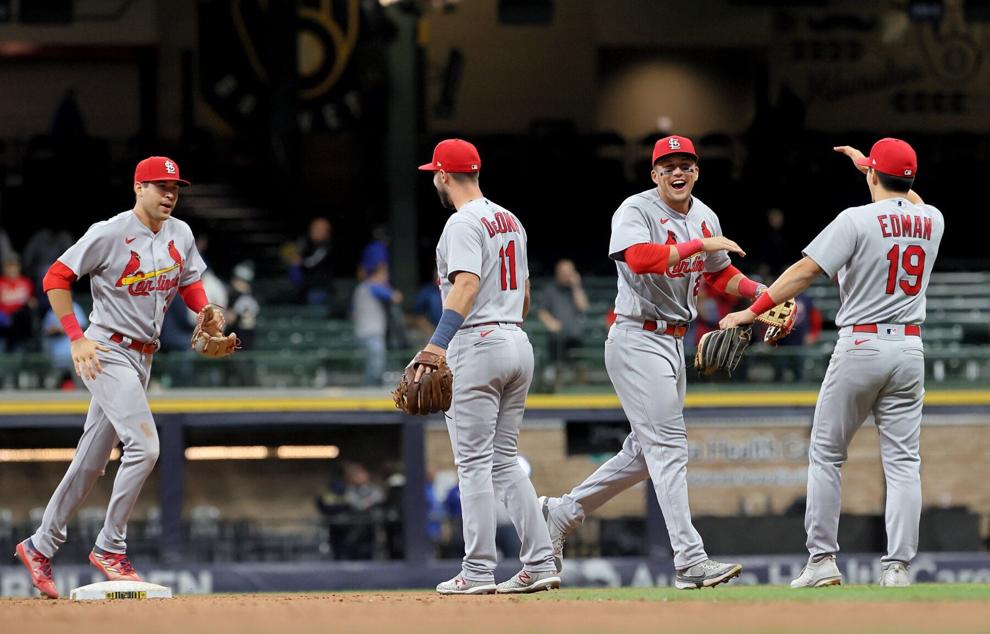 Each winter, naysayers eagerly await the FanGraphs' projections to renew hope that that the Cardinals are doomed to mediocrity during the coming season.
Last season the site's ZiPS projections had the Cardinals winning just 88 games and edging the Milwaukee Brewers for the National League Central title by one game. In reality, the Cardinals won 93 games and outpaced the Brewers by seven games.
The computers have tended to downplay the Cardinals' potential through the years. This franchise has gained better-than-expected help from unheralded prospects in the past and it has made sensible in-season additions, such as with last season's rotation makeover.
The ability to outperform projections is commonly referred to as "Cardinals Devil Magic" in the analytics community.
Here is Dan Szymborski's overview:
In any given season, (Nolan) Arenado and (Paul) Goldschmidt will compete to be the best at their respective positions. Still, I would take the under on our depth charts' playing time projections, as both are at the age where declines in playing time due to injury are expected, especially Goldschmidt. Add in Tommy Edman, who may be the most underrated shortstop in baseball, and better-than-league average performances pretty much everywhere else, and this is a team that should dominate every NL Central team other than the Brewers.
The Cards are so solid that they're almost uninteresting, just as Mike Trout can sometimes seem a bit boring compared to more volatile (and flawed) stars. If there's a weakness here, it might be the lack of usable depth in the high minors to serve as midseason reinforcements. Jordan Walker's projection looks a little disappointing on the surface, but ZiPS has him with huge upside numbers in 2024 and beyond. 
Here are a few highlights of player assessments:
FanGraphs likes Edman a lot, projecting 4.2 Wins Above Replacement for him – just one tick behind Goldschmidt's 4.3 WAR and a full notch below Arenado (5.3).
The projections believe Nolan Gorman and Juan Yepez have legitimate power. Given full-time play, the computer sees 29 homers from Gorman and 24 from Yepez.
The modeling has Tyler O'Neill bouncing back to hit 22 homers and drive in 71 runs. That is far cry from his 2021 outburst, but a big improvement over his 2022 injury-related fiasco.
The computer saluted Alec Burleson's ability to hit for average at the Triple-A level, which is why his projected WAR (2.2) is a tick better than Lars Nootbaar's (2.1).
On the pitching front, FanGraphs is optimistic that Matthew Liberatore can finally put it all together. Its projection (11-9, 3.83 ERA) far exceeds Tipsheet's expectation. Those numbers look about right, but for what Liberatore could do for Triple-A Memphis and not the Cardinals.
Among the established starters, Jordan Montgomery (8-5, 3.38 ERA, 3.0 WAR) got the most optimistic projection and none of the other five starters received a terrible projection.
Here is Szymborski's bottom line:
(I) think the Cards are a 89-93 win team and not quite in the tier of the very best in baseball, but ZiPS disagrees, putting St. Louis in the same range as the Padres, Astros, Braves, Dodgers, and Mets. My personal feeling is that the Cards really need a true ace at the top of the rotation, but perhaps that's just my inclination to play devil's advocate
But the Cardinals should have an opportunity to acquire additional mid-rotation pitchers to add to the pile of mid-rotation starters they already employ.
FanGraphs likes the Cardinals' bullpen, but Tipsheet would like it better if the team invested in one of the veteran lefties still in the marketplace.
Here is what folks are writing about Our National Pastime:
Jeff Passan, ESPN.com: "Atlanta did bolster its roster, just not through free agency. The Braves spent $73 million on their signature move of the offseason, trading for All-Star catcher Sean Murphy and then extending him through 2029. The contract of the average non-closer in free agency this year has cost $6.8 million per year, so Atlanta addressed its relief corps by trading for Detroit setup man Joe Jimenez, who will make $2.77 million. It's a similar situation to that of the Seattle Mariners, who have lavished all of $8.2 million on free agents this winter: $7 million for A.J. Pollock, the rest for Trevor Gott. Seattle made a big splash around the trade deadline, acquiring starter Luis Castillo, who eventually signed a five-year, $108 million extension -- the second nine-figure deal within a short period for the Mariners after Julio Rodriguez's mega-extension. The Mariners do have more room to flex their financial muscles, but in a market like this, perhaps Seattle -- and other non-spenders -- are viewing it as simply the wrong time to add via free agency. It's easy to get caught up in free agency, especially when fans want a team to take another leap forward (Seattle) or keep up with the divisional Joneses (Atlanta). And all of that is reasonable. Sports fans aren't wired to consider three-year plans in the same way general managers do. So unless an offseason is completely transformative for a team -- and examples do exist -- taking one winter into a larger context will keep you sane. Just because a few months haven't been outwardly busy doesn't mean business is shutting down. To properly judge a baseball team and the efficacy of its moves takes multiple years. Why aren't the Braves getting grief for their offseason? Because in the past four years, they've locked up (Sean) Murphy, Austin Riley, Ronald Acuña Jr., Matt Olson, Michael Harris II, Ozzie Albies and Spencer Strider. The message couldn't be much clearer: Atlanta would rather spend money on homegrown players than dabble in an irrational free agent market."
Anthony Castrovince, MLB.com: "Forgive us if we thought the Padres were running out of rabbits to pull out of their hat after a bevy of blockbusters in recent years that included the Manny Machado contract, the Fernando Tatis Jr. extension, the Juan Soto trade and so much more. To extend themselves even further with yet another shortstop and the 13th-largest contract in MLB history was fearless even by recent Friars' standards. This will be their third straight season with a franchise-record payroll. Their spending increased about 80% from 2019 to the next full season in '21, another 21% from '21 to '22 and is on track to go up another 18% or so this year. Remember the days when the Padres supposedly couldn't afford to keep Chase Headley? Just look at 'em now!"
Michael Baumann, FanGraphs: "On New Year's Day, the Cubs' first base-and-DH situation was a smoking crater. But now the fires have been extinguished and the hole is being filled with aggregate; the Eric Hosmer signing got the process started, and over the weekend, Chicago inked Trey Mancini — of the Italian National Team, apparently — to a two-year contract. Mancini's coming off a bit of an odd year. He hit .268/.347/.404 in 92 games for Baltimore, then got traded to the Astros at the deadline and apparently forgot to bring his bats south. A disappointing .176/.258/.364 showing in August and September turned into an appalling playoff campaign in which he started 0-for-18. So, in his most recent and most widely viewed major league experience, Mancini had onlookers saying things like, 'But I thought pitchers didn't hit anymore.' On the other hand, he'd been a consistent 20-homer guy across the first four years of his career, and even as recently as July had a wRC+ of 116. Perhaps his power wasn't ideal for a middle-of-the-order bat, but he got on base and hit for a decent average. Which version of Mancini will show up in Chicago? That's anyone's guess, and his contract reflects that. Two years, $14 million, with another $7 million in playing time-related bonuses available for the taking. Also available with sufficient playing time: an opt-out after year one, which becomes available if Mancini racks up 350 plate appearances or more."
Bob Nightengale, USA Today: "Pretty cool to see Andrew McCutchen return back to the Pirates where he became a five-time All-Star star and MVP winner, signing a one-year, $5 million contract. The Pirates never gave out his jersey, No. 22, after he was traded in January, 2018. And, in all probability no one will ever wear No. 22 again for the Pirates once McCutchen retires."
Patrick Dubuque, Baseball Prospectus: "Joseph Campbell taught us that coming home was supposed to be an act of closing the circle, returning home with the elixir or the ring or the macguffin and sharing it with one's people. Or, to put it in real life terms, moving back into your childhood home, the suddenly tiny bedroom with the same scratches in the windowsill, the same air, to take care of an ailing parent. This feels less like that than moving back into your old town after a while away, and staying with your parents for a couple of weeks while you look for a new apartment. It's not quite yet a swan song for the five-time All-Star, who despite a visible decline in his thirties still has another year or two left in his bat. And McCutchen's hardly passing the torch to a new generation of Pirates, given that the team has been listening to offers on his successor in Bryan Reynolds.  Still, McCutchen represents the latest in a recent lunge toward competency by the Pirates, who have already handed out contracts to veterans like Carlos Santana, Rich Hill and . . . okay, pretty much just those three, but it's a step forward. If the team does avoid selling their best player in Reynolds, as reflected by the current temperature of the stove, this is probably the best Pirates team in years. Before you get excited by that, remember that 70 wins would do the trick. McCutchen is slated to start most days in left, given the presence of both Santana and trade acquisition Ji-man Choi. That could be disturbing for the pitching staff, depending on which defensive metric you ask. Meanwhile, he remains judicious at the plate, but the flagging ISO (.148, a career low) and exit velocities mean that it's very likely he starts seeing more strikes in the near future, as pitchers force him to put the ball in play. It adds up to the feeling, like with every Pirates free agent, that this is a three-month audition to serve on the bench of a contender, while the hardy older fans get a chance to think back on the halcyon days of the former center fielder's youth." 
"Look, we're still open to having conversations. Corbin (Burnes) is a super-talented player, and it's a unique case, right? There are very relevant comparables for him on both sides of the ledger that make sense, and it's really just part of the process. We certainly don't want anyone to take any of these negotiations personally. We love these guys like crazy."
Milwaukee Brewers GM Matt Arnold, on contract talks with Burnes ahead of his arbitration hearing.