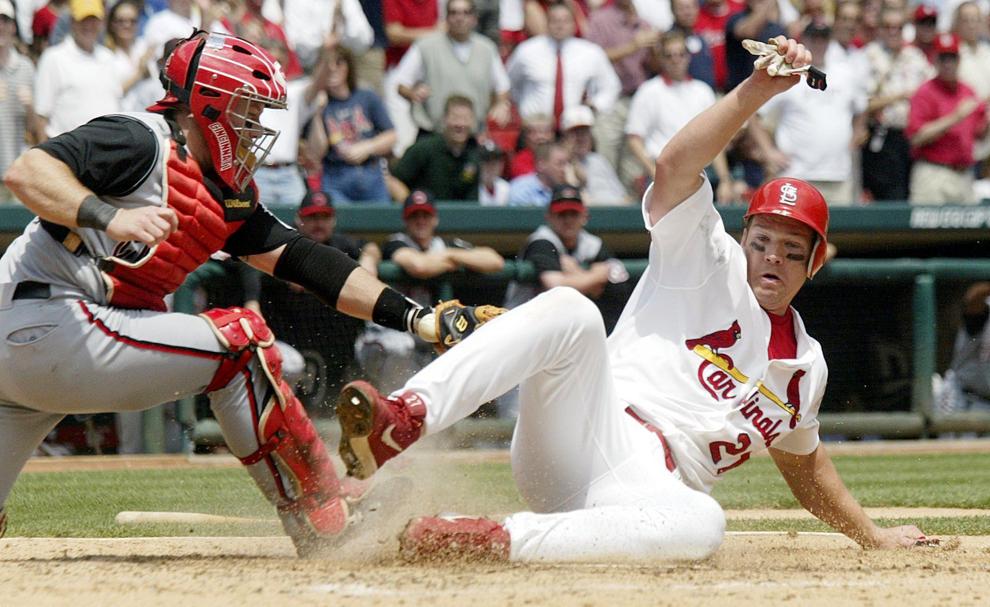 BBWAA voters typically expend much brainpower crafting their Hall of Fame ballots, given the intense scrutiny the process draws.
They attack the process from various angles while adhering to diverse criteria. Advanced metrics help them either justify or change their position on players as they pour over the calculations.
Then the analytics community use various formulas to assess voting patterns and project future election results.
In other words, the stat nerds study the work of the stat nerds who study the work of the players they vote for or don't vote for. And they crunch numbers accordingly.
There was statistical pessimism that anybody would get elected by the BBWAA this time around, based on the ballots made public ahead of Tuesday's announcement.
Former Cardinals third baseman Scott Rolen appeared to be on the cusp of election, but there was reason to believe he would miss.
Writing for FanGaphs, Jay Jaffe explained:
As recently as Monday, his odds of getting elected this year looked slim based upon the data in Ryan Thibodaux's Ballot Tracker, and it appeared that the writers were about to produce their second electoral shutout in three years and their third in the last 11. Forty-eight hours prior to the results being announced, forecaster Jason Sardell's probablistic model — which groups voters based upon the number of candidates they include on their ballots and their electoral stance on PED users — gave Rolen just a 12% chance of election. Nearly 24 hours later, those odds had slipped to 9% . . . A surge of ballots late in the afternoon boosted those odds back up to 24% by the time the announcement was made, but suspense was in the air as Hall of Fame president Josh Rawitch opened the envelope to announce the results.
Rolen enjoyed an unprecedented surge in voting support, rising from 10.2 percent on the 2018 ballot to 76.3 percent this season to just clear the 75 percent threshold. He appeared to benefit from the voters' increased reliance on advanced metrics, since the fancy stats shed a bright spotlight on his fielding prowess. Also, Rolen came due in a year that lacked slam-dunk Hall of Fame candidates hogging votes.
Todd Helton missed getting elected by just 11 votes, but historical voting trends suggest he will eventually get past the finish line. His support jumped up from 52 percent this year. Players who come this close to the threshold at some point get in.
Billy Wagner has significant support, but there remains a stubborn voting bloc that downplays the value or relief pitchers due to their specialist role. Also, Wagner's small postseason work sample is bad – so his advocates need to step up their campaign to get him in.
Alex Rodriguez and Manny Ramirez appeared likely to get shut out in the voting process. The stubborn voting bloc that sees performance-enhancing drug stains as disqualifying remains too large. Gary Sheffield seems likely to suffer that fate as well.
On the other hand, there does not appear to be as large a voting bloc dead set against Carlos Beltran due to his headlining role in the Houston Astros' sign-stealing scheme.
Here is what folks have been writing about the voting:
Jay Jaffe, FanGraphs: "A masterful, athletic defender with the physical dimensions of a tight end (he was listed at 6-foot-4, 245 pounds), Rolen excelled on both sides of the ball. The 1997 NL Rookie of the Year went on to make seven All-Star teams, earn eight Gold Gloves, and star for two pennant-winning Cardinals teams, with a World Series performance that helped the Redbirds win it all in 2006. He ranks third among third basemen in Baseball Reference's version of fielding runs, and by most measures he also ranks among the position's top 15 or 20 hitters. Even given that injuries significantly curtailed several of his seasons, and that he played his final game at age 37, that offense/defense combination is enough to place him 10th among third basemen in both career WAR (70.1) and JAWS (56.9)."
Bob Nightengale, USA Today: "Helton played his entire career in the launching pad of Coors Field, hitting just 369 home runs as a first baseman despite playing 17 years in the mile-high altitude, with just 142 homers on the road. In comparison, (Fred) McGriff had 493 homers total and 252 on the road. Can you imagine how many homers McGriff would have hit playing at Coors Field? Wagner had sensational strikeout numbers, but he never led the league in saves and produced a gruesome 10.03 ERA with just three career saves in the postseason. Carlos Beltran is one of the best switch-hitters of all time, but he was on that 2017 Houston Astros team embroiled in the cheating scandal, so he was penalized too.  Jeff Kent, the greatest power-hitting second baseman in history with 377 home runs and a .509 slugging percentage, finished in the top 10 in homers just once. Andruw Jones was a 10-time Gold Glove winner and five-time All-Star in his 11 years with Atlanta but had an alarming drop-off in the last five years of his career. The way these players are trending in their vote total, everyone with the exception of Kent – whose 10-year window has closed – will be in the Hall of Fame, aside from Sheffield. Just not in the summer of 2023.  It could be a rather crowded stage in 2024 with Helton and Wagner potentially joining newcomer Adrian Beltre.  Seattle Mariners great Ichiro Suzuki, who should be unanimous, along with pitcher CC Sabathia will be first-ballot Hall of Famers in 2025." 
Paul Casella, MLB.com: "Helton made a significant push in 2023, though he ultimately fell 11 votes shy of the 75% threshold needed for enshrinement. Still, he continues to trend upward after receiving only 16.5% of the votes in his first year on the ballot in 2019. Helton then received 29.2% in 2020, 44.9% in '21 and 52% last year. With that number jumping to 72.2% in the most recent round of balloting, it seems likely that the lifelong Rockies superstar will be voted into the Hall of Fame at some point in his five remaining years of eligibility -- possibly as soon as 2024."
Bradford Doolittle, ESPN.com: "Progress was slow for a few more controversial candidates whose performance meets traditional Hall of Fame standards but have seen their cases undermined by associations with PEDs. Alex Rodriguez, who ran up huge career totals of 3,115 hits, 696 homers and 2,086 RBIs, was named on 35.7% of the ballots during his second year of eligibility, up from 34.3%. Rodriguez missed the 2014 season under suspension for violation of MLB's PED policies. Similarly, Manny Ramirez, who hit 555 homers while rolling up a .312 career batting average but was twice suspended for PED violations, made little progress during his seventh time on the ballot. After landing at 28.9% last year, Ramirez nudged ahead to 33.2% this time."
Matt Snyder, CBSSports.com: "Carlos Beltrán has a statistical dossier that belongs in the Hall of Fame, but since his retirement, the sign-stealing scandal has clouded his Hall of Fame chances. The good news here for Beltrán is he's starting at a pretty decent number: 46.5 percent of the vote in his first try. It's not the best comparison to loop in PED-connected players, but it's the best we've got. The players who have been held out of the Hall of Fame due to being tied to PEDs started in the mid-30s in percentage or lower. Most of them were lower, actually, it was really only Roger Clemens and Barry Bonds in the mid-30s. With Beltrán starting out here, he's already in much better position. Anecdotally, I've also read several columns from prominent writers who said they are planning to reconsider in future years after not voting for Beltrán here in his first time on the ballot. And some people really do hold up 'first ballot Hall of Famer' as a sacred honor. In all, I think the results for Beltrán are a net positive. We'll see how much headway he makes next time around -- with the 'first ballot' thing not being attached and possibly a few of those aforementioned writers reconsidering his case -- without making any sweeping declarations, though."
"I'm just thankful for the people that voted for me this year. I don't think about one way or the other. Just hope and pray for next year."
Todd Helton, on coming up just short in the vote.