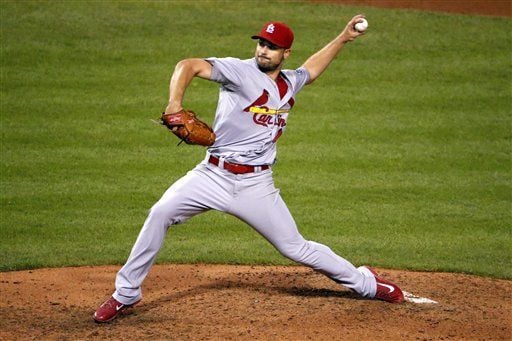 JUPITER, Fla. • Tyler Lyons has been with the Cardinals for parts of the last three seasons. This year, the lefthander has his best shot at breaking with the big-league team for the first time rather than going to Memphis, where he is something of a celebrity as the perennial ace of the Redbirds' staff.
"I've been there enough since 2012," Lyons said. "It might not be long before they have to retire my number.
"I don't know if that's a good thing or a bad thing."
The 27-year-old Lyons, in fact, has had the same number, 43, in each of his four seasons at Memphis, where he was 28-18. Not one for change, apparently, Lyons also had the same number, 70, for his three previous stints plus this spring for the Cardinals.
What may change — and probably did at the end of last season — was Lyons' significance on the staff. He made some important starts for the Cardinals, including throwing seven scoreless innings at Pittsburgh in the last week of the season, clinching the National League Central Division title. But he also held opposing hitters to a .206 average as a reliever and, for his 20-game career as a reliever (he also has made 20 starts), Lyons has a 1.91 earned-run average.
As the Cardinals prepare for Thursday's official opening of camp they have their five-man rotation set with Adam Wainwright, Jaime Garcia, Michael Wacha, Carlos Martinez and Mike Leake. Young lefthanders Lyons, Marco Gonzales and Tim Cooney are next, unsure how they'll fit in, although it is possible that two will be in the bullpen and one will be starting in Memphis. All three may get an exhibition start or two in Florida.
"I don't know that I'm conditioning for anything," said Oklahoma State product Lyons. "I'm just getting ready to pitch. I haven't really been too concerned with what role that will be.
"I feel comfortable coming out of the bullpen. I feel comfortable starting. But being able to (relieve) down the stretch, really the last couple of years but significantly last year. ... is something I'll carry into this year, for sure."
Lyons is regarded as having among the best breaking stuff on the staff, both with his slider and curveball.
But where he felt he took his biggest step last year was "between my ears.
"I don't think my stuff was any better," he said. "I just think I was able to slow everything down and become more consistent because I was in a better place mentally.
"I wasn't doing anything different, physically. I was just able to repeat it a little better."
Asked what percentage of the game he deemed to be mental, Lyons replied, interestingly, "I'd go probably 93. When you do poorly physically, it's probably because it started mentally. You see a lot of people make it to the big leagues and be successful who don't have as good a stuff as some people who can't make it to the big leagues.
"There's a big factor that goes into it besides the ability to throw hard or have really good stuff. Some people just have that ability to control everything with their mind. Obviously, it's a big deal."
Matheny, who watched Lyons throw an unofficial bullpen session Tuesday, said he first noticed a potentially more effective Lyons in spring training last year.
"I thought he was one of the most improved players we had," Matheny said. "His stuff's always been good. You're looking at two 'plus' breaking balls, a live fastball and a guy who's throwing strikes.
"He just had better composure on the mound and a better tempo. I saw him breathe a little. It's tough for a young player (not) to feel like 'I've got to do everything right now on this pitch.'"
The numbers would suggest that Lyons is a lefthanded specialist, although he said he never really had thought himself to be that pitcher. He has held lefthanders to a .199 average while righthanded hitters have batted .260 against him.
There is one number, however, that Lyons finds very meaningful. He gave up 12 homers in 60 innings last year, an unwieldy ratio.
"I'm very conscious now of keeping the ball down as much as possible," he said. "You can get away with a lot more if the ball is down."
Of the 12 homers, nine came with nobody on base and only one with multiple runners on. For his career, 15 of his 21 homers have been surrendered with nobody on base and only two with multiple runners.
"Well, they always say solo homers don't beat you," Lyons said, "but I just prefer not to (give them up), because they can beat you. Absolutely."
Case in point was a Sept. 2 game against Washington last year in St. Louis when the Nationals scored three runs off Lyons in six innings. All came on solo homers, two by Ryan Zimmerman and one by Jayson Werth. Though Lyons wasn't the loser, the Cardinals fell 4-3.
He saved his best for last, though, in the clincher at Pittsburgh. "It was an opportunity to do something cool," Lyons said. "And I just kind of ran with it."
Matheny put it this way: "That last game is going to stick in all our minds. That's how special that one was."
Wednesday is the official reporting date for batterymen. Matheny said he expected all to be on hand, although all already were in Jupiter on Tuesday, with the exception of new catcher Brayan Pena and pitchers Jordan Walden and Miguel Socolovich among those who played in the majors last year.