JUPITER, Fla. • A Houston Astros pitching prospect who generated social media buzz this winter by unleashing a pitch, after a running start, at 111.6 mph, decided to test Tyler O'Neill with upper-register velocity at the upper limits of the strike zone. O'Neill had been teased into a strikeout by lesser pitches a year ago, but he spent the past six weeks addressing that "hole" atop the zone, and Friday night Corbin Martin delivered.
"Wouldn't have been able to handle that," manager Mike Shildt said to bench coach Oliver Marmol in the dugout. "Wouldn't have been able to foul that pitch off last year."
Martin tried again, a touch higher. O'Neill fouled that off.
Ahead in the count, 0-2, Martin spun two loose breaking balls out of the strike zone, exactly like O'Neill chased after as a rookie. He ignored both. On 2-2, Martin went back to the fastball up, at 94 mph. This pitch, a tad lower in the strike zone, O'Neill crushed. The towering fly ball carried high and over the left-field wall at The Ballpark of the Palm Beaches toward the Astros' offices. As the ball shrank from view, according to one Cardinals' description, it wasn't the power that echoed but O'Neill's process.
"Good sign," hitting coach Jeff Albert said. "Challenged again with the same fastball, and he got it. It's impressive (power). That's obviously a great tool to have, but it's not the only tool I think he has. A lot of times when you have one big tool it overshadows your other abilities. He's trying to just become a more complete hitter."
In what should be the spring that launches him into the majors for opening day, O'Neill has two hits in his first 12 at-bats — both home runs, one to each side of the field. The 23-year-old outfielder hit 36 home runs this past season, including nine in the majors, and the Cardinals have reserved a spot for him as a spare outfielder, for now. Without health from Marcell Ozuna's shoulder or success from Dexter Fowler's bat, additional playing time would find O'Neill sooner than planned. This season already is a prelude to when left field could be his for the taking, by 2020. He'll be as prominent as his production demands. O'Neill must "continue to hone his craft knowing that he's got a chance to be an everyday player — at some point here," Shildt said. "When that point is, who can say?"
By any measure, statistical or tape, O'Neill has punished the minors enough with 57 homers at Class AAA in his past 194 games there. His 81 homers at Class AA or higher in 324 games is the equivalent pace of 41 homers in a big-league season.
To connect in the majors, O'Neill has to make greater contact. A swarm of strikeouts engulfed his rookie year, including 29 in his final 59 at-bats. This winter, O'Neill drilled with Albert to adapt his swing and sharpen his nose for the strike zone. The spiked-haired boy from British Columbia aimed to do for his swing what he did as a teen for his body — take a core talent and augment it, work on it, build strength all around it. Because before he shed his ice skates and stacked on muscle, this Canadian kid could always hit.
"I was just hitting, hitting, hitting. That's how I am," O'Neill said. "I've given myself a chance."
HOCKEY FIRST
As a tot, he quit tee ball because it wasn't hockey.
Other kids couldn't catch or throw or catch his throws, and isn't mashing a ball off a tee called golf? It was too slow, too dull. O'Neill started skating lessons at 3, and offered this scouting report on his ability: "Always a fast dude on ice." The Canucks were his team. Hockey was his dream. And tee ball could kick the dirt it called home. His father, a Vancouver-area firefighter who won titles as a bodybuilder, lured him back to baseball at 9 or 10 as a summer pastime. When O'Neill won a championship at the league's "mosquito" level, he caught the bug.
"My passion directed me toward baseball," he said.
O'Neill played hockey until he was 15, tried rugby in high school, and played around with volleyball and soccer. In each sport what today's musclebound slugger lacked then stood out — size. O'Neill said he was "a couple of inches shorter, below average weight" and late to mature as a teenager. On the rink, he'd plunge into the corners with a wilderness of 6-foot-tall peers, and fended for himself, "five-foot-nothing on skates." In baseball, he found a different dimension. He didn't have to stand as tall, lift as much, or check as hard to hit the ball as far. Or farther.
By the time his body caught up with his talent and he followed his dad into the weight room, O'Neill already had the swing to catapult homers. Then he added strength. Attention followed. He joined travel ball, scaled the ranks of Canadian baseball, and realized he "could make a life of this," or at least land a college scholarship. On the power-happy showcase circuit, he starred. In 2013, Seattle drafted O'Neill in the third round. He was 17.
"For me, hitting balls, hitting balls far – that was my calling card to get noticed," O'Neill said. "For me to pop up on the draft boards and Division I radars, I had to hit the long ball. I figured that out at a relatively young age, young enough where I was able to progress and provide that as a kid. I had to make people look."
Power got him closer to majors. Alone, it won't keep him there.
CONTACT + POWER
One day, years ago, in the back hallways of the Cardinals' complex at Roger Dean Stadium, Shildt, a minor-league manager, bumped into Mark McGwire, a legend.
"You know, you were quite the power hitter," Shildt recalled saying.
"I wasn't a power hitter," McGwire replied.
"I was like, 'Well, who is?'" Shildt said with a laugh Saturday in his office off the same hallway. "He said, 'I was a contact hitter that had power.' Oh."
As hitting coach for the Cardinals, McGwire spoke to hitters about finding an area of the strike zone where they know they can do damage, and widen that strike zone based on the count. O'Neill described a similar view of the zone Saturday — and how he lost track of it last season. Promoted to the majors in April, O'Neill made his debut at Wrigley Field as "a kid thrown into this Chicago-St. Louis rivalry." He stepped up as a pinch-hitter in the fifth inning, and Cubs catcher Willson Contreras asked if this was his debut. O'Neill nodded. Pitcher Jon Lester used that against him.
O'Neill didn't see a single fastball. One cutter and three breaking balls later, O'Neill headed back to the dugout, struck out.
"I wanted to whack it," he said. "Lester knew."
O'Neill went back to some drills he learned in Seattle's system — hitting against 95-mph fastballs from a 60-foot distance. Albert ratcheted that up. O'Neill has been taking batting practice at a quicker pace with pitches up in the zone. He will use a tee positioned high and a weighted bat to get a feel for speeding up his hands. And Albert will use high-velocity pitching machines to deliver fastballs at shoulder level. All the while, they'll discuss what strikes he can drive and what breaking balls he should ignore.
Shildt called O'Neill's homer Friday a "microcosm" of Albert's influence on the hitters. O'Neill fouled off pitches he once couldn't to stay alive and ignored breaking balls he often didn't to stay focused.
The long gone result was power.
But it was contact that had power.
See how far it can take him.
"I'm always getting closer to finding out my potential," O'Neill said. "That's the whole thing, right? Waking up in the morning — I want to get better. Getting in the cage every day – to get better. I want to be better as a teammate. I want to be better as a ballplayer. In every regard."
---
50. KYLE LOHSE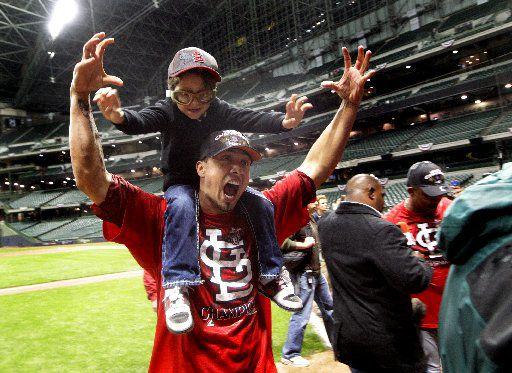 STL SEASONS: 2008-12
CREDENTIALS: Led National League in winning percentage at .824 with 16-3 season in 2012.
49. WOODY WILLIAMS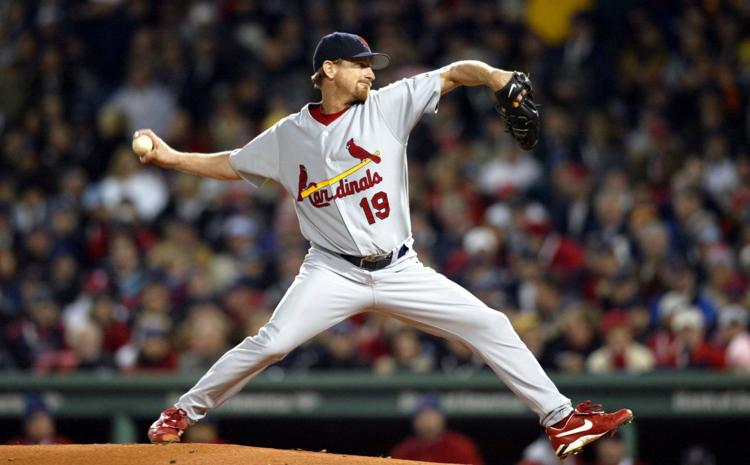 STL SEASONS: 2001-04
CREDENTIALS: Righthander had a .672 winning percentage (45-22), plus three postseason wins.
48. JASON MOTTE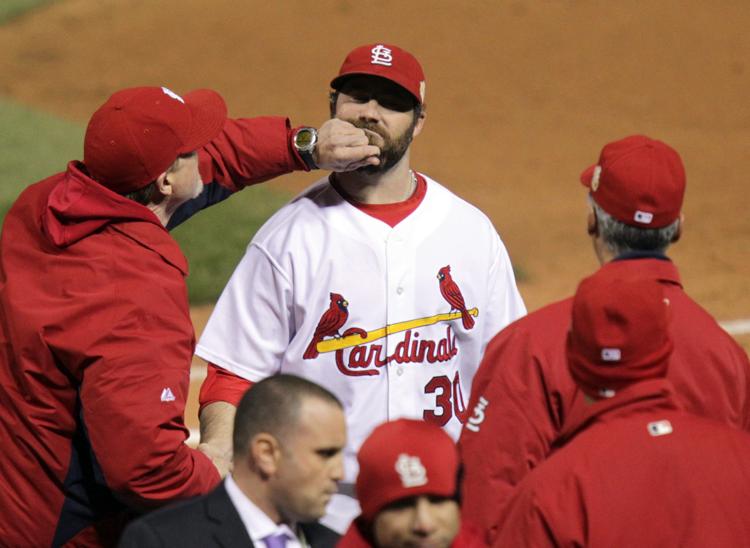 STL SEASONS: 2008-14
CREDENTIALS: Converted catcher led league with 45 saves in 2012 after getting final out of 2011 World Series.
47. MILES MIKOLAS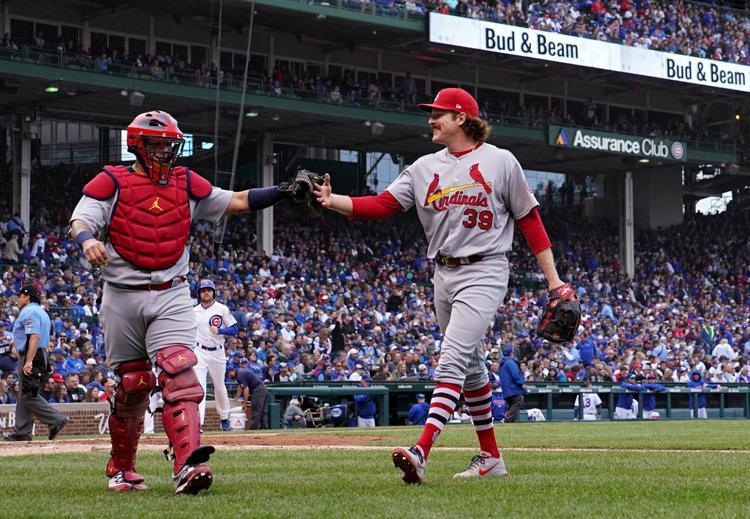 STL SEASONS: 2018-current
CREDENTIALS: Only one year as a Cardinal, but Mikolas had a brilliant 18-4 season in 2018, leading the National League in winning percentage and tying for most victories. The key: he had fewer walks (29) than starts (32).
46. TOM HENKE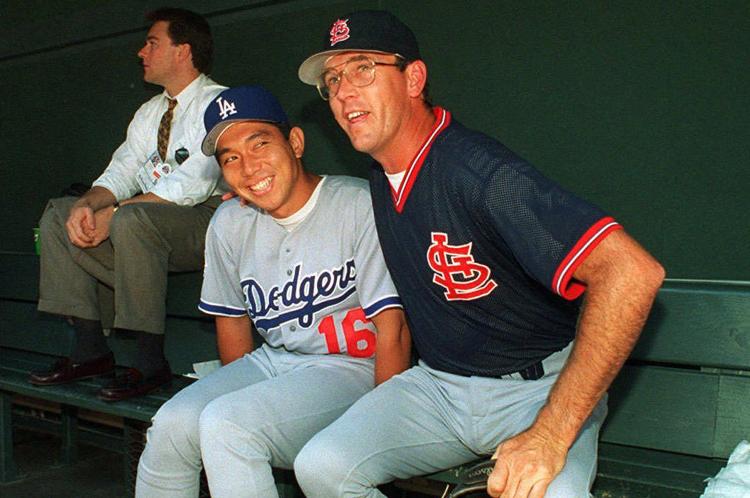 STL SEASONS: 1995
CREDENTIALS: Only one season with the club, but Henke went out with a bang in his final big-league year with 36 saves and a 1.82 ERA.
45. DARRYL KILE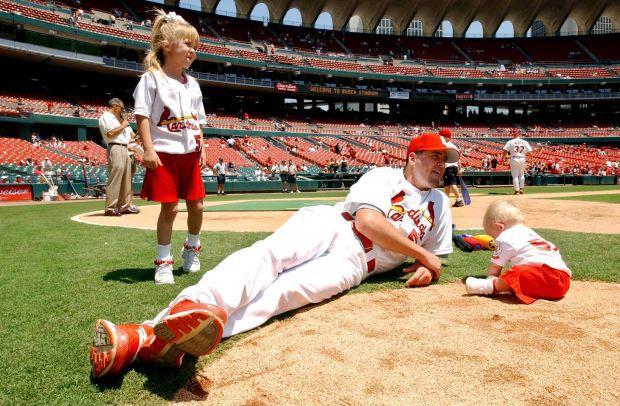 STL SEASONS: 2000-02
CREDENTIALS: Kile, whose career ended tragically when he died in a Chicago hotel room in 2002, won 20 and 16 in his only two full seasons here.
44. CARLOS MARTINEZ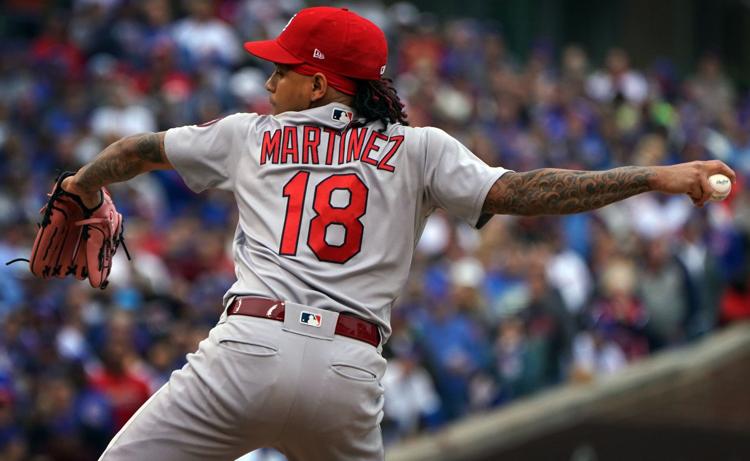 STL SEASONS: 2013-current
CREDENTIALS: He'll have time to move higher on this list, but almost anybody ranked in the top 50 would take his stuff. He's a two-time All-Star.
43. AL HRABOSKY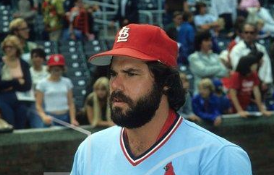 STL SEASONS: 1970-77
CREDENTIALS: "Mad Hungarian" started a long line of elite closers with his dominance in the mid-1970s, including 13-3 mark with 22 saves in 1975.
42. MICHAEL WACHA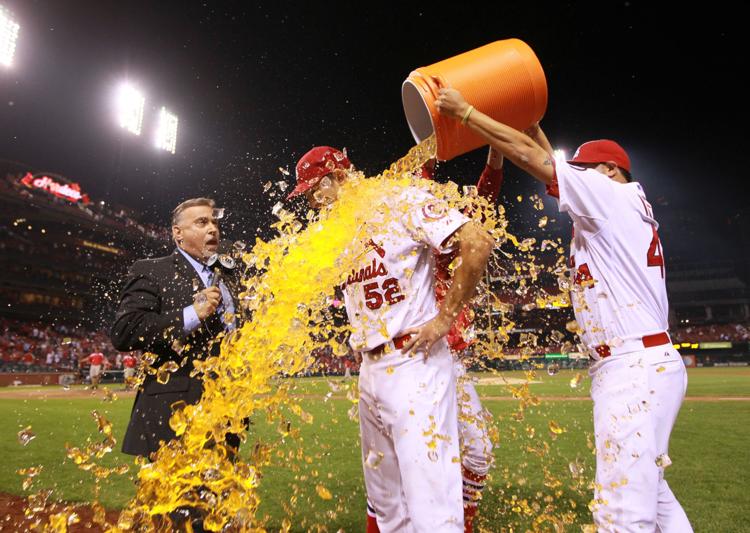 STL SEASONS: 2013-2019
CREDENTIALS: Won four games in 2013 postseason as a rookie, earning MVP award in NLCS. Two years later he was an All-Star within a 17-7 season.
41. TED WILKS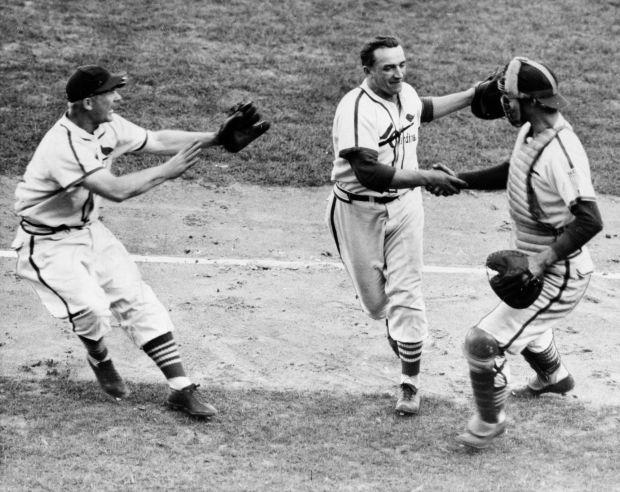 STL SEASONS: 1944-51
CREDENTIALS: Righthander was 51-20 with a 3.26 ERA for Cardinals and was a key pitcher for the 1944 and 1946 World Series champs.
40. JOE HOERNER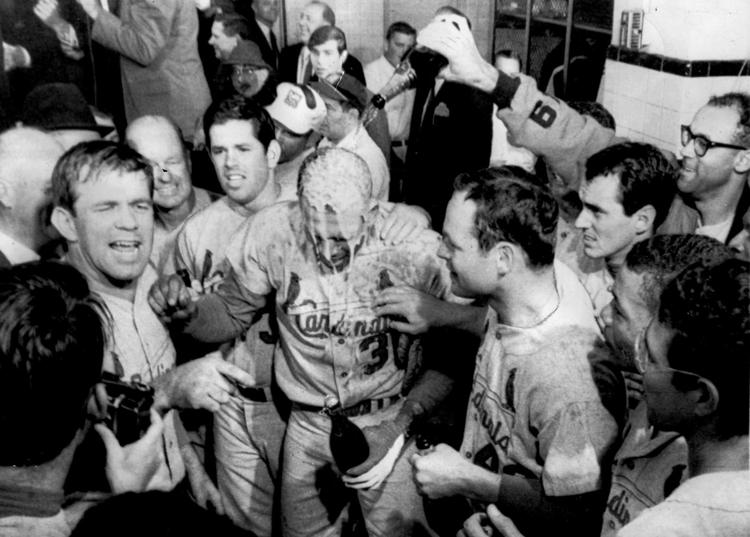 STL SEASONS: 1966-69
CREDENTIALS: Lefthanded bullpen ace was big part of NL champs in 1967-68, with a 1.47 ERA in 1968.
39. BOB TEWKSBURY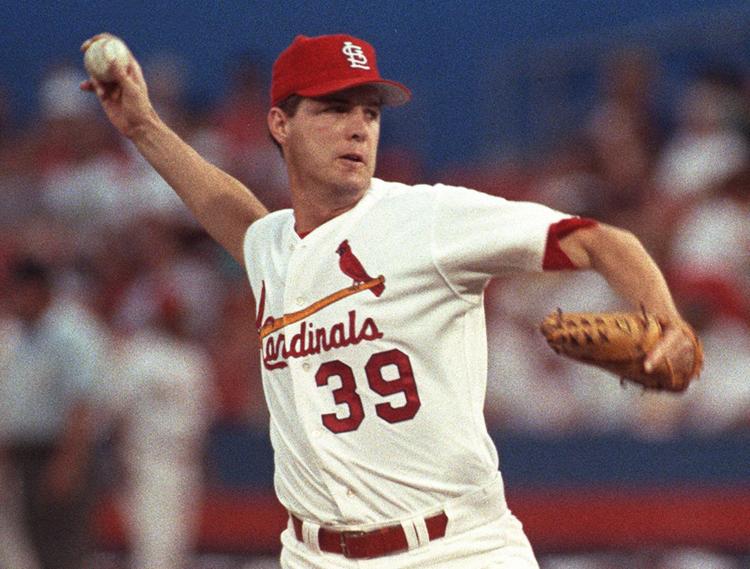 STL SEASONS: 1989-94
CREDENTIALS: Tewksbury produced five consecutive double-figure win seasons, topped by 16-5 in his All-Star season of 1992.
38. CY YOUNG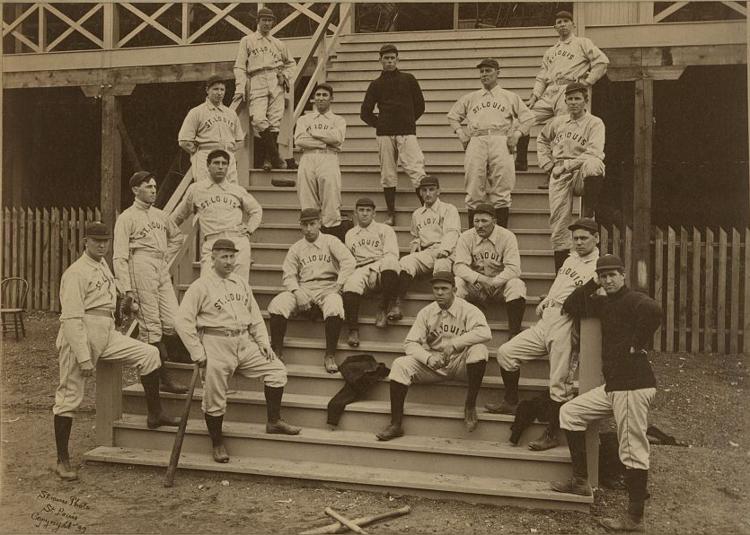 STL SEASONS: 1899-1900
CREDENTIALS: Scored only 45 of his 511 wins for the Cardinals over two seasons. But, he's Cy Young.
37. DENNIS ECKERSLEY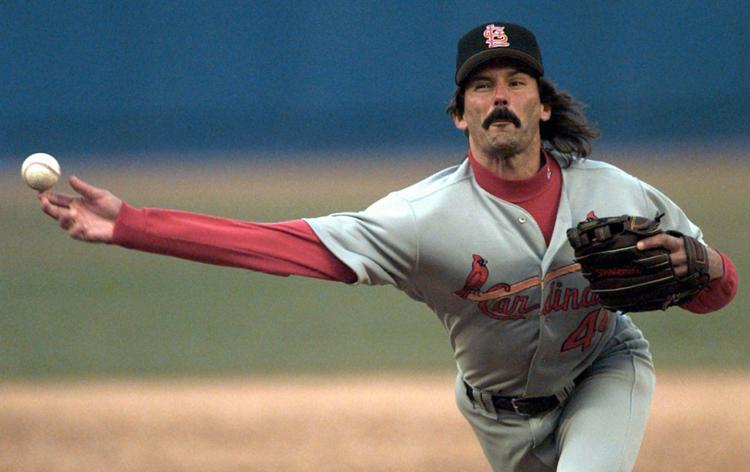 STL SEASONS: 1996-97
CREDENTIALS: "Eck" is a Hall of Famer because of what he did elsewhere but he had 66 saves when he was ages 41 and 42 here.
36. MURRY DICKSON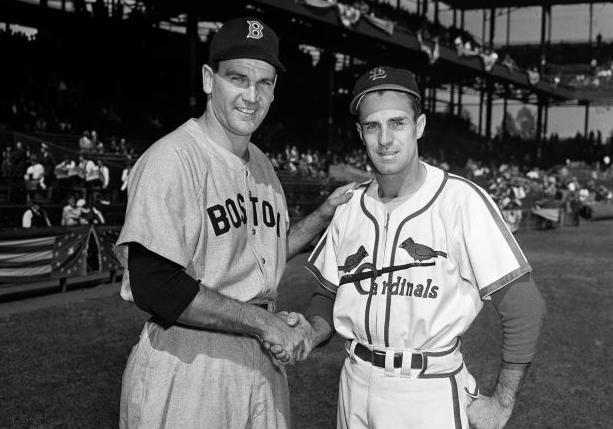 STL SEASONS: 1942-48; 1956-57
CREDENTIALS: Was 72-54 for Cardinals and pitched in two World Series in 1943 and 1946.
35. FLINT RHEM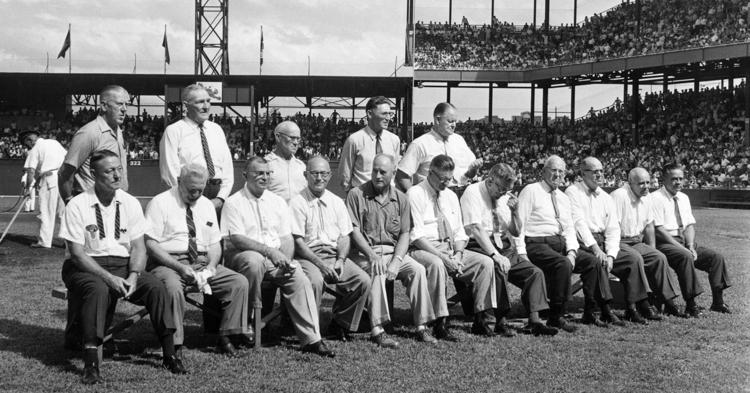 STL SEASONS: 1924-32; '34, '36
CREDENTIALS: Righthander was 81-63 for Cardinals, including 20 wins for St. Louis' first World Series champs in 1926.
34. LINDY MCDANIEL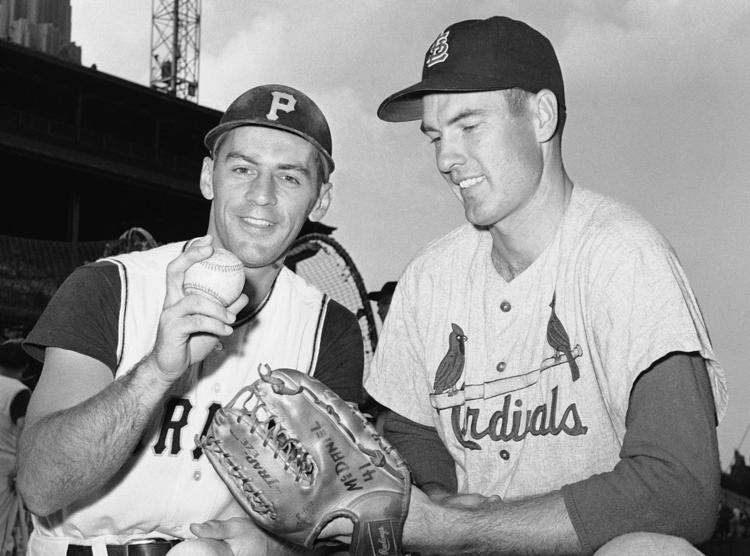 STL SEASONS: 1955-62
CREDENTIALS: Going from the rotation to the bullpen, he had 66 wins and 66 saves from 1956-62 with four double-figure win years.
33. RED MUNGER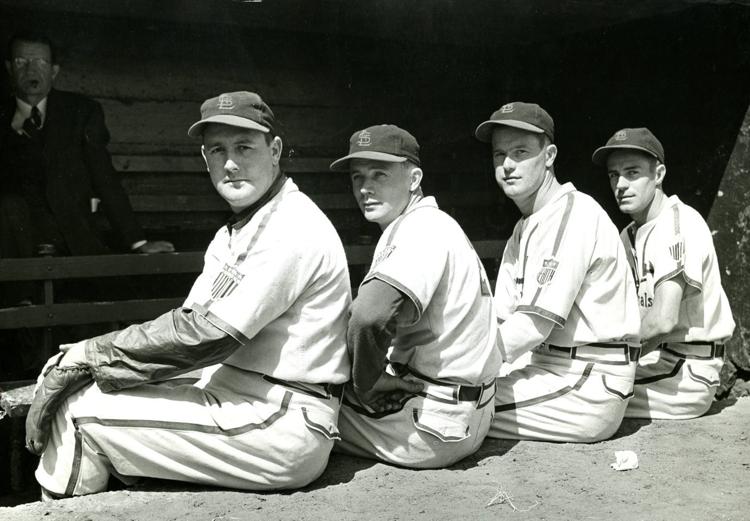 STL SEASONS: 1943-52
CREDENTIALS: Righthander was 74-49 for the Cardinals and pitched a complete-game three-hitter to win a game in the 1946 World Series.
32. CURT SIMMONS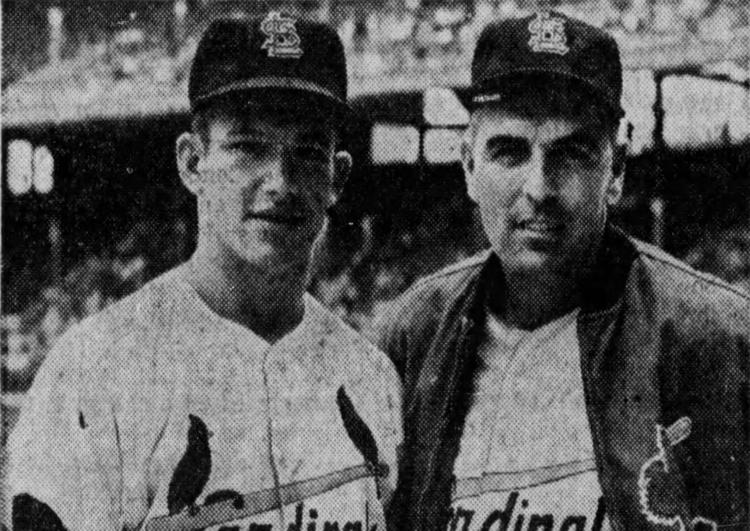 STL SEASONS: 1960-65
CREDENTIALS: Lefthander won 18 games for World Series champions in 1964.
31. RAY SADECKI
STL SEASONS: 1960-66; '75
CREDENTIALS: Southpaw won 20 for '64 World Series champions. He was good enough to get Orlando Cepeda from the Giants in a 1966 trade.
30. LANCE LYNN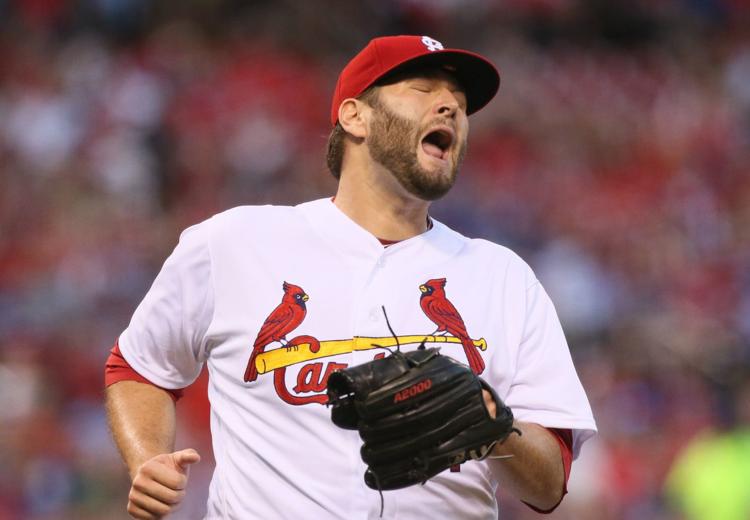 STL SEASONS: 2011-17
CREDENTIALS: Averaged 15 wins a season from 2013-17, with a high of 18 in 2012, his first full season.
29. NELSON BRILES
STL SEASONS: 1965-70
CREDENTIALS: Inserted in the '67 rotation in late July after Bob Gibson suffered a broken leg, Briles was 4-4 at the time and finished with a 14-5 record and the NL's best win percentage. He followed up by winning 19 games for the NL champs in 1968.
28. ERNIE BROGLIO
STL SEASONS: 1959-64
CREDENTIALS: Led National League with 21 wins in 1960. His 18 victories in 1963 made him an attractive enough trade chip to secure Lou Brock the next year. Sore-armed Broglio won seven games in three seasons for the Cubs. Brock wound up in Cooperstown.
27. GERRY STALEY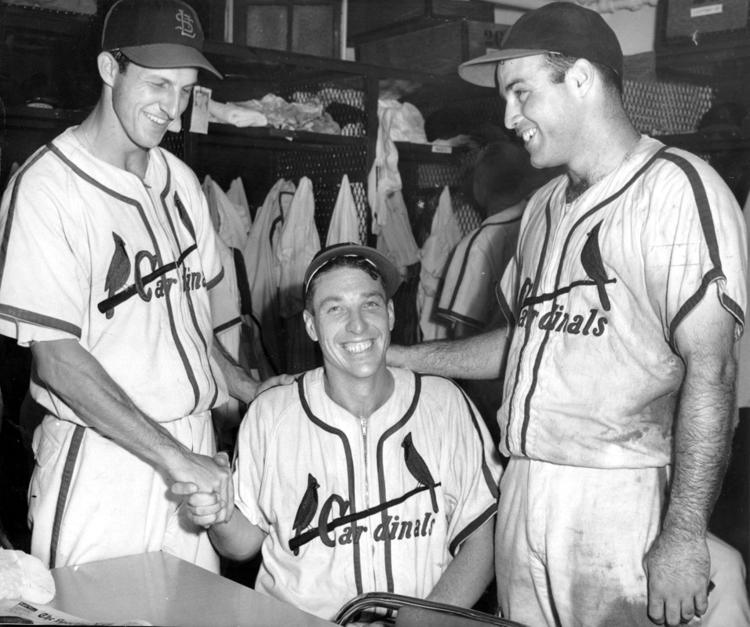 STL SEASONS: 1947-54
CREDENTIALS: Had 89 Cardinals wins and 19 saves, with five consecutive double-figure win seasons, including 19 in '51 and 18 in '53.
26. BILL HALLAHAN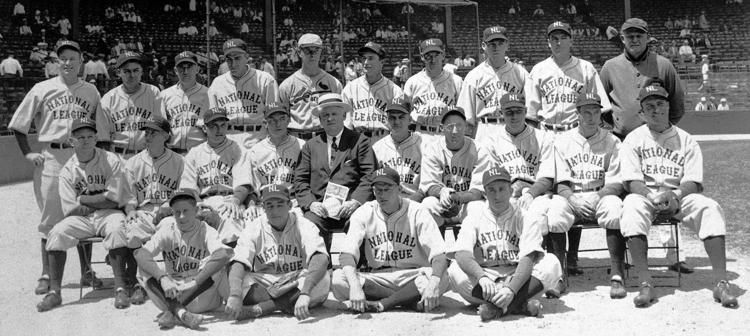 STL SEASONS: 1925-36
CREDENTIALS: "Wild Bill" won 19 games for the World Series champions in the 1931 regular season and two in the Series when he had an 0.69 ERA.
25. AL BRAZLE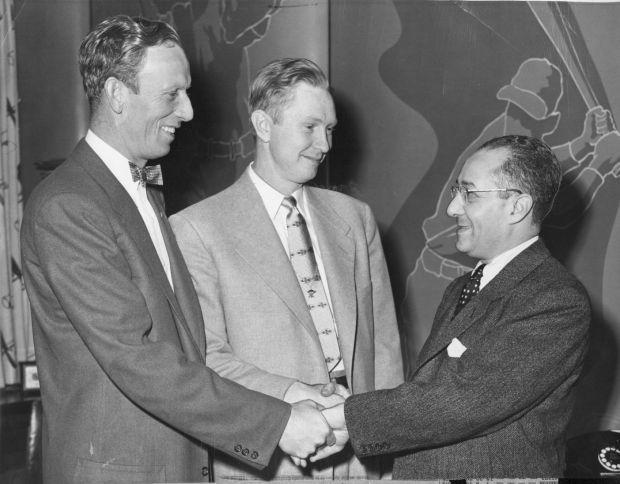 STL SEASONS: 1943, 1946-54
CREDENTIALS: A dual threat, he won 97 games and saved 59 for the Cardinals, unofficially leading the league twice in saves.
24. LARRY JACKSON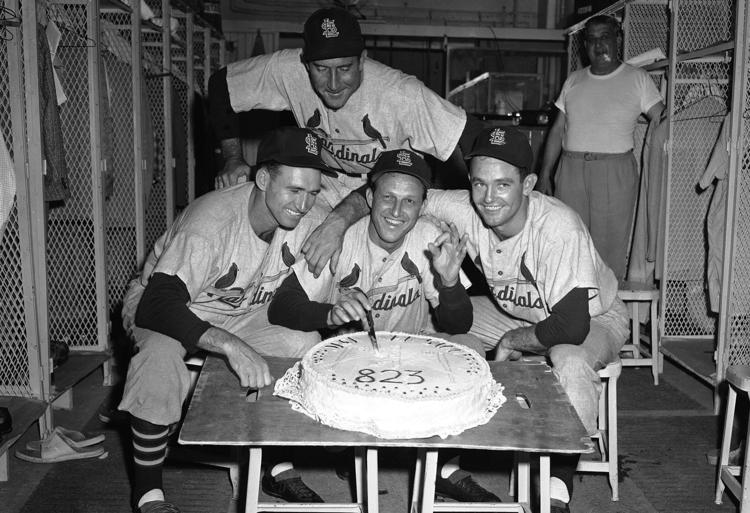 STL SEASONS: 1955-62
CREDENTIALS: Was 101-86 for Cardinals with six consecutive seasons of double-figure victories. (True story: In 1957, Jackson became the first Idaho native to make an All-Star roster. To celebrate, Idaho's governor shipped a sack of potatoes to every NL All-Star.)
23. TREVOR ROSENTHAL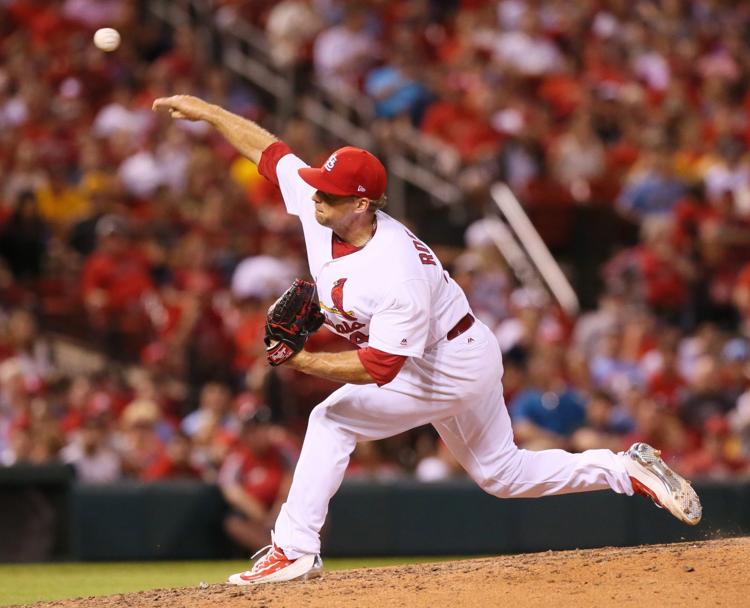 STL SEASONS: 2012-17
CREDENTIALS: "Rosey" had back-to-back seasons of 45 and 48 saves before encountering arm trouble and sitting out the 2018 season.
22. LON WARNEKE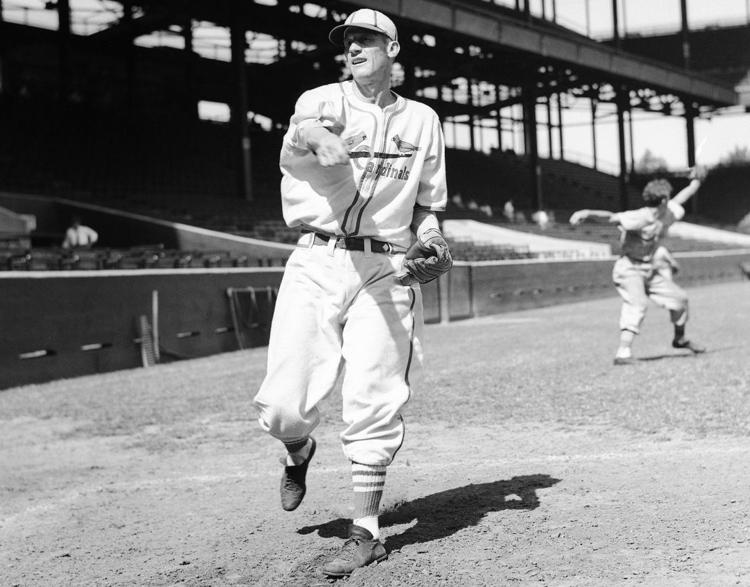 STL SEASONS: 1937-42
CREDENTIALS: Righthander had six double-figure-win years in succession, threw a no-hitter in 1941 and had a lifetime .629 winning percentage for the Cardinals.
21. TODD WORRELL
STL SEASONS: 1985-92
CREDENTIALS: Six-foot-five righthander had three successive 30-plus save seasons and won the NL Rookie of the Year award in 1986. Also made eight outfield appearances when Whitey Herzog would bring Worrell into a game to pitch, then send him to the outfield when a lefty reliever was summoned for a lefthanded batter, then bring him back to the mound. 
20. JOHN TUDOR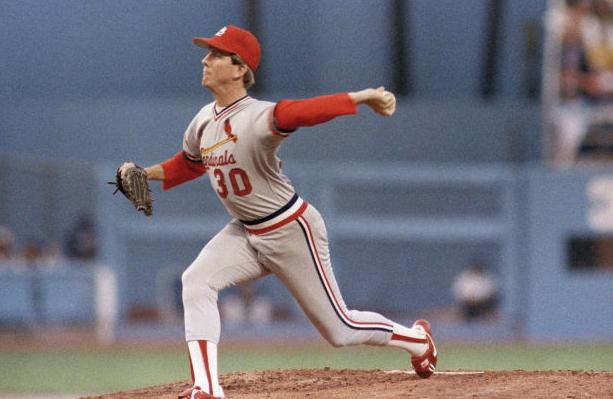 STL SEASONS: 1985-88; 1990
CREDENTIALS: Soft-tossing southpaw had .705 winning percentage and 21 wins, including 10 shutouts for '85 NL champs. Tudor started that season 1-7, then finished with a 20-1 run.
19. MATT MORRIS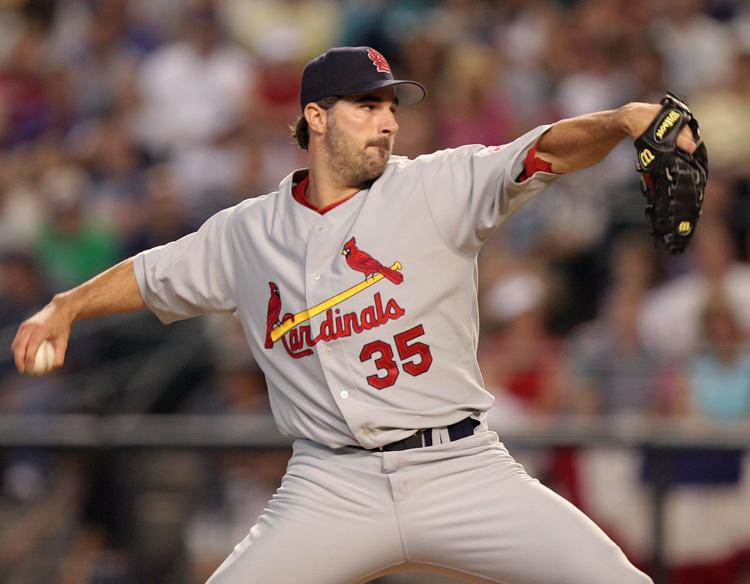 STL SEASONS: 1997-2005
CREDENTIALS: His 101 wins featured a National League-best 22 in the Cardinals' 2001 playoff season. Runner-up for Rookie of the Year in '97 and third in the '01 Cy Young voting.
18. MAX LANIER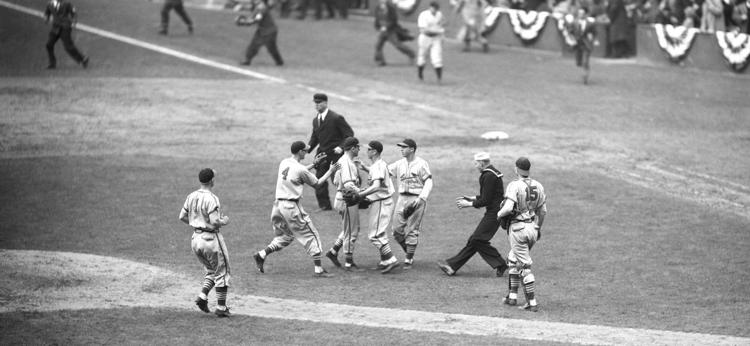 STL SEASONS: 1938-46; 1949-51
CREDENTIALS: Lefthander won 101 games for the Cardinals, 20 of them shutouts. Lanier was 6-0 with six complete games in 1946 when he jumped to the Mexican League. He was suspended from playing organized baseball in the U.S. and wasn't reinstated until 1949, when he rejoined the Cardinals. 
17. GROVER CLEVELAND ALEXANDER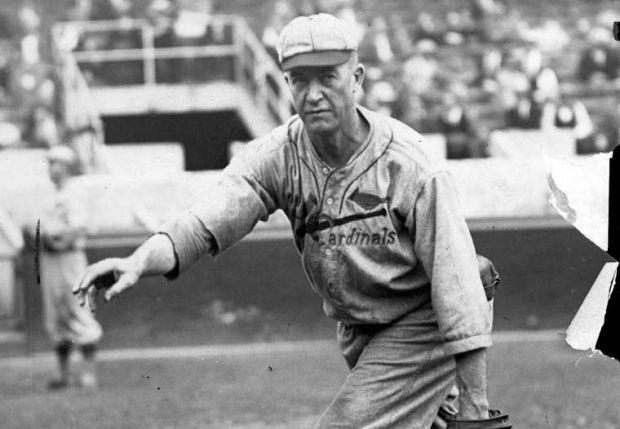 STL SEASONS: 1926-29
CREDENTIALS: "Ol' Pete" had one of the biggest strikeouts in club history, whiffing Tony Lazzeri with the bases loaded in Game 7 of the '26 Series against the mighty Yankees. Baseball's third-winningest pitcher all-time won 21 games as a 40-year-old and 16 as a 41-year-old for the Cardinals.
16. BILL SHERDEL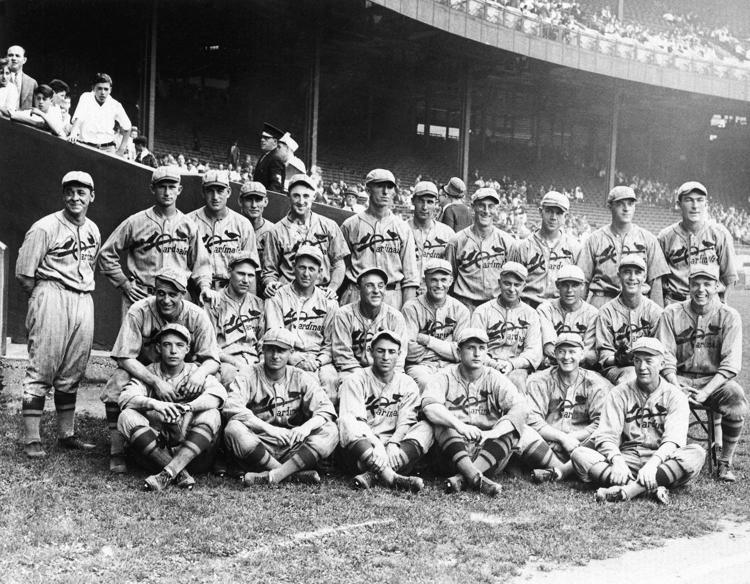 STL SEASONS: 1918-1930; 1932
CREDENTIALS: Lefthander was 153-131 for the Cardinals, winning 16 for the 1926 World Series champions and 21 for the '28 NL pennant-winners.
15. BILL DOAK
STL SEASONS: 1913-1924; 1929
CREDENTIALS: "Spittin' Bill" won 140 games for the Cardinals between 1914-23 and many of those teams were not very good. He had the NL's lowest ERA twice, including a 1.72 mark in '14.
14. STEVE CARLTON
STL SEASONS: 1965-1971
CREDENTIALS: Had five consecutive seasons of 10 or more wins for Cardinals, capped by 20 in 1971. And then he was gone. Owner Gussie Busch traded the future Hall of Famer to the Phillies after a salary dispute over $5,000.
ALL-TIME CARDS STAFF ... STARTING WITH NO. 13: HOWIE POLLET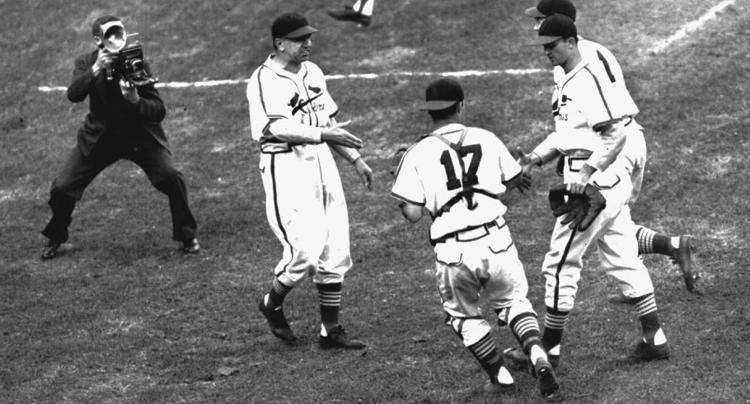 Since teams often have 13 pitchers on their staffs now, here is a version of the Cardinals' all-time staff, beginning with Howie Pollet, who ranked No. 13 in our top 50:
STL SEASONS: 1941-43; 1946-51
CREDENTIALS: Lefty had his career interrupted by World War II but returned to win 20 games for the 1946 World Series champs and 21 in 1949. Pollet Led National League in ERA in 1943 (1.75) and in 1946 (2.10). Little-known fact: He was pitching coach for Cardinals' 1964 World Series champions.
12. BOB FORSCH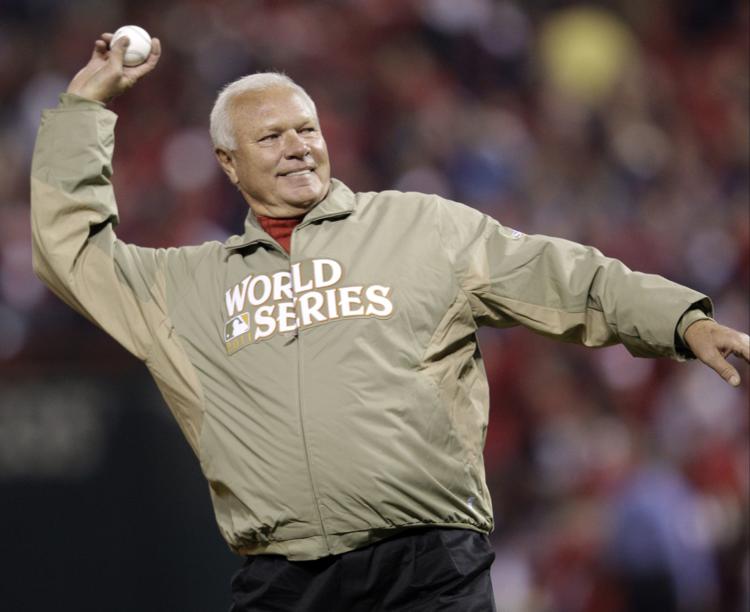 STL SEASONS: 1974-88
CREDENTIALS: Ten seasons of 10 or more wins for the Cardinals, including 20 victories in 1977. "Forschie" had two no-hitters and posted 168 victories, third on the Cardinals' career list. He turned the momentum toward the Cardinals in the 1987 NLCS by drilling "One Flap Down" Jeffrey Leonard with a pitch.
11. BRUCE SUTTER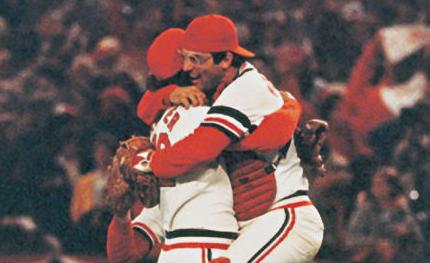 STL SEASONS: 1981-84
CREDENTIALS: Split-fingered practitioner threw a rare high fastball past Milwaukee's Gorman Thomas to end the 1982 World Series. His next biggest pitch of that season was getting Phillies' Mike Schmidt to hit into a 1-2-3 double play with the bases loaded in a pivotal pennant-race game.
10. HARRY BRECHEEN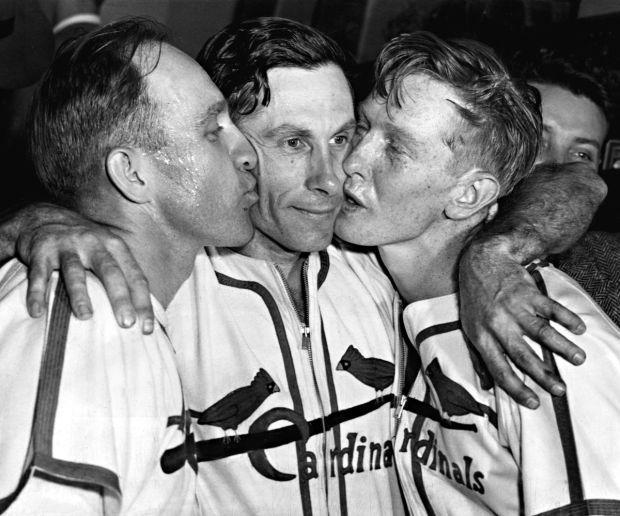 STL SEASONS: 1940; 1943-52
CREDENTIALS: Little lefthander known as "The Cat" had a 128-79 mark for the Cardinals, highlighted by a 20-win season in 1948. His modest 15-15 record in 1946 can be overlooked because he won three games in the World Series — including Game 6 as a starter and Game 7 as a reliever — with an 0.45 ERA.
9. JOAQUIN ANDUJAR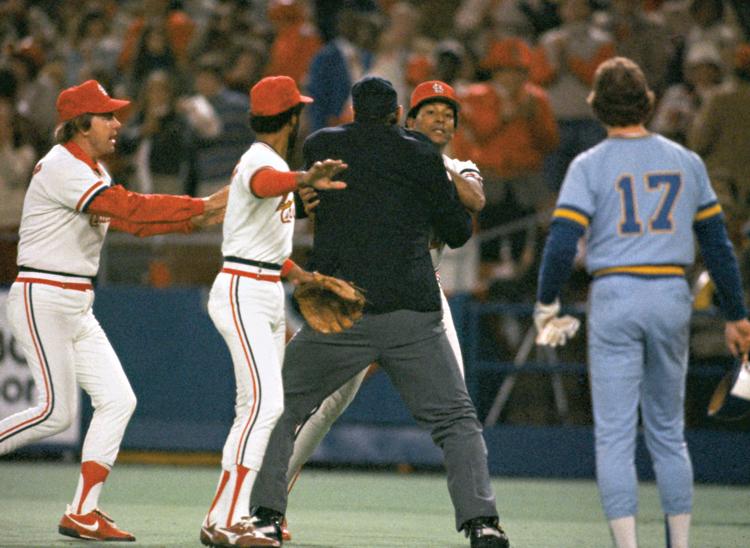 STL SEASONS: 1981-85
CREDENTIALS: The last Cardinal to win 20 games in successive seasons was "One Tough Dominican" in 1984-85. He was 3-0 in the 1982 postseason as the Cardinals won the World Series. And, if he were still alive, he would remind you of the grand slam he hit in 1984.
8. LEE SMITH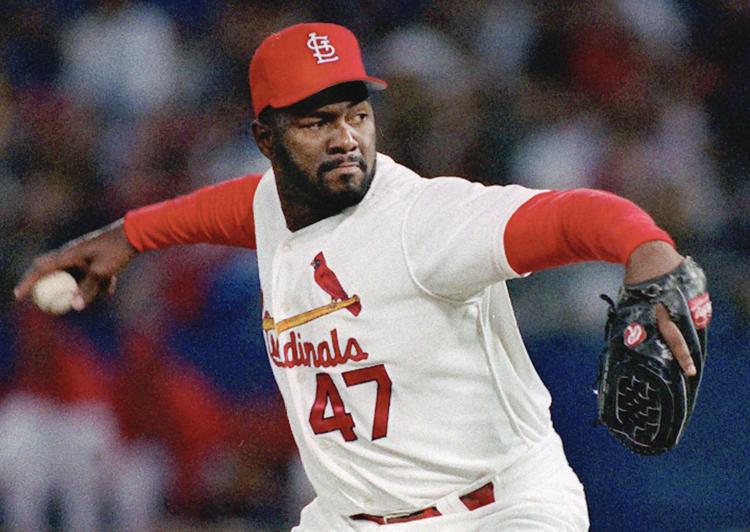 STL SEASONS: 1990-93
CREDENTIALS: Hall of Fame-bound reliever is the only Cardinal to post three consecutive 40-save seasons (1991-93). He's also probably the only Cardinal never to have gray pants in spring training — he did not make any Grapefruit League trips. When asked why he didn't at least jog in from the bullpen when he was summoned to the mound, Smith responded, "Ever see anybody run in to face Mike Schmidt?"
7. MORT COOPER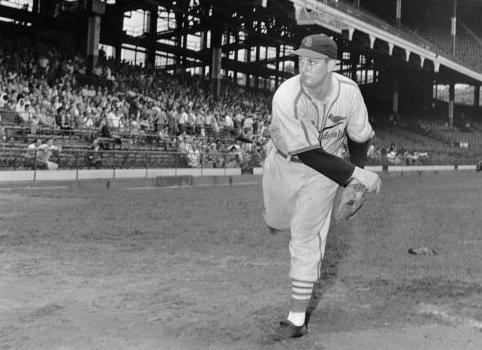 STL SEASONS: 1938-45
CREDENTIALS: A big pitcher for his day, the 6-2, 210-pounder was the last Cardinal to win 20 or more games three years in a row, from 1942-44. Cooper recorded a 22-7 mark with a 1.78 ERA and 10 shutouts in the World Series championship year of 1942, when he was the National League MVP. A bitter contract dispute after the 1944 season led to Cooper being traded early in the 1945 season. He finished 105-50 for his Cardinals career.
6. JASON ISRINGHAUSEN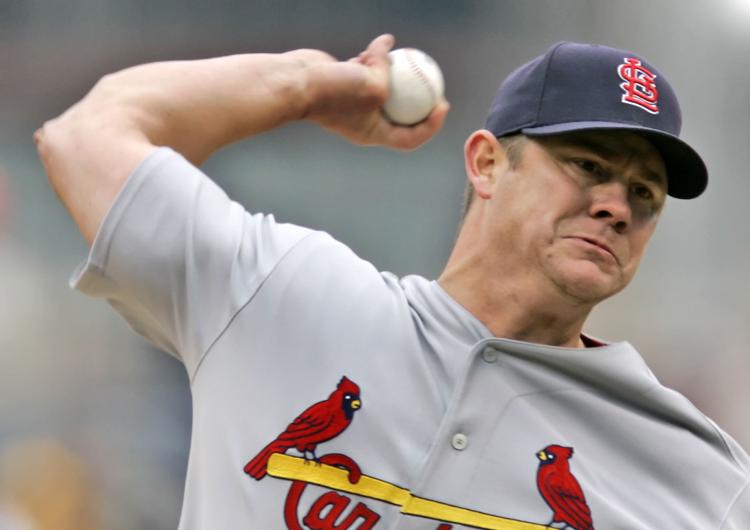 STL SEASONS: 2002-08
CREDENTIALS: "Izzy" is the Cardinals' record-holder at 217 saves, with six seasons of 30 or more saves, including a league-leading 47 in 2004. The Piasa Southwestern High product had 2.98 ERA in St. Louis and also had eight postseason saves, which might have been more if he hadn't been hurt at the end of the 2006 season.
5. CHRIS CARPENTER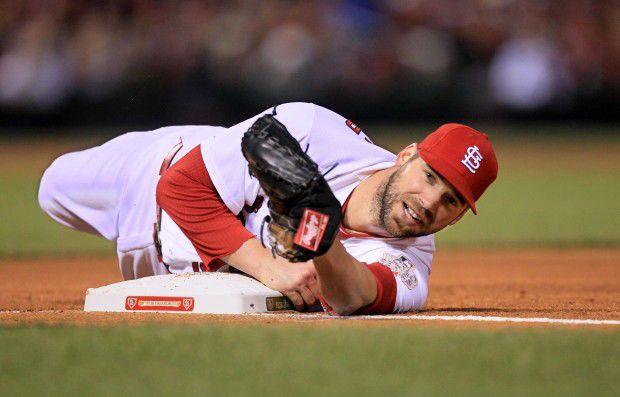 STL SEASONS: 2004-12
CREDENTIALS: If you thought he was good in the regular season, which he was (95-44, .683 win percentage) for the Cardinals, consider that he was 10-4 in 18 postseason starts, featuring a 3-0 mark in two World Series. One wonders what would have happened if he could have back virtually four seasons he was out with injuries.
4. ADAM WAINWRIGHT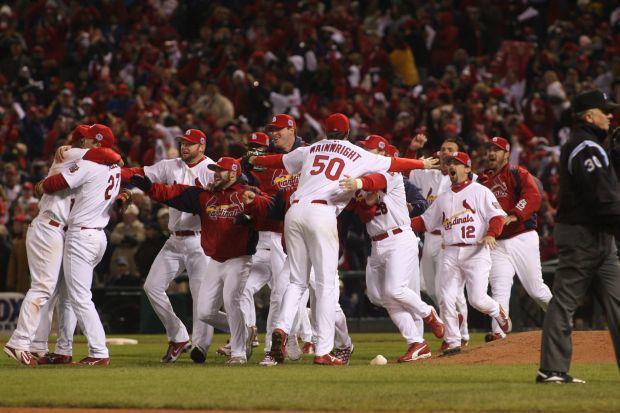 STL SEASONS: 2005-current
CREDENTIALS: "Waino" had a remarkable run between 2009-14 (he missed 2011 with elbow injury), winning 20 games twice and also 19 games two times, with the 19-win years including his leading the National League in innings pitched. As a reliever in the 2006 postseason, he recorded four saves. Three of those came as the last outs in the divisional round, the NLCS and the World Series.
2019 update: At age 37, Wainwright returned from an injury-shortened '18 season to win 14 games and make two postseason starts for the NL Central Division champions.
3. JESSE 'POP' HAINES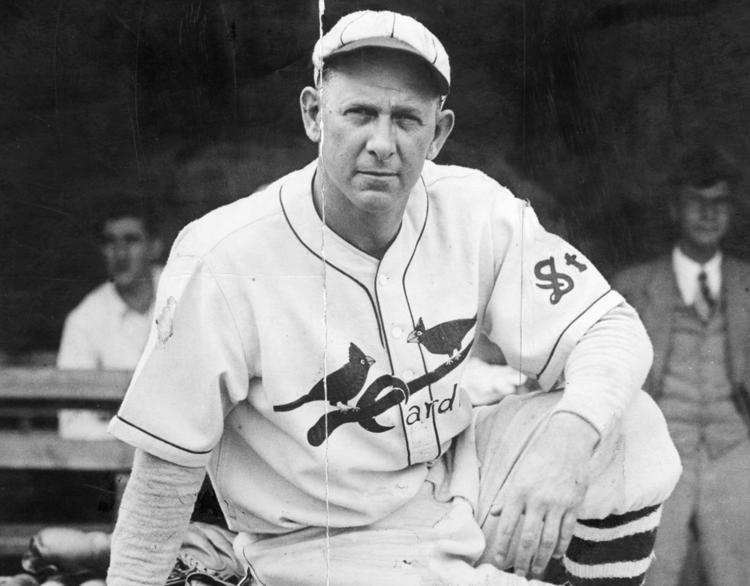 STL SEASONS: 1920-37
CREDENTIALS: His 210 wins for the Cardinals rank second on the all-time list. Haines had 10 seasons of double-figure wins, three of them 20-victory seasons, and he pitched in four World Series — 1926, 1928, 1930 and 1934, when he was 41 years old. Haines' no-hitter in St. Louis against Boston in 1924 was the last previous Cardinals' no-hitter in St. Louis before Bob Forsch authored one in 1978. He pitched his first game as a Cincinnati Red in 1918. The next 554 came with the Cardinals.
2. DIZZY DEAN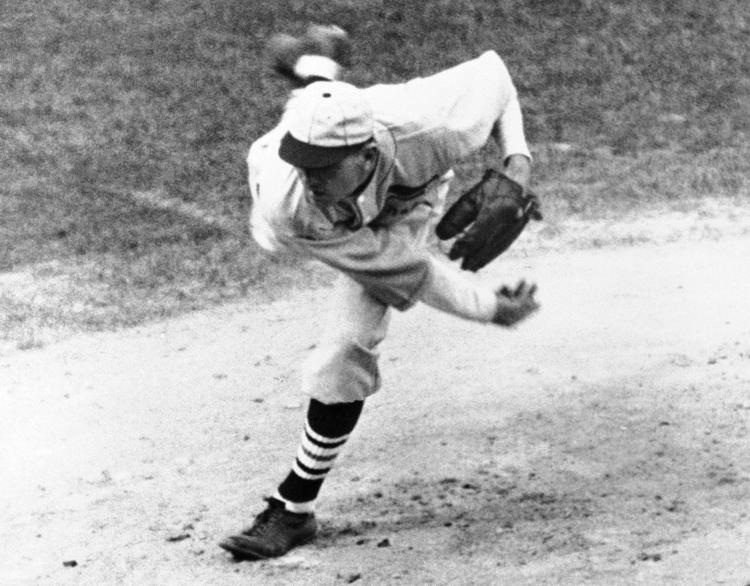 STL SEASONS: 1930; 1932-37
CREDENTIALS: Had a line drive by Earl Averill in the 1937 All-Star Game not fractured his big toe ("Fractured, hell. The damn thing's broken," Dean was quoted as saying), Jay Hanna "Dizzy" Dean might have had another five years like his five between 1932-36. He won 120 games in that span, including 30 in 1934 when he was the last National League pitcher to win that many. He hurt his arm trying to favor the foot and was never the same.
At the end of the 1947 season, he briefly came out of the broadcast booth to pitch four scoreless innings at age 37 for the St. Louis Browns, whose staff he had criticized on the air. But he suffered a hamstring pull running the bases after a single, and afterward said he was thankful the pulled muscle he suffered wasn't in his mouth.
1. BOB GIBSON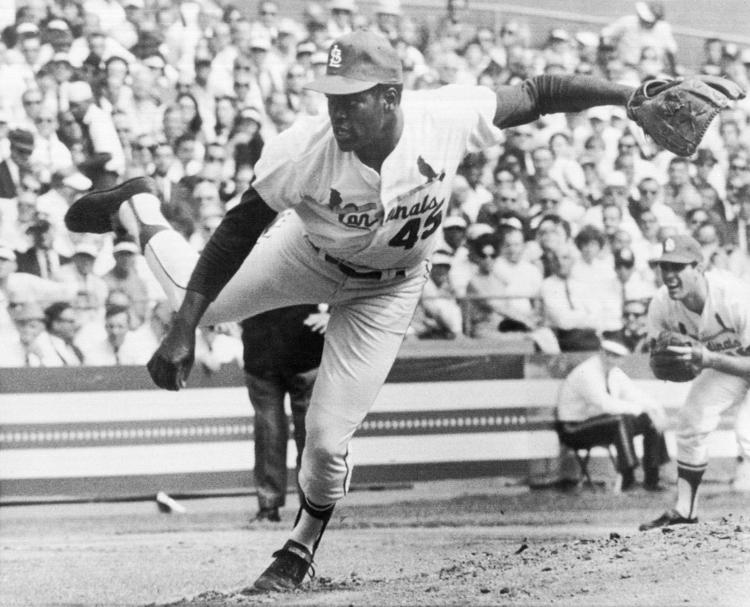 STL SEASONS: 1959-75
CREDENTIALS: So many accomplishments but, excluding the record-shattering 1.12 ERA 50 years ago, the most stunning might have been Gibby's complete-game total. Not only did he have 251 wins, but he had 255 complete games. Gibson produced 14 double-figure win seasons.
His World Series mark was exemplary. In nine starts, three each in 1964, 1967 and 1968, he pitched 81 innings, winning seven of nine games. In one of those games, his first one in 1964, he worked eight innings. In one he worked 10 innings. In the other seven, he pitched nine-inning complete games.
Keep up with the latest Cardinals coverage from our award-winning team of reporters and columnists.