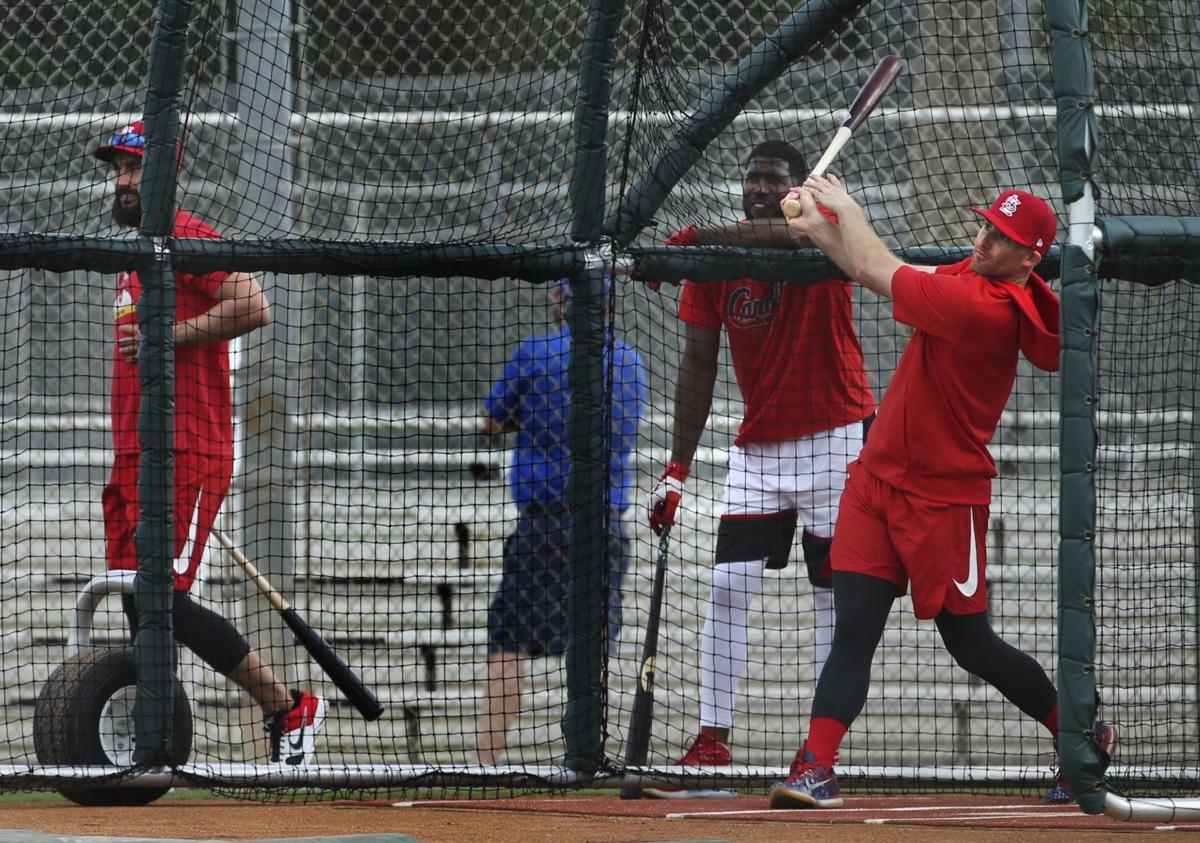 With so many uncertainties and unknowns facing Major League Baseball as owners and players rummage through proposals to conjure a 2020 regular season, one inevitable has emerged for when or whenever the game resumes.
"The DH?" Cardinals infielder Brad Miller asked. "I'll give you my strategy."
He has, after all, done it more than any of his teammates.
"The best way to be a DH, really the only way to do it — are you ready?" Miller said Wednesday from his home in Orlando, Fla. "There really is the one way, and we've talked about and proven it. And that's to hit a home run in your first at-bat. That's it. Do that and then DH is the best position in the world."
And, how exactly does one do that?
"You can do it to left-center, right-center," Miller said. "Down the line is good."
As a way to accommodate reorganized divisions, melded leagues, a condensed schedule, expanded rosters, and the potential strain on pitching, the universal designated hitter appears to exist outside the preexisting acrimony between owners and players. It's in that warm, cuddly nook of mutually agreeable. For some National League teams, it can be imminently exploitable. What the Cardinals lack in guaranteed offense they counter with multiple options at several positions. Despite trading Jose Martinez to Tampa Bay this past offseason, their roster is ready with a DH or two.
Miller, signed on the eve of spring training, has 24 starts in his career at DH. That's three times the total of the next-closest active Cardinal (Matt Carpenter). Miller's sporadic starts at the position during his American League days are more than any Cardinal other than Matt Holliday's 30, and that mark could tumble depending on how many games are played in 2020 and how manager Mike Shildt uses the DH. Miller has a .578 slugging percentage and .888 OPS as a designated hitter. He has nine home runs as a DH and, yes, two of them have come in his first at-bat of a game. Best position in the world, indeed.
"I'm a hitter," Miller said, and then the former everyday shortstop explained: "Sometimes I get flack for my defense. That's the narrative on me. That's ways rubbed me the wrong way. Going through free agency a few times, the industry views me as more of a bat. I can play several positions. Adding a DH — that's a help for me, for anybody who has a bat in their hands."
Three days before spring training halted because of the coronavirus pandemic, Miller returned to the lineup after missing 14 days with a sore back. His two-out, two-run single provided the only runs against Boston on March 10 at JetBlue Park. In less than a week, he went from missing games to the games gone missing. Miller, 30, returned to his home in Orlando, where he's been able to spend more time with family, his girlfriend, and her family. He has had access to a private gym. His agent, lefty and former Cardinals' second-round pick Mike Milchin, lives close enough and throws hard enough to be a workout partner (and wily BP pitcher) for the lefthanded-hitting Miller. In the coming week, Miller plans to measure basepaths on the field and begin throwing to bases.
This much time at home in 2020 contrasts with a year on the go in 2019. At this same point a year ago, Miller was about to join his fourth organization of the season.
"They always say it, and it's probably something like, OK, OK, they're just saying it to say, but in baseball you always see something new, something you've never seen before," Miller said. "Well, last year I was on four teams. That happened. I didn't think it would. It did. This year, same thing. In baseball you never know what's going to happen and you'll always see something you haven't before every year. We have a real large-scale crisis and all we can do is go home."
Miller started last year with the Dodgers as a potential utility fielder with experience all over the field and lefthanded pop. After opening the season with Cleveland and detouring through the Yankees system, he ended the season with the Phillies as a part-time, roving player who slugged .610 in his final 130 plate appearances. The Cardinals signed him to be their long-coveted lefthanded hitter off the bench — a complement to switch-hitter Tommy Edman in the utility role and an augment for depth at third, second, short, left field, all over. DH is just another position on his résumé.
The Cardinals can employ the DH to get regular rest for stalwarts Paul DeJong, Paul Goldschmidt, and Matt Carpenter without removing their bats from the lineup. The DH can be a spot for Tyler O'Neill or Dexter Fowler when they're not in the outfield, or one more position for Edman to find at-bats. All the overlapping positions and depth provide choices for DH because, as Miller said, there isn't a "mercenary who shows up only to bat." They've got gloves, too.
Universal DH meet utility infielders.
"Love that. The cycling DH," Miller said. "So many moving parts, so many ways to attack another team, so many ways to stay fresh, so many ways to go about it."
Miller got a career-high nine starts at designated hitter with Tampa Bay in 2017 and seven the year before as he dealt with hip soreness. He said the Rays didn't use the position to "get me off my feet, because I didn't have feet. Couldn't move well."
In 2017, seven different Rays had at least eight starts at DH, and only one had 25 or more. While hitting on that cycle, Miller and the other rotation DHs – Corey Dickerson, Logan Morrison, etc. — discussed tried-and-true tactics for success in the American League's disco-era lineup wrinkle.
The thing about DH, Miller explained, is all the focus goes on production at the plate and not how to mold a game with a glove. So, they settled on the best strategy: Release that pressure my homering in the first at-bat. And then, enjoy.
"My whole thing is to be available to do anything, to be opportunistic," Miller said. "Start on short notice, be ready to go late in a game, play any position. I have to hit to be in there. And the only way to be truly opportunistic is to be ready for anything. Always ready."
Keep up with the latest Cardinals coverage from our award-winning team of reporters and columnists.