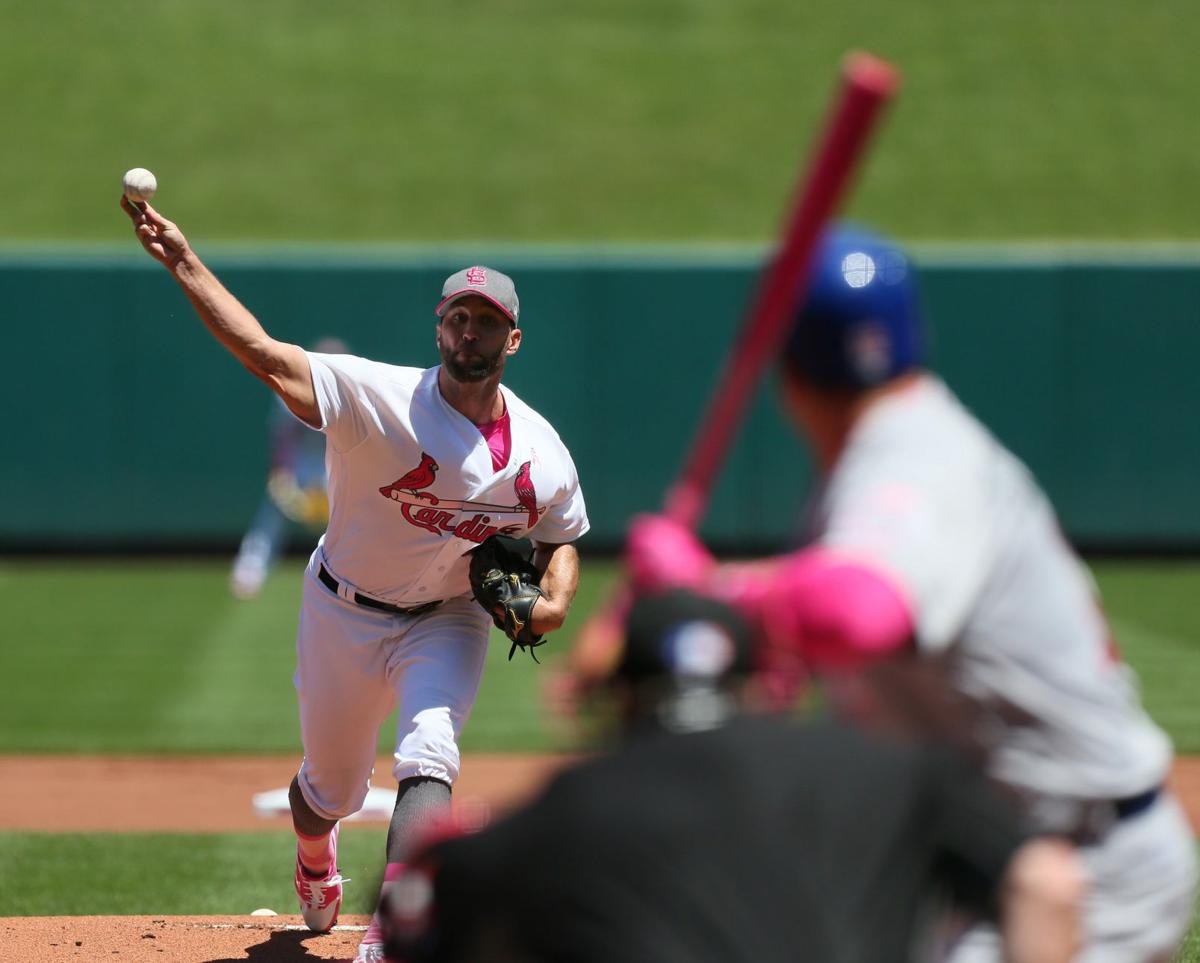 After losing five straight series to the Chicago Cubs here over the course of three seasons, the Cardinals finally took a three-game set this weekend at Busch against the scourge from the north.
So what did we learn this weekend after the Cardinals' series-clinching 5-0 win on Sunday?
For one, Cardinals righthander Adam Wainwright reaffirmed that an old dog can learn some different tricks. Wainwright and veteran Mike Leake were watching on television in the clubhouse last Tuesday in Miami as Texas righthander A.J. Griffin mixed in some 63 mph curveballs to go with an 85 mph fastball in shutting out San Diego.
Wainwright has dabbled in the big, slow curve for much of his career but, in a time of stress this season, he decided he could throw his slower, too.
"Griffin was my inspiration," said Wainwright, who added at the time, though, that he throws harder than Griffin's 85. "He wasn't throwing his fastball hard," said Wainwright, "but he slowed his offspeed stuff down enough so that there was still that 20 mile an hour gap.
"You watch a pitcher blow 85 by someone after throwing 63 mile an hour curveballs, it opens your eyes a little. I watch everything. I'm always paying attention."
That night in Miami, Wainwright threw a curveball as slow as 66 but was clocked as high as 93 when he worked five strong innings before being unable to gain relief help in the sixth and chafing at being taken out of a 1-1 game.
On Sunday, he was even better and didn't have to come out early. Wainwright, throwing his slow curves between 72 and 76, pitched seven scoreless innings, allowing just four hits. It was his longest outing since last Sept. 1 and longest scoreless outing since last July 16, when he blanked Miami.
"I thought that was his best mix of hard and soft," said manager Mike Matheny, "and mixing in the cutter without falling in love with anything. It's a good one to build off because there's even more there."
After saying he put his once famed cutter in "time out" for his last start, Wainwright took the shackles off Sunday, throwing it enough to keep everyone honest.
"Today it was a very good pitch," Wainwright (3-3) said.
And, yes, Wainwright has paid attention to what people have been saying about him, i.e., he should be a fifth starter, or worse, back in the bullpen.
"I don't know if they want to see me fail or they're just ready for me to kind of move on," said Wainwright. "But it ain't gonna happen. They're stuck with me. And, you know what? I'm going to be very good. And they're just going to have to deal with their life with me being a good pitcher and still being a dominant force out there."
First baseman Matt Carpenter said, "Vintage Waino. It would be fun to see a few of those in a row."
We also learned that Carpenter can hit the Cubs' Jake Arrieta, a groomsman at Carpenter's wedding, former teammate at Texas Christian and longtime friend. Carpenter, who wants the record to show that he was one for three against Arrieta in the 2015 postseason, was nothing for 28 off the righthander in the regular season until he clouted a two-run homer in the third inning off Arrieta.
"It's huge for him, to just get that off his back," Matheny said. "He wants it so bad sometimes he takes himself out of it.
"As far as sticking with him ... this guy is one of the best hitters in the game. I don't think there's any question about that and how do we not throw him into a game like this is my question."
The day before, Matheny had gone with the numbers and benched Randal Grichuk, who was one for 13 against the Cubs' Jon Lester.
"There are times when it makes sense and some times when it doesn't," said Matheny. "And, defensively, I like what (Carpenter) is doing. I don't want to get in the way of it."
Carpenter sprawled to start a key double play in the fourth inning — it became one on appeal when replay showed that Cubs runner Miguel Montero stepped right over first base. As for his lack of success against Arrieta, Carpenter said he was hardly alone.
"It's not just me," said Carpenter. "He won a Cy Young (Award), he had a 1.7 ERA and gave up the least amount of hits of any pitcher in the National League for the last couple of years. It's not really that crazy of a thing. He's good."
And other things we learned ...
• Yadier Molina still can do more than just handle pitchers and throw out runners. He had his first two-homer game in nearly six years, when he also did it against the Cubs.
"It doesn't surprise me ever," said Wainwright, Molina's teammate for 12 seasons. "He's great."
• Trevor Rosenthal, who topped 100 mph several times and struck out two more in his fifth consecutive hitless outing, has a few more arrows in his quiver. He threw five straight changeups to Cubs star Anthony Rizzo in the eighth inning, with Rizzo a spectator on strike three.
"His changeup is good enough to throw five times (in a row), " said Matheny. "I think his slider is, too. I wouldn't be surprised to see that either.
"He's just healthy and confident. With his stuff ... if he's healthy and he's confident, heads up."
• And the Cardinals have more outfielders than they thought. Grichuk had two doubles and a single in his return after a day off. Magneuris Sierra hit safely in his sixth straight game, one off the best start by any Cardinals rookie (Enos Slaughter, Terry Pendleton, Bo Hart). And Tommy Pham had another steal and hit .371 in his first week-plus back in the majors.
"It's a tough call for (the Cardinals)," said Grichuk, "in the sense of how we keep guys up and down and playing time."
Injured regulars Stephen Piscotty and Dexter Fowler are about ready for regular duty, though Fowler's right shoulder was barking Sunday. And Jose Martinez will be back at some point.
Photos: Cards shut out Cubs to win series
The Cardinals had a 20-8 record in spring training but then opened the season 3-9 before running off 18 wins in 24 games.
Matheny said, "Winning fixes everything ... having a run like this to show that spring training wasn't just spring training. This is the type of team that we should be."
And one more thing you surely already had learned ...
• Cubs vs. Cardinals is good business. For the second game in a row Sunday, the Busch Stadium attendance record was broken, and 143,408 paid to see the three weekend games.
But hold that thought. The Cubs won't return until the last week of the season.