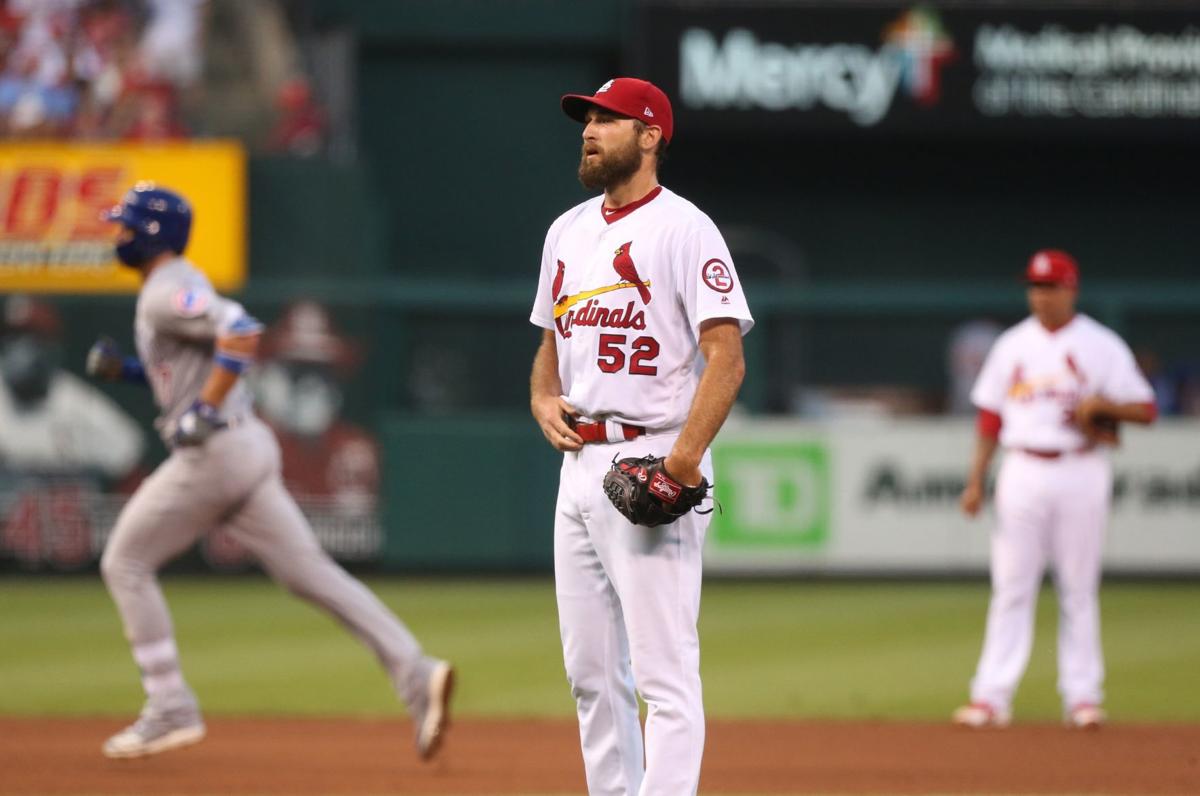 On one hand, Cardinals president of baseball operations John Mozeliak said he was heartened by the results of a recent ultrasound procedure involving ace righthander Michael Wacha's strained left oblique muscle. On the other, Mozeliak estimated that Wacha would need to embark on a three-week throwing program before he could begin a potential minor-league rehab program, and that hasn't started yet.
The math says Wacha, 8-3, won't be pitching for the club until mid-August and maybe longer. He was hurt June 20.
"We still have to be patient with him," said Mozeliak. "In terms of when his throwing program will begin, we're still not there, but we're encouraged where he is today."
Mozeliak said Wacha probably would need three or four minor league starts before returning to the Cardinals' rotation. Rigthhander Adam Wainwright, who has missed most of the season with elbow problems, might be ready for a rehab assignment in early to mid-August, Mozeliak said.
Wainwright probably would be stretched out as a starter when he begins his rehab.
WEAVER TO MEMPHIS, BUT NOT FOR LONG
Righthander Luke Weaver, who has pitched brilliantly in his last two starts, got a ticket to Class AAA Memphis as the flip side of relievers Luke Gregerson and Tyler Lyons being taken off the disabled list.
A player sent out can't be recalled until 10 days elapse, but Weaver wasn't slated to pitch again for the Cardinals until next weekend in Chicago anyway.
The 10th day would be Saturday, July 21, when the team is in Chicago and Weaver could be slotted to pitch July 22 in the finale of the five-game series. But Weaver, according to a Major League Baseball rule for doubleheaders, could be recalled July 21 as the 26th man to participate in that day's twin ball rather than being held back until the next day.
Until then, Mozeliak said Weaver would get in a short start, some 50 pitches' worth, Monday for Memphis during the major league All-Star break, which begins after this Sunday's games. The Pacific Coast League already has had its break.
Weaver has given up just three runs and five hits over his last 14 innings in two starts. "We're being flexible at this point," manager Mike Matheny said.
Righthanded reliever John Brebbia also was optioned to Memphis for the fourth time this season.
The Cardinals plan to start Carlos Martinez, Miles Mikolas and Jack Flaherty, in some order in the Chicago series. Lefthander Austin Gomber, recently optioned to Memphis, where he started Thursday night, could be recalled to pitch either next Saturday or Sunday in Chicago, although Mozeliak said righthander Dakota Hudson, a 12-game winner at Memphis, also would be a possibility.
With Weaver gone, temporarily, the Cardinals are at nine relievers, because starter John Gant also has been in the bullpen this week. His next start probably would be July 23 in Cincinnati.
NORRIS RESPONDS
Closer Bud Norris, who, in an online story written by The Athletic, was described as "mercilessly riding" young teammate Jordan Hicks, said he merely had been trying to help the 21-year-old. "He's learned some things," said Norris.
"As much as I might get on him, we also definitely build him up in the bullpen. I've definitely had talks on helping him and becoming a man.
"I've learned a lot from this situation as well. I know how I was treated in my younger years, and it's definitely come a long way. It's about meshing together as a group."
Matheny called the story inaccurate.
TRADE WINDS
Looking ahead to the trading without waivers deadline of July 31, Mozeliak said among the club's goals was to improve the bullpen. As for the club's general philosophy leading up to the deadine, he said, "We want to do what's best for this organization, not just in the sense of a Band-Aid versus long-term.
"I don't feel we're at a point where we have to hit the panic button but I would accept an argument that to try to do something does make sense."
TRAVELING SECRETARY TO RETIRE
C.J. Cherre, who has been with the Cardinals' organization for 41 years, 38 as traveling secretary, will retire at the end of the year, Mozeliak said.
"He's had a long and distinguished career with the Cardinals," said Mozeliak, and "we're grateful for everything he did. He came to me about two months ago and told me he thought it was time.
"He's certainly going to be missed, but he may stay on in a consulting basis, although we haven't defined that yet."
EXTRA BASES
Former Chaminade and current Boston Celtics star Jayson Tatum threw out one of the ceremonial first pitches Friday. ... Yadier Molina turned 36. With his next start behind the plate, Molina will tie former Cardinal Tony Pena at 1,800 for eighth place in games started both in regular season and post-season.
Peter Baugh of the Post-Dispatch contributed to this report.