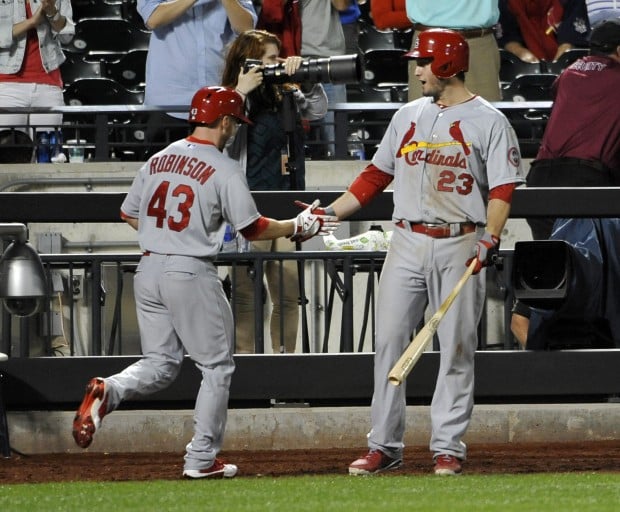 NEW YORK • The struggles in the first inning Tuesday for rookie Michael Wacha were so uncharacteristic and the Mets' responses to his changeup so unusual that teammates, including Adam Wainwright, left the dugout to dissect video of the inning for an explanation.
They studied to see if Wacha was tipping pitches.
They studied to see how Wacha's delivery was disjointed.
They studied. Wacha corrected.
To begin his third major-league start, Wacha walked three batters and allowed two runs before he got a third out. But he recalibrated his fastball and fixed his hasty mechanics on the fly to complete six innings and follow the offense to a 9-2 victory at Citi Field. The win was his first in the majors – only 372 days after the Cardinals selected him 19th overall in the draft.
"You throw 37 pitches in the first inning and you're typically not going to be around very long," manager Mike Matheny said. "We've said this quite a few times about these young pitchers: There's a lot of excitement around them right now, and rightfully so. But I think you really find out about them when things don't go exactly as scripted. Michael had one of those nights. He got better as he went."
By surviving the first inning and thriving by the third, Wacha (1-0) stayed in long enough to still be pitching when the offense stirred. Mets starter Jeremy Hefner (1-6) could not get through the middle of the order a third time. Matt Holliday had his second of three hits and Allen Craig hit a three-run home run in the fifth inning as the Cardinals reversed the Mets' 2-0 lead and sparked a rout.
For the fourth consecutive game, all of the Cardinals' position players reached base in the same game. David Freese extended his hitting streak to 20 games, the longest active streak in the majors. Wacha drove in the tying run for his first big-league RBI.
The Cardinals (42-22) improved upon the best record in baseball and reached 20 games better than .500 for the first time this season. Their win against the reeling Mets also started a stretch against a smorgasbord of losing teams. In this 30-game dash to the All-Star break, the Cardinals have 24 games against losing teams. This three-city trip ends with a visit to last-place Miami before returning to Busch Stadium to host last-place Chicago and later in the month playing four games against last-place Houston.
Wacha, 21, had never been to New York before arriving early in the morning Monday. He walked around a lot that afternoon and plans to visit Ground Zero and Central Park today.
His review so far: "Really hectic city."
Same adjective applied to his first inning.
In a really hectic opening, No. 2 hitter Omar Quintanilla tagged Wacha for a solo home run. Wacha allowed the next three batters to reach base, including two on walks. A second run scored on Marlon Byrd's sacrifice fly, and his teammates noticed something was curious. The Mets weren't offering at his changeup. Matheny has called Wacha's offspeed pitch the best in the organization and one of the most deceiving in the rotation. The Mets all but yawned as it passed, indifferent to its nature.
That had some in the dugout wondering if Wacha was tipping pitches. The righty has done that before with his offspeed stuff, and Wainwright went to the video to find out.
"We only go watch if something is going on," Wainwright said. "Hitters aren't taking odd swings or they're hitting harder than they should. What makes him special is that downhill plane (to his pitches). But they're laying off because if he's behind in the count, they don't have to swing."
Said Matheny: "They were watching all sorts of different things. But he figured it out himself. He just needed to control counts better. He needed to get to the bottom of the strike zone. Once he started commanding the (strike) zone, all of sudden you see the weird swings."
Wacha's fastball strayed up in the strike zone during the first inning, and as he dialed it down and down further the Mets started flailing at the changeup. At one point, Wacha got 14 outs from 15 batters. The Mets left the bases loaded in the first inning and did not get a batter to third base after the first inning. Wacha's innings became more efficient as he needed only 65 pitches to get his last 15 outs.
That bought time for the offense to do what it does – decode the opposing starter and pounce. What the Cardinals did to the Reds the second time through the order over the weekend, they took until the fifth inning to do to Hefner. The Cardinals had three runs scored on groundouts before their first RBI base hit. That was Craig's three-run homer to cap a five-run inning against Hefner. In the seventh, the Cardinals added two more on an RBI single from Holliday and Jon Jay's bases-loaded walk. Shane Robinson hit a solo homer to open the ninth and end the Cardinals' scoring.
A game they trailed in for four innings, they won by seven.
"I think it's just guys don't panic," Craig said. "We're all collecting information in our first at-bat or second at-bat and always working toward that next one. I think we all feel like ti's a matter of time."
Seven of the Cardinals first eight runs were unearned because of errors. The Cardinals have requested a review of the two-base error slapped on right fielder Kirk Nieuwenheis in the seventh inning when he had to leap to try for Yadier Molina's line drive and had it clip off his glove, near his wrist. If Major League Baseball watches the video and sees a hit, it will raise Molina's league-best .351 average.
Wacha plans to watch some video today, too.
He knows his delivery was out of whack in the first inning. He wants to make sure he wasn't showing hitters a changeup was coming. He wants to see for sure.
"I definitely have some stuff to learn from this outing," Wacha said.
What he learned during the outing helped him win.