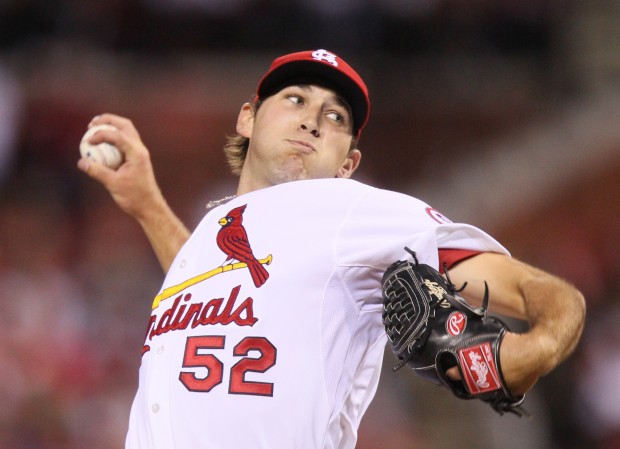 Opening night at Texas A&M's posh new Blue Bell Park in February 2012 did not offer the ideal conditions or the ideal performance to watch the pitcher who became the club's ideal pick. And yet there they were, four Cardinals scouts wedged in amongst the Aggie faithful. They didn't have seats. They had to hunt for a clear view. A game-time temp of 59 degrees had dropped precipitously a few innings befmaore rain did.
The Cardinals' presence was not.
"As they say in scout vernacular, 'There was some heat,'" said Dan Kantrovitz, the Cardinals' director of scouting. "The Cardinals had some heat at that ballgame."
In his first trip to see an official collegiate game as the director of the Cardinals' draft and amateur scouting, Kantrovitz went to College Station, Texas, with three other scouts on Feb. 17 to see the Aggies' ace, righty Michael Wacha. It was an unusual consolidation of eyes – eight on one player that night instead of covering two or three other opening games – but an enthusiastic scouting report had brought them together. Its author, area scout Ralph Garr Jr., joined Kantrovitz and scouts Mike Roberts and Joe Almaraz in the crowd that night.
They were the first four of about 10 different Cardinals scouts who saw Wacha and a department full of people who contributed their expertise. Kantrovitz said the Cardinals had a scout at every one of the righthander's college starts a year ago. The reports that came from those games mixed with the stat masters' evaluations and the information quietly gathered on Wacha's personality to suggest he was their pick.
But few thought he would be – until, at 19th overall, he was.
"I'd be a liar if I thought that he would get to us. The way we had him evaluated said there would be no chance," Kantrovitz said. "Ralph had him there for us from the beginning to the end and never wavered. That's easier said than done. There will be a lot of people who will tell you now how he stood out to them, too, but … it starts with Ralph."
Less than 12 months removed from his final college pitch, Wacha made his big-league debut last week, seven days before this year's draft. On Thursday, the Cardinals will have two first-round picks, Nos. 19 and 28. The Cardinals' 11 picks in the first 10 rounds gives them a total Major League baseball-assigned cap of $6.9 million for bonuses.
The extra pick "offers some cap space for us to maneuver and get creative in some areas," said Kantrovitz, who held mock drafts with his staff as prep for the three-day draft. The Cardinals have been linked to college pitchers, as usual, with Gonzaga lefty Marco Gonzales and Florida righty Jonathon Crawford potential picks, according to Baseball America. Outfielder Austin Wilson, the club's 12th-round pick in 2010 who was wooed at Busch Stadium that summer, is eligible again after his junior year at Stanford. Also of interest to the club has been high school shortstop Oscar Mercado, of Tampa.
Of the 49 players taken 19th overall since 1965, only 13 have logged at least 500 games there. Roger Clemens, taken 19th overall by Boston in 1983, is the most successful pick at that spot in the draft.
This is the third time in five drafts that the Cardinals have selected 19th overall with their highest pick. In 2009, the Cardinals selected Texas high schooler Shelby Miller. In 2012, they took Texas A&M righty Wacha.
Both are now rookies in the Cardinals' rotation.
Both were scouted and signed by Garr.
"Body, frame, stuff, and physical strength – allow to project as future top of the rotation guy at (major league) level in future," read part of Garr's spring 2012 report on Wacha. "One of the top arms in area and country for that matter."
Kantrovitz recalls the excitement in Garr's voice when he described Wacha, saying that it was "less about what he said and more about how he said it." The priority the Cardinals put on Wacha for the 2012 season was obvious with the four scouts present at the opener. Wacha struck out five of the first seven he faced that night, but after his 5 2/3-inning slog rain came.
"I didn't have my best command," Wacha recalled.
"To be totally honest, his stuff was early," Kantrovitz said. "He didn't have his best stuff. He really had to find another way to compete without his best stuff, without his killer changeup. You saw he had the intangibles to get by."
At last year's Big 12 Tournament, Cardinals director of player personnel Matt Slater attended a game to see Oklahoma State lefty Andrew Heaney, who went ninth overall. However, he also scouted Wacha – in the stands. Slater sat several rows behind the Aggies team to see Wacha interact with his teammates and get a feel for his personality. Slater had watched Wacha pitch earlier in the spring. At one point during that game, Slater told a Brewers' scout he didn't need to be scouting Wacha. The righty wasn't going to fall to 19.
Wacha said an adviser told him he'd go between Nos. 15 and 25. The Cardinals had two picks in the range, including the 19th overall as compensation for losing free agent Albert Pujols. The righty was unlikely to get past interested Atlanta at 21.
"There was some difference of opinion within our department just as there was in the industry, obviously, if he went 19," Slater said. "We were lucky to get him."
Garr first saw Wacha as a high schooler who hadn't learned to use his height, he said. Last spring, he insisted Wacha had just "tapped into" his potential. The club's approach and blanket strategy with scouting showed they listened.
As the Cardinals get ready to select another No. 19, several dozen players received similar scout attention this spring with the same vetting of their stats and personality.
"The rule of the draft has really become expect the unexpected," Kantrovitz said. "I don't think a Michael Wacha will be there for us (this year), but we need to be ready if he is."
When the Cardinals made the decision last Monday to promote Wacha, general manager John Mozeliak sent Kantrovitz an email about the promotion. Kantrovitz's first pick as the director of the draft was coming to the majors.
After reading the email, Kantrovitz made a call to Garr and congratulated him.