Since he last pitched on Aug. 26, and not very long at 3 2/3 innings in a game that "hurt his soul," Adam Wainwright had been watching a bunch of feel-good videos from better times in the past decade, as culled by Cardinals video technicians Chad Blair and Ben Bultmann. The 38-year-old righthander wanted to see what he was doing right when he was at the top of his game.
Having those images as a reference point, Wainwright was near the top of his 2019 game Monday at Busch Stadium, blanking the San Francisco Giants on four hits and walking no one in the Cardinals' 3-1 victory, their fourth in five games played over 51 hours 44 minutes this holiday weekend.
But while Wainwright had been wanting to apply what he had learned, part of him was worrying about the images he had seen of Hurricane Dorian. Wainwright has a house and a farm on St. Simons Island in Georgia, which might find itself affected greatly by the storm.
Wainwright said his house was "boarded-up" big time and that his mother and his wife's parents also live in the area.
"Our little island is not much different than the Bahamas," he said. "In the Bahamas, if a big storm hits, then the whole thing is going to be under water.
"I'm trying not to think about it more than I need to," said Wainwright, who has a farm manager who will tell him what's happening.
"We're definitely going to be in prayer about that over the next day or two," he said. "But what can you do about it? Everybody's going to be safe, hopefully. But you don't know what it's going to be when you get back.
"The last couple years, we've had (hurricanes) Matthew and Irma and both times, we've had big, huge pine trees down on our fence but nothing on our house, luckily. You ought to see how they cut right through a house."
For the moment, Wainwright, with his 10th win, fully could enjoy Monday's game, which featured brilliant defense, only one walk (Andrew Miller) by its pitchers and a third triple in three games by second baseman Kolten Wong, who sparked a two-run first inning.
Among former Cardinals pitchers Bob Gibson, Jesse "Pop" Haines and Bob Forsch, there are two National Baseball Hall of Famers and all three are in the Cardinals' Hall of Fame, where Wainwright has a standing invitation.
Until that induction day comes, Wainwright can be comfortable in the knowledge he has joined those three as the only Cardinals pitchers to have 10 double-figure victory seasons, tying Forsch for third. Gibson, naturally, is first with 14 and Haines has 11.
"That's pretty cool," said Wainwright, with a gleam in his eye. "The question is will I do 11? Not 11 wins. Eleven 11 seasons (of double-figure wins)."
Before he could answer the question he himself raised, Wainwright said, "I think that's a great time to hit the showers."
Wainwright, controlling his body in his delivery better than he had been, needed just 96 pitches to get through seven innings and manager Mike Shildt joked that Wainwright probably wasn't satisfied with that.
"He's always got the gas pedal down," said Shildt. "Adam has got a ferocious mindset and a high expectation. Adam Wainwright takes the mound and he expects himself to finish the game. Anything short of that to him is not quite up to expectation. Today, hopefully, was up to his expectations because he pitched brilliantly."
Wong said, "When he's doing that, it's the Wainwright of old that we've come to know. It's a legacy that's continuing to build."
Wainwright said his first reaction to not lasting long enough to pick up an almost sure win in Milwaukee last week could have have been "woe is me.
"I wasn't going to have that," he said. "That doesn't make anybody better.
"Today I wanted to attack," Wainwright said. "I wanted to try to be me. Yadi (Molina) called a great game. The defense played an amazing game behind me."
Wainwright has had 148 starts of seven or more innings pitched. In only three of them has he had fewer than two strikeouts and there was only one, against Kansas City in 2007, his first year as a starter, when he didn't strike out anybody in a 5-3 loss.
So, Monday's game probably represented the most contact, much of it soft, that Wainwright ever has allowed in a game. "I would have loved to have struck out a bunch of people," he said. "But that's not what happened today."
Afterward, the players rushed out of the clubhouse, anxious for a night at home and an early bedtime.
The recent schedule "almost locked us in," said Wainwright. "Everybody realized what we had coming up and everybody kept their energy levels up," said Wainwright. "Got a couple naps in between games. I've never seen doubleheaders back to back. Has that ever been done before?"
The day-night, back-to-backers never had been done here before, especially followed by a day game, as was Monday's.
"I bet if you told everybody that ever cheered for the Cardinals that we were going to win four out of five games, they would have taken that right away," Wainwright said.
Wong's three triples at home in the past three days were only one less than the Cardinals' team had in 81 home games last year.
First baseman Paul Goldschmidt saved Wainwright a run in the fifth and second baseman Wong took away two hits with stellar plays. Center fielder Harrison Bader, who has made several noteworthy defensive plays lately, prepared to make another one when he leaped against the right-center-field wall for Alex Dickerson's deep fly in the sixth. Except that right fielder Dexter Fowler, five inches taller than Bader at 6-feet-5, leaped higher. Reaching over Bader, Fowler caught the ball and Bader tumbled to the ground. Neither, remarkably, was hurt.
"I went over and shook both their hands," said Wainwright.
Shildt admitted there was some anxiety when both went for the ball and brushed at the wall. "It's not our favorite thing to watch," said Shildt, "but we trust them both.
"I'd much rather have them both going after it aggressively than looking to somebody else to make a play."
The Cardinals remained three games ahead of Chicago with 25 to play in the National League Central Division race.
"This is getting ready for October, but you're not in October," said Wainwright. "You've got to get there first. Every day — every single day — you've got to show up and be motivated to win a game. That's going to be my message to this team this week.
"This whole month, every single day is the most important day you'll ever play. When we get into October, it will be that way, too."
---
Cardinals take down Giants
San Francisco Giants vs St. Louis Cardinals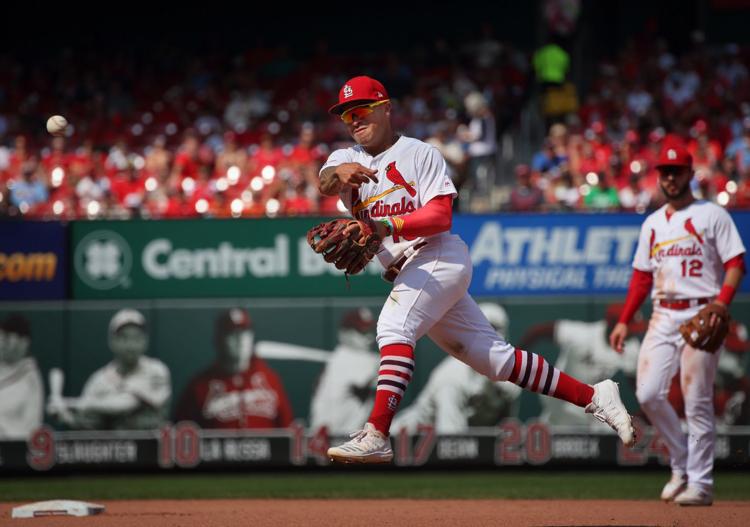 San Francisco Giants vs St. Louis Cardinals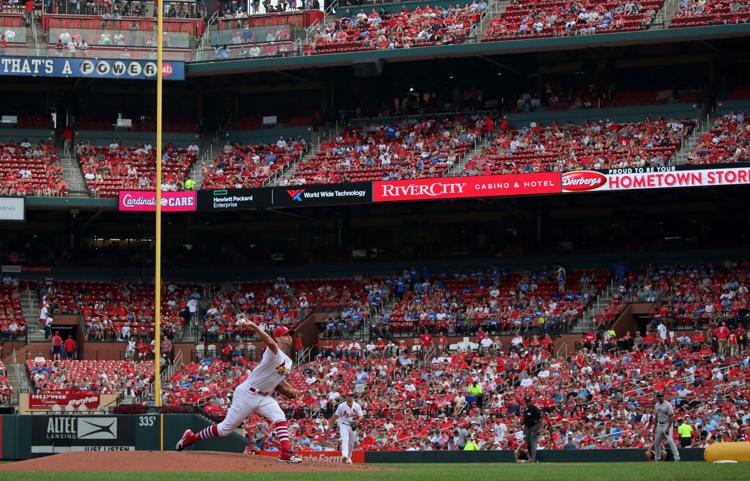 San Francisco Giants vs St. Louis Cardinals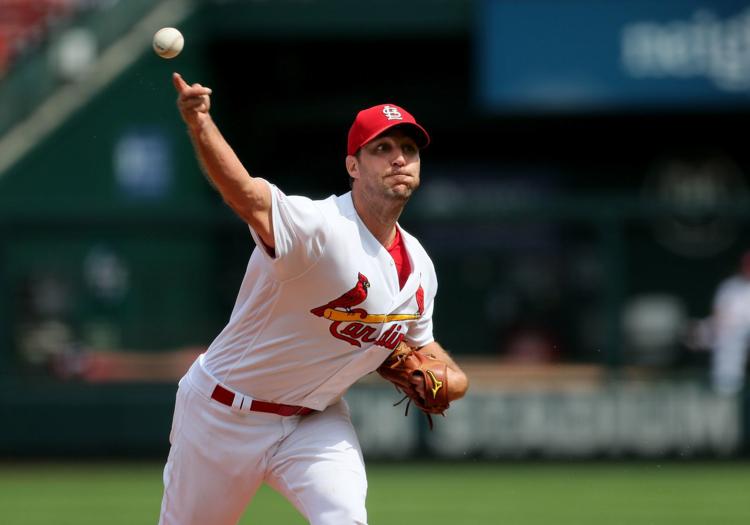 San Francisco Giants vs St. Louis Cardinals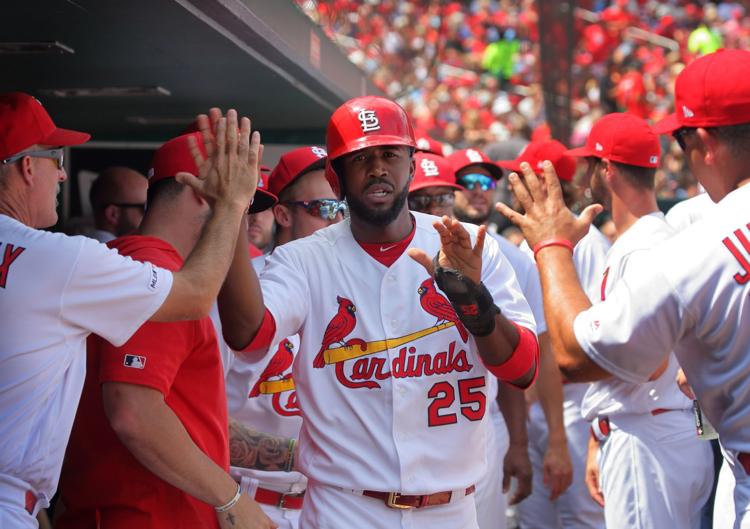 San Francisco Giants vs St. Louis Cardinals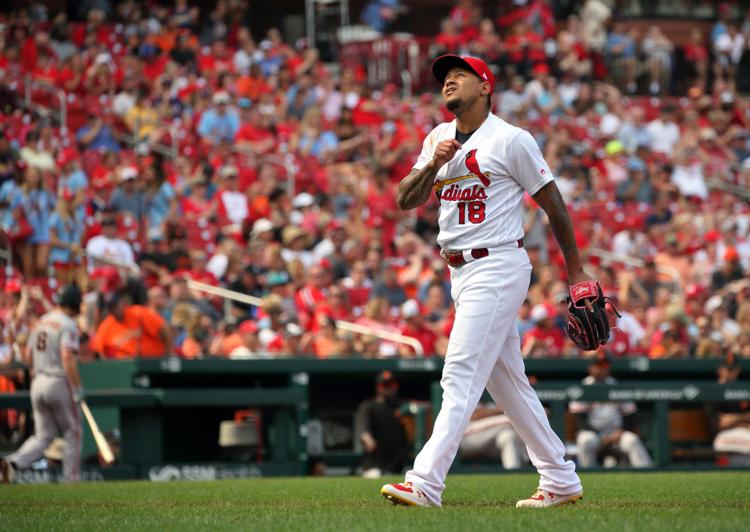 San Francisco Giants vs St. Louis Cardinals
San Francisco Giants vs St. Louis Cardinals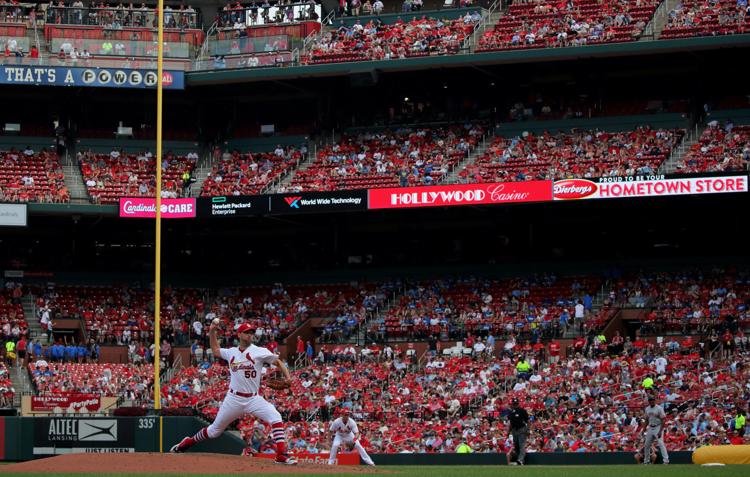 San Francisco Giants vs St. Louis Cardinals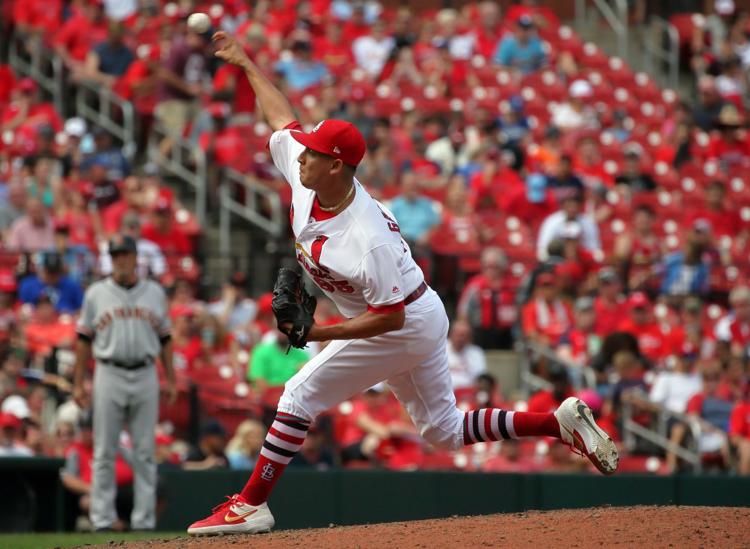 San Francisco Giants vs St. Louis Cardinals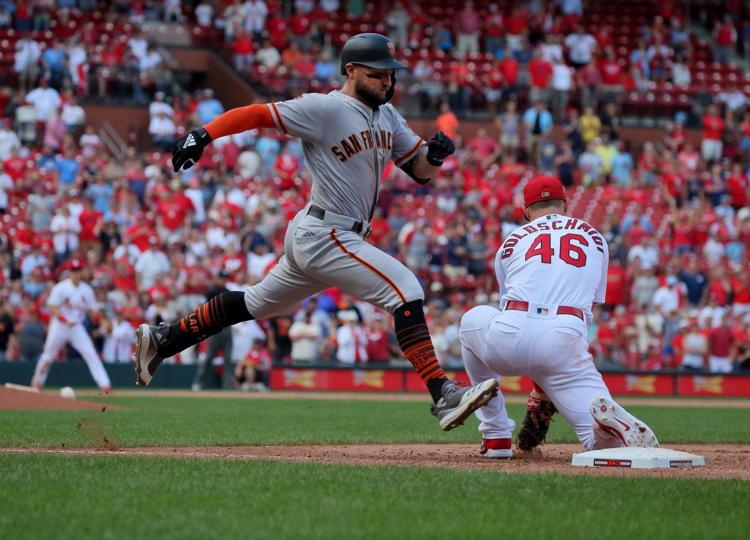 San Francisco Giants vs St. Louis Cardinals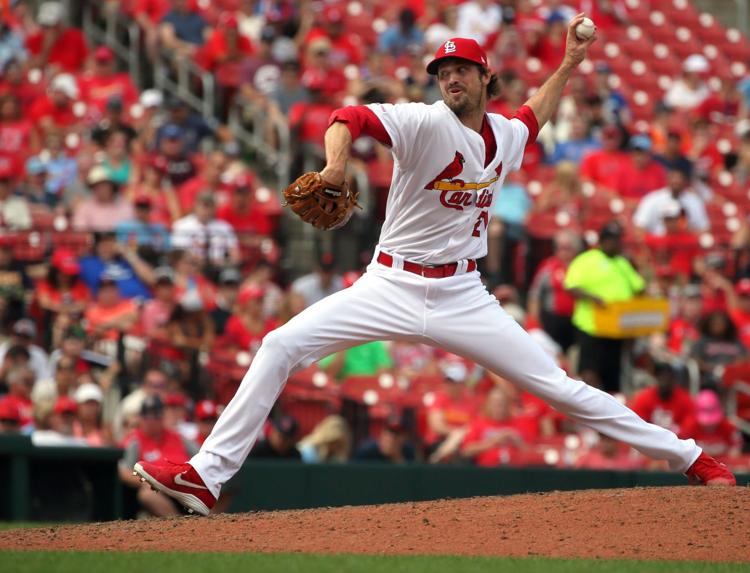 San Francisco Giants vs St. Louis Cardinals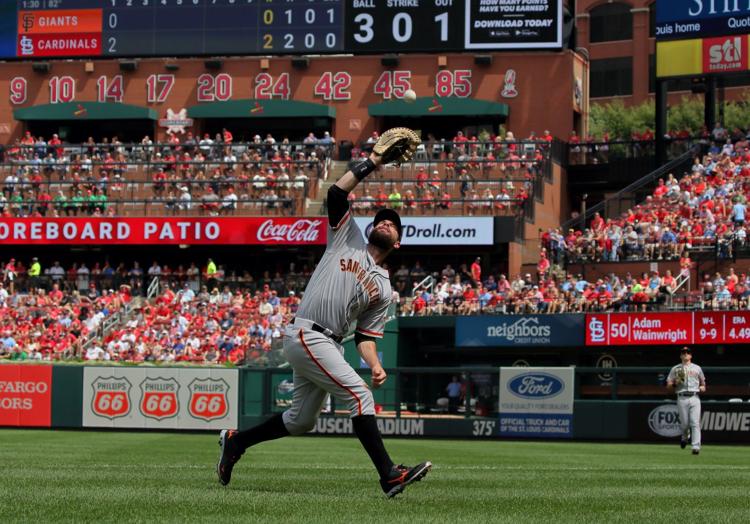 San Francisco Giants vs St. Louis Cardinals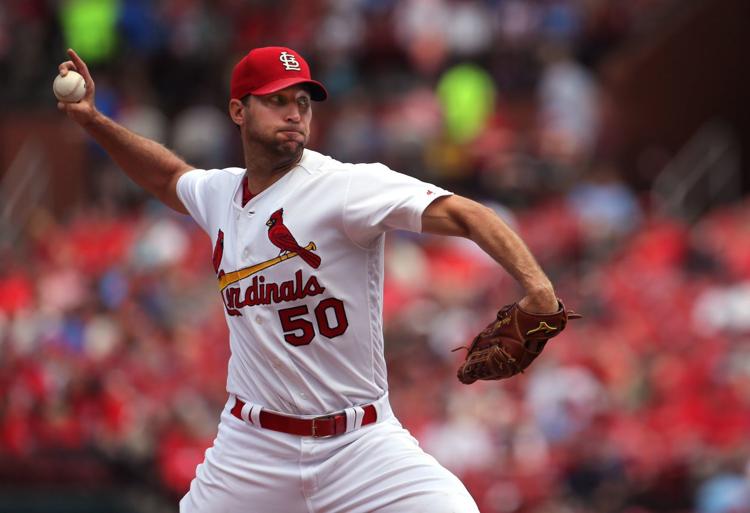 San Francisco Giants vs St. Louis Cardinals
San Francisco Giants vs St. Louis Cardinals