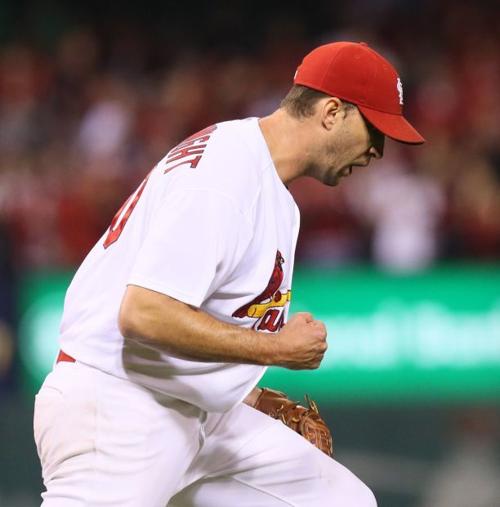 Adam Wainwright became the only active National League pitcher to reach 19 wins in a season for a fourth time Wednesday night when he blanked the Milwaukee Brewers 2-0 at Busch Stadium. For a while, it appeared that he was going to be the only thing standing between Milwaukee's Mike Fiers and a no-hitter.
After Fiers had no-hit the Cardinals for 5 2/3 innings, Wainwright delivered a single up the middle in the sixth. The game went scoreless to the seventh, when Cardinals left fielder Matt Holliday stirred the crowd with a long drive to left, of home-run dimension. The ball drifted a few feet foul.
But, after drawing a walk, Holliday put a different charge into the full house of 44,480 with an Enos Slaughter-type mad dash from first base after Matt Adams, who had been nothing for his last 11, had singled just past second baseman Scooter Gennett.
When center fielder Carlos Gomez lost his footing trying to field the ball, Holliday, who had slowed a bit around second, headed for third. As Gomez threw off-balance to shortstop Jean Segura, Cardinals third-base coach Jose Oquendo, not having seen a runner all night, kept Holliday coming.
Segura urgently fired to catcher Jonathan Lucroy, who fielded the one-hop throw as Holliday slid, but the Cardinals' left fielder contorted his body around the tag as Lucroy's elbow may have made contact with Holliday, but not the ball. Adams wound up at second on the play and scored a second run on Jhonny Peralta's single, which netted Peralta his 12th run batted in against the Brewers this season.
Manager Mike Matheny praised the work of Oquendo, one of the most aggressive third-base coaches in the game. "We want Jose that way," said Matheny.
"When you're having trouble putting anything together — we were having trouble getting a hit, let alone a run — we've got to pull out all the stops. We have to be over-aggressive there."
Wainwright (19-9) took care of the rest as he limited the Brewers to seven singles, striking out seven, in tossing his third shutout of the season, tying him for the National League lead. The Cardinals helped with two double plays and a dazzling, sprawling stop by Matt Carpenter at third base to end the eighth inning.
After a "tired arm" period, Wainwright has rebounded to allow just two runs over his last 26 innings, covering his three last games.
That stretch came shortly after Wainwright had allowed four or more runs in three of four starts.
"For a long while, I wasn't very good, was I?" he said. "It's good to be back making pitches when I need to."
His 102 pitches, 77 of which were strikes, were the fewest Wainwright had thrown in any of his career shutouts, and he was throwing 95 mph at the end.
"Don't hold your breath on it," he said. "But it's deep in the back pocket when I need it."
When the radar gun registered the news, Wainwright admitted, "I saw it. When you're feeling good and your delivery is sound, you can add stuff to it occasionally."
Matheny joked, "I wouldn't mind seeing (95) in the first." But, Matheny added, "He's a special pitcher when he gets it all right."
The Cardinals cut their magic number for clinching their second straight National League Central Division title to nine, maintaining their 2 1/2 game lead over second-place Pittsburgh but shoving desperate Milwaukee, the division leader for the first five months of the season, five games back.
Wainwright, who has five complete games this season, previously won 19 games in 2009 and 2013 and won 20 in 2010. He should have two starts remaining to hit 20 or beyond this year.
"I'm thinking 21," Wainwright said. "Why say 20 when you've got two starts left? The goal is to win every one of them."
The shutout was Wainwright's ninth of his career and 21st for the Cardinals this season, the most they have had since they had 30 in the National League championship season of 1968.
Catcher Yadier Molina said, "That's what we needed. That's why he's one of the best pitchers in baseball. Everything was working."
It seemed as if Wainwright smelled the shutout and Molina said, "We get locked in and then we get more locked in. And he starts looking for quick outs. When you stay aggressive and when you're not picking at the corners and you're using your best stuff, it can happen."
The Brewers put more than one runner on base only in the fourth inning when they loaded the bases, but Wainwright got a liner to center from Segura to end the inning.
Fiers, whose most recent start ended with him hitting Miami's Giancarlo Stanton in the face and then the Marlins' Reed Johnson in the hand, was in total control for the first five innings, allowing only a walk to Daniel Descalso in the third inning.
And then Wainwright began to spoil Fiers' night. Asked if he had ever broken up a no-hitter, Wainwright joked, "Maybe batting leadoff in Little League.
"But I remember one game I was pitching against (Los Angeles' Clayton) Kershaw a few years ago here. He had like a no-hitter going or close to it in the fifth or sixth inning and I got a hit and it just sparked us."
On July 24, 2012, Kershaw had a 2-0 lead and a one-hitter going into the fifth here when Wainwright's double sparked a two-run inning. The Cardinals then scored six in the next inning en route to an 8-2 win over Kershaw.
"As a pitcher, if we can do something positive offensively, it sparks a team," Wainwright said. "I don't know if I did that or not, but the ice was broken and we were able to score some runs."
Matheny cracked, "I'm sure (Wainwright) is going to talk a lot about that. That's something he enjoys rubbing in the hitters' faces, about (pitchers being the) best athletes on the field.
"He doesn't necessarily do that the day he pitches, but every other day we hear it."
The crisp September air, a full house in the stadium and a taut pitchers' duel reminded Wainwright of October.
"It sure felt like it," he said. "That's how playoff games go, in my experience. It's a play here, a play there that swings the outcome of the game."
In this instance, it was a slip by 2013 Gold Glover Gomez.
"Before I could even catch the ball, I was on the ground," said Gomez. "Tough game. Tough loss. Fiers threw unbelievable today. Just one error right there, and it changed the game."
And the Cardinals are a step closer to October baseball, while the Brewers are a step closer to October golf.