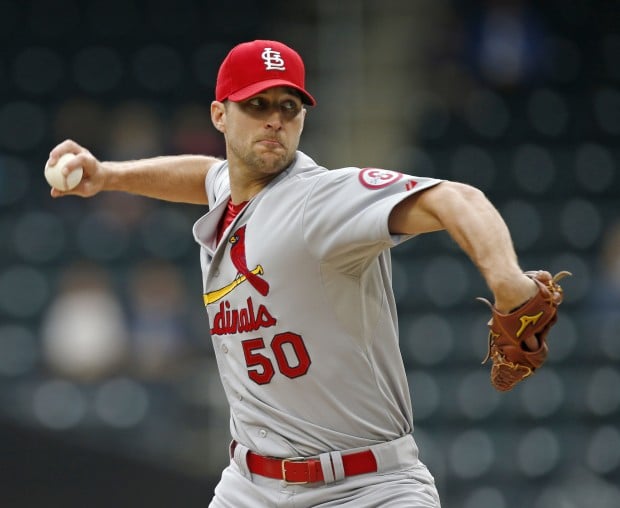 NEW YORK • The scouting report and radar readings that preoccupied Cardinals ace Adam Wainwright as he left Citi Field late Wednesday night were those that insisted heinous weather was on its way. He might have to wait out a storm to start Thursday, if there was a game at all.
Wainwright turned to the team's traveling secretary, C.J. Cherre, after hearing the soggy predictions and made one request: "All I need is two hours."
His forecast proved the most accurate of all.
The heavy rains didn't arrive in time to delay or ever threaten Wainwright's start Thursday, and he worked swiftly to throw seven shutout innings and guide the Cardinals to a 2-1 victory against the Mets in 2 hours, 43 minutes. The Cardinals ace made his pitch in person to return to Citi Field next month and start the All-Star Game for the National League. He is the first pitcher in the majors with 10 wins and he's the only NL pitcher to rank in the top five in wins, ERA, innings and strikeouts. Wainwright also outpitched a chief challenger for that coveted start, the Mets' own Matt Harvey.
Harvey lost for the first time this season when the Cardinals found one run against the righty in his seven innings. Matt Carpenter's two-out, RBI triple in the third gave Wainwright his lead. Three consecutive singles off relievers in the eighth inning — including Allen Craig's RBI line drive — added the insurance that assured the win in a showcase for two of the NL's top arms. Harvey (5-1) struck out seven and held the Cardinals to five hits. Wainwright (10-3) struck out six and limited the Mets to four hits.
Wainwright inched his ERA to 2.18, ever closer to Harvey's 2.04.
"You can't deny what you're watching," manager Mike Matheny said. "Two very talented guys. Two different styles. A game like this it's a little thing that makes a big difference. Neither guy disappointed us, that's for sure."
The victory sent the Cardinals to Miami for the weekend to conclude this nine-game, three-city road trip still claiming the majors' best record, at 43-23. They are unbeaten in 14 consecutive series and have won 12 of them.
Since they arrived in New York at the start of the week, dire weather was expected all afternoon Thursday. Wainwright said he came to the ballpark thinking they wouldn't play. Potential makeup dates were considered, each less palatable than the previous. Players had their wireless gadgets tuned to weather sites to watch storm clouds curlicue across the radar.
"They were talking that we were going to need to build an ark," Matheny said.
As game time neared and the drizzle cleared, Matheny went to Wainwright with less than 90 minutes before first pitch and told him to get ready. Wainwright had to do an abbreviated version of his usual preparation. He wasn't unsettled by the hastened schedule.
"You've got to show up ready to pitch no matter what the forecast is telling you," Wainwright said. "One thing I've found pitching in the big leagues is that a routine is a routine and not a superstition. If my routine is thrown off just a hair then that's OK. If a superstition is thrown off just a hair, mentally I'm going to lose my edge. To be honest, I vary it on purpose so that it doesn't become a superstition."
He speaks from experience.
As a young pitcher, Wainwright would have to eat Papa John's pizza the night before a start. He had to wear the same shirt to sleep in, and he could not wear blue jeans to the ballpark. Couldn't wear blue anything. He didn't have superstitions; they had him. Wainwright reached into his locker Thursday and showed blue jeans hanging on a hook and a blue dress shirt.
"Take that, superstitions," he said.
Wainwright started the game like he was racing the storm. The righty retired the first 11 batters he faced and did not allow a hit until the fourth inning. In the first, Wainwright got his 1,000th career strikeout from the team that his most famous strikeout came against. He struck out David Wright with, fittingly, a called strike-3 curveball. In the fourth, Lucas Duda launched a ball to the center-field wall that would have scored two runs had Jon Jay not tracked it down. Slick plays by Daniel Descalso at third base helped get Wainwright through the seventh without a single Met reaching third base safely.
The first of Pete Kozma's three hits sparked the single rally against Harvey. With one out in the third, Kozma singled to right. He scored from second on Carpenter's triple past a diving Marlon Byrd. Craig's RBI single off LaTroy Hawkins in the eighth proved the difference when Byrd interrupted Edward Mujica's 19th save with a solo homer in the ninth.
"I don't like to lose," Harvey said. "I needed to go out and put up zeroes and I wasn't able to do that. If I go seven with seven zeroes then we're still playing. Unfortunately I gave up the run, and (Wainwright) didn't."
Carpenter swung at the first pitch Harvey offered in the game, a sign the Cardinals' infielder said that he didn't expect to get much to hit from the Mets' burgeoning ace. Harvey, 24, was the first Mets pitcher to go the first 12 starts of the season without a loss. He leads the majors with eight starts like Thursday's — at least seven innings, one or fewer runs.
He'd be the deserving hometown pick to start the All-Star Game.
As with weather, such predictions change. There's always a chance of Wainwright.
"He realizes that if this pitcher is on the top of his game he better be on top of his," Matheny said. "There's a lot of excitement around what Harvey is doing right now, and rightfully so. Let's hope that people don't forget to look at what our guy did. Pretty impressive."