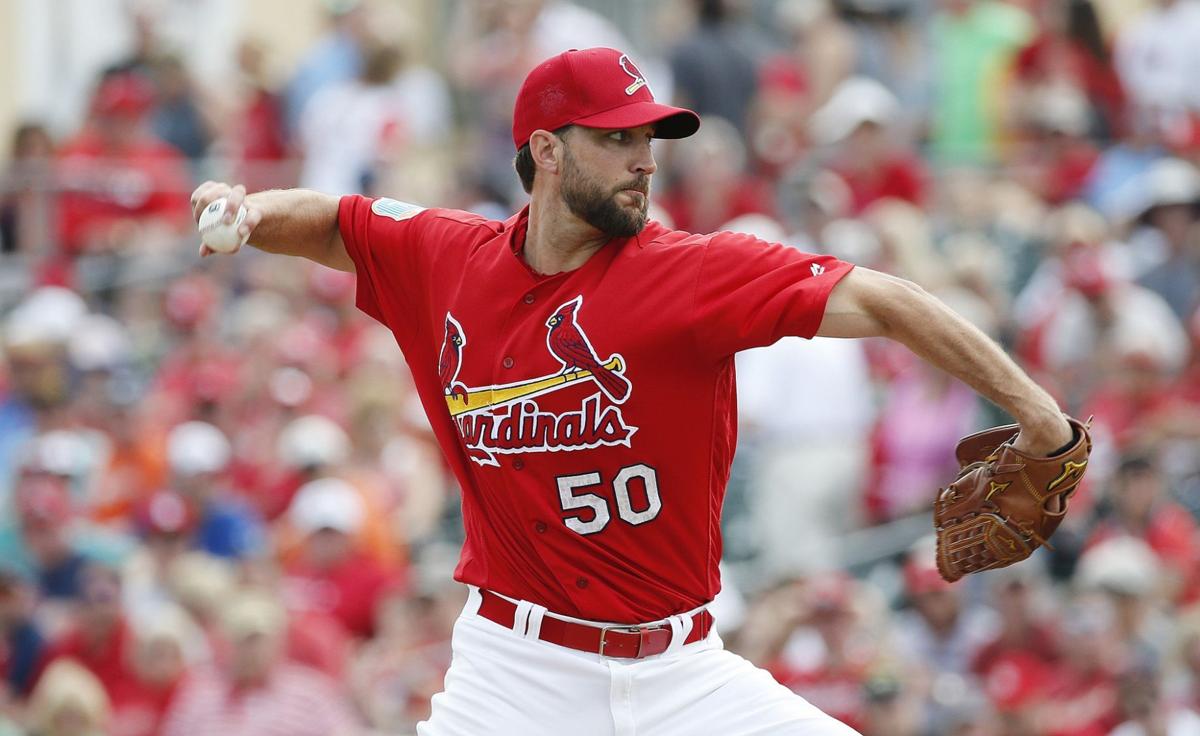 JUPITER, Fla. • At some point Wednesday, while his teammates pack bags, ready for a game, and inch ever closer to the end of spring training, Adam Wainwright will, quite literally, flip the switch on the regular season.
The Cardinals' opening day starter will turn on his iPad and swipe through some video of his next opponent, something he has not done since October, something that signals as much as any moving truck the end of spring training is nigh. Wainwright will watch his past games against the Pittsburgh Pirates and scan the Pirates' most recent spring games to get a feel for the individual batters he will face Sunday, when the Cardinals open the regular season at PNC Park.
"Every time out I'm facing each batter like it's the last time I'll ever face them," Wainwright said. "That's the approach I've taken into my starts my entire career, and it's really helped me. Those at-bats in spring training, as much as you try to make them the same intensity, you can't replicate once the lights come up and fans are in the stands, 50,000 strong. Adrenaline you can't fake. You can't create that in spring."
In his final start before the fifth opening day assignment of his career, Wainwright had his outing cut short — by innings, not necessarily pitches — due to a rainstorm Tuesday at Roger Dean Stadium. Wainwright pitched 3 2/3 innings against Washington and allowed a run on five hits and a walk. He threw 78 pitches and afterward suggested he would have preferred to end his Grapefruit League schedule 70 to 80 "pretty sharp crisp pitches." Instead, he searched for command.
Due to what he identified as a mechanical glitch that caused him to drift toward first base as he delivered, Wainwright wasn't as accurate as usual.
Of his first 74 pitches, 31 were balls.
"It's going to get a lot sharper than that," Wainwright said. "It's not just strikes and balls, but what kind of strikes and balls? Were they good balls? Were they good strikes? Sometimes I'm throwing exactly the way I want to. Sometimes I'm 3 or 4 inches off what I want to be, which is not a lot. If I'm going to be as sharp and crisp as I know I can be then I know I have to tighten up just a bit."
Wainwright hasn't searched this spring for his delivery like Michael Wacha, who will start the second game of the opening series against Pittsburgh. Wainwright hasn't had the efficient outings like Mike Leake, who will start the series finale at PNC Park. Nor has Wainwright or the other starters had the unrelenting outings like Carlos Martinez, who finished his spring with 11 innings and nine strikeouts in his final two starts. Wainwright has pitched as scheduled, toying with a couple different grips on his changeup and enjoying an arm that was rested far more than he wanted last season due to an Achilles tendon injury.
During spring, Wainwright did not complete a fifth inning. He has, in previous springs, made it his goal to go the whole month without walking a batter.
He walked at least one in every start this spring.
"I know he wants another level of location," manager Mike Matheny said. "He'll find that."
Wainwright traced the command blips back to his delivery. While joking around Tuesday by answering a few questions from the media on the business side of a restroom's door, Wainwright said his lead shoulder was "leaking." The pun very much intended, he just meant that it was fading toward the first-base line, and that was moving the crosshairs of his accuracy along with it. It explained why he wasn't able to have the quickest of innings Tuesday, but he was able to make a correction during the inning.
Before his Achilles tendon ruptured Wainwright had a 1.44 ERA in four starts, and he had pitched six innings in all of them that didn't end with an injury.
As part of his evolving approach, Wainwright would vary elements of his delivery — hands lifted higher, hands not lifted at all — to add wrinkles for the hitter to deal with. He intends to get back to doing that and has at times during spring, but over the coming days wants to correct the drift first. He has to find the point that gives him consistency before he tinkers with it.
His wish to answer a question behind a closed bathroom door accomplished, Wainwright emerged into a hallway and explained.
"This is a great checker for my body right now — for the checkpoints in my delivery," he said. "I've got to get back to Square 1 of my delivery. These are quick fixes that I'm talking about. Over the course of the season you have to be able to make those adjustments real quick. Luckily when I needed to (Tuesday) I was able to make some good pitches. … It's a mistake to incorporate the entire ball of wax when I'm not quite ready there yet."
The final piece he needs cannot be found in spring.
Wainwright explained how a story from Tiger Woods' early career has stayed with him as a reminder for starting opening day. If, Wainwright explained, Woods had a 102-yard shot to the pin and needed 98 yards to avoid a bunker, his caddy would give him the lower measurement and count on adrenaline to carry the remaining distance. Aim for the further distance and the golfer, revved by the moment, would overshoot. Wainwright takes that lesson into his preparation for Sunday, from spinning through video to the corrections he intends to make during his bullpen session this week. He knows he can cover the under.
In his early opening day starts, Wainwright went for the over.
"It was almost overwhelming," Wainwright said. "Now I know what to expect. I need to prepare my mind and my body for those big adrenaline type games."
Is that last ingredient for his mechanics to fall in line?
Wainwright nodded, "Probably."