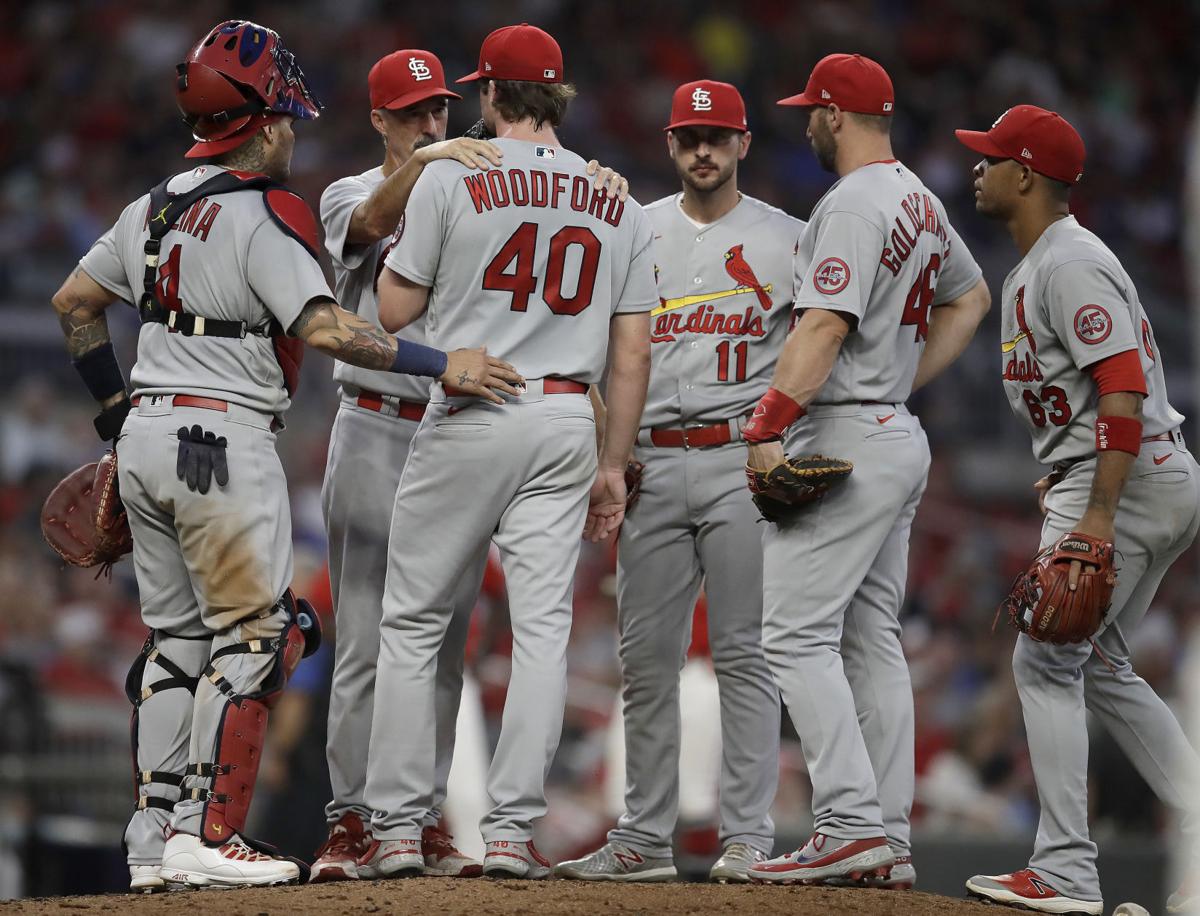 ATLANTA — The word executive John Mozeliak used twice in a short answer to describe the fraught, weathered condition of the Cardinals has the benefit of being both noun and verb, and with two tagalong letters added, it moonlights as an adjective.
As they've tumbled from first place, the Cardinals experienced the word in all three fashions. Successive injuries and losses have created a "compounding stress," Mozeliak said. They stress to score runs when they're not stressing to cover innings.
They have a stressed roster.
"I think right now, honestly, getting rained out is probably not the worst thing in the world for this club, and it allows us to take a timeout or break because right now we're not playing great baseball," said Mozeliak, the club's president of baseball operations, in a phone conversation Saturday afternoon. "And when you say that — it's multi-dimensional, right? The days you hit, you don't pitch. The days you pitch, you don't hit. Then some flawed defense. Where we are — the health question isn't going away any time soon, unfortunately.
"We are at a little bit of a stress point right now."
The Cardinals, losers in 13 of their past 18 games, got a rainy respite Saturday as bands from Tropical Storm Claudette rolled over Atlanta and its suburbs, prompting the Braves to postpone the evening game hours before the rain intensified. The Cardinals and Braves will play a split doubleheader Sunday starting at 1:10 p.m. St. Louis time, and the second game will remain on ESPN's Sunday Night Baseball at 6:08 p.m. It just might be shorter. Both games will be seven innings, per a rule carried over from last year's shortened season.
Georgia native and former Braves first-round pick Adam Wainwright will start the afternoon game, and Kwang Hyun Kim will face Drew Smyly in a nightcap duel of lefties.
The fewer innings could help a team that has stressed its relief turn the rainout into a stress relief. The unscheduled break comes in the middle of a four-game series in which the Cardinals have lost twice and scored one run in 18 innings. In the past week, they've swept Miami, but also been shut out twice and scored a total of four runs in the past five days. During a 17-minute postgame press conference late Friday after a 9-1 loss, manager Mike Shildt defended the team — at one point going player by player through the lineup to highlight contributions — while also concluding "we need to improve in areas."
The losing skid has been greased by the absence of starters Jack Flaherty and Harrison Bader as well as persisting issues. Short starts. Long fits without much offense. A lineup that ranks last in the National League at getting on base. A pitching staff that ranks first in the majors giving up free bases. And a team pulled in many directions but not a consistently winning one.
'We like our coaching staff'
Any deep look into how the Cardinals correct their flaws passes the magnifying glass' glare over the coaches, from hitting coach Jeff Albert to pitching coach Mike Maddux.
"We like our coaching staff," Mozeliak asserted. "We believe in what they're doing. I do think at some point we may have to do something different — not saying change coaches. Maybe mix up the lineup. Maybe do something in a different manner. Because at our current rate it's not producing of positive outcome we want."
There has been an increasing stress on the front office to make moves to reinforce the roster left ragged by key injuries. Flaherty (torn oblique), Miles Mikolas (flexor tendon), and Jordan Hicks (elbow) do not yet have scheduled timetables for their returns, and each could be a month or more away from that. The club hopes Bader (fractured rib) will take strides in the coming week to get him closer to a rehab assignment and a return. In the past 48 hours, the Cardinals signed free agents Wade LeBlanc and Brandon Dickson to bring needed depth to the pitching staff, and LeBlanc shouldered mop up innings Friday.
Mozeliak called it a "little premature" for a trade of significance, declining to offer any specific details of his attempts. The Cardinals have been canvassing the market for available starters and tried to gauge the plans of teams like Texas and Minnesota, who they've contacted. The Cardinals' need isn't secret and asking prices are set accordingly. Mozeliak said there's no plans to "take a real chunk out of our farm system" to make a deal.
"If, at some point, we look for something outside the organization, we certainly will, but we're not at a point where we're only going to define ourselves by 2021," Mozeliak said. "We're not feeling that pressure if we don't win this year that we're all in trouble. We must understand that we can all do things better. We also understand what we thought we're going to have — because of injuries — hasn't yet worked out."
Road trip spelled doom
He traced the team's current spell to the lengthy road trip that began on the south side of Chicago, ended in Los Angeles, and spilled into being swept at home in Cincinnati.
That trip started with shortstop Paul DeJong and Mikolas on the injured list, and by the end of it Bader and Flaherty had joined. Mozeliak called losing Flaherty in the middle of his stellar start vs. the Dodgers "the final gut punch." One more kick was yet to come. Kim (back) was on the IL two days after the road trip ended. The pitching staff has been scrambling ever since — and seven starts of four innings or less in the past three weeks haven't helped. The pitching void coincided with several acute slumps on offense, and a recent inability to score early, let alone often.
Using the road trip, Mozeliak mentioned as a mile marker, the Cardinals have been outscored 73-42 in the first four innings of their past 24 games.
They're 9-15 in that stretch.
In the past 15 games, the Cardinals have only had a lead twice, been in scoreless ties twice, and been outscored 57-19 in the first four innings. Put another way: Opponents in the first four innings of recent games have averaged 3.8 runs, slightly less than the Cardinals' 3.9 average through 70 games this season. They are 14-30 this season when the opponent scores three or more runs. They're behind before the game gets too far ahead, and the stress mounts. As shortstop DeJong described: "An early deficit and we all want to do it all there, right now."
"What you want to see is more consistency, cleaner baseball," Mozeliak said. "When you look at the success we've had in recent years we were defined by strong defense. We were getting those timely hits. Unfortunately, over the last couple of weeks it sometimes feels like you're never able to have back-to-back hits or really string something along."
Their loss Friday was an amalgamation of all their ailments.
One of their three hits was a leadoff double that became a 1-0 lead, but by the end of the fourth they trailed 9-1. Carlos Martinez got nine outs, left the bullpen 15 to get, and what's true for their season was true for their Friday — they turned to LeBlanc to cover innings. The offense didn't have an at-bat with a runner in scoring position after the first. It has been 42 innings since the Cardinals had a scoring rally that didn't involve Paul Goldschmidt.
The lineup submitted for Saturday's game before the rainout was similar to one used in recent games, but the doubleheader invites experimentation. With an off day Monday, it doesn't have to upset the rotation, but it could if the Cardinals want to repurpose a reliever like LeBlanc or adjust Martinez's use. They're limited by what they have on the roster yet bounded only by what they're willing to try with it. With an eye on the waiver wire for help and fingers poised for the text message that might become a trade, Mozeliak agreed the team must hold tight through the turbulence and absences and find confidence where the team usually turns for help — within.
"It's not all in or we're going to break up the organization. That's not the pressure I feel," Mozeliak said. "We still believe in this team. We still feel like we're going to find ways to win. There's no doubt as we sit here on June 19th we understand that this is a struggle at the moment."