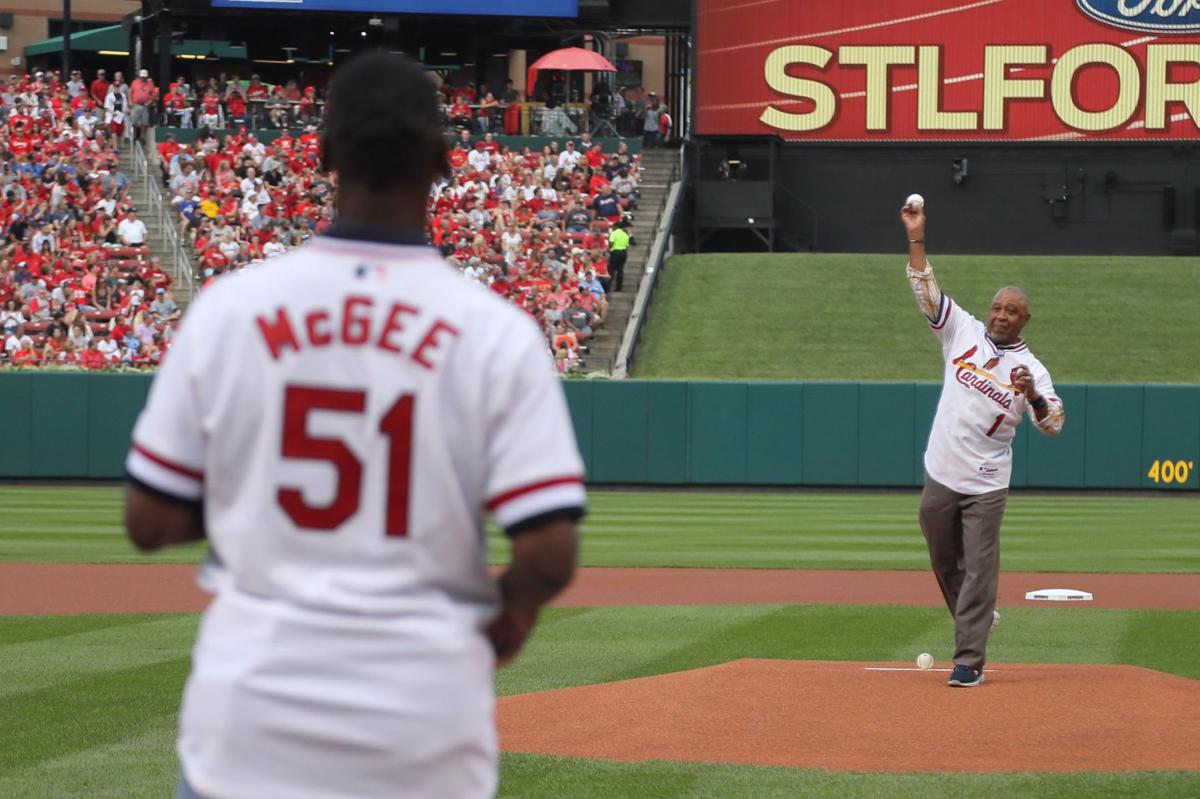 The 1987 season was a historic one for the Cardinals. Things happened that year that never had happened on a Cardinals club — or for any other team.
This weekend, the Cardinals celebrated the 30-year anniversary of the club that won the National League championship. That year, on a 95-win team, their leading winners had only 11 victories — the lowest total for any pitching staff leader on any championship team in major-league history.
Danny Cox, Greg Mathews and Bob Forsch had 11 wins, but there were five more pitchers between eight and 10 victories — John Tudor (10), Joe Magrane, Ken Dayley (nine), Rick Horton (eight) and Todd Worrell (eight).
Ozzie Smith, enjoying his only .300-hitting season of a Hall of Fame career, pulled off the rare feat of knocking in 75 runs without hitting a homer. Together, with second baseman Tom Herr (who had 83 RBIs on two homers), their keystone combination had 158 RBIs with just two home runs — an occurrence unlikely to have been duplicated by two middle infielders.
In a two-night stretch covering 27 hours in early July, the Cardinals won four games from the Los Angeles Dodgers in a pair of twi-night doubleheaders.
The season didn't quite turn out the way the Cardinals wanted as they fell to Minnesota in the first World Series in which the home team won all seven games for the first time.
Here's a look at highlights (and a couple lowlights) of that season, in chronological order:
April 18 • On Seat Cushion Night — the first and only one — the Cardinals erased a five-run deficit to catch the hated Mets in the fourth inning before a full house on a Saturday night at Busch. A good portion of the seat cushions came onto the field then, causing a delay. But after Herr hit a grand slam off Jesse Orosco to win the game 12-8 in 10 innings, they seemingly all came onto the field. Cards relievers were putting them in baggies in the bullpen. When the teams arrived the next day, the grounds crew still was picking up stray seat cushions.
"I signed a lot of them over the years," Herr said.
April 19 • Tudor, sitting in the dugout while not pitching, was plowed into by Mets backup catcher Barry Lyons — who was chasing a pop foul that landed four rows behind the Cardinals' dugout. Tudor suffered a broken right leg and would be out until August.
"I went to try to help him," Tudor said. "I didn't get out of the way when I should have."
Cards manager Whitey Herzog said at the time, "It must be great to be a Met, but not even one of them, as far as I know, can fly."
July 7-8 • The Cardinals won three one-run games and two extra-inning affairs from the Dodgers in two nights.
"Whitey called a meeting before the first game," said third baseman Terry Pendleton, "and he said, 'There's two of you guys who are going to play every game. 'Rambo' (Jack Clark) and 'Pendy.'"
Sure enough both played every inning, with Clark's 10th-inning single ending the nightcap on the second day. On the first day, backup catcher Steve Lake, a notoriously good batting practice hitter, belted a game-tying homer when the clock had gone well past midnight. "They always said I was a 3 o'clock hitter," Lake said at the time. "I didn't know they meant 3 o'clock in the morning."
Sept. 11 • Pendleton hit a two-run, two-out homer in the ninth to tie the Mets in New York and the Cardinals won in extra innings.
"The whole team met him at home plate and you don't see that during the game," Magrane said. "Had he not done that, I don't think we would have made the postseason."
It was a fulcrum for the next day's game as the Cardinals scored five runs off Mets ace Doc Gooden in the first inning.
Oct. 1 • With the Mets' players sitting in the press box on an off night before their weekend series here, Cox beat the Montreal Expos 8-2, eliminating both clubs. Cox said he knew the Mets were there. "They would show them on the scoreboard and everybody would boo," he said.
Oct. 9 • Veteran Forsch drilled San Francisco star Jeffrey Leonard after he had one of his "one-flap-down" home run trots.
At the time of the plunking, the Cardinals trailed 4-2 in Game 3 of the league championship series. But shortly thereafter, fueled by Forsch's action, the Cardinals scored four runs in the seventh to win the game.
Cox said of the late Forsch, "Showboating people, putting the flap down, he wasn't one that stood for that. He didn't like the hat on backwards. He didn't like any of that stuff."
Oct. 21 • Tom Lawless hit a three-run homer off Minnesota ace Frank Viola in a six-run fourth inning of Game 4 of the World Series. And, demonstratively, he flipped the bat, as he walked toward first base. Lawless had only two big-league homers in his career so how did he know? "You know when you hit them," he said.
Oct. 25 • Even without 35-homer man Clark, who had severely injured an ankle in a futile late-season slide into first base in Montreal, and Pendleton (rib cage), the Cards had a chance to win the World Series in Game 7 in the Metrodome. But they appeared to get the short end of a bad call at first base by Lee Weyer, who hadn't seen Magrane drag his foot across the bag ahead of the runner. And, with Cox being ejected along the way by St. Louisan Dave Phillips, they lost 4-2.
Magrane said he had been told by Herzog before the game that owner Gussie Busch would make sure he had a Porsche "if you shut them out and win this game."
Magrane lobbied for a BMW instead, but he came out of the game in the fifth leading 2-1 after Weyer missed the call. As he was heading off the field, Magrane decided he would make one more bid. "Whitey, if we win, do I still get the car?" asked Magrane.
"He said, 'Get out of here.' It was an emphatic 'no.'''
"If we had won, it would have been a miracle year," Smith said.
It was a year that had nearly everything, which on a daily basis for the Cardinals featured five switch-hitters and a high-octane offense fueled by speedsters Vince Coleman and Smith, with Coleman stealing more than 100 bases for a third straight year. Willie McGee, hitting behind Clark, who had 106 runs batted in, had his best RBI year (105) and Pendleton had 96. The club stole 248 bases.
"It was a very entertaining brand of baseball," Magrane said. "It had a Golden State Warriors feel to it, just by the freedom and speed we had."
Added Herr: "That was an incredible year. The Mets were looked upon like the Cubs were coming into this year — that it was theirs. Nobody gave anybody else a chance."
Keep up with the latest Cardinals coverage from our award-winning team of reporters and columnists.