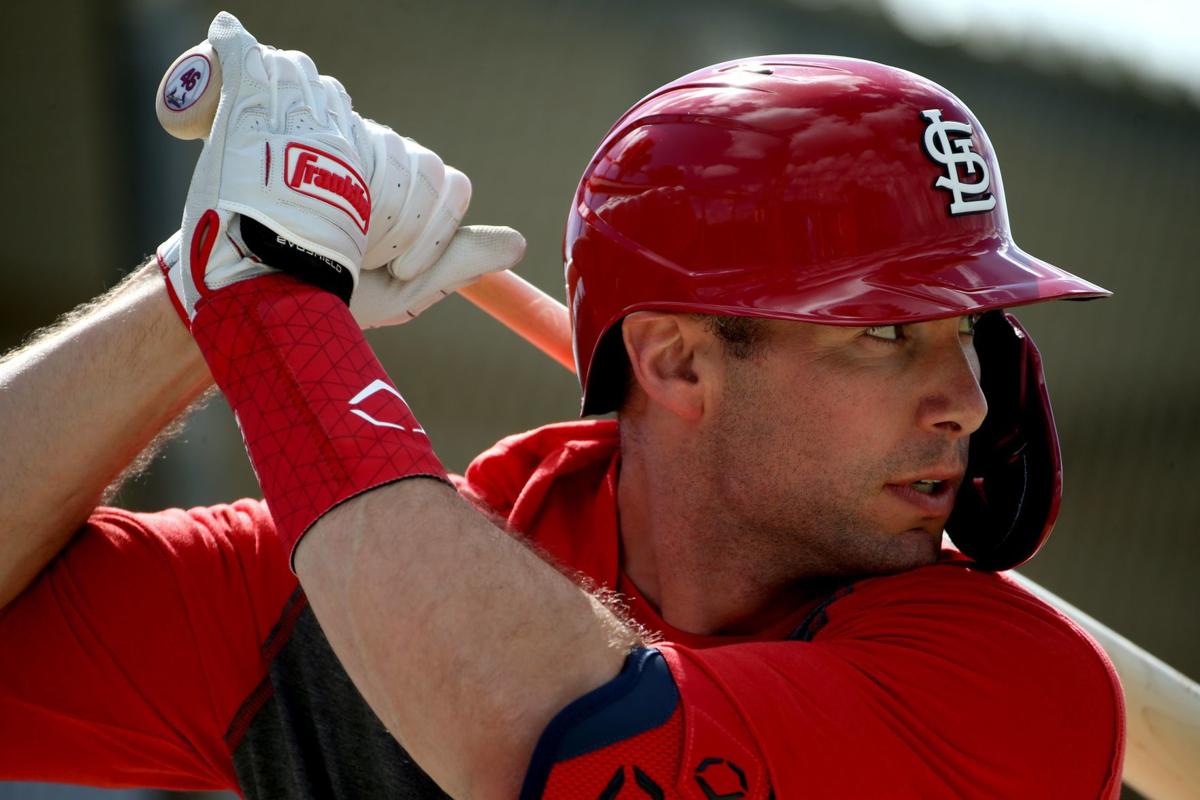 Early one morning this past spring, before heading to the ballpark for the day's official workout and live batting practice, Cardinals first baseman Paul Goldschmidt ducked into his home office to get a few warmup at-bats in against teammate Ryan Helsley.
Goldschmidt didn't take a swing, just watched a series of fastballs. The pitch down and away seemed to have a little cut to it. The fastball up and in had run, almost like a two-seamer.
He took note, commuted to work, and sure enough when he faced Helsley later that day the fastball down and away cut. The elevated fastball moved just enough in on Goldschmidt that he popped up. The pitches off Helsley's fingertips behaved on the field exactly as they had hours earlier for Goldschmidt, in the comfort of his home.
"Just like the VR," Goldschmidt whispered.
The VR is "virtual reality," and an advanced piece of technology Goldschmidt took for a test-drive this spring has become part of how he's training now for when the coronavirus crisis abates and baseball can resume. During spring training, Goldschmidt and Matt Carpenter purchased gear from WIN Reality that included the software and headset that, when worn, immersed a hitter in a VR ballpark and allowed him to face any big-league pitcher. Goldschmidt used it every morning during spring as a way to preview the pitcher he'd face in person later that day — whether it was teammates Helsley and Jack Flaherty or, say, a Miami Marlin.
He was testing himself and testing the product for accuracy. When he saw that same cut to Helsley's fastball in person that he saw in the WIN Reality headset, he was "in love." He recently became an investor in the Austin, Texas-based company.
"Nothing really duplicates game at-bats, so we might be the only sport that practices under game-speed all the time," said Chris O'Dowd, CEO and founder of WIN Reality. "How do we change that — how do we practice at game speed? That's where virtual reality training became logical. If it became possible, it could have an impact."
In the month since baseball canceled spring training due to the global pandemic and postponed the start of the regular season until at least mid-May, Goldschmidt and his family have remained in their new Jupiter, Florida-area home. Goldschmidt has been acting teacher and playing make-believe with his two preschoolers, ages 2 ½ and 4. He and his wife, Amy, have been cooking more, but also trying to frequent local restaurants still offering takeout.
Goldschmidt described how during a baseball season "it's real easy to be go-go-go and do-do-do, and this has been a chance to quiet down."
"We want to make the best of this situation while being aware that people are really sick and other people aren't able to work," Goldschmidt said this past week from his home office. "It's important we try to keep some real perspective on this."
When baseball officially stopped, Goldschmidt eased back on his workouts and "took a longer-term view." He figured immediate rest would be best for the sore right elbow that kept him from some Grapefruit League games. Goldschmidt continues to go to the Cardinals' facility at Roger Dean Stadium for preventive care and treatment, but each visit is meticulously monitored to maintain social distancing protocols. Only one player and one trainer are permitted at the same time. Goldschmidt has his temperature checked before entering.
New to living in the area, Goldschmidt also had to outfit a home gym and improvise a batting area in his garage. He ordered weights, resistance bands, and other workout tools in the first weeks of quarantine, and recently told his dad that it's "old school, like back in college and high school, and it's fun."
New school comes when he straps the headset on.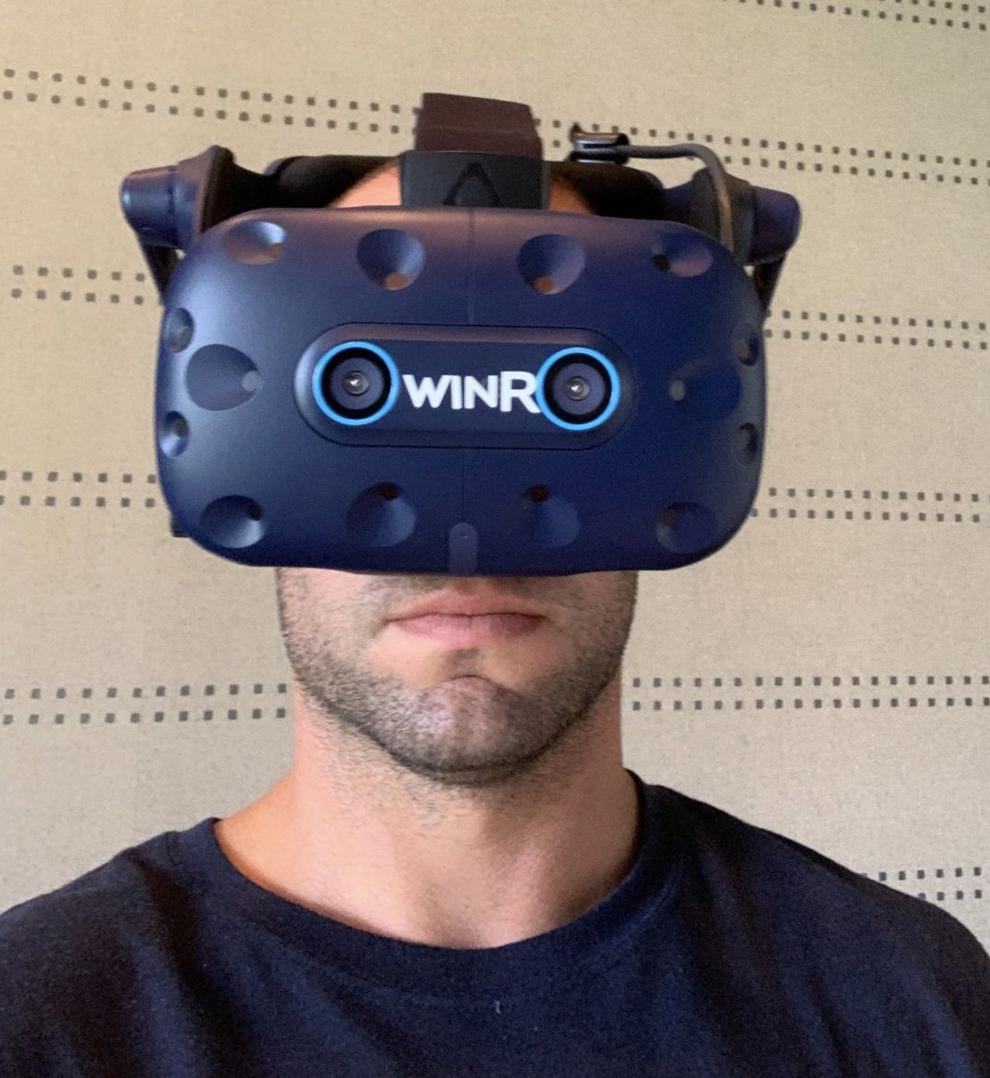 "It's everything and more you'd get from watching normal video but instead of on a flat screen you're in it," Goldschmidt said. "Now it's more game-like. You see the pitcher windup. You look to the right, and there's a dugout. Look to your left there's another dugout. You can watch a pitch from the point of view of the catcher."
O'Dowd described how WIN Reality's VR product has its roots in ideas his father, former Colorado general manager Dan O'Dowd, had about using tech for player development. The advancements have come at warp speed in recent years resulting in virtual reality simulators that take Trackman and publicly available data to recreate individual pitchers and pitches that can be watched in three dimensions. The pitcher holograms are drawn from game footage so if a pitcher takes a deep breath before a pitch, so will the hologram.
There are various drills built into the software to train a hitter's pitch recognition — one even makes the ball vanish halfway to the plate and asks the hitter to identify it. And for big-leaguers, the idea is to give life to the usual scouting reports.
"It's an advanced report that can be visualized and experienced," O'Dowd said. "It's technology and info you can feel."
While a consumer-ready version is planned for youth training, the current products are a VR room like Vanderbilt University has and then the portable versions that are used by Mizzou, Carpenter's TCU team, the Pittsburgh Pirates, and others. The Mets used it this past season, and Phillies outfielder Andrew McCutchen tweeted a photo of himself in the WIN Reality headset earlier this month and wrote how "the hardest thing to do when baseball is shutdown is get live at-bats." He said the VR was keeping his timing. Twenty major-league teams work with WIN VR, and now that Goldschmidt and Carpenter are onboard, the Cardinals figure to be soon. The portable version offers "endless imagination on where you can use it — at home, in the cage, on the road." Goldschmidt has the portable version set up in his office with the tripods about 10 feet apart and room for him to stand in the middle with the headset on.
It was in that spot that he saw Helsley's fastball cut before he saw the actual fastball.
When he didn't want to stress his elbow, he used the tech to track pitches or revisit past at-bats. Goldschmidt said his plan is to travel with the gear so that he can use it in his hotel room before games, calibrating his eyes for that night's pitchers. The database allows him to access his previous at-bats against a pitcher and, with the headset on, relive them and see how Clayton Kershaw's approach with a slider changed from game to game, month to month.
He can get 10 or 15 at-bats a day in 10 minutes.
He can study 10 to 15 different pitchers with a few keystrokes.
He can sharpen his eye for pitches even when there's no season in sight yet.
"The future is so unsure. What's next is such an unknown," Goldschmidt said. "We don't have an idea what it will look like. But if they told us in two weeks we have to be ready, I could pop out 50 at-bats or more in one day in my office and do that every day. This is a good way to speed things up. This is one way that is going to help stay game-ready."