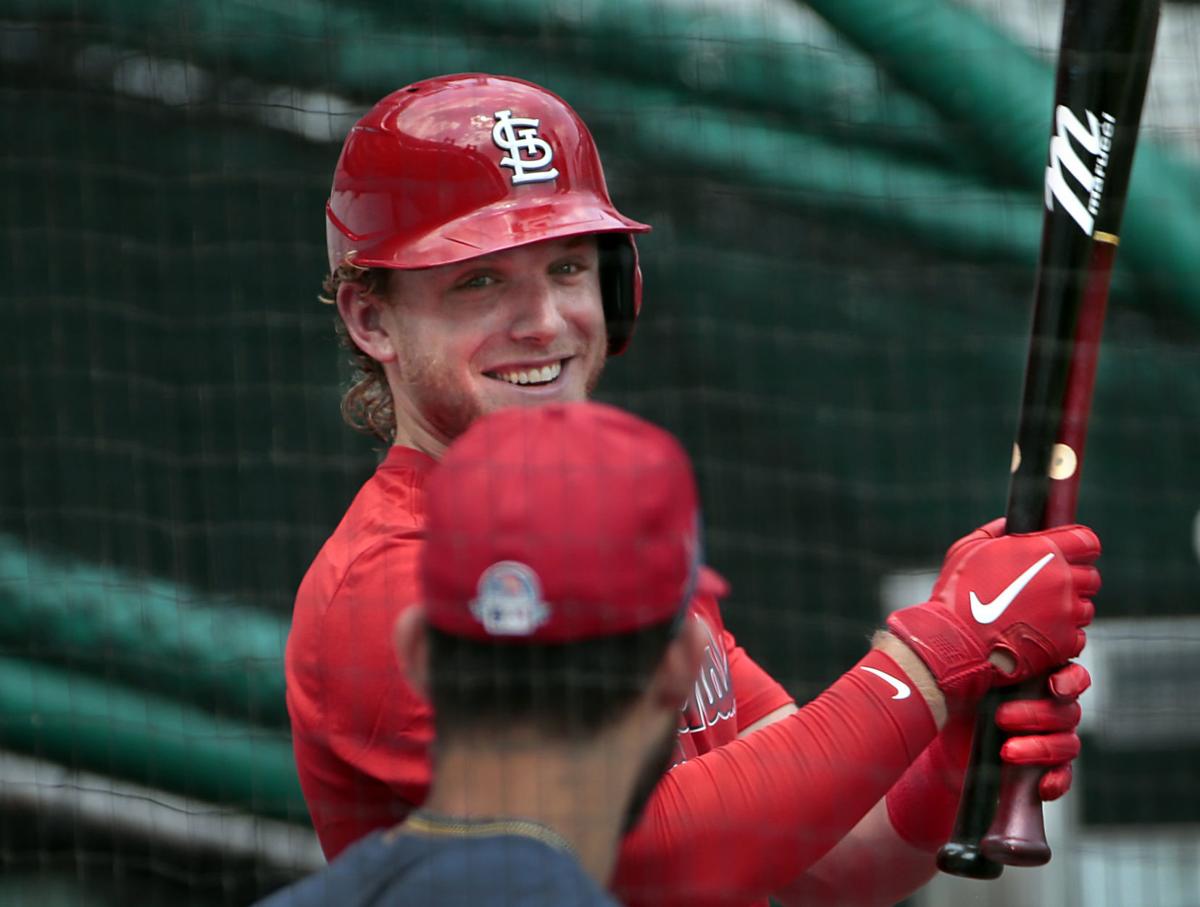 The DH is in. This means that the need for pitchers to hit is out. So that means that somebody else will be hitting ninth for the Cardinals this season.
So how about Harrison Bader?
Position players long have taken a dim view of batting ninth, but most of that came when some creative managers were batting the pitcher eighth and a position player ninth. Hitting ninth in a designated-hitter game does not carry the same stigma and Bader, in fact, thrived in the role last season, going seven for 14 with a homer in four games in American League parks — two each at Texas and Seattle. He was two for four with a home run in a start batting ninth at Kansas City the year before.
Contrast that to, say, what was accomplished at-bat in 2019 by pitchers Dakota Hudson and Daniel Ponce de Leon, who both faced Cardinals hitters on Saturday during the club's second summer camp workout at Busch Stadium.
Hudson was four for 51 (.078) with 24 strikeouts. Ponce de Leon was nothing for nine last year and one for 18 (.056) with eight strikeouts for his career. But despite those gross numbers, Hudson said he would miss hitting.
"It's a part of the game that's a lot of fun," the 25-year-old righthander said. "I think (pitchers hitting) is going to make its way back after a little while. Hopefully. It will be a little bit different just having a hitter go up there (in the ninth spot). I could wind up in the on-deck circle when I'm not supposed to, just from force of habit."
Bader said he hasn't minded hitting ninth.
"You've got to take your pride aside and be the best player — and that kind of decides where you hit in the lineup," he said. "Anything but hitting (eighth) in front of the pitcher is a lot better."
If he hit ninth, Bader, teamed with leadoff man Kolten Wong, could provide a dynamic one-two base stealing punch once the lineup turns over. The pair stole 35 bases (24 by Wong) in just 42 chances in 2019.
"Having two speed guys, if you will, would definitely be good for our lineup," Bader said.
After a disappointing .205 season and .314 on-base percentage in 2019 and a more disappointing three-week trip to the minors, defensive wiz Bader, 26, said he had been working on the mental side of the game, including being calmer at the plate.
"It's control of your emotions. It's breathing. It's a relaxation," he said. "You can get so caught up in mechanics . . . envision the swing as one thing and not focus just on your hands or hips or whatever.
"Sometimes you press a little bit, especially when your numbers aren't where they need to be. I didn't really allow myself to be an athlete, to be a natural baseball player. It's about a different process to success. It's not about kicking the door down all the time."
The upcoming 60-game season has its advantages, Bader said.
"Knowing that you're not going to have much time to make up stats, you just toss them all out the window. Before you know it, 60 games are just going to fly by. There's no time to worry about home runs or anything like that. Just be a winning player. I kind of like it, honestly," he said.
Manager Mike Shildt has been thinking about how to utilize the ninth hitter.
"There is a profile where guys hit — I can't misrepresent that," he said. "The fact of the matter is that people come in up in different spots once the game starts.
"Yeah, there is a methodology to the guy who hits ninth — kind of a second leadoff hitter. We expect and will have a deep lineup. Whoever hits ninth will able to contribute with a runner at third and less than (two) outs, take a good at-bat leading off an inning and be able to handle a situation with first and third and two outs."
Around camp
Although Ponce de Leon won't hit this year, he figures to pitch a lot in relief — long or short — and to make starts if necessary.
He wasn't completely happy Saturday with a changeup he is attempting to incorporate into his repertoire. But he has taken considerable confidence into the club's second camp after posting an 0.69 earned-run average in 13 innings in Florida this spring.
"I'm ready to go in any situation," said the 28-year-old righthander, who has a 3.31 big-league ERA for 81 2/3 innings, including throwing seven no-hit innings in his debut, two seasons ago in Cincinnati.
"I have no idea how they're going to use me. They don't ever tell me anything," he said, jokingly. "I hope I get to start but I could do whatever, as long as I'm playing."
In the two previous seasons, Ponce de Leon became more familiar than he would have liked with I-55, which links St. Louis and Memphis.
• Day Two of the Cardinals' second camp was over and Bader admitted he wondered from time to time if there would be a start to this season.
"It definitely did creep in," he said. "But, when I would go to sleep at night, even through the darkest times when I thought the negotiations wouldn't see any light . . . I just refused to believe there wouldn't be baseball this summer."
Keep up with the latest Cardinals coverage from our award-winning team of reporters and columnists.