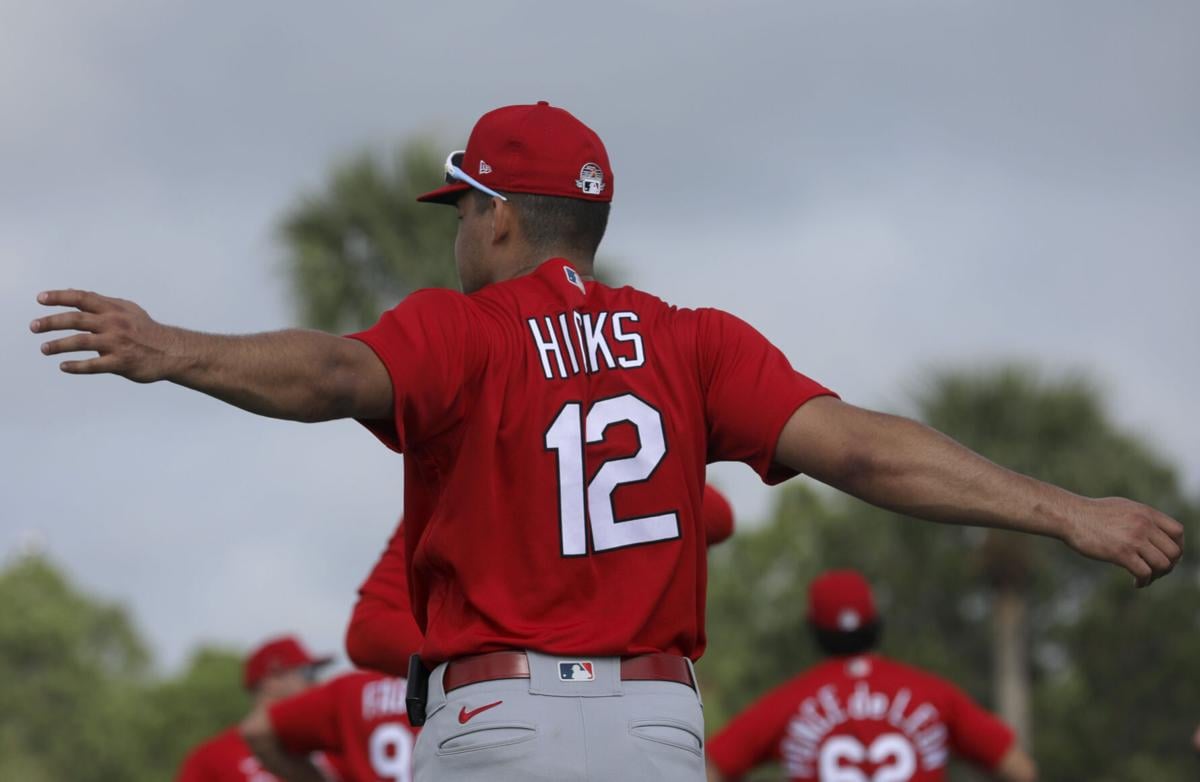 It was another eighth inning in another close game back in 2019, and Jordan Hicks raced up the bullpen's mound to get ready for another save. That was when Hicks "let out a loud yell" and doubled over a nearby railing as if his hamstring flung apart or his ankle crunched, teammate Ryan Helsley recalled.
"My heart stopped," bullpen coach Bryan Eversgerd said, shaking his head. "Oh god."
Hicks flashed a grin at his stunned coach, got to his feet, warmed his heater, secured the save, and left Helsley, a rookie, astonished by how composed Hicks was to pull off a prank — and close a game.
With a handful of teammates grinning in the Zoom conference's Brady Bunch-like boxes around him, Helsley described Hicks' antics during the Cardinals' recent online Winter Warm-Up. The group of relievers had admitted earlier that they could seek distractions in the early innings, that their isolation from the rest of the team was license for tomfoolery.
But, as rookie Kodi Whitley assured, "there comes a time when it becomes all business." The call's host, broadcaster Dan McLaughlin, asked them, OK, if that's the case, who is the jokester they have to keep an eye on. At first, they balked at the question.
"If I had to keep my eye on someone," veteran reliever Andrew Miller said, "it would probably be 'Hicksy.'"
What's true for his teammates is true for opponents — and especially true for 2021.
The Cardinals' lickety-split closer has been working out in Jupiter, Florida, as he transitions from 19 months of recovery after surgery into two months of preparation for his return. Moments like Helsley described were abruptly halted in 2019 when Hicks' right elbow came unwound and required Tommy John surgery.
Hicks, 24, opted out of the coronavirus-shortened 2020 season because of a preexisting condition (diabetes) and the wish to put more months between him and elbow reconstruction. He has been throwing without issue and is "ready to go," Eversgerd said. Hicks being back in the bullpen bolsters a strength the Cardinals have recently had — and need as much as ever.
"Yessir," righthander John Gant said. "Definitely got a studly 'pen."
Sterling stats
In the past two seasons, the Cardinals, a playoff team each of those falls, have had the lowest bullpen ERA in the NL Central. The relievers' 3.88 ERA in 2019 ranked sixth in the majors. During the abbreviated 2020 season, the Cardinals' bullpen ranked 10th and bested Milwaukee's heralded crew, which included rookie of the year Devin Williams, 4.00 to 4.17.
Since 2019, the Cardinals have the third-most saves in the majors (65) and the fewest blown saves in the National League (26). They've had to stand tall on the late-inning tightrope because limited run support means they grip slim leads and work without a net. They've done it as a group. Pitching coach Mike Maddux calls it "passing the ball around," and when they had a save to cinch in October, Alex Reyes got the assignment. A dozen different Cardinals have at least one save in the past two seasons.
Eleven of them still are on the roster.
Ten, because of Dakota Hudson's elbow injury, are favorites to be a part of the opening day pitching staff in some role.
"Pretty solid bullpen," Maddux said.
"You saw how good our bullpen was, especially the back end," starter Jack Flaherty told fans during a panel with candidates for the rotation. "When you're talking about guys like Reyes, and we have Hicks back — we didn't even have him last year — you add him to the back end of that bullpen, too … (Giovanny) Gallegos, (Genesis) Cabrera — all those guys. It was fun to see guys step up … see how good everybody was."
The indispensable Web site FanGraphs.com keeps updated rankings of different facets of teams based on roster moves and projections. The Cardinals' bullpen currently is projected to be the 14th-best, per FanGraphs.com, and tops in an idling division.
They have another gear to shift into, though.
Fastball talk
The Cardinals had three pitchers average swifter than 95.0 mph on their fastball in 2020, and rookie Johan Oviedo just missed at 94.9 mph. Include Oviedo, and the Cardinals still had the fewest fireballers in the division and trailed the Dodgers (10) and Padres (12) in the National League. But to that mix, the Cardinals can add three pitchers, all potential relievers, who average faster than 95.0 mph in 2019, Oviedo, and Hicks. The Cardinals' righthander closer was the only pitcher to average more than 100 mph on his fastball in 2019.
He was also the only pitcher to do that in 2018.
As Hicks readies for his first game in 20 months, the team is, an official said, "trying not to push him too fast."
Internally, the Cardinals are bullish on their bullpen and can measure that optimism because of the velocity they see returning and the depth they tested during duress in 2020. Oviedo, Whitley, and Seth Elledge all made strong impressions during their cameos. Genesis Cabrera has beguiling talent and appears on the brink of a breakout: The lefty did not allow a hit during winter ball and struck out 10 in 7 2/3 innings for Tigres de Licey in the Dominican Republic. Cabrera brings a high-powered sinker to throw a different look from the left side than Miller's signature slider or Tyler Webb's plunging change. That's a mix that meshes with the righthanders: Gallego's feisty split (down), Daniel Ponce de Leon's fastball (up), Helsley's cutter (in), Oviedo's slider (out), and Whitley's changeup that turns hitters outside in.
Cabrera (96.2 mph) joined Helsley (96.9 mph) and Reyes (97.6 mph) as the fastball leaders for the Cardinals. All three are former starters.
Helsley said entering 2020 he's focused on "the bullpen role — try to hone-in that and get as good as I can at that role." Reyes will begin spring training with a chance to start, and if he's part of the spillover into the bullpen the Cardinals still will look to him for length.
A shortened season means every pitcher is coming off a reduced workload and every team is wondering how to protectively, proactively, and progressively ease their pitchers into a full season. The expectation is that relievers will have to shoulder more innings and that long relievers, swingmen, or even hybrid pitchers sliding between roles will be barometers of a team's success.
"That's a fair assessment," Eversgerd said.
Setting the stage
While the Cardinals' offense has given the bullpen ample opportunities to flex, it's the starters that have been essential to the bullpen's success.
The rotation has minimized the leftover innings and the less strain the more precise the relievers have been. In part because of 11 doubleheaders and two fewer games than every other NL team, the Cardinals had the fifth-fewest innings by the bullpen in 2020. But they also had the ninth-fewest in 2019. The Cardinals haven't asked their bullpen to handle a top-10 workload since 2007, which was also their last losing season.
With no stumbles this spring, even in jest, Hicks could zoom his way back to the ninth and anchor a bullpen with the neo-classic traits of the best and a modern dash of repurposed starters: velocity galore with varied looks and versatile arms.
"As always bullpens are going to be huge," Eversgerd said. "The team that wins they obviously always have a good bullpen. They may be at a premium this year. What does a year like last year — how does it affect the innings that a starter can go this year? It's all uncharted water for us."
What hasn't changed is need for the bullpen to keep them afloat.
"I guess we'll have to see how it plays out," he said. "It will be huge."