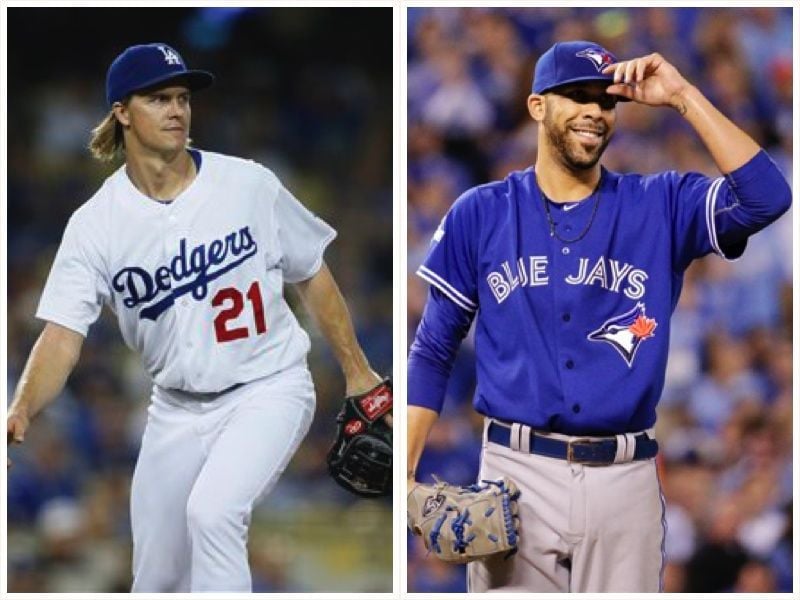 BOCA RATON, Fla. • The sudden absence of starting pitcher Lance Lynn for the entire 2016 season will force the Cardinals to consider fortifying their rotation, the engine behind a 100-win team, through a route they've previously and purposefully avoided.
Lynn had reconstructive surgery on his right elbow in St. Louis on Tuesday to repair a torn ligament, relocate a nerve, and remove bone chips from the joint. The righthander will spend the next year recovering from the Tommy John procedure, and that leaves the Cardinals, less than a month into their offseason, with three members of this past year's rotation uncertain or unavailable for the start of spring training. General manager John Mozeliak acknowledged that the team will have to wade into the free-agent market for pitchers and explore their first multi-year free-agent signing of a starting pitcher under his watch.
"You hate to be reactionary to something like this," Mozeliak said in a brief chat with media during the general manager meetings at the Boca Raton Resort & Club. "When you look at internal options, I think we have them. But when you're trying to be a championship club there are times you have to go outside your comfort level."
The Cardinals have tendered a one-year contract offer to free agent John Lackey, and they could yet engage the veteran in discussions about a multiyear deal. But he isn't the Cardinals' only option. The free agent market, which opened this past weekend, is thick with pitching and offers starters at a variety of price points. There are aces like Zack Greinke and David Price, the latter of whom has attracted the Cardinals before but could command a $200-million payday. ("Robust names out there," Mozeliak called them.) There are also a smattering of starters like Mike Leake, Jordan Zimmermann, Doug Fister, and Ian Kennedy, each of whom could be acquired at different levels of commitment and have attracted different levels of interest from the Cardinals. The depth of the market could also leave reliable pitchers still looking for work late in the offseason.
The Cardinals have financial might for a move, especially with a new broadcast rights deal set to start in 2018.
"We have resources," Mozeliak asserted.
Lynn experienced discomfort in his right arm during a start on June 7 in Los Angeles. He went on the disabled list several days later, and the team described the injury as a forearm strain. He returned to the rotation before the end of June and would go on to pitch 102 more innings with a 3.00 ERA in 19 starts. He had difficulty with command throughout that time and had some discomfort, but he continued to pitch. "Marshal through," Mozeliak called it.
Last week, Lynn flew to New York to see Dr. David Altchek, the Mets' team physician. A scan taken of the elbow for that appointment revealed more damage than previous looks. Tommy John surgery was prescribed Thursday, and on Tuesday Lynn had the procedure completed by Dr. George Paletta in St. Louis.
Lynn pitched one inning in the postseason and was the Cardinals' announced Game 4 starter for the National League division series before the team switched to Lackey when facing elimination. He was not listed by the team in the end-of-season medical update.
The 28-year-old righthander finished the season 12-11 with a 3.03 ERA. The stint on the disabled list cost him a third consecutive year of at least 200 innings. Lynn's 60 wins since he became a full-time starter in 2012 are the sixth-most in the majors behind some of the game's most regarded and highest paid starters, including last year's jackpot winner Max Scherzer (69) and this year's elite free agents, Greinke (66) and Price (63). Lynn just completed the first year of a three-year, $22-million extension with the Cardinals.
If Lackey departs for a two- or three-year deal elsewhere, the Cardinals would be without him and Lynn from the rotation that anchored the lowest staff ERA for the organization in decades. The Cardinals won their third division title and reached the postseason for the fifth consecutive season on the strength of a pitching staff that, at 2.94, had the only ERA less than 3.00 in the majors. Carlos Martinez is also coming back from injury, and his availability for the team will be clearer by the start of spring training.
Mozeliak said he was "bullish" on Martinez's healthy return.
"What you're really saying is Carlos Martinez and Lance Lynn had major impacts on this club in 2015 and obviously one definitely won't in 2016 and one was shut down," Mozeliak said.
Mozeliak listed several internal options to fill Lynn's spot in the order, starting with lefty Marco Gonzales, who is coming off shoulder trouble in 2015, and lefties Tim Cooney and Tyler Lyons. Righthander Alex Reyes, the team's top prospect, also would have factored into the discussion at some point in early 2016, but Major League Baseball announced Monday he had been suspended 50 games for a second positive test for marijuana.
The Cardinals have been reluctant to block their young pitchers, like Martinez, from advancing to the rotation, just as they have shied away from multiyear deals with free-agent pitchers. All of the starters with multi-year deals currently on the team signed them as extensions. The Cardinals most recent free-agent pitcher signings with Mozeliak at the helm have been one-year deals. He has preferred to re-sign pitchers he knows, like he did with Jake Westbrook shortly after he reached free agency or Kyle Lohse, days before he did.
Shorter term deals are always appealing, but Mozeliak conceded Tuesday that "when you're looking in the free-agent market nothing is really short-term."
That could mean striking a deal he's only offered, never finalized, with a pitcher.
"It may have to be," Mozeliak said. "The opportunity to add is something that we have to consider. … We'll see. I'd like to let the market develop before I weigh in on that."