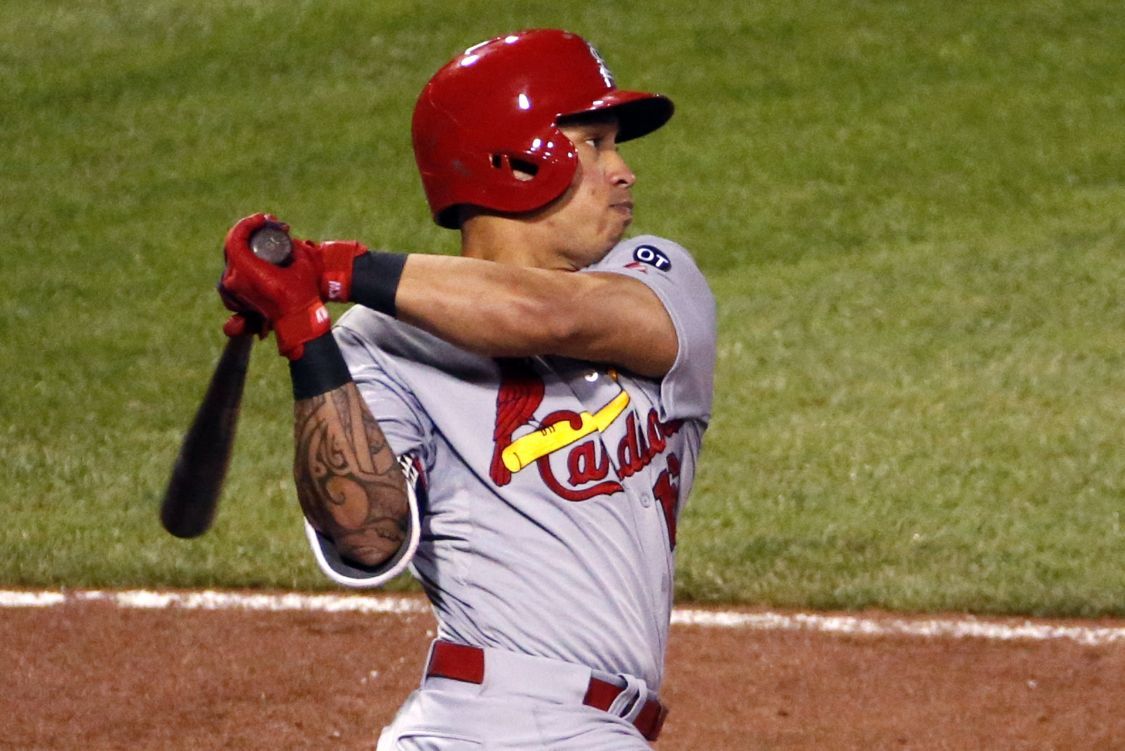 PITTSBURGH • As Mother's Day arrived Sunday, Cardinals infielder Kolten Wong considered as a tribute to his late mother using one of his bats from last year, one that had her signature, loops in the Ks and all, branded on the barrel.
He instead went to the plate with a bat painted pink.
He returned with a keepsake he'll treasure.
Wong hit his second home run of the series at PNC Park and fourth of the season using a current model of his Marucci bat dipped in pink for baseball's breast cancer awareness campaign. He has kept only one other bat from his short time in the majors — the one he used to hit a game-ending homer last October – and he intends to put the pink one alongside it. He will package his pink cleats and pink batting gloves from Sunday's game with the bat as reminders.
"I wanted to go with something that represented the motherhood theme," Wong said after the Cardinals' 4-3 loss to the Pirates. "I told myself that today is for my mom. No matter what I do, I'm going to play the game, have fun, and just enjoy it."
In December 2014, Wong's mother, Karen Keala Wong, died after a lengthy battle with cancer. She had traveled from their home in Hawaii to see her son play in the 2013 World Series, and to assure her memory was there throughout his rookie year Kolten carried many tributes. He had a cancer ribbon tattooed on the inside of his right forearm. When he received a shipment of bats last season – the KW13.1 model from Chandler Bats – he was surprised to see his mother's signature, "Karen Keala Wong," on the barrel. His agent had copied it from a check and given it to the bat company.
Wong said it would allow "her to be with me all season."
Since moving up to the No. 2 spot in the order Thursday, Wong has gone six for 16 (.375) with two walks and one strikeout. He's hit two home runs, driven home five runs, and slugged .750. He popped up in his first at-bat with the pink bat Sunday but said he pledged to stick with it for his mother and two at-bats later hit the home run that momentarily tied the score at 2-2.
Wong jammed his left shoulder in the second inning of Saturday's loss and had a momentary scare because it was the same shoulder he injured last season. Playing in close to shorten his throw home, Wong dived to his right on a ground ball and caught his glove and shoulder awkwardly. The ball ricocheted to shortstop Jhonny Peralta for an out, and Wong got up and started stretching the left shoulder.
He remained in the game and later singled, but he acknowledged that last year's injury taught him a valuable lesson about when to push and when to surrender. He was not forthcoming about the soreness in his shoulder last season, and his hitting slumped as a result.
"I'm going to tell Mike (Matheny) this year," Wong said. "Last year I was trying to be a tough guy and push through and that didn't work out as planned."
With an off day in an American League city the Cardinals rarely visit, utility infielder Pete Kozma accepted an invitation to Cleveland's Rock and Roll Hall of Fame and organized a group to take a tour Monday. Kozma said he's a rock fan, preferring classic Led Zeppelin and AC/DC – music, he said, that will still be playing decades from now.
The distance between PNC Park in Pittsburgh and Cleveland is 133 miles, so the Cardinals traveled by bus Sunday evening.
• Outfielder Randal Grichuk (lower back strain) was unable to play in extended spring training games as planned because of weather issues and soreness he attributed to travel, according to Matheny. Grichuk is in Jupiter, Fla., to get at-bats so that the team can determine whether he needs a rehab assignment or not before returning to the majors. 
• Jason Heyward hit eighth in the lineup Sunday for the 12th time in his career and the first time since 2011. The Cardinals have started Heyward and slugger Mark Reynolds in the eighth spot over the weekend, and one reason has been Matheny's preference not to bat Yadier Molina there. 
• The Cardinals have assigned minor-league third baseman Patrick Wisdom to extended spring training in Jupiter to get individualized attention on his swing. Wisdom had two hits and three RBIs in his final game with Class AA Springfield, elevating his average to .236 with 18 strikeouts in 55 at-bats.