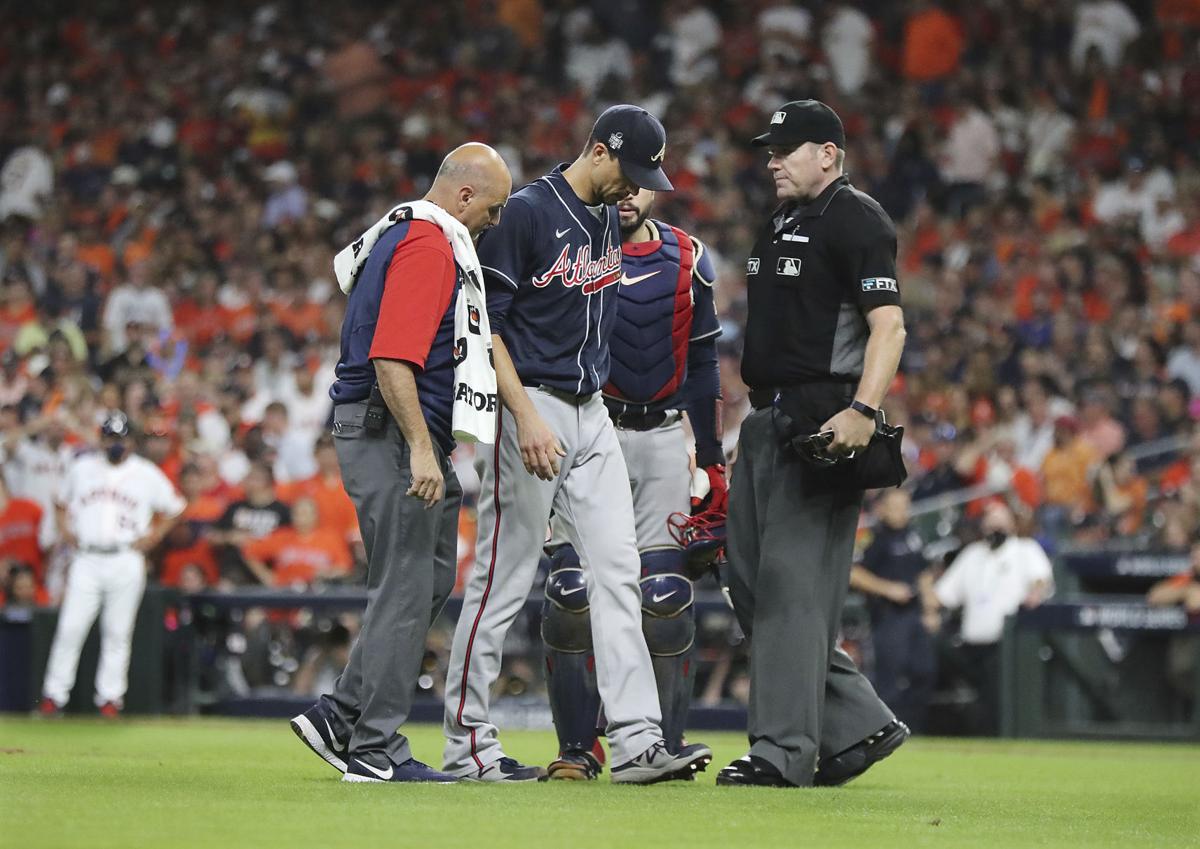 HOUSTON — After watching Game 1 of the World Series on Tuesday night and seeing starter Charlie Morton limp off the mound with a fractured fibula, Atlanta minor-leaguer Tucker Davidson stayed up late in his Gwinnett, Ga., hotel room for a call to Texas. He his stuff spread out all around him because he had to be ready to pack, ready to travel, ready to go when called.
And he had to be ready to pitch.
"He gives us an option for today," manager Brian Snitker said Wednesday. "They're all options."
Welcome to the scramble, kid.
In baseball's autumn of attrition, pitching staffs have fallen like leaves, some left in shambles as they seek innings. On Wednesday the Atlanta Braves joined the pile. Morton gave Atlanta a rarity in this postseason — a fixture on the mound. They could put him in ink and deploy the bullpen accordingly, aggressively in other games knowing the veteran righthander's turn would come up again. With Morton out for the remainder of the season and lefty Davidson in that place, Atlanta could face back-to-back bullpen games when the World Series shifts to Atlanta.
"We know we've got Ian (Anderson) going in Game 3" on Friday, Snitker said. "But it's going to kind of a 'how we get there' approach. Take today separately and just go out and try to do everything we can to win that game and worry about tomorrow tomorrow."
The Braves placed Morton on the injured list Wednesday and promoted Davidson from the 60-day injured list and taxi-squad camp in Gwinnett. Morton traveled Wednesday to Green Bay, Wis., to meet with a specialist, according to reports. In the second inning of Game 1, a groundball crashed into Morton's right leg. He finished the inning, and while his teammates hit he got an X-ray that did not show a break. Six pitches into the third inning — including a 96-mph fastball — Morton's leg gave out, possibly breaking at some point while he pitched. A second X-ray revealed a fracture.
Morton's absence leaves the Braves with two bona fide starters, Game 2's Max Fried and Anderson, to pair with some relievers with length, such as lefties A. J. Minter, Drew Smyly, and newcomer Davidson. Any of the trio could see a start or extended use in relief of an opener in the coming games. In his start Wednesday, Fried gave the Braves needed relief by throwing more than half of the game. But he gave up six runs (five earned) in his five innings.
"We've been stretched out to 75, 80 pitches," said Davidson, a 25-year-old who had four starts in the majors this season. "We're capable of being able to start and do relief. We're here for anything they need."
The added complication will be playing at home.
While teams such as Tampa Bay have popularized the opener and Houston could tinker with it in this series too, it's far more practical in an American League ballpark where pitchers don't hit. The at-bat is going to come sooner in the game and possibly with the long reliever in the lineup. Houston, its rotation depleted by injury and inefficiency as well, might match Atlanta with a bullpen game in Game 4. Asked if he had that day's starter in mind, Astros manager Dusty Baker shook his head: "I mean, we're only on Game 2."
Get through today. Tomorrow's tomorrow.
"So we're going to have to do that at least once," Snitker said. "Yeah, we were kind of dealt a bad hand. We'll keep going. We're going to keep going, and we'll figure this thing out somehow."
Cards deny Mets' Girsch request
The New York Mets, questing for someone new to lead their baseball operations, contacted the Cardinals late last week to receive permission to interview general manager Michael Girsch, two sources confirmed. The Cardinals denied permission after Girsch determined he would prefer to stay in St. Louis, in his current role.
Girsch, the 13th general manager in Cardinals' history, moved to the position in June 2017 as John Mozeliak rose to president of baseball operations. While Mozeliak has remained the most prominent public voice of the front office and its leader, Girsch's influence in contract negotiations, trades, and acquisitions, such as the pitchers added this season, has grown.
Girsch joined the Cardinals in 2006 and, as he advanced, pioneered several of the ways the team used analytics and advanced metrics to identify amateur talent and valuate performance.
Washington still has 'empty feeling'
What still gnaws at Ron Washington a decade after the Texas Rangers he was managing had the Cardinals down to their final strike in the 2011 World Series is the question he did not ask.
Throughout Game 6 at Busch Stadium, manager Washington had mentioned to first-base coach Gary Pettis that right fielder Nelson Cruz should be positioned deep to avoid doubles with David Freese at the plate. Throughout the series Freese had peppered the opposite field with fly balls — five of the eight balls he put in the air where to center or right — and so when Freese got to two strikes, the Cardinals one away from losing, in inched Cruz. Washington didn't ask, and Cruz didn't cover the double — so a game-tying triple lasered over his head.
One swing turned Rangers history into St. Louis legend.
"The whole night I was asking Gary if he had Cruz at no doubles and then the one time I didn't ask," Washington said Wednesday on the 10th anniversary of the Freese game. "Cruz came in because Freese kept slicing fly balls to right field, and then he beat him. That part right there hurts a lot."
Washington stood in the visitors' dugout at Minute Maid Park as he recalled the at-bat that flipped Game 6 and led to a Game 7 the Rangers lost at Busch 10 years ago today. Atlanta's third-base coach, Washington has become celebrated for his instinctual aggressiveness at that position and the drills he puts Braves infielders through that have produced Gold Glove winners.
"To be so close and not get it, especially when you went through the whole year and you got the opportunity in back to back years, and you come away without it — you never lose the empty feeling in your stomach," Washington said. "Right now, I'm just hoping this group I'm with right now can get me a ring."
Time for concern?
While short by a few minutes of the longest nine-inning game in World Series history, Tuesday's Game 1 was still enough, at 4 hours, 6 minutes, to invite questions about baseball's timeless issue on how long of a game feels too long. Commissioner Rob Manfred called experiments with a pitch clock in Class A "certainly encouraging" as it reduced game time.
There is an obvious issue.
Shrinking game time won't come at the cost of business.
"Sometimes it feels slow," Baker said. "But commercial time pays the bills, and that's the reality of it. You can cut down the commercial time, and then you've got to cut down the amount of money that's passed around."