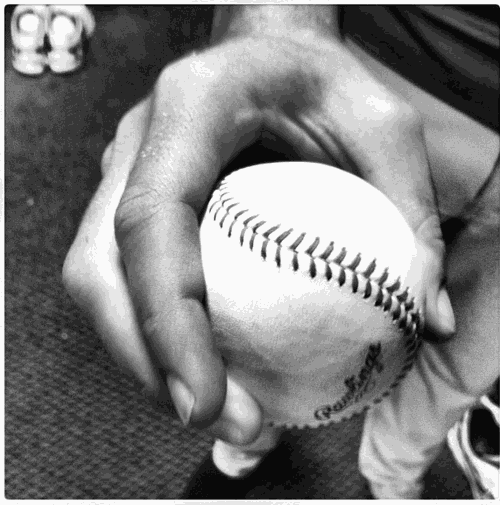 Late in his senior year of high school, Adam Wainwright began toying around with a new breaking pitch. It was harder and firmer and flatter than the one that would make him famous, but it worked. The slider got outs.
His home-state Atlanta Braves took notice of the towering righthander in their backyard and drafted Wainwright 29th overall in 2000. After signing Wainwright, Dayton Moore, then an executive with the Braves, sat down with Wainwright and mapped his early development. Moore gave the prospect a pointer.
Editor's note: 10 years ago Wednesday, Cardinals rookie closer Adam Wainwright struck out Ne…
"I can see Adam Wainwright's breaking ball like it was yesterday," said Moore, who is now Kansas City's general manager. He recalled the pitch Tuesday, during a phone interview from the Dominican Republic. "I can still see him warming up on the third-base side of his high school field, and then that pitch – it just falls off the table. The spin, the velocity of it – all of that stood out. It was hard. It had a lot of depth. He could naturally really spin the ball, and that's a swing-and-miss breaking ball."
On Oct. 19, 2006, 10 years ago Wednesday, that breaking ball Moore saw in coastal southern Georgia was watched by millions at home on TV, 56,357 at a rainy, rocking Shea Stadium in Queens, and, most improbably, one batter at the plate, Carlos Beltran.
Wainwright's swing-and-miss curve didn't get a swing at all.
It was the pitch that froze New York and still illuminates a career.
The 83-win Cardinals limped into that postseason with an injury-pocked lineup and a rookie closer. They emerged with a World Series trophy. Their run through October peaked with Game 7 of the NLCS against the New York Mets. The game, one of the most-riveting Game 7s ever, ended with the bases loaded and what Hall of Famer John Smoltz would later call "the perfect pitch at the perfect time to the perfect place."
In the 10 years since Beltran took a called strike three, that curve gained added dimensions with the directions it sent the game's principals. Beltran would not appear in the postseason again until joining the Cardinals for 2012. Catcher Yadier Molina, just 24, hinted at his All-Star future by influencing every sway of that Game 7, from his decisive home run to calling that last pitch. Jeff Suppan, moments away from winning the NLCS MVP for his start that night, did not return to the dugout. He instead found a spot nearby, in a cluster of New York police officers. He could see Chris Carpenter's face, not the field.
His only knowledge of that final inning came from the chatter on the police officers' radios and Carpenter's reaction. Only when Carpenter screamed and threw up his hands did Suppan know they had won. It wasn't until years later that Suppan saw the whole inning on video.
"I just remember the curveball," Suppan said Tuesday from Southern California. "I saw that a million times."
The curve from Wainwright's fingers that night got its start in his backyard on St. Simon's Island, Ga. His older brother Trey constructed a mound and set up a net to serve as a strike zone. Adam fiddled with grips, once mimicking the knuckle curve of a hotshot Mets rookie, Jason Isringhausen, whose injury made Wainwright the Cardinals closer in 2006. A feel for the curve came quickly. The index finger lifting off the ball like a pinkie off a teacup came early.
Atlanta built a division dynasty out of an ability to identify and unleash elite pitching. Moore explained how the organization's philosophy preferred a curve to sliders for young pitchers. A slider would too often veer into the power zone for a lefthanded batter. Better to have a curve plummet. Best to have one like Wainwright.
"To me, the ability to spin the ball is an exceptional trait for a pitcher," Moore said. "It's the same as great speed. If you want it, you've got to draft it. Hitting for power — you have to draft it if you want it. Same things goes for spin like Wainwright's. If you want the natural ability to spin like he has, you have to draft it."
In these data-driven days, that spin can be calculated. Wainwright's curveball in 2016 averaged 2,657 rpm, according to MLB.com's StatCast. He had the second highest spin rate on the Cardinals, behind Jaime Garcia, and ranked 31st among the 117 pitchers in the majors who threw at least 2,000 curves in 2016. The league average from the past two seasons is 2,386 rpm. He spent most of 2016 searching for his loyal pitch, and late in the season, as the curve became more reliable, the rpm spiked to more than 2,700 rpm for more than 40 percent of his pitches. A heat map, available on BaseballSavant.com, will show how Wainwright's curve too often found the middle of the strike zone but wasn't regularly hammered by opponents -- a testament to its movement.
Since becoming a starter in 2007, Wainwright has thrown 24,628 pitches identified by the Pitch F/x system, and 6,347 were curves. According to FanGraphs, his is the most effective curve since 2006. FanGraphs.com uses a weighted measurement to track the success of individual pitches and zero is average. Wainwright's wCB (weighted Curve Ball) score is 109.6, and the next closest active pitcher is Cleveland ace Corey Kluber at 63.1 wCB. For comparison consider Mariano Rivera's cutter from 2006 to present had a weighted score of 11.6 wCT (cutter). Fastballs, sliders, and changeups all have multiple active pitchers with weighted values greater than 100. The curve only has Wainwright.
His curve averages a 9-inch drop. Batters whiff on it 16.53 percent of the time.
When Wainwright has two strikes on a batter, like he did Beltran, 43.5 percent of the time he's throwing a curveball. He's thrown it 2,959 times with a two-strike count since 2007. That is nearly 1,400 more times than his next most likely pitch with a two-strike count.
"During his prime years any time a hitter put that ball in play – in play! – on the curve it was a surprise," former Cardinals pitching coach Dave Duncan said Tuesday from his home in Arizona. "We would kid about it all the time. You're talking about a pitch that is so natural. For some it's a slider. For Mariano Rivera it's a cutter. It's natural. He doesn't force it. For Wainwright, that's the curve."
All of the stats available now can demystify pitches. Thanks to BrooksBaseball.net and BaseballSavant.com, we know each pitch intimately, from its mph to its rpm to its usage to even its perceived velocity. Pitch F/x zoomed to prominence in 2007 and StatCast started during 2015, so Wainwright's signature curve landed before the metrics so common today. There's no measure of its magic.
When Beltran came to the plate, Wainwright had allowed two hits and walked a batter. He had two outs, both on curves. Molina came to the mound and told Wainwright to start Beltran with a sinker. By the time Molina got behind the plate and spied Beltran, the catcher changed his mind. Molina patted his chest pad with both hands, a signal that Wainwright read as, "Trust me." Molina was about to improvise. He called for a changeup.
Beltran took it for strike one.
Team was among unlikeliest of champions, not just in baseball history but in sports.
Batting lefthanded, Beltran was one of those hitters who could launch a slider, like the Braves once cautioned Wainwright about. He got an 0-1 curve. Fouled it off. Then Wainwright would later say he threw "the best pitch I'd ever thrown. If he beats me, I will know he did it against my best." Beltran took a 74-mph curveball on the outside edge of the plate. The switch-hitter would later say it was a pitch he knew he couldn't hit, so he didn't swing.
Molina rushed him. Suppan ran out with the police.
Eight days later, on Oct 27, 2006, at Busch Stadium, Wainwright closed out a World Series title to cap his rookie season against a righthanded batter from Detroit. He got Brandon Inge swinging on a pitch he still had to end the game.
---
Celebrate Busch Stadium's 10 year anniversary through the pages of the new St. Louis Post-Dispatch book, Busch Stadium: A Decade of Cardinals Excellence. Relive memories from 2006 to 2015 through season recaps, the 10 biggest baseball moments, Baseball Hall of Fame writer Rick Hummel's 25-man roster and hundreds of photos.
---