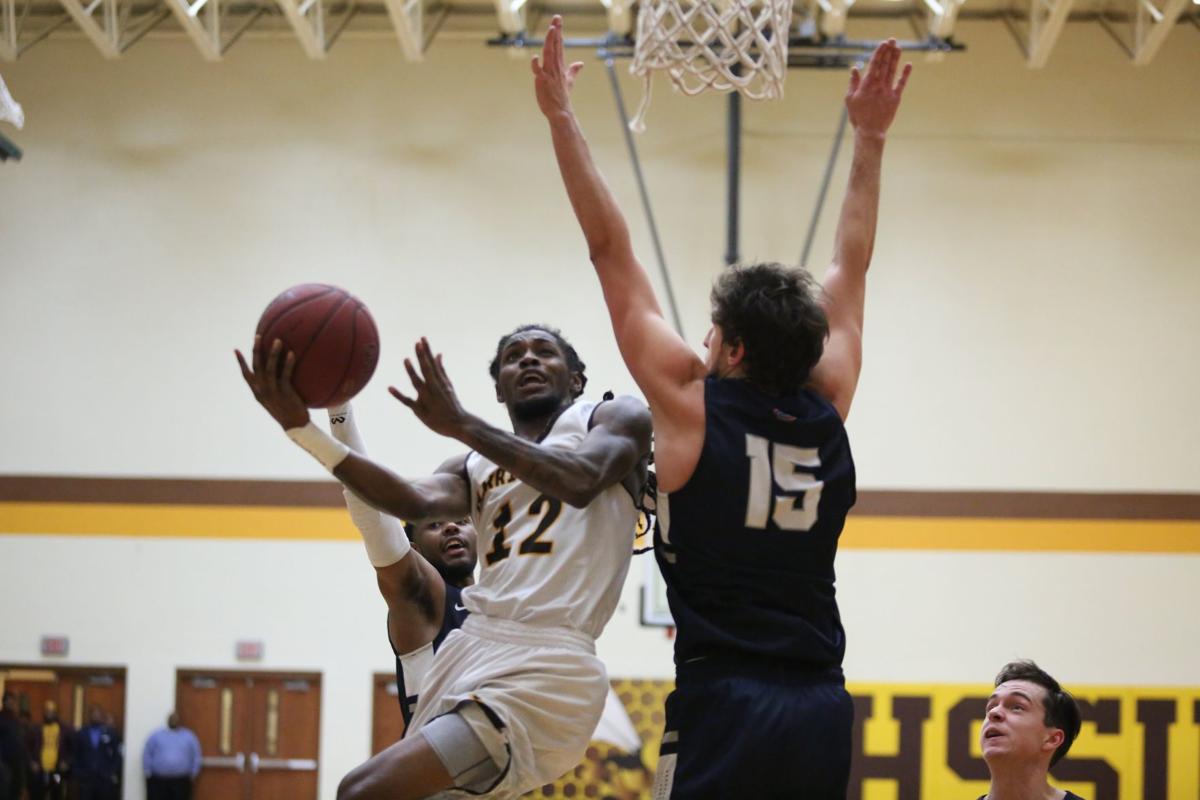 Before a loud and supportive home crowd, Harris-Stowe State put an end to Missouri Baptist's unbeaten men's basketball season Thursday night, knocking off the NAIA's third-ranked team 74-70 in double overtime.
The last NAIA Division I squad without a loss, Missouri Baptist fell to 20-1 overall and to 12-1 atop the American Midwest Conference. Harris-Stowe, which lost 78-59 at Missouri Baptist on Nov. 29, is 10-8 and 6-7.
In a back-and-forth affair, the host Hornets opened the contest with a 10-0 run and took a 33-22 lead to halftime. Missouri Baptist responded by scoring the first 11 points following the break, but Harris-Stowe answered with eight of the game's next nine points and the game stayed close the rest of the way.
A last-second offensive rebound and putback by the Hornets' Duane Clark (CBC) sent the game to overtime tied at 57.
Missouri Baptist senior Pablo Hernandez, who finished the night with game-highs in points (31) and rebounds (13) for his fifth career double-double, connected on a pair of free throws with 10 seconds left in the first extra period, tying the game at 63.
The Hornets outscored the Spartans 6-2 to start the second OT and went on to outscore the Spartans 11-7 to come away with the win.
Nate Rigmaiden (Jennings, St. Louis Community College) paced the Hornets with 29 points while fellow senior Deandre Clark chipped in with 17.
The reigning AMC player of the week, Rigmaiden averaged 31 points, 2.7 assists and 4 rebounds in three games last week. The 5-foot-10 guard scored a career-high 36 in a win over Williams Baptist and is among the NAIA leaders with a 20.4-a-game scoring average.
Joining Hernandez in double figures for Missouri Baptist was junior point guard Jahmouri Robinson (Cardinal Ritter), who finished with 17. Hernandez and Robinson combined to score all 13 of the Spartans' points in OT.
Missouri Baptist, which holds a two-game lead atop the AMC, will look to bounce back Saturday when it hosts second-place William Woods (13-6, 10-3) at 3 p.m. Harris-Stowe also returns to action Saturday at 3, playing at St. Louis College of Pharmacy (5-16, 4-10).
KLUESNER COMES UP BIG
Miami Ohio's Savannah Kluesner completed a three-point play with 2.7 seconds left last week to hand host Central Michigan its first Mid-American Conference loss since 2016. For her efforts, Kluesner, a 6-foot-2 junior post from Lutheran High in St. Peters, was named the MAC East player of the week and the MAC player of the week by College Sports Madness.
In wins over Central Michigan and Ball State last week, Kluesner averaged 19.5 points, seven rebounds, three assists and 2.5 steals while shooting 59.3 percent from the floor. Miami is 12-4 overall and 3-2 in the MAC.
Kluesner, who averaged 16.3 points, 10.3 rebounds and 4.2 blocks as a high school senior, has made steady improvement with the Redhawks. This season, in 16 starts, she's second on the team in scoring (13.8) while averaging a team-leading 7.6 rebounds per game.
HONOR ROLL
McKendree swept the GLVC men's indoor track and field honors this week. Senior sprinter DeMontez McCray (O'Fallon) won the 200; his converted time of 21.59 is tops in the league and ninth in D-II this season. Also honored was the Bearcats' Torrey Deal Jr., a redshirt freshman from Granite City High who topped his previous best in the triple jump by three feet at the John Craft Invite at Eastern Illinois. His total of 14.73 meters leads the GLVC and is 10th nationally this season.
• Webster University freshman Rodson Etienne was named player of the week by the St. Louis Intercollegiate Athletic Conference and to the D3Hoops.com team of the week after averaging 31 points and 10 boards as the Gorloks knocked off Greenville and Fontbonne. Following a blowout win over visiting Iowa Wesleyan on Wednesday, Webster is 13-4 overall and 9-1 atop the conference standings.
• SIUE junior guard Tyresse Williford was named co-newcomer of the week in the Ohio Valley Conference after scoring a career-best 33 points in a loss to league-leading Murray State. The Chicago native, a transfer from Wabash Valley, connected on 10 of 17 from the floor and made all 11 of his free throws against the Racers.
• For the sixth time this season, SLU's Ciaja Harbison was honored as Atlantic 10 Conference newcomer of the week. The freshman guard from Louisville averaged 13 points, six assists and four rebounds as the Billikens lost to Rhode Island and beat St. Bonaventure.
• Following winning performances in the vault, bars, beam and all-around in a win over visiting Winona State, Lindenwood sophomore Courtney Mitchell was honored as the Midwest Independent Conference gymnast of the week.
• Washington University senior Brandon Lum was named University Athletic Association swimmer of the week after winning the 100 butterfly and 200 butterfly and helping the Bears' 200 medley relay to victory in a dual against Truman State. Lum holds D-III's second-fastest time this season in the 200 butterfly.
• Mizzou's Roberto Vilches was named SEC freshman of the week in track and field after winning the high jump in the Larry Wieczorek Invitational at the University of Iowa with a jump of 7 feet 3 inches. Vilches, of Mexico City, set a school record with a jump of 7-5 earlier this season at the Missouri Intercollegiate meet. That mark ranks third in NCAA D-1 this season.
• Missouri State's Danielle Gitzen was named MVC player of the week after leading the Bears to a pair of wins. Missouri State (9-7) entered the weekend with an eight-game winning streak. The Bears are 5-0 and tied with Drake atop the league standings.
Gitzen, a 5-10 senior guard from Minnesota, averaged 18 points, six rebounds, 4.5 assists and 2.5 steals in league wins over Bradley and Illinois State last week. She shot 52 percent overall and made all four of her 3-point attempts in those wins.
Be the first to know
Get local news delivered to your inbox!