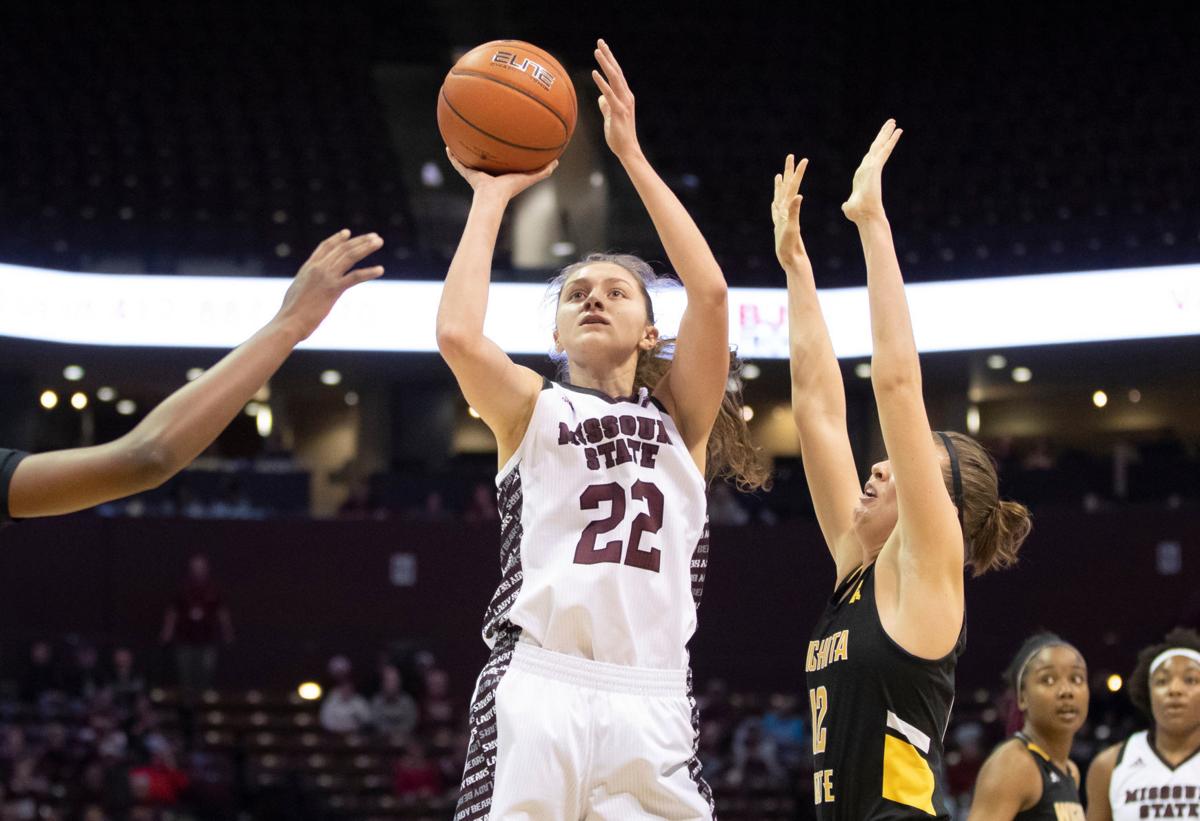 The Missouri State women's basketball team might be looking for a little payback this weekend.
The Lady Bears, ranked 17th in the coaches poll and 24th by The Associated Press, are 20-2 overall and 10-1 in the Missouri Valley Conference entering a 3 p.m. Saturday league showdown with Southern Illinois University Carbondale (13-9, 5-6) at JQH Arena in Springfield, Mo.
Missouri State has won 11 of its last 12 games, with the only loss in that stretch coming on Jan. 17 when host SIUC won 70-68 on a basket with 1.3 seconds remaining from junior Gabby Walker, a St. Charles High product and a transfer from Lindenwood University.
With five of their final seven regular-season games at home, where they are 10-0 this season, the Lady Bears are seeking to gain a bit of momentum heading into the postseason. Under first-year coach Amaka "Mox" Agugua-Hamilton, the Bears are led by senior Alexa Willard (16.8 points), who's shooting 48% from the field, 47% on 3-pointers and 89% from the foul line.
The team's other double-figure scorers are junior Brice Calip (13.0 points, with a team-leading 90 assists) and sophomore Jasmine Franklin (10.8 points, 9.1 rebounds).
Since its inaugural season in 1969-70, Missouri State has established itself in the sport, qualifying for the NCAA Tournament 15 times. The squad made Final Four trips in 1992 and 2001 and Sweet 16 appearances in 1993 and last year. It also played in eight WNITs, capturing a championship in 2005.
MU wins wrestling titleThe 24th-ranked Missouri wrestling squad has claimed its ninth consecutive conference title, winning 35-7 Wednesday at Southern Illinois University Edwardsville. The Tigers have won 22 consecutive Mid-America Conference duals and will seek to claim the MAC tournament championship March 7-8 in DeKalb, Ill.
The Tigers had six bonus-point wins Wednesday, getting a pin from Cameron Valdiviez (125), technical falls from Dylan Wisman (184), Wyatt Koelling (197) and CBC grad Cevion Severado (133) and major decisions from Peyton Mocco (165) and Francis Howell grad Connor Flynn (174). Winning by decision for Mizzou was Alex Butler (141) and Brock Mauller (149).
The Cougars received a major decision from Justin Ruffin, at 157, and a decision from heavyweight Colton McKeirnan.
Honor rollThe Webster women broke a school record for points, recently beating visiting Principia 115-36. The Gorloks are 14-7 overall and tied with Fontbonne at 12-2 atop the St. Louis Intercollegiate Athletic Conference standings.
Webster also set records for points in a half (45), field goal attempts (84), steals (31) and turnovers forced (42). The Gorloks had five double-figure scorers — Kiara Rhines (17), Jaysea Morgan (14), Incarnate Word Academy product Naomi Johnson (13), Lindbergh High graduate Julie Baudendistel (13) and Hannah Cottrell (11).
• St. Louis University's Danny Hopkins and Alex Oleson were honored as Atlantic 10 Conference track and field performers of the week. Hopkins, a sophomore from Summit High, won the 400 meters and anchored the Billikens' winning 4x400 relay squad at the Mizzou Open. At the same meet, Oleson broke a school record in winning the high jump with a leap of 7-1.
• In women's basketball, SLU senior Kendra Wilken (Breese Central) earned A-10 player of the week honors after averaging 24 points and 8.5 rebounds while shooting 78.3% in wins over St. Joseph's and George Mason.
• Lindenwood senior Kallie Bildner repeated as Great Lakes Valley Conference women's basketball player of the week after averaging 28 points and 13.5 rebounds in a pair of league wins. She scored a career-high 36 with 11 rebounds, two assists and a steal at Quincy and followed with 20 points, 16 rebounds and two steals at Truman. She shot 65 percent from the floor and made 17 of 20 free throws.
• In softball, SLU senior Kat Lane was named A-10 player of the week after hitting .667 with eight hits, six runs and 11 total bases. Freshman Kayla Swiderski (Lindbergh) was co-rookie of the week; she went two for six with two walks and delivered a game-ending hit to beat Southern Mississippi.
• For the third time this season, Maryville's Don Jackson (Fox) was named GLVC field athlete of the week. At Northwest Missouri's Bearcat Open, he finished second in the high jump (6-9¾) and fifth in the long jump.
• McKendree's Daniel Filipek (Warrenton) won the title at 184 pounds at the University of Indianapolis' Greyhound Open. He beat teammate Michael Aldrich (Parkway South) in the title match.
Also in the event, Maryville's Ryan Herman (St. Clair) and Max Darrah (Whitfield) placed second at 197 and heavyweight, respectively.
Maryville's Tyler Harrington (165) was named GLVC wrestler of the week after beating a pair of foes, including No. 12-ranked Shane Gantz of Wisconsin-Parkside.
• Missouri Baptist's Emily Bayer (Oakville) was named American Midwest Conference outstanding athlete at the conference's indoor championships after winning in the 1,000 meters, the mile, and the distance medley relay. Bayer finished second in the 600 meters and 4x400.
• Lindenwood had a pair of players honored by the United States Intercollegiate Lacrosse Association. After a comeback win over Florida Tech, the Lions' Connor Ciemiewicz had the win, coming up with 15 saves while Covington, from Chaminade, finished his Lions' debut with four goals and an assist.
• Lindenwood swept the first GLVC women's lacrosse honors following a 19-7 win over No. 14 Colorado Mesa. The Lions' Carly Fedorowski scored eight points for offensive honors while teammate Shannon Modl, who had eight draw controls, earned defensive honors.
• Maryville's Ellie Paul averaged 203 in six games and finished second overall, earning all-tournament honors at the Wildcat Classic to earn GLVC bowler of the week honors.
• For the third time this season and in back-to-back weeks, Lindenwood gymnast Gayla Griswold has been named Midwest Independent Conference newcomer of the week. She had a career-best scores in the floor exercise, the beam and the vault against Missouri State.
• Washington University's Greig Dimailig was named University Athletic Association track athlete of the week after placing second in the 400 and helping the Bears' 4x400 relay take first at the Keck D-III Select Invitational in Bloomington, Ill.