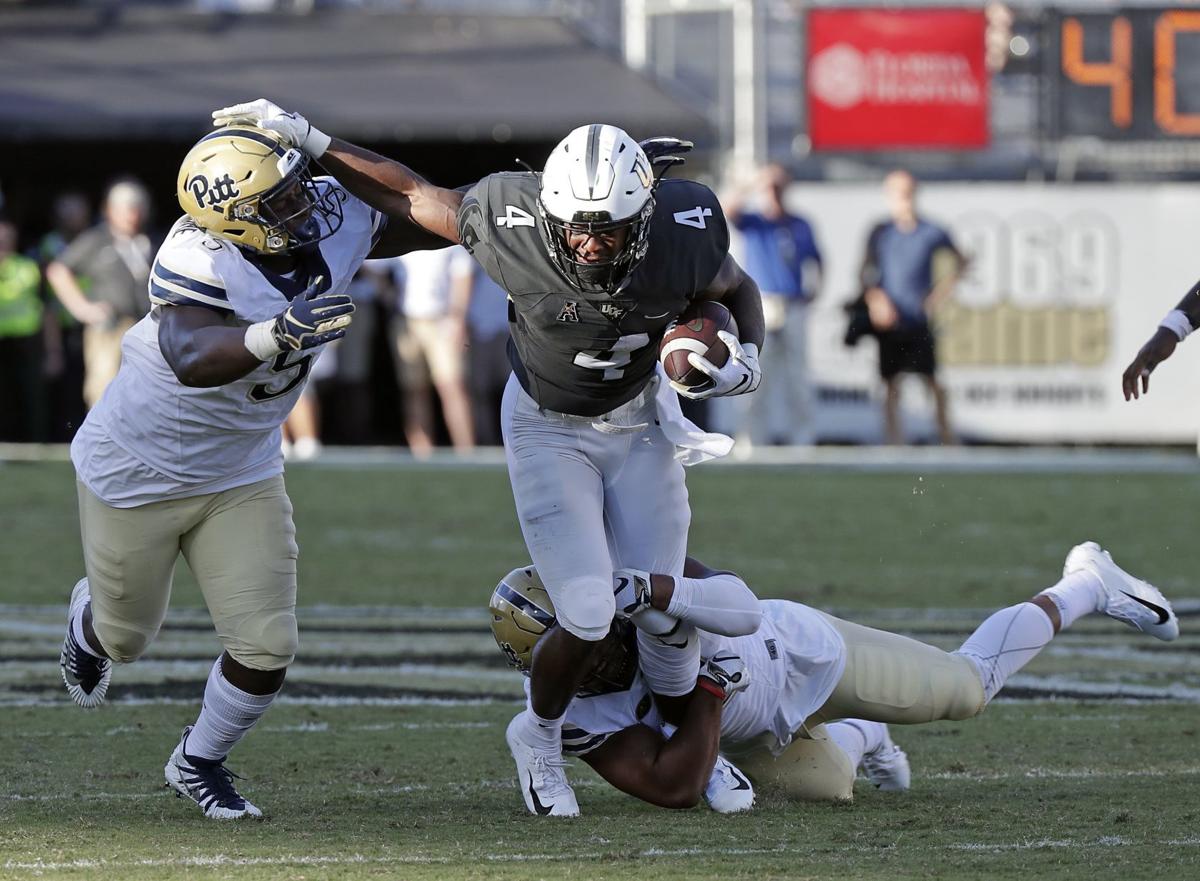 After winning its first four games of 2017, Central Florida generated so little attention that the Knights could only muster four points in the Associated Press rankings.
A year later, they're 4-0 and ranked No. 12.
Somewhere in between those moments, the university claimed a national championship for itself after finishing 13-0, largely as a way to protest being overlooked for the College Football Playoff.
The question already is being raised how the Knights will be treated this season if they continue to build on their 17-game winning streak and remain unscathed. How high are voters willing to place them if they continue to win while others lose?
"Yes, there is a path," CFP executive director Bill Hancock told The Associated Press last week. "UCF got full consideration from the committee last year. I believe the committee at the end of the season had ranked UCF higher than the sportswriters and the coaches had."
UCF will now enter play in the American Athletic Conference after beating Pittsburgh with ease Saturday, 45-14. Waiting in the East Division where the Knights reside are unbeaten Cincinnati and South Florida, which the Knights play consecutively to end the regular season — Cincinnati at home and South Florida on the road.
Despite the university's attempts to brag on the football program in the past year, first-year coach Josh Heupel opted not to go there when asked about beating an opponent from a power conference.
"We're 1-0 this week. You know the outsiders are going to judge it as they may," he said. "Our football team really does focus on the daily task at hand."
The next half dozen sentences followed the coaches' book of cliches. The UCF players apparently received the memo.
"To be honest, every opponent is just an opponent on our schedule," defensive back Richie Grant said. "We don't really look into how big the opponent is. We just want to go 1-0 every week."
Considering UCF's early schedule, Pitt was definitely a step up after Connecticut, South Carolina State and Florida Atlantic. A game against North Carolina was canceled by Hurricane Florence.
The biggest problem for the Knights is their strength of schedule. The Sagarin ratings have them at No. 158, including all Football Bowl Subdivision and Championship Subdivision teams. The Massey Ratings ranks the Knights' schedule at No. 109 in FBS.
"For the path, play a good schedule, win your games," Hancock said, "and you're going to be in the hunt for the College Football Playoff."
QUARTERBACK GAMES
Some of the top teams in the country have dealt with issues at quarterback in the last two weeks, creating an array of interesting situations. None has been more controversial than what happened at Clemson.
Coach Dabo Swinney opted to replace starter Kelly Bryant with Trevor Lawrence against Syracuse on Saturday. Bryant said he would transfer. Lawrence was then injured in the second quarter, forcing redshirt freshman Chase Brice to finish the game.
He was less than spectacular with one interception and no touchdown passes, but Clemson rallied for the win.
At Oklahoma, Kyler Murray did not start against Baylor after arriving late for practice. But he came off the bench to throw for 432 yards and six touchdowns. And at Notre Dame, the move to start Ian Book two weeks ago has led to a resurgence in the offense as he threw for four TDs in a win over Stanford.
PLAYER'S CONDITION CRITICAL
Tennessee State player Christion Abercrombie, who transferred from Illinois, was in critical condition Sunday after surgery for a head injury suffered in the first half of a game against Vanderbilt.
The sophomore collapsed on the sideline. He was given oxygen before being taken to Vanderbilt University Medical Center.
Coach Ron Reed told The Tennessean he was unsure how Abercrombie was injured. He spent two years at Illinois, redshirting a season before playing in 11 games in 2017.
QUESTIONABLE CALL
Penn State coach James Franklin came under fire for a running play he called on what ended up being his team's final play in Saturday's loss to Ohio State. Facing fourth-and-5 at the Ohio State 45-yard line, Miles Sanders was stopped for a 2-yard loss.
Making the outcome worse, the play was called after Penn State used two timeouts after falling behind 27-26.
"We obviously didn't make the right call in that situation, and that's on me, nobody else," Franklin said. "We didn't make the right call, and obviously, it didn't work. We have called something similar like that in other situations, and it broke for a big play. But that's on me."