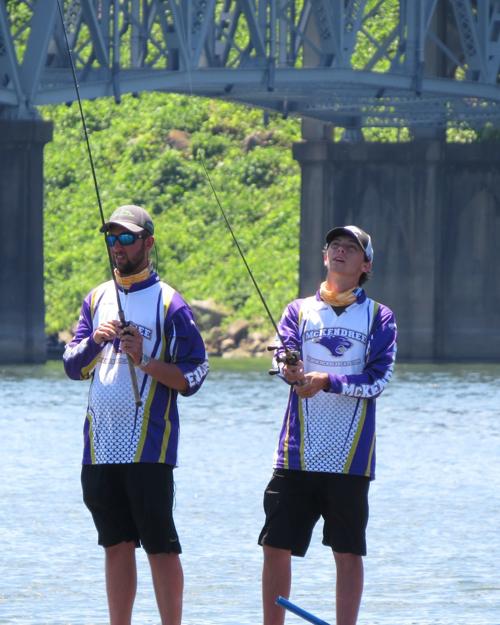 The bass fishing program at McKendree University has reached a level of success that allows coach Jon Rinderer to pretty much stay home to recruit.
Unless you count the lakes he frequents.
Prospective anglers send emails and resumes, allowing Rinderer to pick and choose. When he finds the best candidates, he invites them for a visit, which in this case means a five- to seven-hour fishing trip.
"I take them on the water and fish with them to see what they've got and how dedicated they are," he said. "I'm watching if they can make the casts needed, are they watching everything around them for signs they need to switch baits. Mechanics are huge. Some kids don't have it yet and some really do."
Rinderer needed 10 additions for his team last year and made his selections based on about 25 one-on-one fishing trips.
McKendree then went out and won a second consecutive national team of the year award, which was clinched with a strong performance this month at the Bass Pro Shops tournament on Pickwick Lake in Alabama.
Bass fishing is not an NCAA sport, but the anglers compete at the highest level and receive scholarship money. They attend more than 20 tournaments each season, and McKendree was on the road for 85 nights at events in 2019-20.
The team practices every weekend on a variety of lakes. Rinderer holds tournaments among teammates to determine the traveling squad.
"You have to spend a ton of time on the water," senior Trevor McKinney said. "From the time I entered high school, my mom drove me to the lake in the morning and would pick me up at dark. At McKendree we spend so much time on the water it's crazy."
McKendree went to tournaments in Florida, Texas, Louisiana, New York and Tennessee and other locations. The team travels with boats owned by the anglers. Rinderer makes every trip with his wife, and they cook meals for everyone each day.
The schedule can be grueling. The fishermen might get up at 4 in the morning, be in the water before the sun rises, fish for seven or eight hours and then return to the hotel at 6 or 7.
Rinderer said he once had a McKendree football player join the team. In the middle of a five-day tournament, the player told Rinderer he had never felt as sore in his life.
"These guys work hard and study the sport like any athlete," he said. "A guy will balance on one foot with 2 ½-foot waves while trying not to fall out and making two to seven casts a minute for seven or eight hours. Some days it might be 2,000 casts and you could be out there five days in a row."
Because fishing isn't an NCAA sport, individuals and teams can accept winnings. McKendree brought home about $3,000 from the Bass Pro Shops event that goes back into the program.
McKendree had teams finish ninth and 18th out of 206 boats at Pickwick Lake, which was good enough to hold onto the points lead it had built.
The conditions were rough one day in Alabama. The boats left in strong winds with four-foot waves for a 55-mile trek to the spot that had been identified as best to find fish.
The ride to that spot took about 45 minutes, but the anglers needed about two hours to return in the difficult conditions. One boat nearly didn't make it, pulling into the dock with less than 10 seconds remaining.
McKinney teamed with Blake Jackson for McKendree's best finish, and Bailey Bleser and Nate Doty also finished strong.
The team will begin working toward another championship in August because the fishing season is nearly year-round in college.
"What they do," Rinderer said, "is a lot harder than people think."
Be the first to know
Get local news delivered to your inbox!