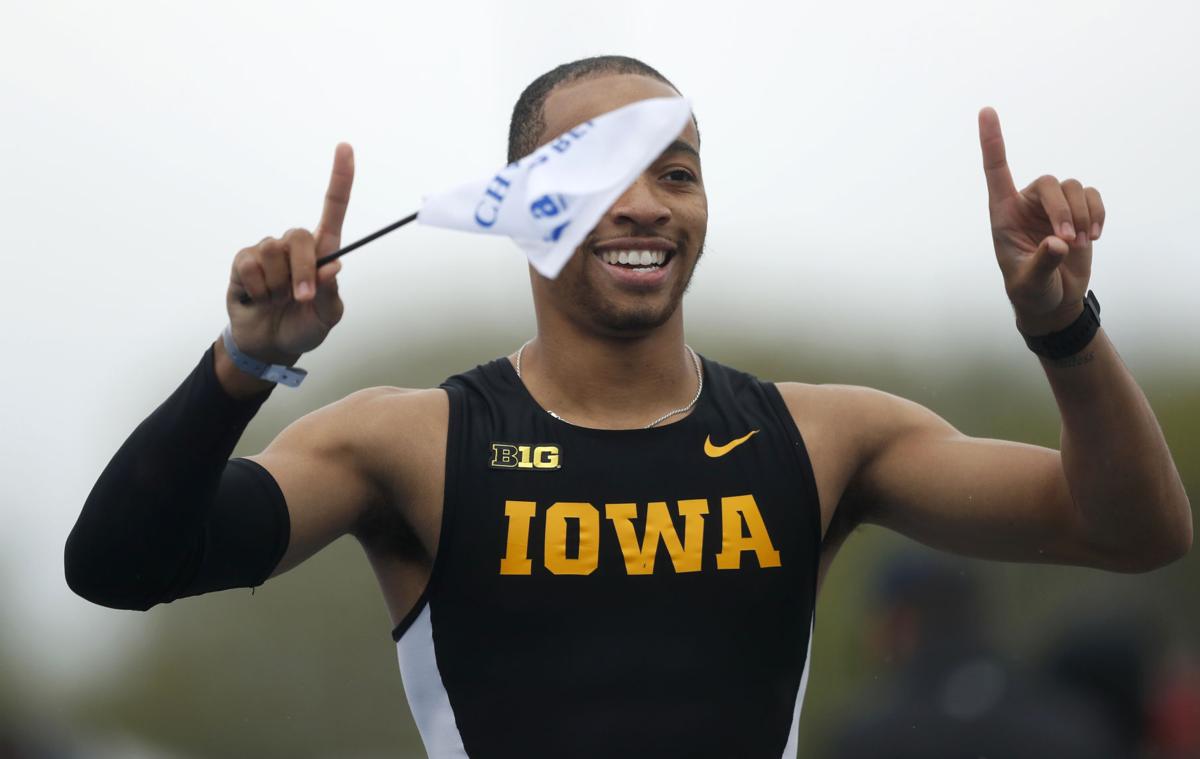 Having finally reached the top of the mountain he had chased for so long, the first thing Aaron Mallett did was drop down to his knees.
Mallett, the Florissant native who went from McCluer North High to the University of Iowa, had finally planted his flag on the world stage, winning the 110-meter high hurdles at a Diamond League race in Doha, Qatar, on Sept. 25, and he wasn't quite buying it. He looked at the trackside timer which read 13.15, and figured it was bound to change.
It didn't. Mallett had not only easily won the race, but he had done it in the third-fastest time in the world this year and the best by an American. And, quite possibly, he changed his future in those 13 seconds as well.
"I looked back at the clock," he said last week by phone from Iowa City, where he has stayed after graduating from Iowa to continue to train with his coach there, "and thought maybe the time was going to adjust, there's no way what that says (is right). I got down on a knee, waiting for the time to actually finalize, and when I saw it, I really just lost it. I knew what that time meant, I knew how fast it was. It felt like everything I've worked for, not just this year but the past three years, because I've had injuries, had come to fruition. Getting a win, and with a time that fast, I was honestly on top of world at that moment. All the emotions, me yelling, me running around the track a little bit, I let it out. The whole experience, honestly, was just great."
Great because it changes Mallett's world, and for the better. It was the last race of Mallett's 2020 season — a season that saw him constantly changing his practice site to find an open place to run somewhere in Iowa City and building his own hurdles out of PVC pipe when he couldn't get access to real ones for his workouts — and in each of Mallett's final three races were a personal best, each a step forward: 13.34 in Switzerland on Sept. 15, 13.23 in Rome on Sept. 17 and 13.15 on a warm (aren't they all?) night in Doha, one day before his 26th birthday. While he wouldn't have minded a few more races considering the progress he was making, it was a very high note to end a season on, and strengthens his hopes for the Olympics, now scheduled for 2021.
"I think it boosts my confidence a lot," he said, "just knowing what those (Diamond League) meets are. They're huge meets, literally the upper echelon of track field outside the world championships and the Olympics. The fact I could say I've won a Diamond League race and with a time that's pretty respectable — it wasn't like I won in 13.40 — was everything because I've had injuries, financial (challenges), all kinds of stuff go on and I didn't quit. That was one piece of what I could accomplish if I just stayed the course.
"Before I ran overseas, I knew the Olympics were my goal. I think it obviously bodes well; I went over there and had my best season ever. I think it really gives me confidence on top of my athletic ability and gives me that extra determination and drive to keep going. My dream is to be an Olympian. It changes the scope because now it seems really real."
Of course, the competition to just get there will be stiff. Four of the top 12 high hurdlers in the world this season, including Mallett, are American, and only three can go, with those three determined by one meet, the U.S. Olympic trials. Have a bad day that day and you're out. Have a better day than the others and you're in. Get hurt and you can forget about it.
Which is one of the things that has made this season stand out for Mallett: He's not hurt for a change. In 2018, his first pro season after closing his collegiate career with a fourth-place hurdle finish at the NCAA championships, he ran in just three outdoor races because of a hamstring injury. His 2019 got off to a good start in the indoor season, as he came in second in the U.S. championships at 60 meters, but his hamstring acted up against and spoiled his outdoor season. He said he was only at about 85 percent when he went to the U.S. championships, so he took his seventh-place finish there as a good sign.
He won the 2020 U.S. indoor championships in February, but then the pandemic began and the track world shut down. "Going into what I thought was an Olympic year, I was excited," he said. "I was motivated, I was confident, and then everything with the virus kicked in." He didn't race again until August, when he made the first of his two trips to Europe for meets.
If Mallett's hamstrings are fine, he still has purse-string issues. He gave himself a deadline at the start of last season: If he didn't have a sponsor at the end of the year, that would be it. As of now, he doesn't have one. Running track isn't cheap, and at the same time, when you're practicing 2½ hours a day and then disappearing for weeks at a time for competitions in Europe, having a regular job isn't easy. That's why Mallett figures he's had about 10 different jobs over the past three years — "It's not because I'm a terrible employee" — as he tries to find what he calls the "sweet spot" of balancing his need for money with the time he needs while making sure his employer is getting its money's worth. He's worked at two car rental companies, a bank, Panera Bread, coached track and, right now, at Scheels, a sporting goods chain, where he works in online order fulfillment.
He now hopes that his solid season and win in Doha — which also gave him a $10,000 first-place check — will get him the sponsor he needs.
"I'm working a little bit more since I know I'm not going to be traveling because my season is over," he said, "trying to develop a little bit of a nest egg to prepare me for next year. The way I understand that track contracts are set up, they don't really sign people until December, so I'm waiting on that. I'd like to assume I will get one based on my performances but you never know. I'm hoping something comes up. Hoping for the best, preparing for the worst."
Though, as Mallett has shown, he's got a knack for clearing hurdles.
Be the first to know
Get local news delivered to your inbox!