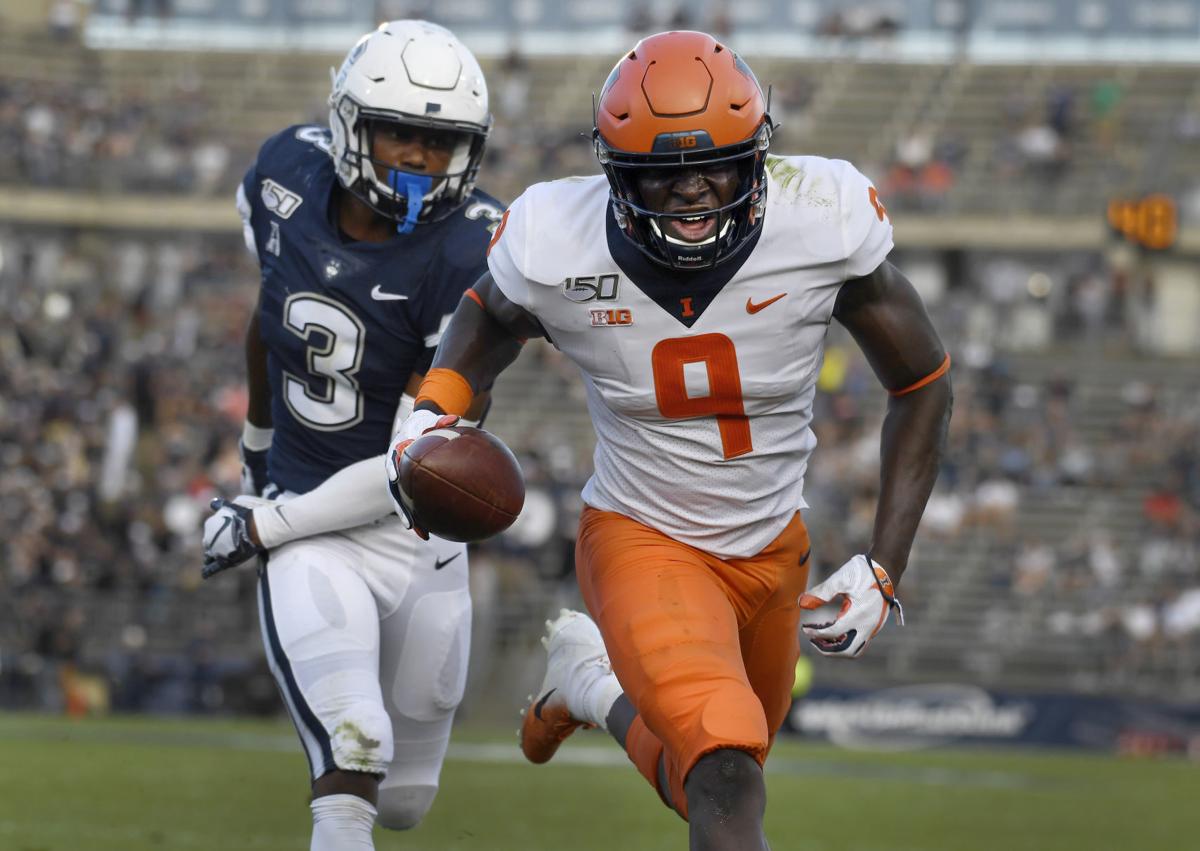 CHAMPAIGN, Ill. — Brandon Peters is the first to admit he could use more practice reps in coordinator Rod Smith's offense. Of course, virtually no football player is going to say they're a finished product after the second game of the season.
Peters has been around the block and is in his fourth playbook as a college football player. Maybe there's no secret to learning playbook, but he's got experience in college football and can see similarities in each of the playbooks he's experienced. That seasoning has helped him adjust to his new digs quickly.
In his first two games for Illinois, Peters is completing 65.5 percent of his passes and has thrown seven touchdowns and one interception. The competitions will pick up, beginning with Saturday's 11 a.m. home game against Eastern Michigan to close the non-conference schedule, but Peters has fit into the offense seamlessly through the first two games.
"I feel pretty comfortable with it, but I did make some mental mistakes," Peters said. "There are a lot of things I still need to clean up with the process of everything, but each week I'm getting more and more comfortable with it."
His seven touchdown passes are already more than the six A.J. Bush Jr. threw last season to lead the team and tied with Jeff George Jr.'s season total from 2017. It's allowing Smith to open his playbook.
"Brandon can throw the ball with the best of 'em," Smith said. "That allows you freedom to push the ball down the field, to open up your throw game a little bit more. The more balls you're able to complete, the more I see him dissecting defenses and understanding exactly what's going on with them and with him breaking things down, the more comfortable I get with him as far as being able to put more on his plate."
Peters' success is as much a reflection of him as it is of who's on the other end of his passes and the experienced offensive line keeping him upright. Smith and head coach Lovie Smith re-vamped the passing game in the offseason. They brought in Peters, a graduate transfer from the University of Michigan with two years of eligibility remaining, and receivers Josh Imatorbhebhe and Trevon Sidney from USC, each with two seasons of eligibility remaining.
The receiver group is substantially deeper than it was last season at this time, particularly after Mike Dudek's season-ending knee injury in Week 1. Illinois struggled with dropped passes last season, and the passing game never seemed to get any real rhythm. The new guys are clicking early. Imatorbhebhe — who had two touchdown catches in a win against UConn — has been targeted seven times with six catches. Sidney has seven catches and a touchdown.
They're jelling early, even though they've only been playing together for a few months. If Peters wants his receivers to run a route differently, he's comfortable enough to ask them. If the receivers are noticing something unique in a defensive back, they're comfortable enough going to Peters to share that.
"I feel like we're coming together," Imatorbhebhe said. "We're getting used to playing with each other and each other's playing style. There's really good communication, too."
So far the passing attack, from Peters to the lineman to the receivers to the running backs, has shown a production that the Illini haven't had in a few years. The true test will come from here on out, against opponents with a real chance of being in a bowl game. But so far, so good, especially from Peters.
"I talk about some things we did wrong, and Brandon will be the first guy to say he'd like to have a few plays back," Lovie Smith said. "Think about that scramble for the touchdown. He did some awfully good things, too. Do we expect him to give us that type of play? Yes. He'll give us that and more in the future."