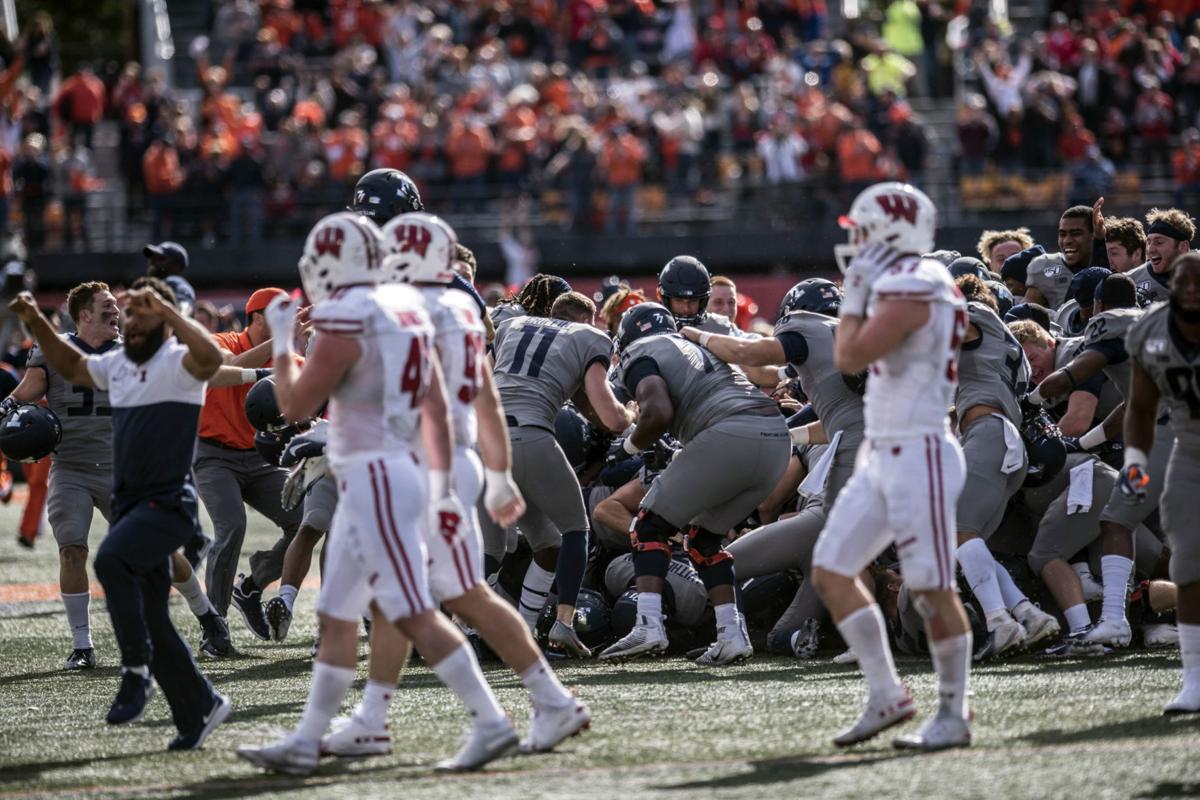 CHAMPAIGN, Ill. — James McCourt had no idea which guys had their big, burly arms wrapped around him and hoisted him into the air. All he saw were smiling faces and felt elation surrounding him.
Seconds after McCourt kicked a 39-yard field goal on the final play of the game to upset No. 6 Wisconsin on Saturday at Memorial Stadium, offensive lineman Alex Palczewski raced near midfield to find his kicker at the bottom of a pile, grabbed McCourt and lifted him high above a sea of celebration from players and fans.
McCourt's kick gave Illinois (3-4, 1-3 Big Ten) a 24-23 win over the Badgers (6-1, 3-1) for its first victory over a ranked foe since 2011, and Wisconsin is the highest-ranked team the Illini have defeated since they beat then-No. 1 Ohio State in 2007.
The winning kick followed an interception by defensive back Tony Adams, a junior out of Belleville and St. Louis U. High. It set up the Illini at their own 47-yard line with 2:32 to play.
"I just saw a bunch of happy people," McCourt said after the celebration. "It was something unbelievable. Honestly, it sounds weird, but I had a little bit of déjà vu when I was up there. It was something I thought I saw before.
"I've dreamed about this for as long as I can remember. It was something I've always wanted. I knew this opportunity would come eventually. It's every kicker's dream. For it to be against a nationally ranked team like Wisconsin just adds the cherry."
McCourt figures he might have passed out at the bottom of the pile. Teammate Jake Cerny told his kicker that "he saw his eyes roll back in his head." McCourt insisted that the 40-yarder he missed in the first quarter wasn't on his mind, and that he tried to keep the same technique he would have used for an extra point. But this was bigger, and it was redemption.
"To miss one early, but then you get a chance at the end, of course, to win it like that, you dream of kicking that game-winning field goal," Illinois coach Lovie Smith said.
The win was the biggest of Smith's four-year tenure in Champaign. It couldn't have come at a better time. The Illini had lost four in a row, including a loss at home to Eastern Michigan, a blown 14-point lead against Nebraska, a lopsided loss to Minnesota and another to Michigan when Illinois trailed by just three points in the fourth quarter.
There have been signs and moments of flashes that showed the team's potential, but never a full game. Never against an opponent like Badgers.
Smith was elated and charged onto the field with his arms raised high and a smile that burst through his grizzly white beard.
"This is our signature win," Smith said. "We've needed a signature win. Against the No. 6 team in the country, we played them toe to toe. We saw so much fight. We learned an awful lot about ourselves. We're pumped up. One of the best wins we can possibly have at this stage in our program.
"All the things we've gone through, losing tough games the way we have, injuries, all the things that have gone against us, to step up this way and for the momentum to change, a lot of things had to happen to go our way, and they did."
Before his game-changing interception, Adams saw Wisconsin's formation and knew it was his chance to redeem himself. The Badgers had been burning him on the same play all day. Adams hid behind an offensive player and stepped up to pick off Badgers quarterback Jack Coan. Illinois moved 26 yards to set up McCourt's kick.
The interception highlighted a strong defensive performance by a unit that has been much maligned for the yards and points it had allowed this year and in most of Smith's tenure.
"You know that was a heck of a pick," Wisconsin coach Paul Chryst said. "Obviously, you would like to have that one back. We didn't make enough of those plays in different areas to win the game."
The Illini held Heisman Trophy hopeful Jonathan Taylor in check, or about as well as a team can keep him in check. He ran for 132 yards and scored a touchdown, but had a long run of 22 yards. He entered the game averaging 137½ rushing yards, with 14 rushing touchdowns.
Illinois linebacker Dele Harding led the team with 16 tackles and had a tackle for a loss. He, unlike Palczewski and most of his teammates, didn't quite make it to the pile near midfield to celebrate. Instead he dropped to both knees on the sideline, covered his face with his hands and cried. He cried about how much this win means, about how much work his team has put in since their freshman year, about the lumps they've taken and about Bobby Roundtree, the injured defensive star.
It was so much. It all meant so much.
"We fought so hard from freshman year on up, this past summer and especially doing it for Bobby," Harding said. "I broke down, man."
Then there were the turnovers, the saving grace that kept Illinois in the game all day. Smith hangs his hat on turnovers, and linebacker Jake Hansen delivered. He forced a pair of fumbles, giving him seven this year.
When Hansen walked down the steps into the foyer of the Henry Dale and Betty Smith Football Center, still in his gray jersey with an unlit cigar in his hand, he shouted a reminder that Illinois was a 31-point underdog.
Two and a half hours after McCourt's kick flew through the upright, the scoreboards in Memorial Stadium never changed.
"Illinois 24. Wisconsin 23."
It was real, and it might be a momentum-shifting win for a team that desperately needed it.
"It's so fulfilling," Hansen said. "It just gives you that confidence going forward. It lets you know that it doesn't matter if it's a ranked opponent. We can play with anyone."
Be the first to know
Get local news delivered to your inbox!