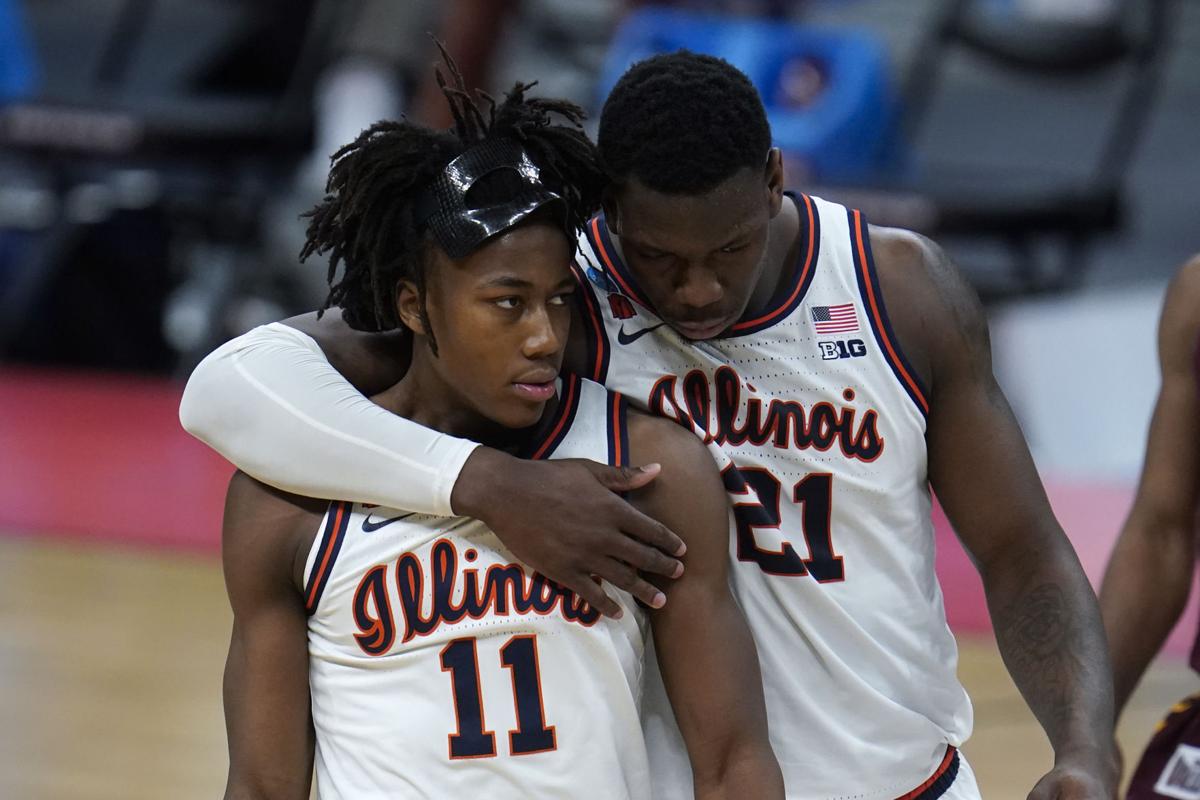 CHICAGO — Illinois junior Ayo Dosunmu announced late on Tuesday what has been hinted at all season: He will forgo his remaining eligibility and hire an agent as he enters the NBA draft.
Dosunmu, who is projected as a first-round pick, was a consensus first-team All-American and won the Bob Cousy Award as the nation's top point guard. He helped Illinois to a Big Ten Tournament title and a No. 1 seed in the NCAA Tournament, averaging 20.1 points, 6.3 rebounds and 5.3 assists while shooting 39% on 3-pointers, and his late-game heroics made him an Illini fan favorite.
"It's something I wanted to do since I was a kid," Dosunmu said. "I put so much into my game at a young age, long nights. It's a passion and a mindset of me wanting to be great and play against the best players in the world."
Dosunmu considered entering the draft last season.
"What makes me think I'm ready for the NBA is last year I went through the draft process and I got so much feedback from nearly every NBA team," Dosunmu said on ESPN. "I just wanted to turn what they said into constructive criticism, and I just worked at it. I improved on pretty much on all of my offensive and defensive stats."
The NBA draft will be held July 29. A draft combine is scheduled for June 21.
Dosunmu likely will become the first Illinois player selected since Meyers Leonard was taken No. 11 overall in 2012 by the Portland Trailblazers. (Chicago Tribune)
US considers boycott of Beijing Olympics: The State Department said Tuesday the Biden administration is considering a possible boycott of the upcoming Beijing Winter Olympics to protest China's human rights record.
Department spokesman Ned Price said the U.S. is consulting with like-minded countries around the world to determine how to proceed. Price says the administration is discussing China strategy, including participation in the Olympics, with a number of partners and allies in order to present a united front.
Human rights groups are protesting China's hosting of the Games, which are set to start in February 2022. They have urged a diplomatic or straight-up boycott of the event to call attention to alleged Chinese abuses against Uyghurs, Tibetans, and residents of Hong Kong. (AP)
Alvarez calling it a career at Wisconsin: Wisconsin athletics director Barry Alvarez is retiring after a three-decade run in which he transformed the university's football team and later guided the Badgers to their greatest all-around sports success in school history.
The 74-year-old Alvarez said Tuesday he would retire on June 30.
"It has been an honor to be a part of Wisconsin athletics and I take great pride in all we have accomplished over the last three decades," Alvarez said in a statement. "From championships, to improvements on campus, to impacting thousands of student-athletes, it's been a great ride."
Alvarez arrived at Wisconsin in 1990 as football coach and turned one of the Big Ten's weakest programs into one of its strongest. He became athletics director in 2004 and briefly served in a dual role before stepping down as football coach after the 2005 season.
Alvarez set a program record for career coaching victories at 119-74-4.
He was inducted into the College Football Hall of Fame in 2010. (AP)
Garza, Bueckers take Wooden awards: Luka Garza of Iowa won the John R. Wooden Award as the nation's top men's college basketball player.
The award presented by the Los Angeles Athletic Club was announced Tuesday.
Paige Bueckers of UConn won the women's Wooden Award. (AP)
Man City, Real Madrid win in Champions League: Phil Foden capped a fine Champions League display for Manchester City with a 90th-minute goal to secure a 2-1 win over Borussia Dortmund in the first leg of their quarterfinal on Tuesday in Manchester, England.
• Vinícius Júnior scored a goal in each half as host Real Madrid defeated Liverpool 3-1 in the first leg of the Champions League quarterfinals. (AP)
SLU women's Kent to transfer: Rachel Kent, who averaged 11.8 points and made 43% of her 3-pointers the last two seasons, announced on Twitter that she is transferring from St. Louis University to play basketball at Indiana University-Purdue University Indianapolis. Kent started every game in two seasons for the Billikens and averaged 35 minutes per game. (Stu Durando)
SIUE tops SLU in baseball: Brady Bunten hit a pair of three-run home runs and Brett Johnson drove in five runs to lead Southern Illinois Edwardsville to a 16-10 baseball win over visiting St. Louis University. The Billikens (8-19) led until the Cougars (13-12) scored eight runs in the fifth. (Stu Durando)
Four UMass players out at Frozen Four: Massachusetts will be without four players when the Minutemen face Minnesota Duluth on Thursday night at the Frozen Four NCAA hockey championships in Pittsburgh, due to COVID-19 contact tracing protocols, UMass announced Tuesday.
The Minutemen will meet two-time defending champion Minnesota Duluth in the national semifinals in a rematch of the 2019 NCAA championship game. The winner advances to Saturday's national championship game against either St. Cloud State or Minnesota State. (AP)
Syracuse ends soccer season: The Syracuse University men's soccer team has decided to end its season after a positive COVID-19 test and subsequent quarantining in the program.
The Orange (2-7-4) had one game left on the regular-season schedule, at home against Wake Forest on Friday. (AP)