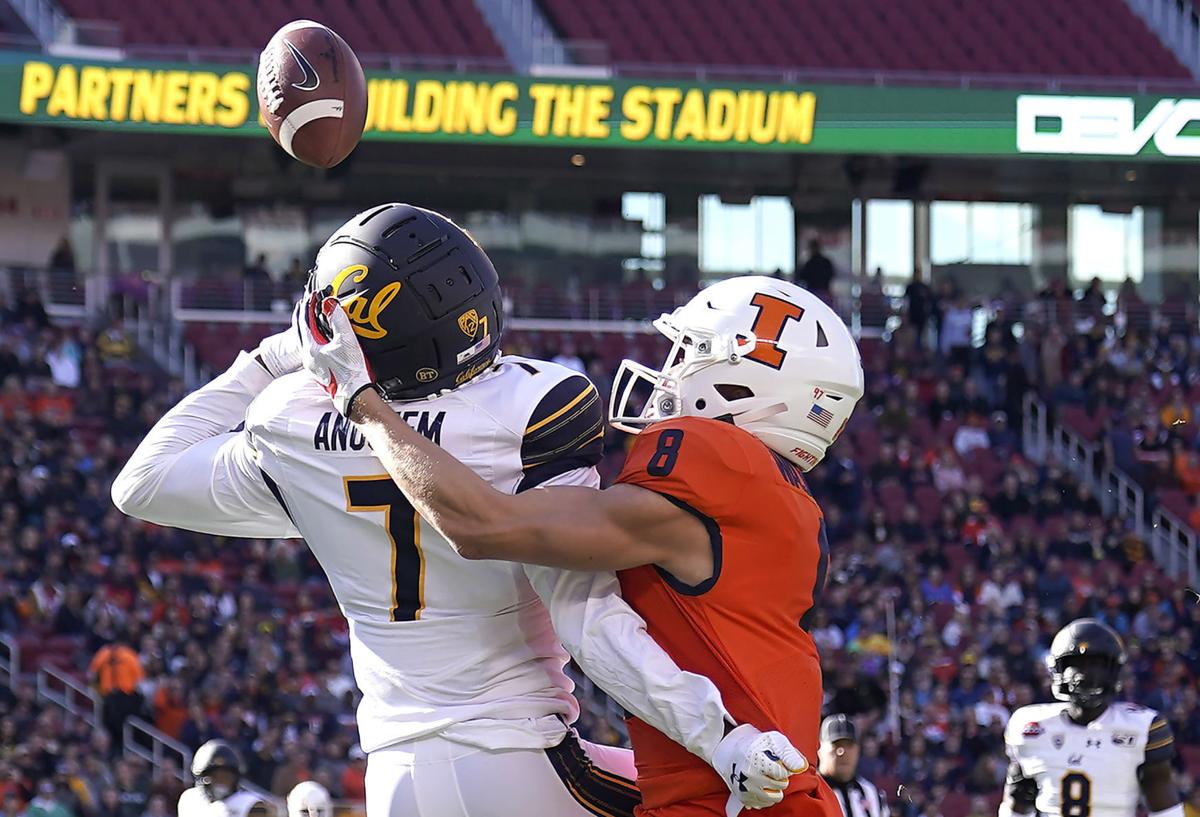 CHAMPAIGN, Ill. — After training camp last season, Casey Washington wasn't shy about showing off his glue-like hands.
One-handed grabs in the end zone were customary, if not the normal. With confidence, he would sky, hellbent on making a highlight reel catch with people crowding around. Washington carries himself with flair. When he visited the Illinois campus on a recruiting visit, head coach Lovie Smith recalled, Washington brought an extra pair of shoes so he could find his way to a field to catch a football.
Last year, as a freshman receiver from Pflugerville, Texas, Washington showed flashes of his talent. He started in five of the 10 games he played in and had 11 catches for 132 yards, including a big catch in a win over then-No. 4 Wisconsin. There was an adjustment period, Washington said, to understanding defenses and coverages — things that come along with college football.
"Coming from high school, you're just kind of out there playing football," Washington said. "You get the schemes, the coverages, everything that hits you at once. For me, it was a lot to take in. It was a great learning experience. I'm grateful I was able to get on the field. I think it's helped me this year, just slowing the game down to be able to play football."
Smith called Washington, who was lightly recruited out of high school, a "football junkie." Coverage recognition was a challenge, so Washington dove into the film to look at defensive back tendencies and what he needs to do to be in the right spot at the right time to make a play.
There's a competitive chip placed right on Washington's shoulder, one that was built from being overlooked in high school, even though his father, Greg Washington, played at Kansas State. Washington's only other Power Five offer was from the University of Kansas. The lack of offers could have been, in part, because he played in a run-heavy wing-T offense in his school — not exactly conducive for a wide receiver to show off skills.
His first season in Champaign was solid, but he's not yet at the level he wants to be.
"I definitely have a chip on my shoulder but I don't feel like I've done anything yet," Washington said. "I've got to keep working and compete every day to get to where I want to be. ... I'm a competitor. When you feel like of like people turned away from you, kind of take it personal sometimes and it builds a chip over time."
The 6-foot-2, 190-pounder will be a part of a position group this year that has added plenty of talent in the offseason, including transfers Brian Hightower, Khmari Thompson and Desmond Dan.
"It didn't surprise me he was able to get time as a freshman," Smith said of Washington. "Now, he's taken that game to the next level. He knows a lot more about what's required of him to be a real good Big Ten football receiver. He can catch the ball; he's as competitive as anyone around, and he's going to give us better play this year than he did last."
Broadly, Smith said, the second time around is always easier in the football world. The second college game is easier than the first. The third easier than the previous two. It goes on and on. The second season, naturally, will be easier than the first season. The routines are in place, making the preparation more of a second nature. The unexpected slowly morphs into the expected.
Now that things have slowed down, consistency is one of the biggest steps in improvement, Washington said.
"I think every day, as long as I'm consistently getting better, that's one of my bigger goals," he said. "You've got to prove yourself every day; that's part of consistency. That's what I want to do this year is show every game, every play, every snap that I should be out there. Just compete, man."
Be the first to know
Get local news delivered to your inbox!