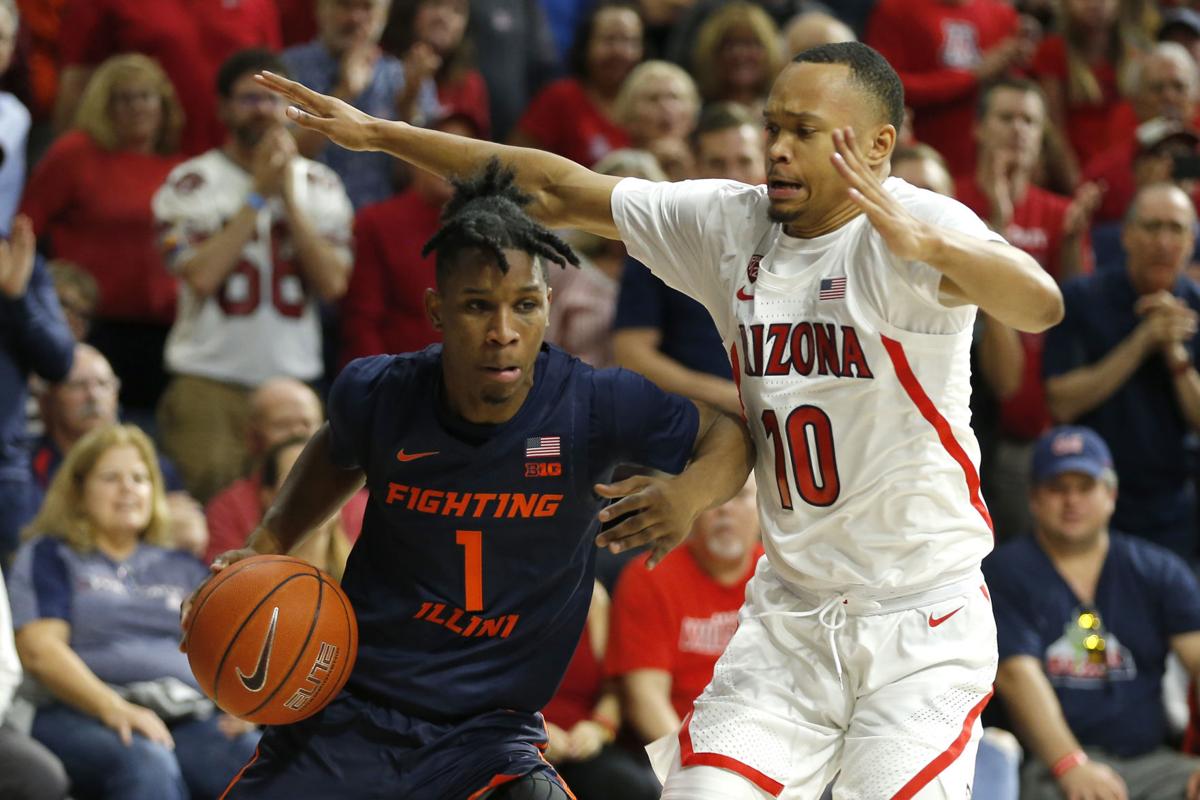 CHAMPAIGN, Ill. — The final defensive possession against Nicholls State in regulation mattered deeply to Trent Frazier. When the Illinois basketball team desperately needed a stop, head coach Brad Underwood called on his 6-foot-2 junior guard to preserve a chance at a win and avoid a loss that would have soured the taste of the season after just one game.
Frazier delivered. He battled through screens and stuck with Nicholls State guard Kevin Johnson, forcing him into a travel with two seconds remaining. Through six games this season, he's been the defensive stopper for an Illinois (5-1) team that hosts Division II Lindenwood at 7 p.m. Tuesday.
"Being able to get that game-winning stop, to help us get to the free throw line and get the ball back at least, that means a lot to me," Frazier said. "To be able to actually finally lock in and engage on defense and be the person that coach trusts to put on the ball and get the game-winning stop, it means a lot to me."
There's a tenacity about Frazier on defense, one he didn't have at Wellington High School in Florida. In high school, Frazier could rely on his basketball intellect and athleticism to make enough plays on defense to get stops, but for the most part, he was a scorer with very little interest in playing defense.
There's no way the high school version of himself could have foreseen himself turning into a defensive menace.
"Not a chance," Frazier admitted. "I played defense rarely ever in high school. Just based off my talents and my abilities, I could just basically gamble my way on defense, just based on the IQ I have. For three years I think I've grown and developed as a player. It's incredible.
"I have a smell for the ball. I'm very active on defense and I just try to do the best I can to contain guys. Obviously I'm not the strongest or the tallest, but I'm smart on defense. I try to use my abilities and my speed and beat guys to the spot."
His passion is so fierce that he texted Underwood at 1 a.m. Sunday morning to see how he graded out on defense after a blowout win against Hampton on Saturday night. He wasn't concerned with finding more shots. He only took two. He knows those are coming.
"Again, it's the evolution of what a college basketball player is about as they become older," Underwood said. "Early on, he was a scorer in high school and he came in with that mentality. He was asked to do that as a freshman. Now he's about wining and he's about doing whatever.
"He wants the challenge every single night of being the Marcus Smart or Pat Beverley (two NBA players known for their defense). He wants that stigma and that identity to him. That's the growth and evolution of a really, really good kid and a very competitive player."
The shift began last season, and Frazier has embraced his defensive role for the team. Underwood spent the past few months boasting about Frazier's development and maturity on defense.
Frazier has taken it and run with it this year. He hasn't had an offensive explosions like he had in his first two years. His season-high is 14 against Arizona, and he's averaging 8.5 per game, but there isn't a hint of worry. He knows it's coming, and it's fueled by his work on the defensive end.
"I can't just be a scorer," Frazier said. "Guys are going to come at me every night just based on my height. Obviously I'm not the strongest, but I kind of take that as a personal goal every night, just being focused and not letting guys score on me. No easy buckets.
"I think this year I'm so mentally focused on defense that when I get an open shot on offense, it's going in. It's like I'm more interested in defense now than offense. I'll do whatever the coaches want me to do and I'll do whatever to help this team win."
Cockburn named Big Ten Player, Freshman of the Week: Illinois' Kofi Cockburn swept both Big Ten weekly honors, the conference office announced on Monday, taking home league Player of the Week and Freshman of the Week awards.
Cockburn averaged 17.7 points and 14.7 rebounds and had a double-double in all three Illini victories.
He becomes the first player to sweep the league's weekly player and freshman award since Nick Ward of Michigan State on Feb. 27, 2017. This is already the second B1G Freshman of the Week honor, meanwhile, for Cockburn (Nov. 11).
"It's really beautiful," Cockburn said. "I'm excited about it. I'm overwhelmed. I didn't expect player of the week. It's a really good feeling."