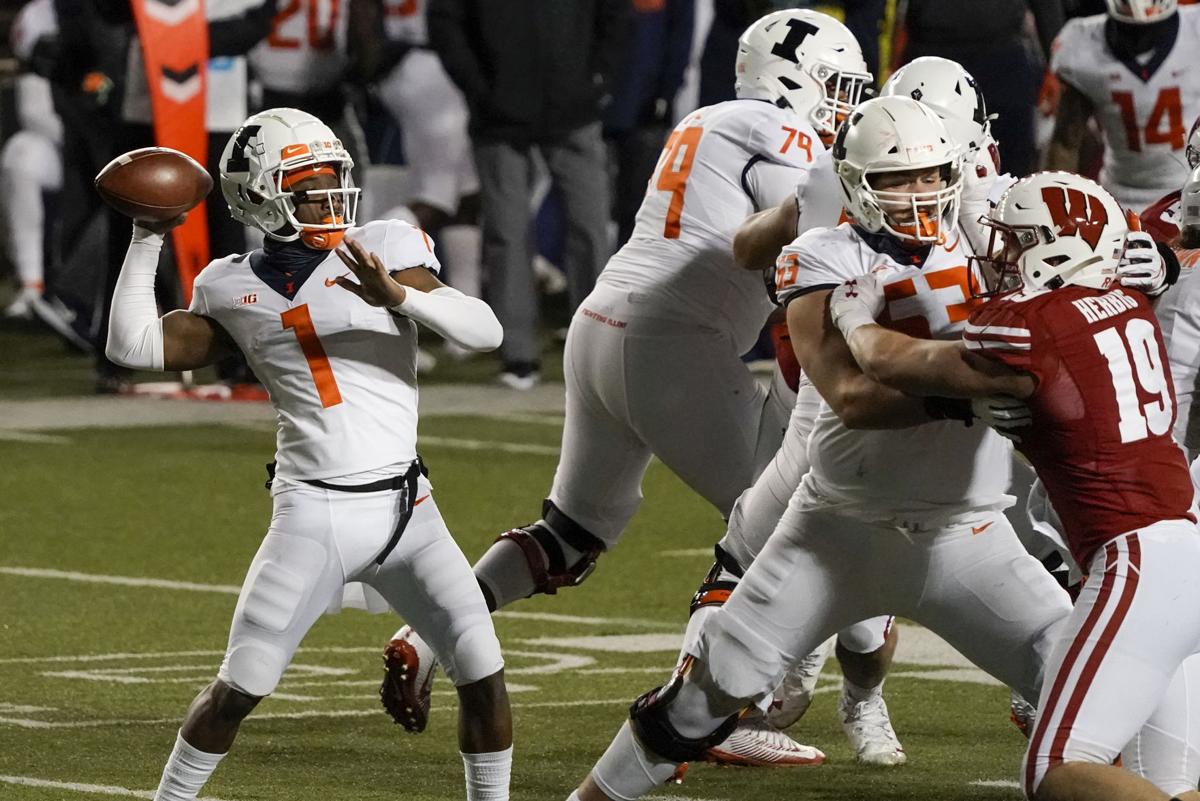 CHAMPAIGN. Ill. — In the two weeks leading up to Illinois' opening game, Isaiah Williams showed electricity on the field — the kind they saw when they recruited him out of Trinity Catholic High School in St. Louis.
He was highly touted coming out of St. Louis as a four-star dual-threat quarterback with offers from nearly all the power programs in the country. Williams, who is 5 feet 10, 180 pounds, battled injuries off and on last season en route to a redshirt season. He played in four games and played some slot receiver in the Redbox Bowl loss to California.
In the offseason, Williams bulked up his body for the wear and tear of the Big Ten, offensive coordinator Rod Smith said.
When Illinois traveled to Wisconsin, Smith had a package in place to get Williams on the field. The results weren't exactly great against what could end up being one of the top defenses in the country — Williams had 5 yards rushing and threw an interception — and Illinois lost 45-7 without scoring an offensive touchdown.
"He proved in practice that that was the guy we recruited, we saw in practice," Smith said. "He was much better than what he was last year at this time. Was it too early? I don't know. We're going to keep on playing him. We're going to keep on getting him reps and getting him ready. At some point in time, he's going to play, at some point in time during his time here. I want to make sure, whenever that time is and whether that's this week coming up or two weeks or whenever it is that he's better the next showing than he was his last showing."
Illinois starter Brandon Peters said after the game he was surprised at how much Williams played, but knew Smith had a package in place for him. In particular, Peters noted a second-quarter drive during which Illinois was trailing 14-0 and Williams played quarterback for the first four plays of the drive.
On the fifth play, though, with Illinois facing a fourth-and-2, Smith put Peters back in to move the chains. His pass, intended for Josh Imatorbhebhe on a slant route, was incomplete. To that point, Illinois had only picked up four first downs on five drives.
"When we went through a little dry spell there for a while, there wasn't much going on, I said, 'I'm going to give Isaiah a shot, and see if he can give us a little bit of a spark,' because his style brings a little different," Smith said. "If you notice, a lot of the runs were getting on the perimeter. Isaiah's pretty good at doing that. He's pretty electric. It was more that than anything. It wasn't like it was planned. That was kind of out of trying to get a spark. I told Brandon it's not a negative on you, it's just we were trying to get a jump start and get going. He understood. That's part of the matchups throughout the course of the game.
"I told Matt Robinson, and Matt's been very good as well. I played Isaiah because Isaiah's skill set kind of matched what we could possibly do a little bit better against Wisconsin. It just didn't come to fruition and we didn't do a good enough job."
Though Peters has been the team's leading rusher in each of the last three games dating back to last season, Williams offers a speed dimension to the offense. Peters seems to recognize that.
"Isaiah is maybe a little bit of a different player than I am," Peters said. "He's a great athlete and he can make plays on the ground and throwing as well. If it's in the game plan for Coach Rod to switch it up, I'm in full support of that. I've just got to do what I can do when I'm out there on the field and do the best I can do."
None of this is to say that Peters doesn't have a frim grasp on the starting position. Head coach Lovie Smith reiterated that Peters is the team's starter.
"We wanted to get Isaiah a couple plays," Lovie Smith said. "Brandon is our quarterback. We had a package when we were using Isaiah a little bit, we may do that again this week. It's a little change up is all that is. Brandon is going to play outstanding football for us this year."