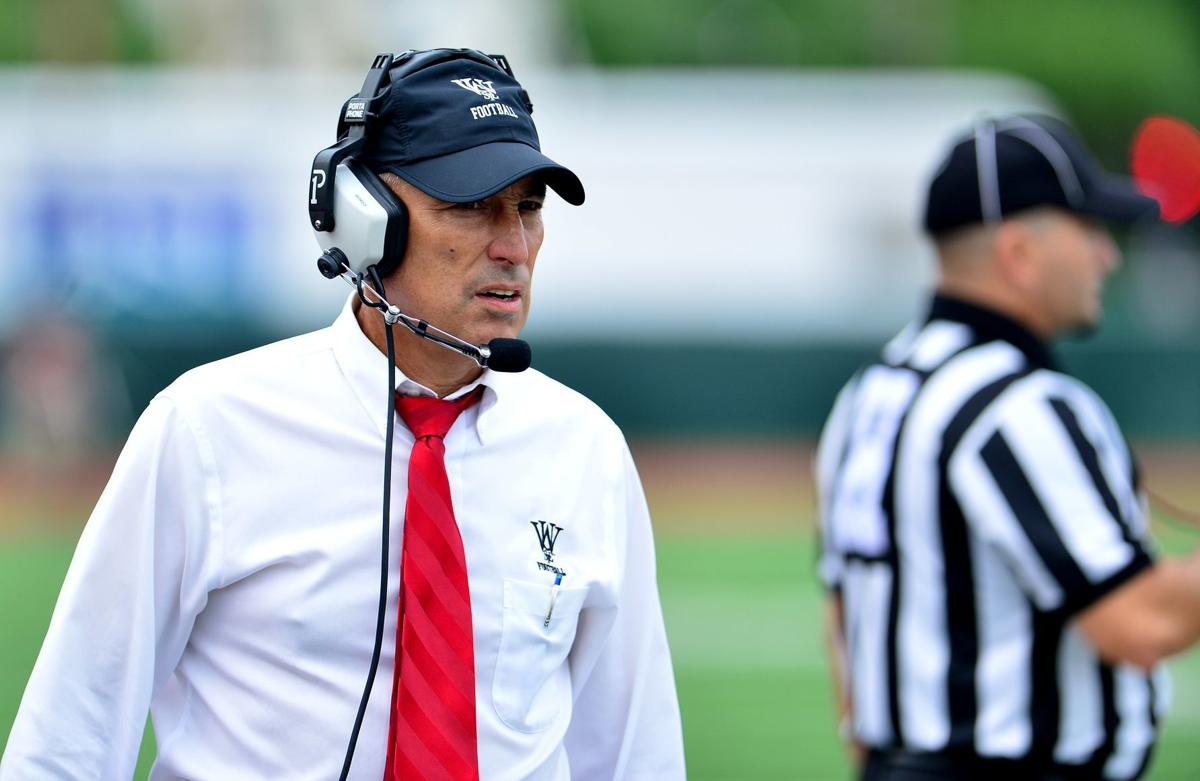 The first time Larry Kindbom's parents saw him on the sideline as a coach, he was a graduate assistant under Woody Hayes at Ohio State in 1977.
The Buckeyes and Oklahoma were two of the top teams in the country. Ohio Stadium had a record crowd that day. And the Kindboms had prime seats.
"With that atmosphere, I knew my dad was going to love it," Kindbom recalled. "After the game – and we lost a heartbreaker – my dad comes down as the stadium is clearing out. He looks at me and says, 'Now are you ready to go out and get a job?'
"I looked at him and said, 'People do get paid to do this.' It was almost like saying, 'You know what? I think I really want to do this.'"
Kindbom relishes the memory as a meaningful moment with his parents and the time at which he decided that coaching and not law school would be his path.
Now in his 31st season at Washington University, he has decided this will be his last year as a head coach. Kindbom will walk the sideline at a home game for the last time Saturday when the Bears face Millikin at 1 p.m.
He has a career record of 219-148-1 and is 191-118 with the Bears. But while coach has been his title, he always has been about much more than the sport.
"Football has never ruled my life," he said, "although it's certainly been a major part of the template."
For Kindbom, coaching has always been a mix of football and relationships. That's why he cherishes the one painting that hangs in his house.
As he helped Hayes clean out his office in 1978, the hall of fame coach told Kindbom he could take anything he wanted. The only thing he asked for was the painting done by former Illinois coach Robert Zuppke.
"It's the most beautiful picture to me because I know a coach painted that and gave it to a competitor because he respected Woody," Kindbom said.
Learning from a legend like Hayes was a nice launching point, but Kindbom went on to create his own legacy in the quiet of Division III football.
He has left a mark but likes to think that his players — the lawyers, the CEOs, the 65 doctors — have had an even more indelible impact on his life.
"I really do enjoy when they come back and talk about their journey," Kindbom said. "I'm such a small part of it. If anything, I'm just a guy who sat and applauded as they went through."
Kindbom's teams won 12 University Athletic Association championships and one in the Southern Athletic Association. He has coached 33 All-Americans and 15 academic All-Americans.
Washington University won the coaching staff of the year eight times in the UAA. Just last season Kindbom was coach of the year in the program's first season in the College Conference of Illinois and Wisconsin.
But he said his most cherished award was the 2009 Breaking the Silence award for his work involving childhood depression and suicide. Kindbom ran a marathon and raised money for the Jason Foundation, created to combat youth suicide.
He was struck by a conversation with a former player after reading that one in eight kids has thought about or committed suicide.
"I asked what he thought about those numbers, and he goes 'Coach, that's probably about right,'" Kindbom said. "I said, 'OK, how about on our team?' He thought about it and said, 'That's probably about right.' I was floored."
Since that time, Kindbom and his players have worked each year with local schools on a program focusing on teamwork with the message of inclusion to aid the Jason Foundation effort.
Kindbom doesn't know what he will do next. He hasn't ruled out coaching in some form, maybe as a volunteer at a high school or some other role. Maybe the next move will be a surprise, just like his coaching career.
"It's time and I love coaching so I don't know what's going to happen," he said. "It's just time. I just feel it."
Be the first to know
Get local news delivered to your inbox!