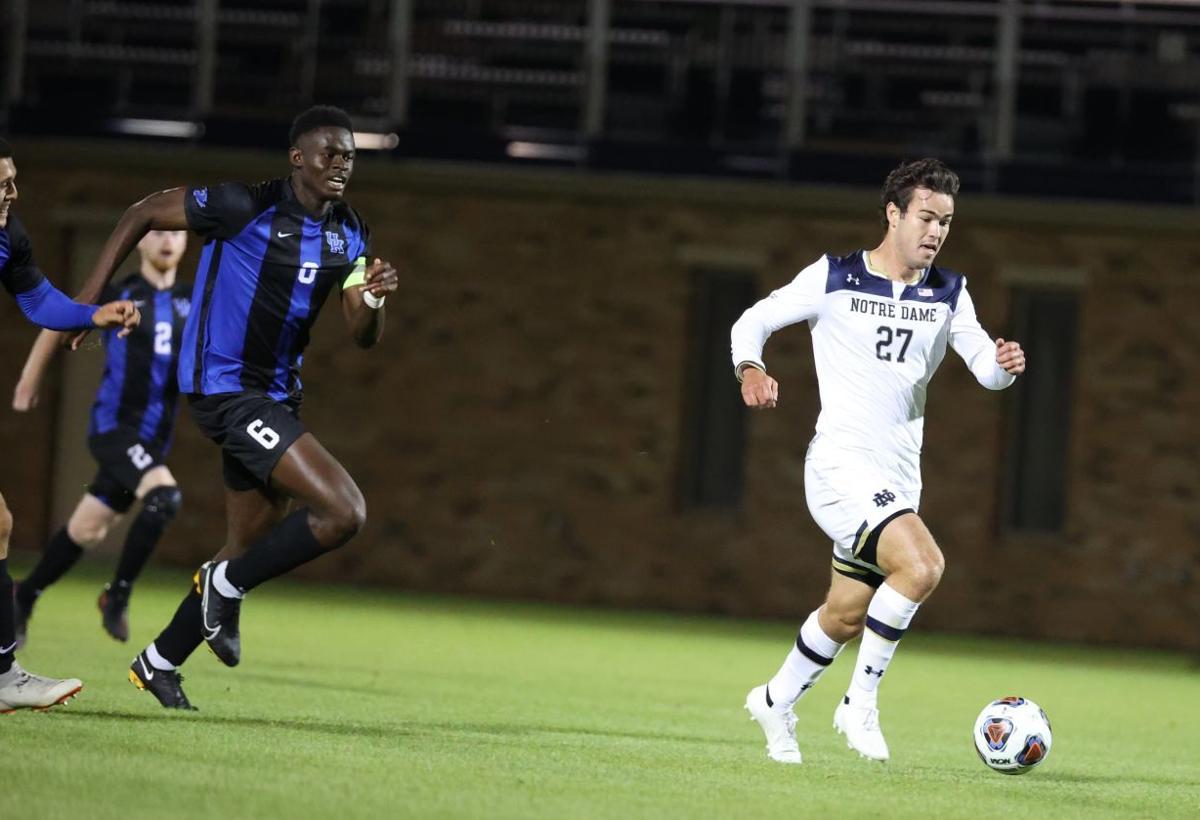 Jack Lynn has always been a goal scorer. It started when he was a youngster in the St. Louis Scott Gallagher system and has carried over to his time at the University of Notre Dame.
Last year, as a sophomore forward, he led the Fighting Irish with 10 goals and 21 points. This fall, in a schedule limited by the coronavirus, the 6-foot-2 Lynn finished the regular season as the top scorer in the Atlantic Coast Conference, finishing the seven-game season with six of Notre Dame's 10 goals.
He capped the regular-season in style early this month against visiting Louisville, scoring his first career hat trick in the first half of a 4-1 victory. After converting a penalty kick in the eighth minute, Lynn received a pass from teammate Ben Giacobello at the edge of the box in the 24th minute, stepped over the ball and scored with a shot to the far corner. In the 32nd minute, he made it 3-0 when he one-timed a crossing pass from teammate Aiden McFadden past the Louisville keeper.
For his efforts, Lynn was named ACC offensive player of the week and was also honored as player of the week by Top Drawer Soccer and College Soccer News.
"My teammates did a great job of getting me the ball in good spots and everything just seemed to fall into place for me that night," Lynn said. "And because we were able to have some fans that night, my parents were there, which made it even more special."
Added Notre Dame coach Chad Riley: "Jack's been playing well this whole season, really his whole career. ... But I think he has taken his game to another level. He is clinical in the box, his hold-up play is good and he works really hard. I think you are seeing that come to fruition. I'm not sure there is a better No. 9 (center forward) around."
Lynn and his Notre Dame teammates opened Atlantic Coast Conference Tournament play on Sunday afternoon with a 1-0 overtime victory over North Carolina. But in Wednesday's semifinals, the Irish (5-4) fell 3-1 to top-seeded Pittsburgh, the No. 1-ranked team in the nation.
Pitt (7-0) will meet Clemson (7-2-1) in the title game on Sunday. The Panthers scored three first-half goals Wednesday as Lynn picked up his eighth goal of the season with a late penalty kick.
Clemson beat Virginia 2-1 in Wednesday's other semifinal.
"As I understand it, we'll play a non-league schedule in the spring and then hopefully move on to the NCAAs," Lynn said.
The Men's College Cup, cut from 48 to 36 teams, will be played on May 13-17.
"COVID has made for kind of a strange year, but honestly, the soccer's been the same," Lynn said "We're a close team and I think that's really helped us. The biggest differences have come off the field ... in the locker room before and after games and practices and not being able to interact like we'd normally do.
"On campus, away from soccer, you just have to try to be careful."
Lynn, 20, is the son of Jennifer and John Lynn. John starred at Parkway Central High and went on to a solid career at St. Louis University in the early 1990s. John was a member of the Billikens squad that finished 20-2-2 and reached the NCAA semifinals before falling 3-2 in overtime to eventual national champion Virginia.
"Over the years, I've met a number of guys from that team and they tell me my dad was a very good player," Jack said.
Jack attended Chaminade but did not play soccer there. Instead, he focused on his play with Scott Gallagher's top club. There, he said the person who impacted him most was current SLU head coach Kevin Kalish.
"Kevin did a great job of developing us technically and pushed us to do things on the field that we didn't realize were possible," said Lynn, who is majoring in finance at Notre Dame.
Hopes to turn pro
Lynn considers his recent hat trick against Louisville a career highlight. Others include his first college goal against Indiana in 2018. Later that season, as a freshman in the NCAAs, he scored on a header with one second to play in the first overtime as the Irish upended 10th-ranked Virginia.
"We all wear GPS monitors that keep track of our speed and movements through each game," Lynn explained. "After the game, when our trainer was going over the data, it turned out that everybody on the team hit his top speed running to the corner flag just after I'd scored and the game had ended. The whole team was so excited, so pumped.
"As a player, those are the moments and the memories you live for."
Lynn hopes to play professionally one day and is constantly working to improve his game. After last season, he worked to improve his heading and has a couple of head-ball goals this season. And he's also improved his ability to hold the ball as teammates work to join him in the attack.
"As a player, you can never be satisfied. You always have to be looking for ways to improve," he said. "And the higher you go, the less space defenders are going to give you. That's why you always have to be working to get better and to find openings.
"On the field, you're constantly looking to create space for yourself and your teammates. And you're doing whatever you need to do to put yourself in a more dangerous position."