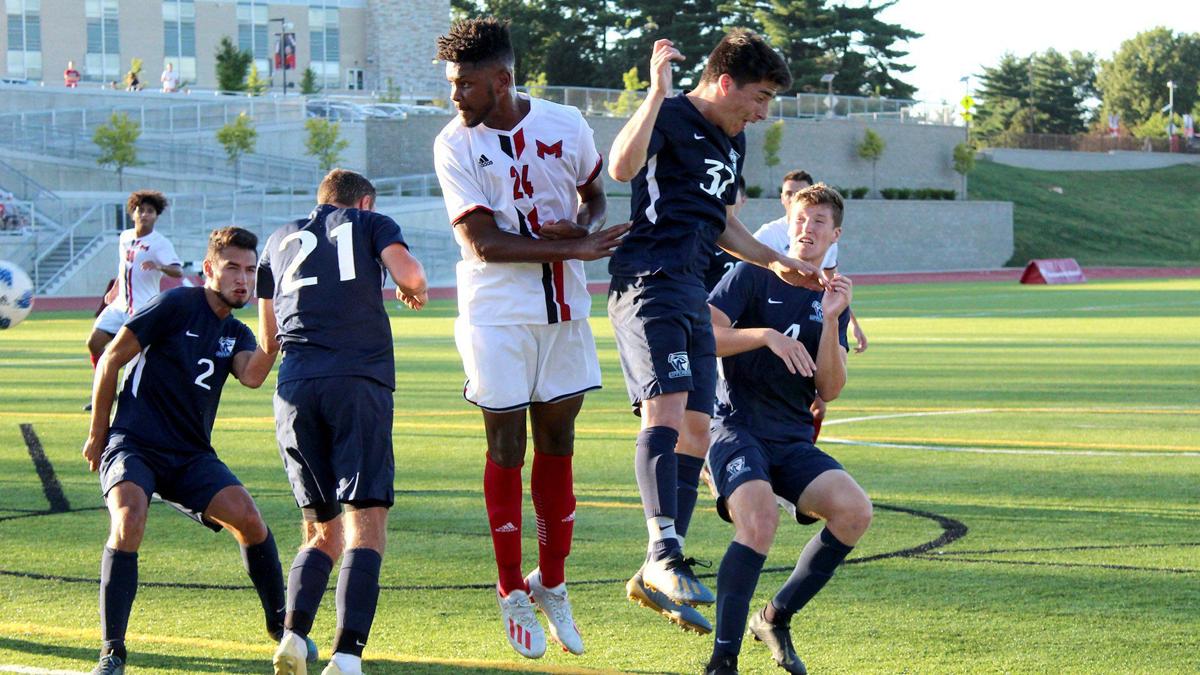 The soccer teams at Maryville University have played — and won — all 10 of their games to open this season.
That makes them the only undefeated and untied men's and women's programs in Division I, Division II and Division III.
The women, coached by local standout and former U.S. World Cup champion Lori Chalupny, is 4-0 with three shutouts. The men are 6-0 and have outscored opponents 17-3.
Both squads return to action with Great Lakes Valley Conference doubleheaders at home this weekend, taking on Lewis University on Friday and the University of Illinois Springfield on Sunday.
Maryville is celebrating its homecoming this week.
Friday's men's game will match a pair of teams that have not lost this season. Lewis, coming off a scoreless draw at Lindenwood, is 5-0-1.
"This weekend gives us a good early-season test," Maryville men's coach David Korn said. "We're 3-0 in league and Lewis is 2-0-1. And Illinois Springfield always seems to play us tough. Obviously, we're excited about the start and want to do everything we can to keep it going. But in this league, every game's a challenge."
The Maryville men are ranked sixth in the latest United Soccer Coaches Division II poll. It's the best national ranking in program history.
"It's something we're very proud of," Korn said. "But it also means we can expect every opponent's best game."
Maryville has made some solid strides in recent years under Korn, who shared head coaching duties with Brian Jones at Southern Illinois University Edwardsville in 2014. That year, the Cougars finished 8-9-4 but managed to upend No. 1-seed Missouri State 1-0 in overtime to win the Missouri Valley Conference Tournament and earn a trip to the NCAA Tournament. In the NCAAs, the Cougars won 1-0 at No. 17 Northwestern before dropping a 1-0 game at No. 18 California.
Korn spent one more season as an assistant coach at SIUE before making the move to Maryville, where his teams have gone 10-8-1, 13-4-2 and 10-5-5 over the last three seasons. The Saints made NCAA Division II tournament appearances in each of the last two seasons.
"We're making progress, but we still feel like there's work to do," said Korn, who's assisted by Derek Zuniga and Sean Clancy.
This year's Saints are balanced, deep and solid in all areas of the field.
Newcomer Liam Walraven, from Canada, has taken over in goal; he's 6-0 with three shutouts and a 0.52 goals-against average. His backfield is anchored by junior Englishman Iwan Webster and sophomore Andrew Schulz (St. Dominic) in the middle. The wingbacks are senior Diego Coy from Ecuador and junior Dom Riggio (Oakville), who already has two assists.
Midfield leaders are senior Zulfikar Karimi (two goals) from Canada and sophomore Mirza Hasecic, an Iceland native who already has two goals and four assists this season.
Up top, the Saints are led by junior Ben Brodie, a Carbondale High product who has three goals and an assist, and freshman Braden Johnson (four goals, two assists), who earned first-team Post-Dispatch All-Metro honors as a Fort Zumwalt South senior after scoring a program-record 35 goals last fall.