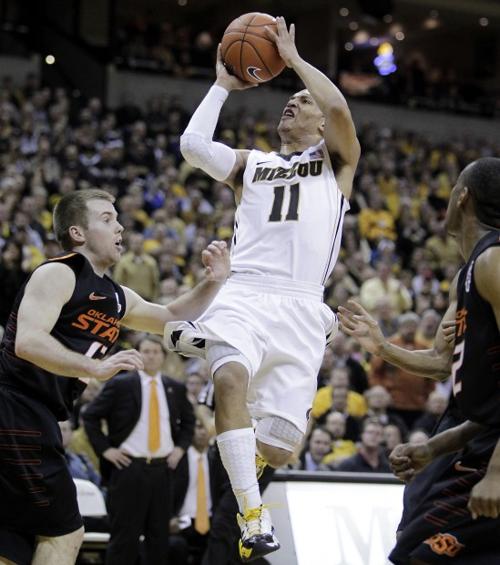 After Mizzou athletics director Mike Alden prefaced the interview with a qualifier that there may be "very, very little" that could be said pertaining to former MU basketball player Michael Dixon because of privacy laws, Alden, basketball coach Frank Haith and executive associate AD Sarah Reesman took questions Friday from four media outlets that had made requests to interview university administrators about Dixon.
Alden's forecast, alas, largely was correct.
The session among the MU contingent, three media outlets in Columbia and the Post-Dispatch by telephone did little to clarify questions that loomed after Dixon's intention to transfer was announced Thursday night.
Even the matter of whether it was Dixon's choice to leave seemed swaddled in legalese or considerations thereof.
Asked if Dixon was pressured to go, Alden said: "Any conversations we would have had with Mike, or Coach might have had with Mike, that's not something we would be able to talk about."
Asked if Dixon could still be on the team had he so chosen, Alden said, simply: "Mike Dixon is no longer a member of our basketball program at Mizzou."
Dixon has not responded to a text message seeking comment. In a statement attributed to him and released by MU on Thursday night, he said it was in the "best interests" of all concerned that he move on.
Dixon, a senior who was voted sixth man of the year in the Big 12 last season, had been on indefinite suspension all season for what Haith repeatedly called violations of team rules. Upon announcing the suspension in October, Haith said it was not related to a legal or NCAA matter.
"It wasn't a legal matter at the time," Haith said Friday, adding, "I wouldn't say anything to mislead you guys (on) something like this."
As for the point at which the situation was known to be something more, Alden said, "From what you understand, he was suspended in October. But as far as knowledge and communication and information, that would be something that we wouldn't be able to share. I would not be able to respond to that conversation."
On Tuesday, it came to light that Dixon had been the subject of a police investigation of a forcible rape accusation made in late August. The case was closed Nov. 16 for lack of sufficient evidence, and Dixon never was interviewed by investigators.
On Thursday, the Post-Dispatch and subsequently other media outlets obtained a 2010 University of Missouri police incident report documenting another accusation of forcible rape against Dixon.
At the request of the alleged victim, who declined to press charges, Dixon also was not interviewed in that case.
But the case was left open by MU police, whose report included the summary of a nurse's examination of the alleged victim: The nurse "stated from the injuries sustained, she believes force was involved."
What took place from there remains hazy. MU declined to comment on any specific aspect of the alleged episode.
According to a Thursday Post-Dispatch interview with a source close to the alleged victim, at least two MU athletics department officials were made aware of the accusation and reported it to superiors.
The source said that the woman believed the matter was then discussed in a broader athletics meeting and that the alleged victim later met with then-MU coach Mike Anderson, who consoled her, even crying with her.
He did not discourage her from pressing forward with her accusation but said he could not take any action against Dixon if she didn't, the source said.
The woman, then an employee of the university, was encouraged to seek employment elsewhere, the source close to her said. She did not feel pressured to do so, the source added, and left several months later.
MU would not verify that Anderson had met with the woman. Anderson, now at Arkansas, has declined to comment.
Asked if there was any situation in which a coach might be asked to meet with an alleged victim, Reesman said: "Every situation is going to be unique, and there may be different requests or different needs to have people involved in situations, whoever is most helpful.
"We try to engage whatever resources there are to assist in a situation. So it would be very dependent on a case-by-case basis."
Citing "privacy issues and challenges we have," Alden declined to address any of what took place in 2010, including what MU knew at the time and when – or even if – it had been made aware there had been an incident report filed by campus police.
It was not clear whether protocol calls for campus police to share that information with the athletic department.
"The police department, just like any other entity on campus, they're bound by certain rules, too, as far as when things can be released or when they're available," Reesman said. "That's really at their discretion."
Reesman added that Mizzou athletics strives to be in compliance with requirements of the Clery Act, a federal law requiring colleges and universities to disclose and maintain records of certain crimes — including sexual assaults — reported on their campuses.
Asked whether MU was confident it handled procedures correctly in the 2010 matter or if it needs to review its procedure, Reesman said, "I think that in anything we do we are constantly trying to make sure the policies and procedures are appropriate. So there's always evaluation going on. But we're pretty confident across the board in our policies and procedures."