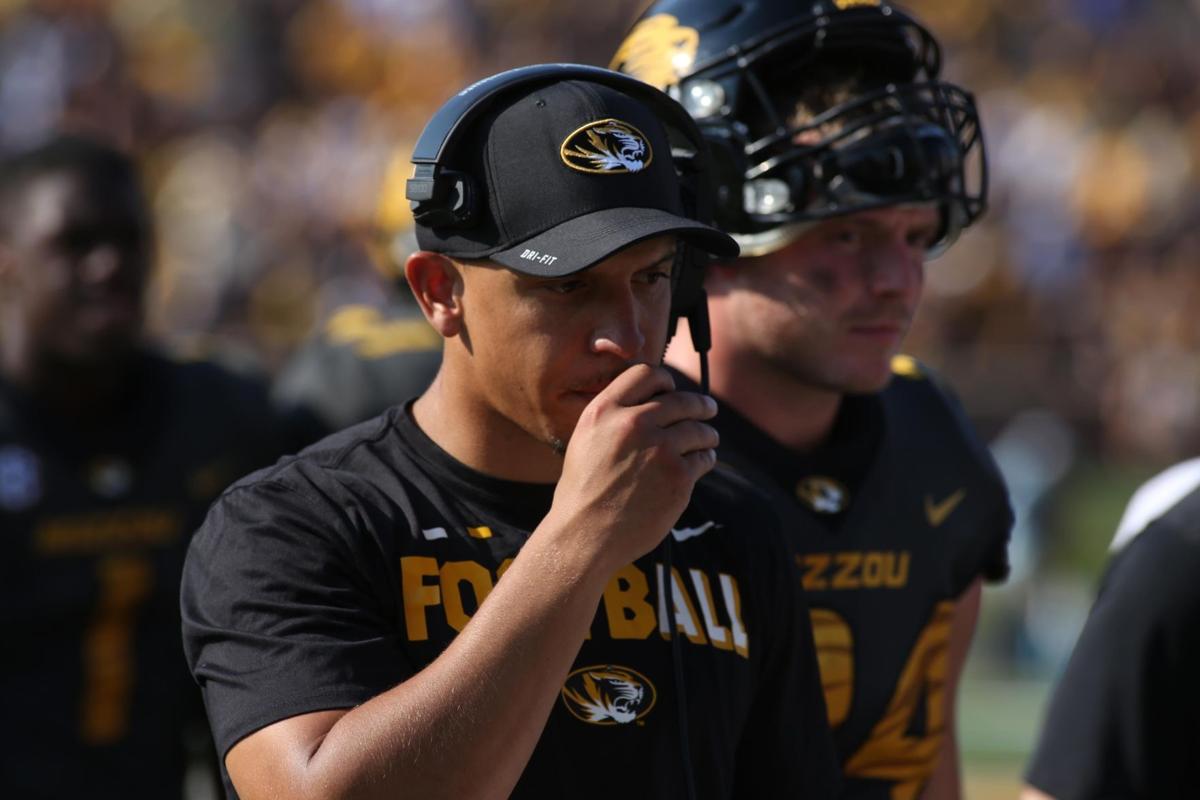 Fifth in a series previewing the Missouri football team's preseason camp under new coach Eliah Drinkwitz. Practices are scheduled to being Aug. 7, pending interruptions caused by the coronavirus pandemic.
COLUMBIA, Mo. — You can make a case Missouri's 2019 football season was the worst in team history that didn't end with a losing record. It was a year that concluded with a 6-6 record, an NCAA-imposed postseason ban and Tigers coach Barry Odom out of a job.
But it wasn't so bad for defensive coordinator Ryan Walters, who enjoyed the spoils of Mizzou's defensive breakthrough.
First, he survived new coach Eliah Drinkwitz's staff overhaul and agreed to a new contract that made him the highest paid assistant coach on campus. Drinkwitz extended Walters' deal a year through the 2022 season and lifted his salary to $900,000.
Then, in February, Walters interviewed for the head-coaching job at Colorado, his alma mater. At 34, one of the younger coordinators in the Power 5 conferences was in position to become one of the game's youngest head coaches. Colorado instead hired NFL assistant Karl Dorrell, but the school's interest reflected Walters' rising profile in the industry.
"It was nice to get recognized," Walters told the Post-Dispatch Monday. "Everything happens for a reason, and I'm glad I'm still at Missouri. Obviously if we weren't doing what we're supposed to be doing and weren't playing well, opportunities like that wouldn't come about. Also, I understand this is a results-driven business and nobody really cares about what you did last year.
"We've got to put a better product on the field this season in order to win games. That's the ultimate goal. I'd rather win every game and not get the stat accolades than get those accolades and go 6-6."
That's Walters' motivation for 2020, if indeed college football can pull off a season in the throes of the coronavirus pandemic. For now, Mizzou plans to open preseason camp on Aug. 7. If so, Walters hopes one of the country's most improved defenses can build on last year's progress.
The Tigers ranked among the top 20 nationally in points allowed per game (No. 15), yards allowed per game (14), yards allowed per play (18), passing yards allowed per game (6) and opponent passer rating (9). In each category, Walters' defense climbed at least 35 spots in the national rankings.
It wasn't enough to overcome a clunky offense that by midseason was depleted by injuries and rarely scared teams through the air, but the defense's progress was unmistakable and factored into Drinkwitz's decision to keep Walters on staff, along with defensive line coach Brick Haley and cornerbacks coach David Gibbs.
"At the end of the day I think Ryan is an incredibly talented football coach," Drinkwitz said after retaining Walters. "I think he has the ability to relate to players. He's got an outstanding scheme. He's well-respected in the SEC for what he's done defensively. And I think he's somebody that can help me and help Mizzou win a championship."
The 2020 season will be Walters' first working under someone other than Odom since 2013. Walters first came to Mizzou in 2015 to reunite with Odom, then the Tigers' defensive coordinator. They had first coached together at the University of Memphis. At Mizzou, Odom put his faith in Walters following the 2017 regular season, handing him the coordinator role, even though Walters was just 31. In a conference stocked with some of the college game's most proven and highest paid defensive coordinators — Kevin Steele at Auburn, Dave Aranda at Louisiana State, Jeremy Pruitt at Alabama, Mel Tucker at Georgia — Walters held the controls, but seemingly worked with a safety net in the form of Odom, a boss whose background was rooted in defense.
Now, though, Odom is gone — he's the defensive coordinator at Arkansas — and Walters answers to a head coach fully immersed in offense.
"I stay in my lane," Drinkwitz said in the spring.
But Walters insists the circumstances haven't changed much under new leadership.
"To coach Odom's credit he left us alone and allowed us to do our job," Walters said. "From that standpoint it's the same. It's the guys in the defensive staff room putting plans together and making decisions. From a personal standpoint, like with anything, the more you're gaining experience the more confident you get, the more ideas you have. You're just learning more things about the process, about yourself. Luckily, I've got a phenomenal staff, man."
That incudes two defensive assistants Drinkwitz brought from his staff at Appalachian State: secondary coach Charlie Harbison and linebackers coach D.J. Smith, who at 31 takes Walters' place as the youngest coach on the staff.
"From the start of my coaching career, I've always been the young guy," said Walters, who played safety at Colorado from 2004-08. "At 34, I'm still relatively young in the profession, not only as a coordinator but just as a full-time staff member. But I feel a lot older because I've been coaching for 10-plus years now. You know what I mean?"
While Drinkwitz's offense has personnel and schematic puzzles to solve between now and the start of the season, Walters returns starters at every level of the defense. The defense won't make any dramatic changes to the 4-2-5 base system Walters installed last year.
The Tigers held only three spring practices before COVID-19 shut down team activities, but Walters expects months of Zoom meetings to pay off once practices resume next month.
"Hopefully there's a lot of recall," he said. "Our package isn't really changing. There's a few tweaks here and there, but for the most part the meat and potatoes of what we're doing from a schematic standpoint are holding true from what we did last year. I'm counting on there being a lot of carryover."
Across the SEC, Walters is no longer the youngest defensive coordinator — he's got eight months on Mississippi State's Zach Arnett and three months on Georgia's Dan Lanning — but he relishes the chance to test himself against the game's best signal-callers.
That won't change this fall or next.
"In this conference, last year and the year before, yeah, it was added pressure," he said. "That's why I enjoy this. It's why I enjoy this profession. I feel like I'm at my best when the stakes are the highest."
Dave Matter brings you the latest updates from the Mizzou sports scene.